If you have time- please go vote for me! I entered my Sweet Potato and Black Bean Quesadillas in Ethical Ocean's Summer Recipe contest. You do need to sign up in order to vote, but it just takes a sec- and it's actually a pretty cool website! Tons of vegan clothing, shoes, accessories, etc.
Yet another recipe originally spotted on Pinterest, destined to be veganized. So yes, if you were wondering, I do troll pinterest, looking at all the meat & dairy-infested pictures. And yes, it can be really gross and disconcerting. But! I also derive quite a bit of inspiration from it, so I suppose it's worth it. I guess I'm just able to see past the animal products to the dish's true potential… plus it's really fun to veganize dishes and have them taste even better than the original 🙂
I'm pretty sure the Universe wanted me to make this: the day after I spotted the original recipe I was at the store and saw Field Roast sausages on sale, then turned the corner and saw that Brussels sprouts were also on sale! What are the chances? I stocked up on those silly little sprouts (half were destined to be smothered in tangy mustard and grilled), grabbed a package of the Apple Sage sausage (my fave!) and headed home. Then I realized I had forgotten pine nuts, so it was back to the store and then… well, I wont bore you with the details. I eventually made it home with (all of) the goods.
After trimming and blanching, I sliced the sprouts in half and grilled them on a piece of aluminum foil to make it easy, but you could certainly bake them (or grill them using a skewer)… whatever works for you. I let them get just a little crispy, which was perfect. Amazing, actually, when paired with the pesto and the sausage.
Oh that sausage! Oh those crispy Brussels!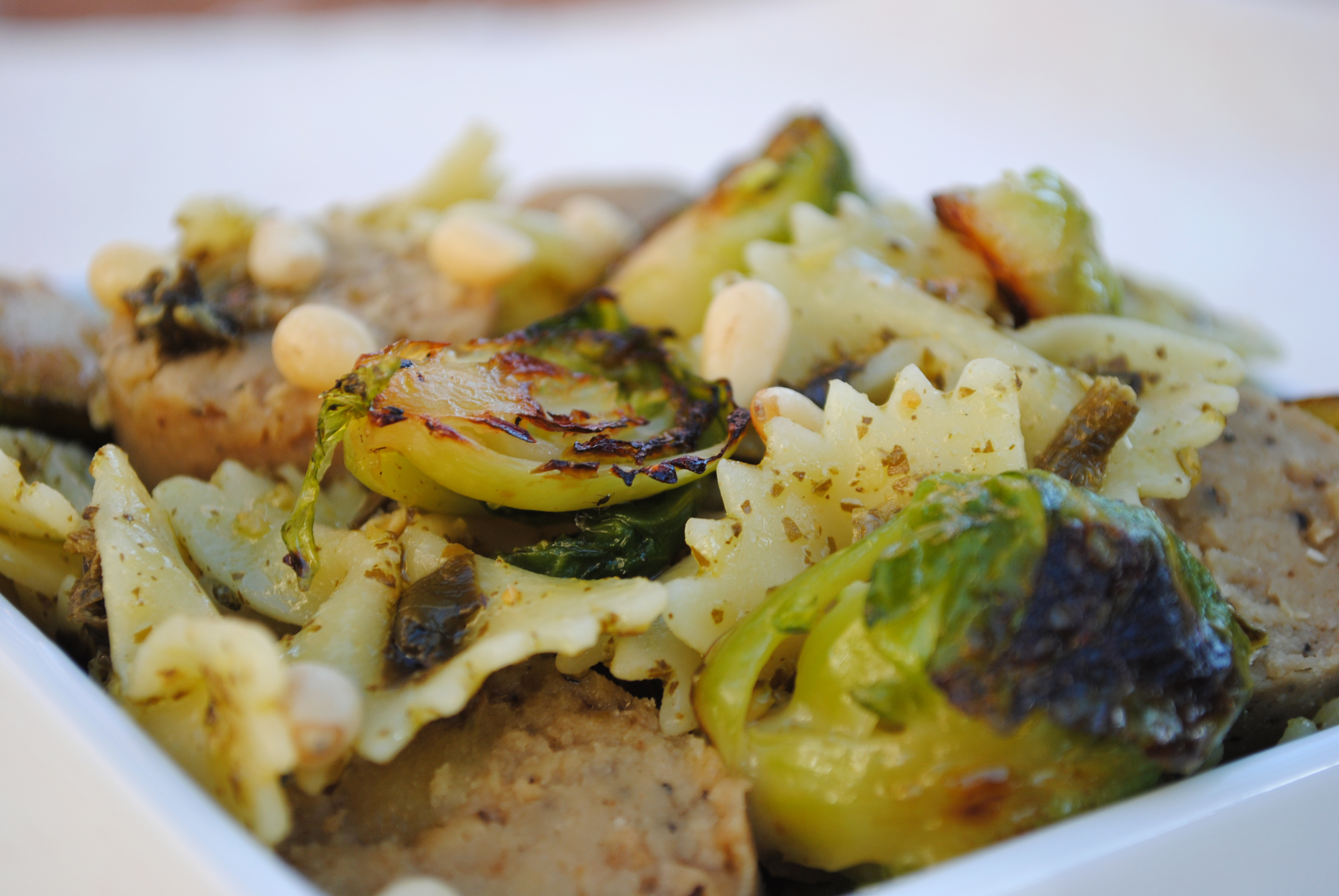 ---
Pesto Pasta with Vegan Sausage and Brussels Sprouts (Serves 4 at least)
Adapted from non-vegetarian/vegan recipe
Ingredients:
1 lb Brussels sprouts
2-3 Tablespoons olive oil, divided
1/2 teaspoon sea salt
A couple pinches of powdered garlic
1 sheet aluminum foil, for grilling
1 lb bowtie pasta
1 package (4 links) Field Roast Apple Sage vegan sausage, sliced
1/3+ cup pesto
Pine nuts, for sprinkling if desired
Directions:
Rinse of your sprouts, then drop them into a pot of boiling water for 3 minutes. Remove immediately and place into an ice bath- this stops the cooking process.
Trim off the stem and any dark outer leaves, and slice in half and place in large bowl. Stir in 1-2 tablespoons olive oil, sea salt and garlic.
Heat grill to medium, place aluminum foil over the grates and pour out the Brussels/oil mix. Leave on for about 10 minutes, stirring 2-3 times. Let them get a little crispy, but don't let them burn!!
Cook pasta according to package instructions.
In a medium frying pan, heat 1 tablespoon oil and lightly sautee sausage just until warm. Add to cooked pasta along with pesto and grilled Brussels. Stir well and serve sprinkled with pine nuts, if desired.
Enjoy!