If this summer had an official food, it probably would've been these zucchini boats. While admittedly not the most exciting dish, they're delicious, healthy, quick n' easy to make and each boat has only ~85 calories!
Winner Winner Zucchini Dinner!
By grilling each side of the zucchini you get a wonderful texture- cooked yet still really firm.  We already know tomatoes and basil complement each other perfectly and Daiya… well, you know how much I love that vegan cheese! But you don't need a lot- we're not trying to make a pizza here, people.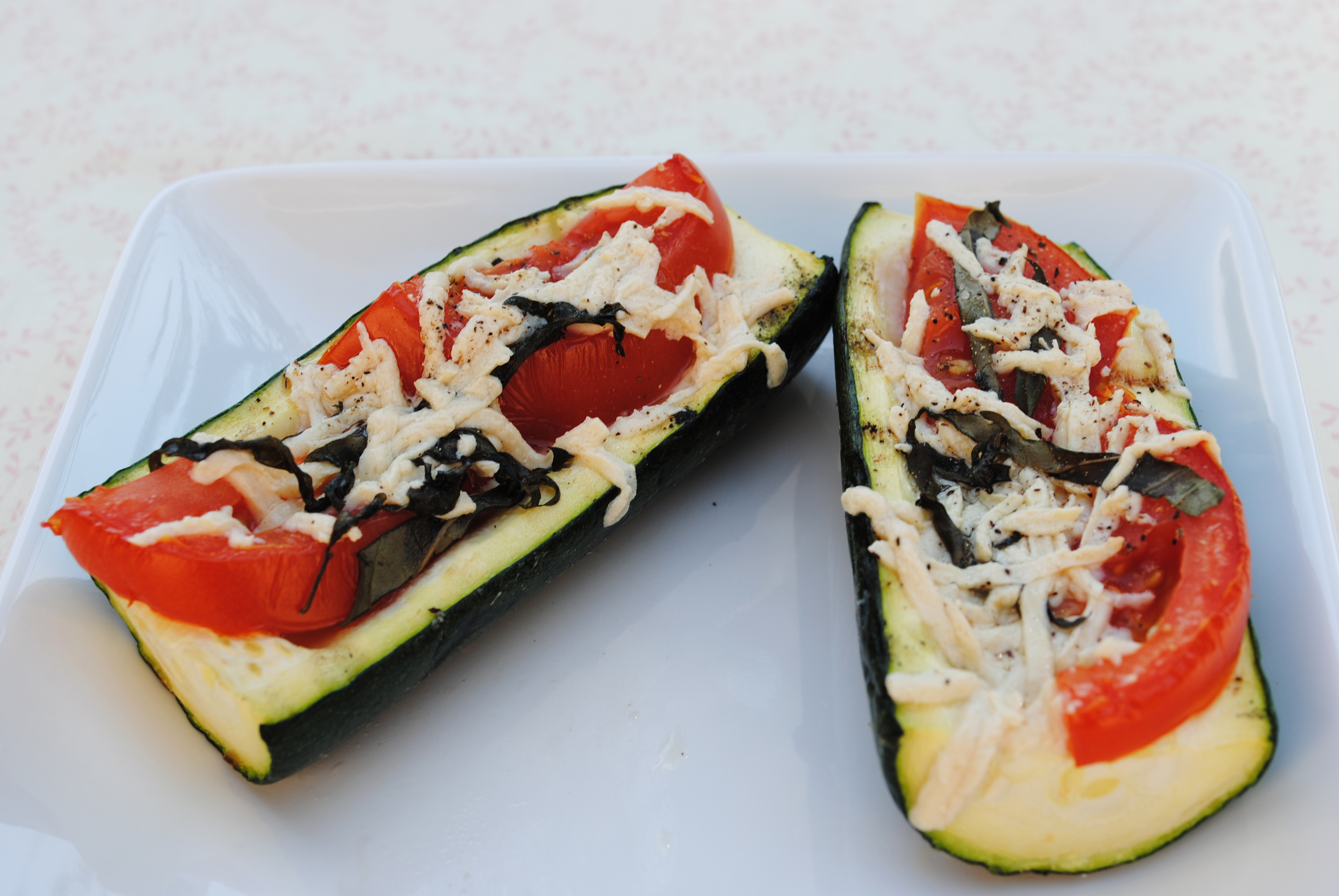 I made these A LOT this summer. Usually as a side dish, but sometimes I'd eat 2 boats and call it dinner. I even brought them to work, nuked them for about 45 seconds and called them breakfast!
Oh! Speaking of things I can't get enough of, I went here yesterday: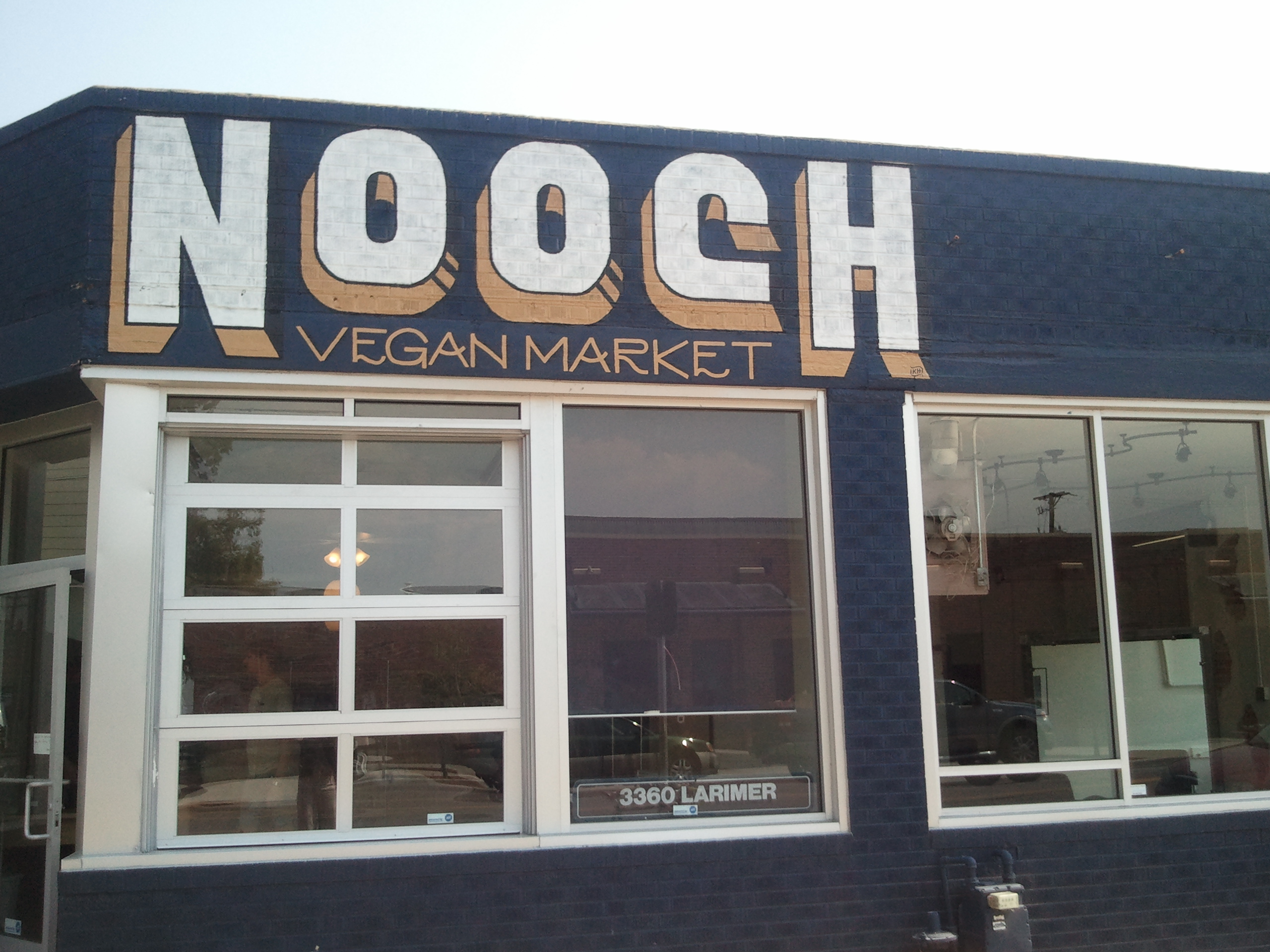 If it was possible to date a store, Nooch would be my new boyfriend. This place is awesome- and they're only on their 'soft opening' right now, which means it'll be even MORE awesome once all their shelves are stocked! Can you imagine anything better than an ALL VEGAN store? I know other cities have these already, but here in Colorado we're a little bit behind the (vegan) curve. But we're catching up!
Reia and I got there yesterday at 2:00 when they opened (soft opening = unusual hours), and I was like a kid in a candy store! I grabbed a basket and immediately got to work. My haul included:
Soy curls
Biscoff
V-egg
Sea-salted caramels
Peanut butter cups
A Jokerz candy bar that is basically a vegan snickers, and
Teese mozzarella (mozzarella sticks, here I come!)
There was so much more I wanted to get, but I thought I should pace myself- especially since they're adding more product over the next couple of weeks, so you know I'll be back frequently. The best part was seeing all these vegan products that I've read about but never tried- like soy curls and Biscoff. BTW… Biscoff? Holy Monkey that stuff is good!
They also had products I didn't even know existed- Tofurky and Field Roast HOT DOGS? Vegenaise in tons of different flavors, including pesto, chipotle, and tarter sauce, and there were 2 or 3 different kinds of boxed mac n' cheese too! They also have a big cookbook section, some t-shirts and tons of vitamins.  All vegan! Yay! And everything was reasonably priced too- no more expensive than buying the same items at a regular grocery store or online from Amazon- and in some cases the prices at Nooch seemed lower.
Ok, I'm done gushing. Reia posted a full review, and she's much better at those than I am. My forte is mostly just eating 🙂
Finally, just a heads up- we're rushing to finish the house over the next few weeks so we can get it on the market by September, which means not much time for cooking or writing. I'll still post, just not as much. Please don't give up on me or think I've gone away for good because I haven't. I love you guys too much for that!
---
Grilled Zucchini Boats (Makes 2 side servings)
Ingredients:
1 medium/large zucchini, washed
~1 Tablespoon of olive oil
S&P
1 tomato
4-5 fresh basil leaves
Daiya mozzarella shreds, about a handful
Directions:
Heat grill to medium.
Trim ends off zucchini and slice in half lengthwise. Use a spoon to gently scrape out the seeds from the center. Brush with just a little bit of olive oil and sprinkle with S&P.
Place cut side down on the grill, leave for 6-8 minutes. You should have some grill marks.
Slice the tomato, then cut the slices in half to make little half-moons (these fit perfectly on the zucchini). Place 2-3 on each zucchini, depending on size.
Chiffonade the basil and layer on top of the tomatoes, then top with the Daiya. Sprinkle with S&P
Turn grill heat to medium-low, and put zucchini back on. At this point I like to lay them in between the grates, rather than across, to help them stay upright. Close the cover and leave on for about 5 minutes or until the cheese starts to melt.
Enjoy!