I don't have much to say here except that I caught a cold. I was around a large group of people, with many kids, and I was drinking (because for me… the two go hand-in-hand) enough to put my immune system to sleep, apparently. So the next day I started sneezing, then my throat started to hurt and my nose started to run.
My first cold in almost 3 years, and it wasn't even a small one. It was a WHOPPER of a cold! One of the worst I've ever had. And the only solution was Chicken Chik'n Noodle Soup.
I water sauteed the veggies and included lots of onions and garlic (nature's antibiotics!) along with the usual carrots and celery. This veggie powerhouse also included sweet potatoes, my secret ingredient, if you will. And these adorable little noodles from Barilla- they're called Cut Spaghetti and worked perfectly in this soup.  And, because I'm currently obsessed, I used soy curls for the chik'n.
Seriously. Who would look at that bowl and tell me that's not chicken noodle soup??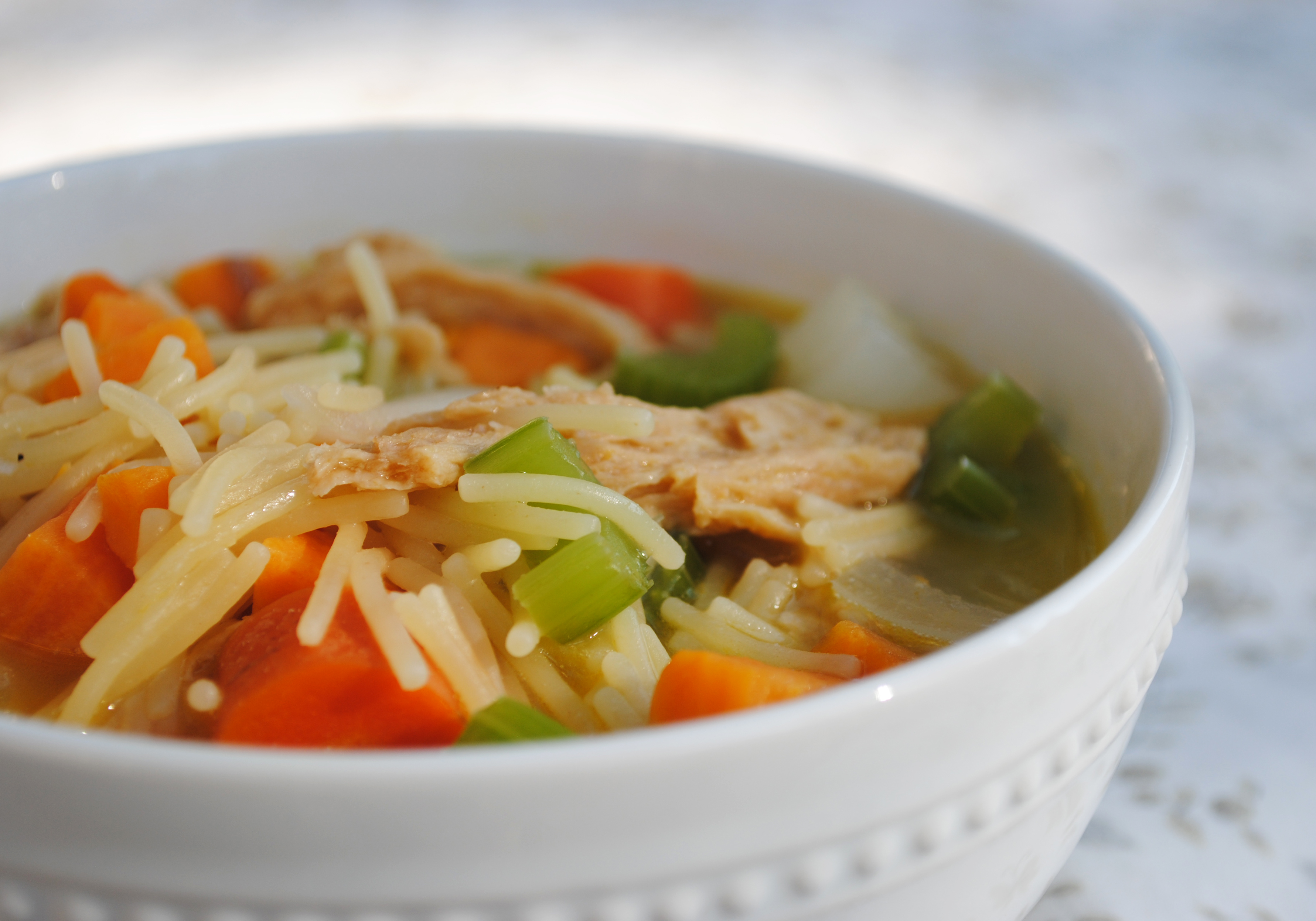 ---
Vegan Chicken Noodle Soup (makes 5-6 servings, more depending on how brothy you make it)
Ingredients:
1 medium onion, chopped (I used vidalia)
3 garlic cloves, minced
1 medium sweet potato, peeled and cubed
2 medium carrots, sliced
3 celery ribs, sliced
2 bay leaves
1/2 teaspoon thyme
2 cups soy curls
3 cups veggie broth
1.5 cups water
10 ounces small, dry pasta (I used cut spaghetti)
S&P
Directions:
Water saute the onion and garlic in a soup pot for 1-2 minutes, then add the potato, carrots and celery. Add more water if necessary and continue to cook until softened, about 8 minutes.
Add the bay and thyme, soy curls, then the broth and water and bring to a boil. Add the pasta and cook for about 5-6 minutes- make sure the pasta doesn't over cook. If you're not planning to serve the soup immediately you should reduce the cooking time by a minute or so.
When the pasta is done add S&P as needed. If the broth has thickened you can add more water as needed to thin it out- there's so much flavor in here it wont taste watery!
Enjoy!