Hello all! I'm back, and feeling much stronger. Thank you SO MUCH for all your kind words about Betty's passing, your support really meant a lot to me. I'm in a really good place. I miss her terribly, but I feel certain that I made the right choice, at the right time, for her. That gives me a lot of comfort. I've also been focusing on celebrating her life, rather than mourning her death. I'll miss her forever, and I'm sure there are more tears in my future, but I feel strong.
It was a busy week- in addition to remembering Betty and, you know, crying,  I also had to pack myself on a plane and head to DC for work. I ate lots of vegan food and  got to see some old friends, which was very therapeutic.
Also therapeutic? This Fall Casserole! Or, if you're like me and love the word 'autumnal', you can call this The Best Autumnal Casserole. Either way, with its hearty potatoes and thickly sliced vegan sausage, it's perfect for these crisp autumn evenings.  Whether you spent the afternoon hiking and enjoying the changing leaves, or camped out on the couch watching football, once the divine smell of this casserole starts wafting through your house you'll want to dig in like you haven't eaten in a week!
Olive oil and a bit of melted earth balance add a rich layer to the flavorful veggie broth. Really, this dish is all flavor! It's a new take on the roasts many of us used to make in our crock pots during our pre-gan days, right?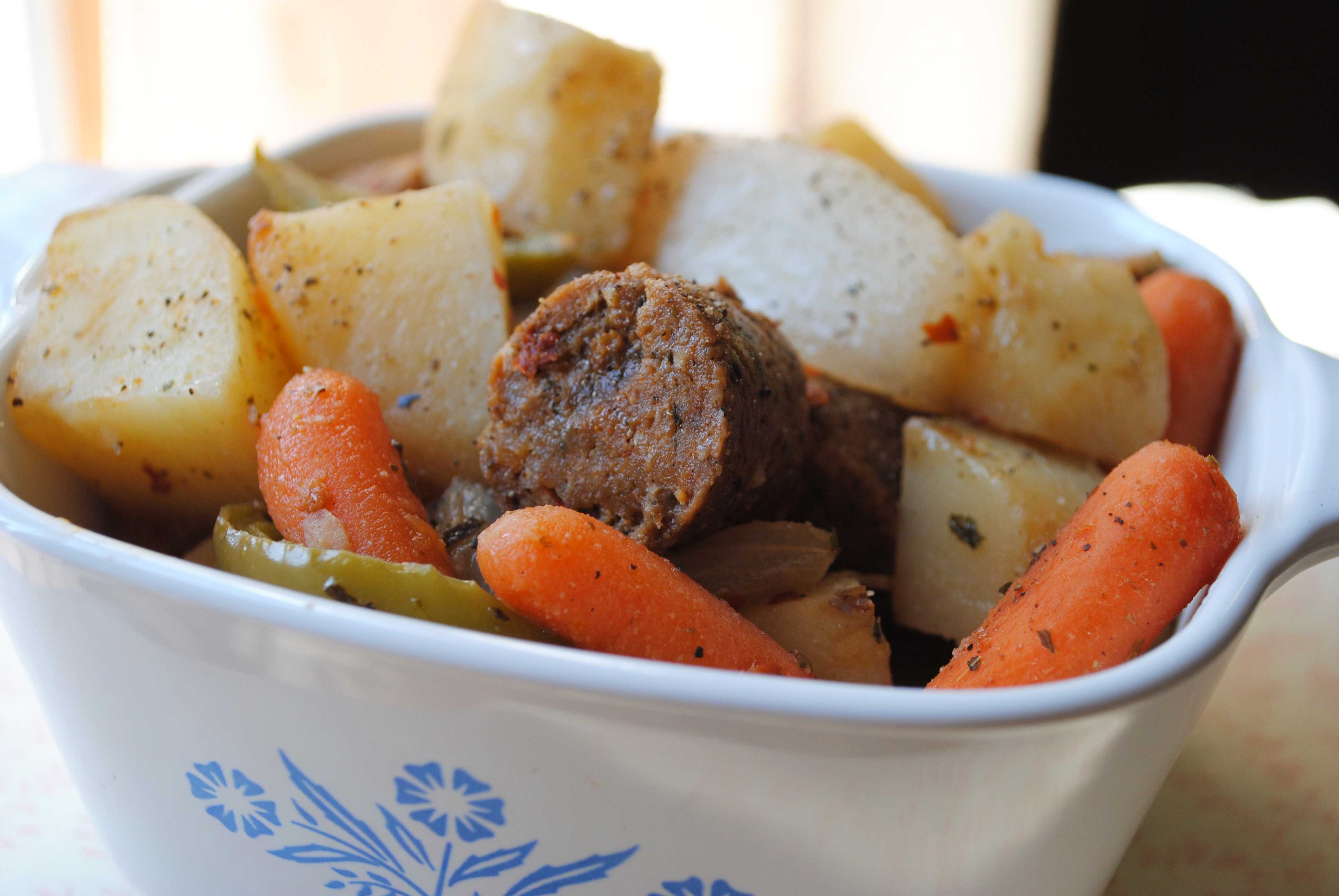 My secret ingredient is vegan worcestershire sauce, and if you were so inclined, a couple glugs of wine would be really nice too. In the dish I mean, although in your glass is also a great idea!
Side note: Isn't that little casserole dish adorably retro? I got it for $1 at a nearby thrift shop- a shop which donates their profits to local animal rescues! Isn't that just the best?
---
The Best Fall Casserole (makes 5-6 servings)
Ingredients:
1 lb potatoes (this is approximate, I used 1.2 lbs I think)
1 lb bag of baby carrots
1 green bell pepper
1 medium yellow onion
1 teaspoon granulated garlic
1 teaspoon red pepper flakes
1/2 teaspoon oregano
1/4 teaspoon sea salt
Pepper to taste
1/4 teaspoon parsley
1 1/4 cups vegetable stock
3 T Earth Balance, melted
4 Tablespoons worcestershire
4 pack Tofurky Italian sausages, each chopped into thirds (or quarters if you're feeding smaller kiddos)
Directions:
Preheat oven to 425. Wash, peel and chop potatoes into large (but still bite-size) pieces. This is a hearty casserole! Add with carrots to a 9×13 glass baking dish. Chop and add bell pepper and onion- keeping the pieces nice and big-bite-sized.
In a medium bowl mix all the spices with the veggie stock, melted earth balance and worcestershire, then pour over the veggies in your baking dish. Mix very well, and add a bit of salt and pepper as needed.
Cover with foil and bake for 40-45 minutes or until the veggies are tender. Add the sausage, stir everything together, cover and put back in for another 20 minutes. Remove and let cool for just a few minutes before serving.
Enjoy!