Those of you not lucky enough to have been raised vegetarian or vegan might remember the spicy chicken sandwich from Wendy's… and now I present to you its vastly superior cousin, the Vegan Spicy Chicken Sandwich!
This veganized version is exactly how I remember the original being: crispy, spicy, and addicting.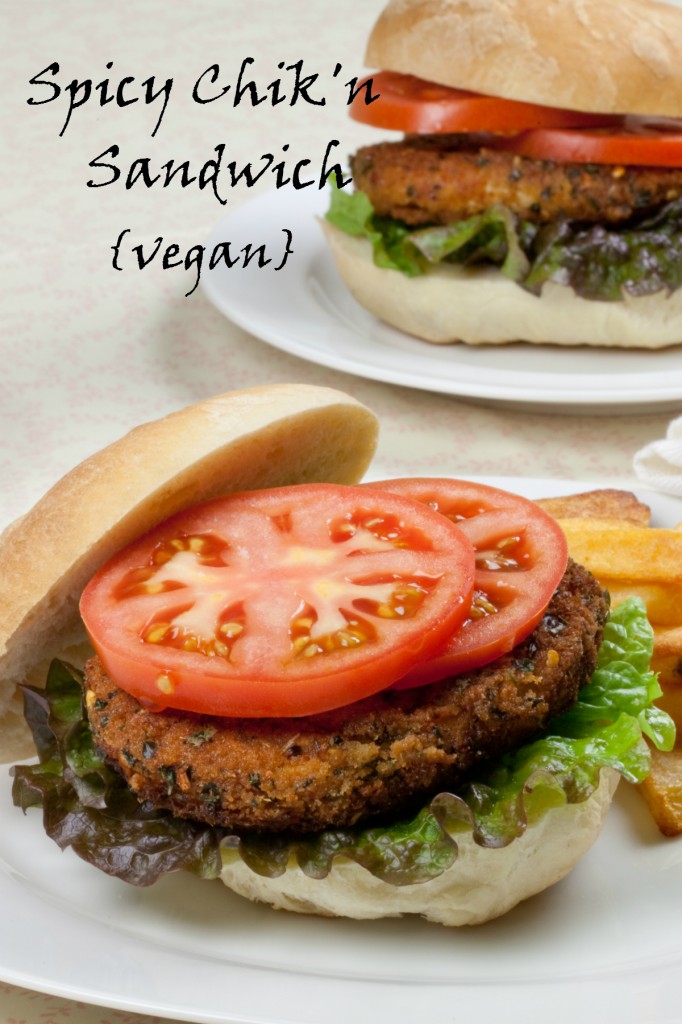 I made mine moderately-to-quite spicy, but it's easy to adjust the heat levels to your liking- just add more or less chili powder. And if you're a wuss like me you can also add gobs of ketchup to cool it down 😉
The original recipe comes from The V Word. I've never tried her recipe as is, but I'm sure it's good! I saw it and immediately had to make it spicy, ha ha. Her "double-dip" method is great though, the result is a super crispy piece of chik'n that makes the perfect sandwich- although it would also be good if you were trying to make a sort of "fried chik'n", too, I think! Oh, and her version is gluten free (other than the gardein), mine isn't.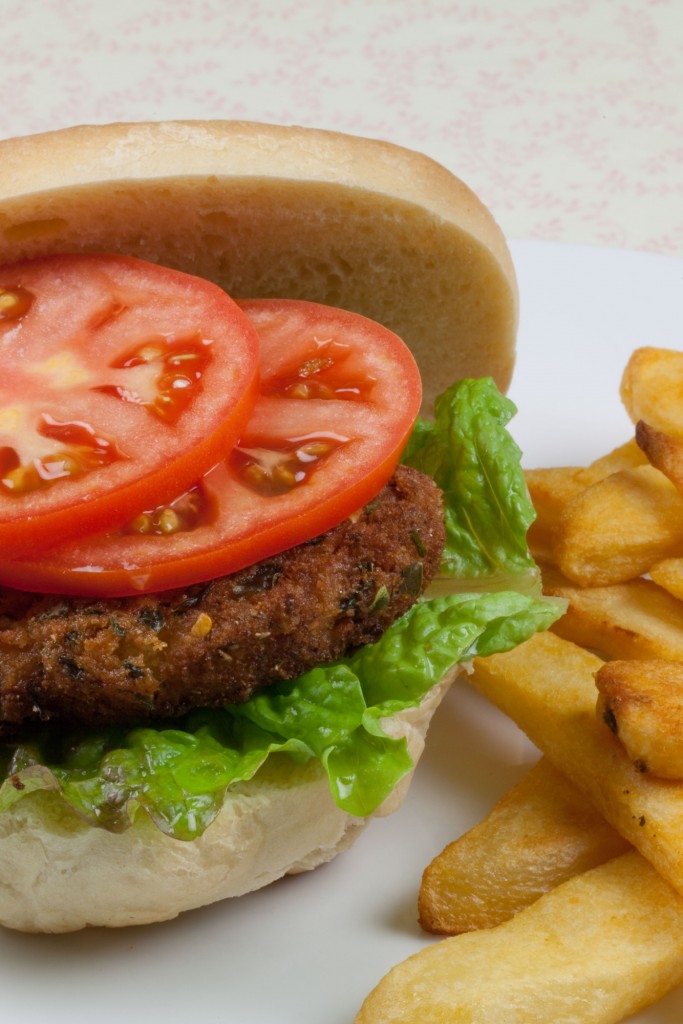 Look at that beautiful breading!!!
---
Spicy Chik'n Sandwich (makes 4 sandwiches)
Recipe adapted from The V Word
Ingredients:
1/2 cup AP flour
2.5 Tablespoons cornstarch
3/4 teaspoon garlic powder
1/2 teaspoon paprika
3/4 teaspoon oregano
1/2 teaspoon onion powder
1/2 teaspoon chili powder (or more, to taste)
1/2 teaspoon sea salt
a pinch of black pepper
1 cup non-dairy milk
1.5 teaspoon apple cider vinegar
1 1/4 cup bread crumbs
2 Tablespoons dried parsley
1/2 teaspoon chili powder (or more, to taste)
1/2 Tablespoon crushed red pepper flakes
A sprinkle of S&P
1 box (4) Gardein "Chick'n Filets"
Oil for frying
4 burger buns
Lettuce, tomato, onions as desired for toppings
Sriracha, ketchup, etc
Directions:
Grab 3 bowls, the wider and more shallow the better. In the first bowl combine flour, cornstarch, garlic, paprika, oregano, and onion and chili powder, sea salt and pepper. In bowl #2 combine the non-dairy milk and vinegar (this makes a sort of vegan buttermilk), and in bowl #2 combine the bread crumbs with the remaining spices and S&P.
Take each filet and coat it in the flour mixture, then dip it quickly into the milk (just long enough to get the whole thing wet), then dip them back into the flour, making sure they're completely coated. Let them sit for 3-5 minutes.
Dip once more into the milk, then roll them around in the breadcrumb mixture, making sure you have complete coverage. Let them sit for another 3-5 minutes.
Heat the oil in a frying pan. You just need it to be deep enough so the filets are half submerged (you'll be flipping them). When the oil is hot fry the filets until nice and crispy, flipping once, 3-4 minutes per side. Be careful as you move them around, you don't want to break off any of that nice breading!
Set them on a paper towel to absorb some of the oil, then assemble your sandwiches as desired- topping with Sriracha if you want some extra heat! 🙂
Enjoy!