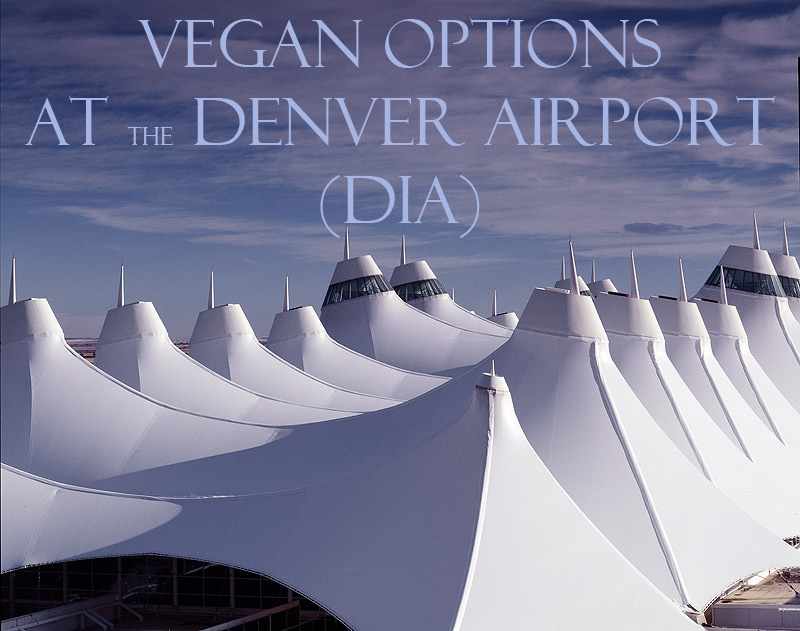 Sorry I disappeared again! I took a very last-minute trip to FL to see my father before he has surgery. I have recipes from last week to post (as soon as I have time to go through the photos) and I also have some yummy vegan finds in Daytona Beach to share, believe it or not! But first I want to share my vegan finds at Denver International Airport (DIA).
Whenever I'm flying into a new airport I always google "(airport name) vegan options", and I love love love when a blogger has already shared their tips, so I figured I'd do that with my home airport.
Root Down
Yes, as in the same Root Down I reviewed on my Mile High Vegan Eats series! Tons of veg options, and you can eat in or get it to go. The weird thing about it is that it's in Concourse C (most stuff is in B), but it's very easy to take the train an extra concourse or two to get there, only takes a few minutes!
Steve's Snappin' Dogs
Another location of my super all-time favorite hot dog joint! Steve is a great guy and has made sure us vegans have plenty of options. Best part is the menu is clearly marked so you don't even have to ask!
Itza Wrap! Itza Bowl!
First up is Itza Wrap! Itza Bowl! located on Concourse B. Apparently it's been there for years, but I've never noticed it. The other odd thing about it is that the only existing location seems to be at DIA. And they don't have a website or menu online (I linked to their Yelp! reviews above)
It's tucked way back in a corner where you come up from the train, so you have to actually look for it. I suppose that's why I've never seen it, but once I did, the word "Tofu" immediately caught my eye!
I didn't eat here, but I talked to the people working behind the counter and I was told the vegan options are:
White rice, brown rice or udon noodles
Thai, teriyake or sweet and sour style
Tofu or veggies
Wrap or bowl
Not bad for airport food, right? And convenient enough to take on the plane with you if you're in a hurry. And for those of you traveling through DIA who aren't familiar with it, even if you're flying through concourses A or C, the train between only takes a couple of minutes, so don't be scared to explore!
Einstein Bros Bagels
Note: Einstein Bros used to use L-Cysteine in their bagels, an enzyme made from duck feathers. However, as of 2012 they have switched over to a synthetic form of L-Cysteine which does NOT use duck feathers!

Next up is my favorite DIA snack (and what I grabbed before hopping my flight to Orlando last Thursday)- the Veg Out. Depending on the bagel you choose, it's automatically vegan (most of their bagels are vegan as well, other than those with cheese. Here's their nutritional info.) It's schmeared with hummus then piled with tomatoes, sprouts, lettuce and red onion. When I'm flying, I usually ask for it sans onion, just so I don't kill the poor guy sitting next to me 😉 They'll usually offer other options, such as tomato sauce, but I always skip that- especially if I'll be eating it on the plane. It's located in Concourse C, but again… it's a quick train ride from any other concourse.
I wish I had a picture to share, but I didn't end up eating it until 2 or 3 hours later- I was too busy flirting with a gate agent for a free upgrade. Which worked, BTW! He said I was pretty 🙂 Happy Valentines Day to me, right?
Caribou Coffee
I haven't stopped at Caribou Coffee in a while, but the last time I did they had some pre-packaged vegan and gluten-free snack bars called Earnest Eats. They actually had the word "vegan" printed on them! These coffee shops are all over DIA, upstairs from security in the main terminal as well as concourses A, B and C.
Taco Bell Express
We all know the vegan options at "the bell", right? (and if thinking about them just made you hungry, go check out my veganized crispy potato soft tacos!)
So those are my vegan finds at DIA. Anyone who's found other vegan grub at DIA, please chime in below and share. And please send positive thoughts to my pops!
Want more Denver-area restaurant reviews? Check out my Mile High Vegan Eats page!