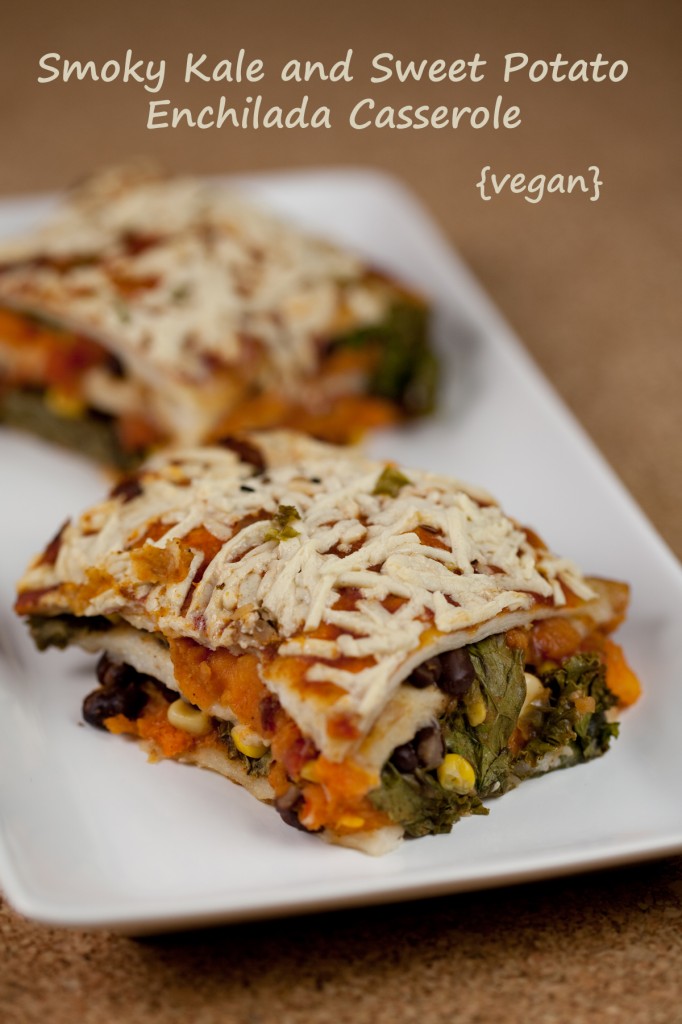 Whew, that's a mouthful to say!
If this sounds familiar, it should: it's a variation of my Layered Sweet Potato Enchilada Casserole from last May. They're both very similar, only this one has both kale and chipotle peppers in adobo sauce, so it's spiiicccyyy. And smoky. And really hearty with all those potatoes and tortillas- kind of perfect for the cold snowy month of March.
---
Smokey Kale and Sweet Potato Enchilada Casserole (8 hearty servings)
Ingredients:
1 bunch of kale, washed, destemmed and torn
1 teaspoon powdered garlic
3 medium sweet potatoes (about 2.5 cups smashed)
2-3 chipotles in adobo sauce, plus about 1 Tablespoon of the sauce, diced
15 oz can black beans, drained and rinsed
10 oz can rotel with green chilies, drained (if you want the dish a little less spicy, get the mild with no chilies)
1 cup sweet corn kernels, thawed or drained
1/2 cup taco sauce (medium or hot, your call) plus a couple of Tablespoons
Juice and zest of 2 limes
Sea salt
12-14 taco or fajita sized flour tortillas, all sliced in half
1.5 cups salsa (again, you pick the heat)
Daiya mozzarella for topping
Directions:
Water sautee the kale with the powdered garlic until tender, then set aside.
Peel and chop the sweet potatoes, then boil until tender.
In a large bowl, combine the beans, rotel, corn and taco sauce, mixing well.
When the potatoes are cooked, mash them and add lime juice, sea salt, chipotle peppers and adobo sauce and set aside.
Drizzle the bottom of a 9×13 casserole or baking dish with 2-3 T taco sauce, making sure the entire bottom is covered. Arrange tortilla halves across the bottom.
Cover the tortillas with half of the sweet potato mixture, gently spreading to get maximum coverage. Next, add a layer of the kale followed by a layer of the bean/corn mix (half of what you have), followed by another layer of tortillas.
Repeat once, ending with a layer of tortillas (this makes 3 layers of tortillas, 2 of everything else), then cover with salsa and cheese.
Cover with foil and bake at 350 for 20 minutes, remove foil and bake for another 5-8 until the  cheese is fully melted.
Enjoy!