Football season is over, as are all the awards shows. The remaining sports (basketball, baseball and hockey – which is apparently played year-round now) are all great but they don't really scream finger-food to me. They don't feel like a valid excuse to spend an afternoon on the couch devouring pickle wrap dip or loaded baked potato dip. Yet here I am, still craving appetizers. What to do, what to do?
Just make them anyway, you say? Ok! And honestly, you have a good point. Appetizers are a great addition to any sunny spring or summer evening while you're relaxing on the patio with a drink and a book.  Who needs sports on the TV when you've got a good book on your lap?
Right now I'm reading Whitey: The Life of America's Most Notorious Mob Boss, Foreign Faction – Who Really Kidnapped JonBenet? and listening to When the Killing's Done on CD while I commute. I'm a bit schizo in my reading habits, I like to have at least 2 or 3 going at once so I can bounce back and forth depending on my mood.
So, back to the meatballs…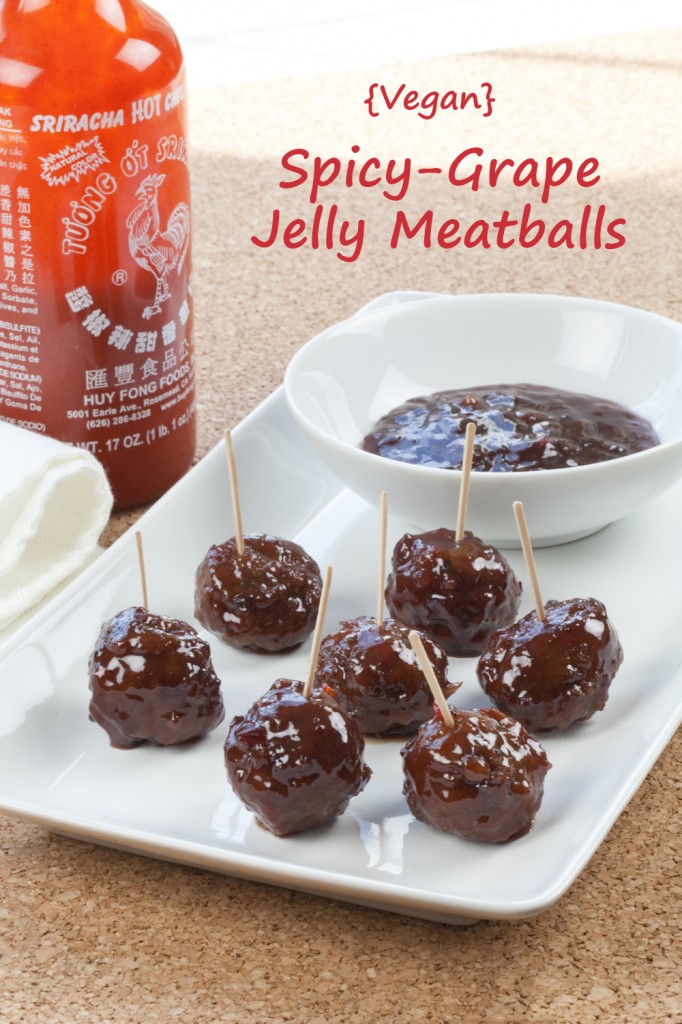 I used Nate's classic flavor, which are the same as the TJ brand if you happen to live near one of those wonderful stores. A little spicy and a little sweet, these make the perfect party appetizer or cocktail hour snack at home.
You guys do have cocktail hour at home, every night, right? It's not just me?
Make me feel better. Tell me what you're drinking or at least what you're reading 😉
---
Spicy Grape Jelly Meatballs (makes 21 meatballs)
This will give you extra sauce for dipping, and it's great on crusty bread, Ritz crackers, your finger…  ALSO, this is the quick-cooking method, but you can also do them in a slow cooker.
Ingredients:
1 bag Nate's classic flavor meatballs (or vegan meatball of your choice)
1 10 oz jar of grape jelly
5-6 oz Chili sauce (I used Thai Kitchen sweet red chili sauce),
2+ teaspoons Sriracha sauce (to taste)
Directions:
Set your meatballs out to defrost. Mix together the rest of the ingredients.
Add the meatballs to a large pot, and stir in the sauce. Heat over medium stirring occasionally until the meatballs are heated through.
Enjoy!