Remember my Kimchi Fried Rice? Well I had leftover kimchi and leftover Korean BBQ sauce, so I pulled some seitan out of the freezer and made bulgogi, then combined those with a little vegan mozzarella and green onions and voila! Kimchi Pizza!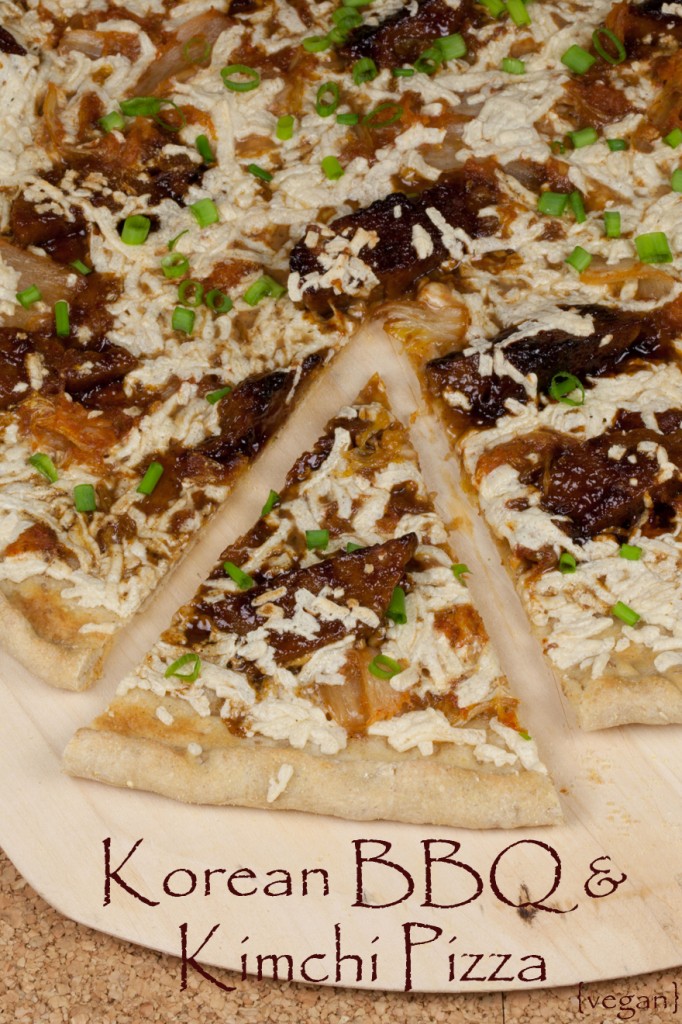 I used the same BBQ sauce as pizza sauce, so there were literally only 6 ingredients (pizza crust, cheese, seitan, bbq sauce, kimchi, green onions). Easy as (Korean pizza) pie!
---
Korean BBQ and Kimchi Pizza (makes one 14″ pizza)
Ingredients:
Pizza dough of your choice, rolled out
I batch seitan bulgogi, chopped (alternatively you could just marinate seitan in Korean BBQ sauce, if you want to cheat a little. I wont tell anyone!)
3/4 cup Korean BBQ sauce
3/4 cup (or more!) kimchi
Vegan mozzarella (I used Daiya)
Green onions for sprinkling
Directions:
Spread the BBQ sauce evenly over your pizza dough, then top evenly with the bulgogi and the kimchi. Cover with as much mozzarella as you'd normally put on your pizza then bake for 12-14 minutes at 425 (on a pizza stone!). When done, sprinkle with green onions.
Enjoy!