HAPPY WEDNESDAY! We're halfway there, folks. And to make your week a little bit brighter, I have an awesome giveaway for you: Four bottles of delicious salad dressings, marinades, and dipping sauces from Terrapin Ridge Farms!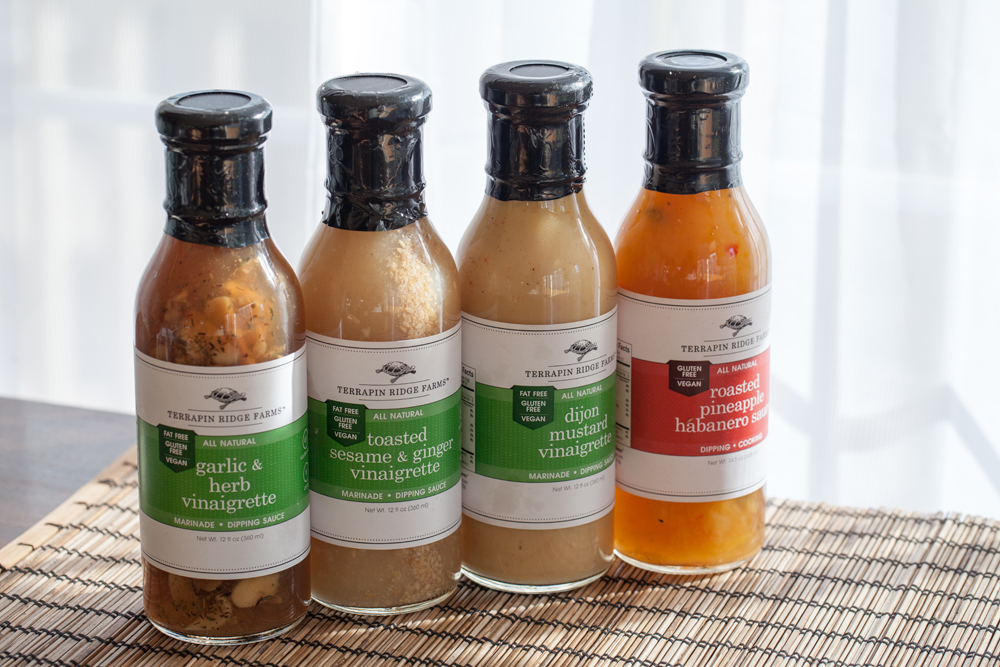 They were all great, but let's break them down by just how much I loved them…
Roasted Pineapple Habanero Sauce (vegan, gluten free): Hands now, this was totes my fave. It was a perfect combo of spicy and sweet, and although they categorize it as a dipping and cooking sauce, I loved it the most as a marinade! I would press a block of tofu and then it sit in this sauce for at least an hour before grilling or baking it. Then I'd drizzle a bit more on top before serving. I bet it would also be delicious as a dipping sauce for raw veggies!
Dijon Mustard Vinaigrette (vegan, gluten free, fat free): I tend to be a little suspicious when something this delicious is fat free (How do they do it? Magic? Unicorn tears?), but of all the flavors I used as salad dressings, I loved this one best. It's not sweet like a honey mustard, it actually has this crazy bite to it which is perfect for spicing up your salad. When I'm having salad for dinner and I'm not super excited about it, this is the dressing I use to really perk it up.
Toasted Sesame & Ginger Vinaigrette (vegan, gluten free, fat free): Honestly, this guy came from behind and almost took 2nd place! I wasn't sure I'd like it that much and actually put off opening the bottle, but as soon as I did it went pretty quickly. I was keeping it in the fridge at work for my lunch salads, and as soon as my co-workers caught on, they started using it too. The ginger isn't overwhelming but you can taste it. It's a very light dressing, which is perfect when you don't want a heavy, creamy type.
Garlic & Herb Vinaigrette (vegan, gluten free, fat free): This one scared me a little bit when I first pulled it out of the box, those huge chunks of garlic! This sauce worked wonderfully as a marinade though. So far I've only used it on tofu, but would like to try it on tempeh too…
I also really liked how these sauces were marked as vegan, gluten free, etc. It's nice when companies don't make us guess, right? And definitely check out their full product line. They have tons of mustards (sweet beet and horseradish!? I need that NOW!), jellies, salsas, and more. They're not all vegan though, so be careful.
The Giveaway
Enter below to win FOUR bottles of Terrapin Ridge Farms Sauces (Roasted Pineapple Habanero, Dijon Mustard Vinaigrette, Toasted Sesame & Ginger Vinaigrette, and Garlic & Herb Vinaigrette). There are lots of ways to enter… start by leaving a comment letting us know which flavor you think will be your favorite. There are FB and Twitter options too!
The contest is open until Midnight, Sunday 6/22 Mountain Time, to US residents. Good luck!
---
*Although I was provided free product to review, the opinions are 100% mine!