First (and more important!) while my fabulous friend Angie (as in Angie Eats Peace) is traipsing her way around Europe, I'm excited to have written a guest post for her, so please go check it out! It's all about how eating vegan doesn't need to be complicated or hard. Go on, we'll wait…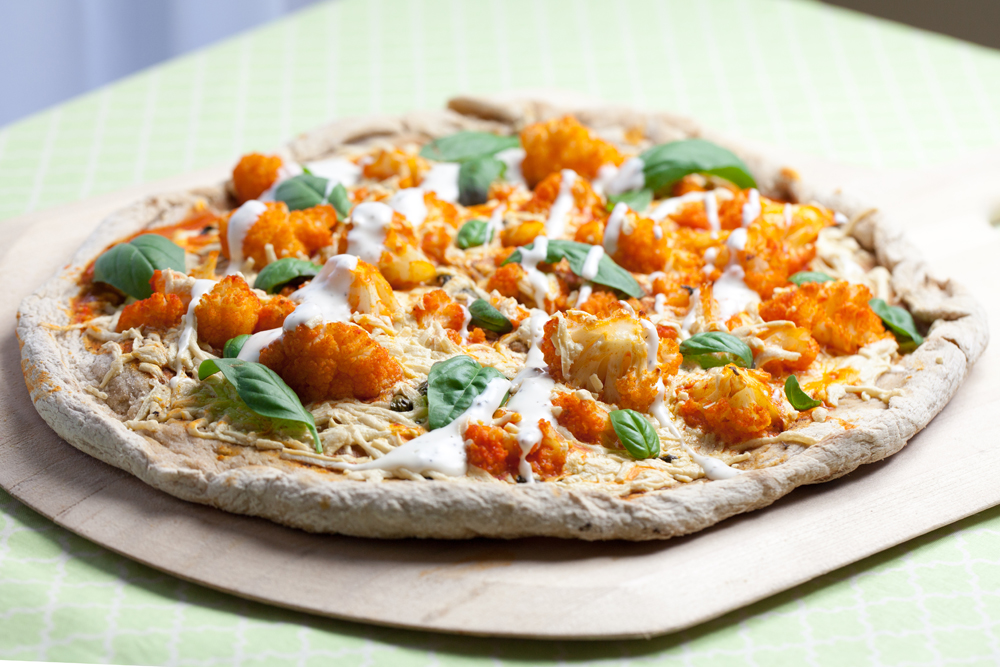 Are you back? Okay good, cuz you're not gonna want to miss today's creation: Vegan Buffalo Cauliflower Pizza! What's it got on it?
Cauliflower that is swimming in Frank's Buffalo Sauce
Daiya vegan mozzarella cheese
Follow Your Heart vegan ranch
Fresh basil
What more could you want?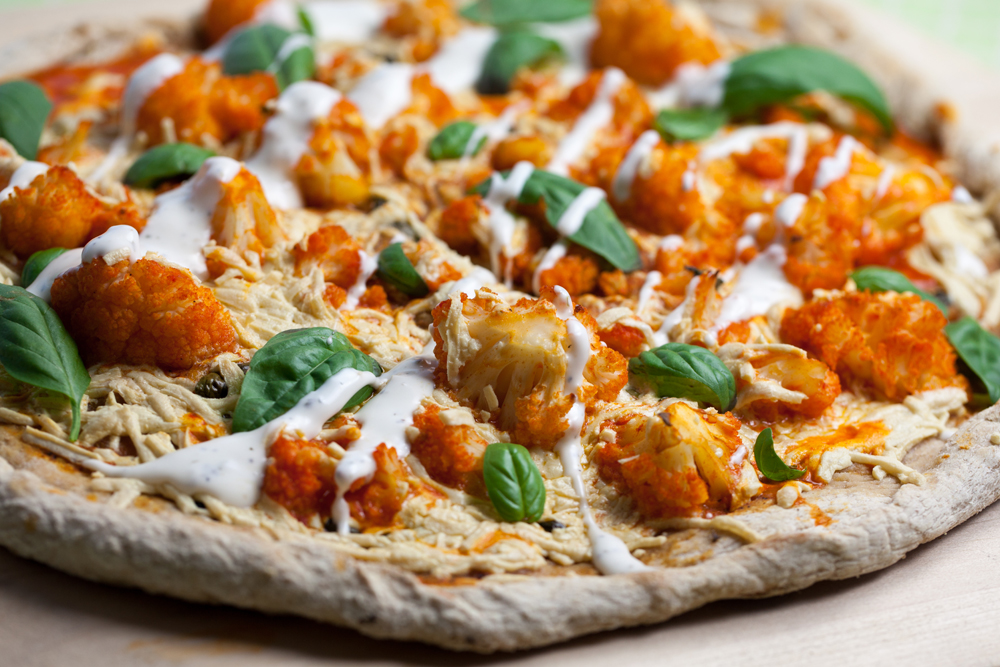 We all know that cauliflower is the new kale (for now, anyway… who knows what will be the new cauliflower by this time next year!?), and we also know that Frank's buffalo sauce is both vegan and delicious (two things that nearly always go hand-in-hand), so why not put them together. On a pizza. Because if there's anything we all know, it's that I'll put anything on a pizza!
Breakfast? Yes. Korean BBQ? Yes. Tater tots? HELL YES.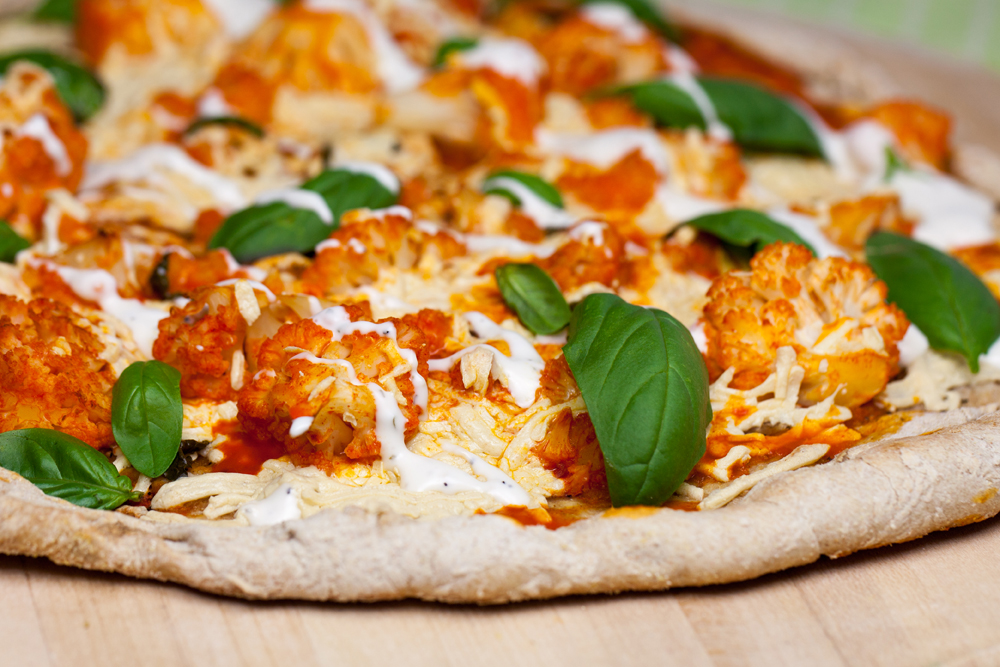 And don't even think about skipping the vegan ranch dressing or the fresh basil. They take the buffalo flavor to a whole new level. Trust me.
Here's your handy dandy printable.
---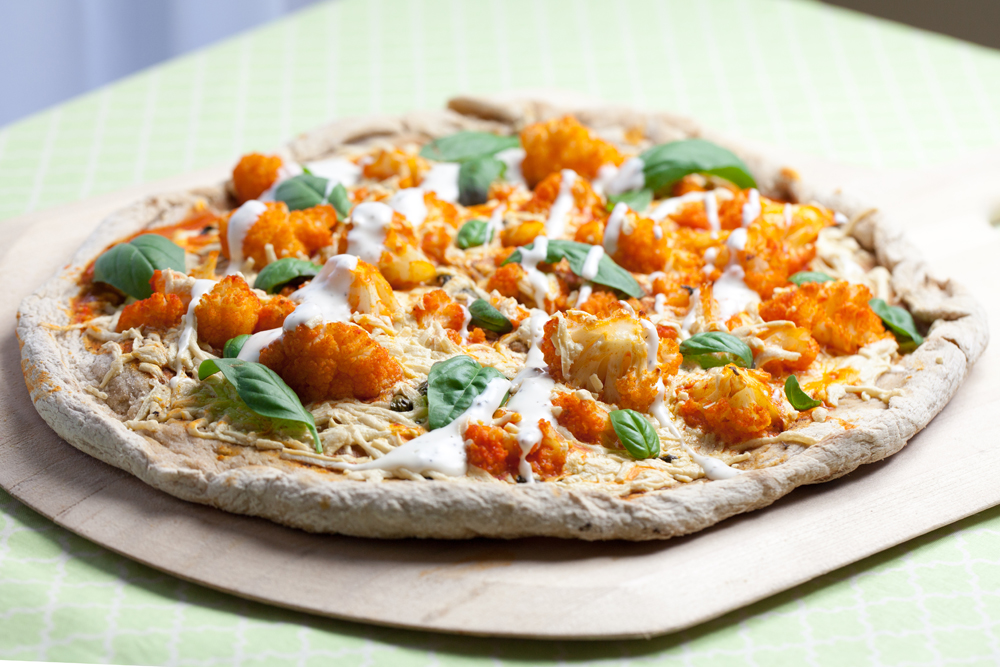 Buffalo Cauliflower Pizza
2014-06-16 11:01:23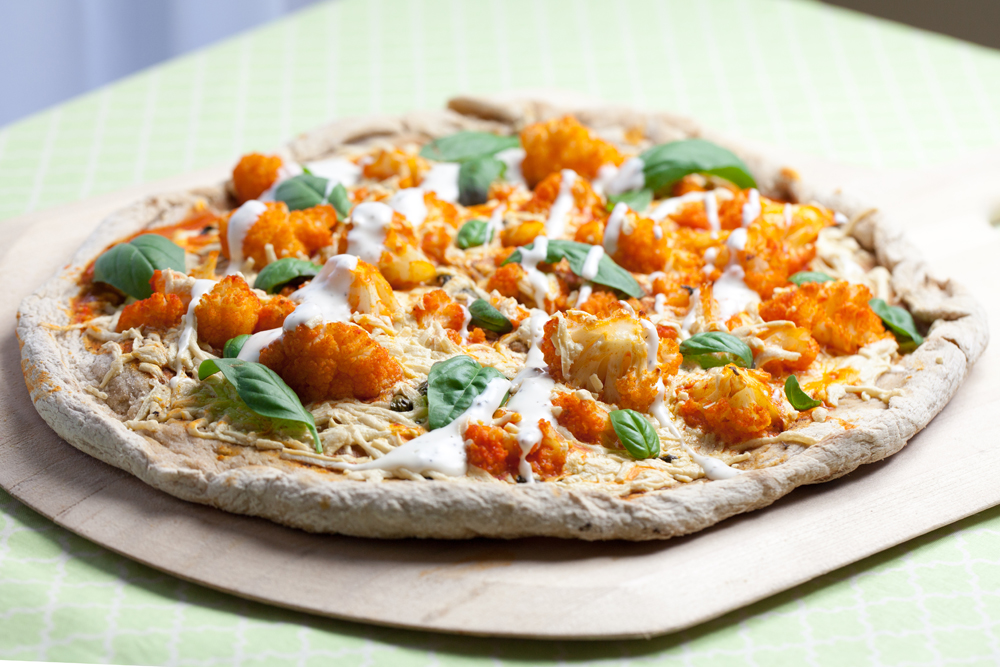 Who wants to eat buffalo wings when you can have buffalo cauliflower... on a pizza!?!?
Ingredients
1 pizza dough, store bought or homemade, rolled out and ready to go
1 head of cauliflower
1 cup Frank's buffalo wing sauce, divided
1 1/2 cups Daiya mozzarella shreds
1/2 teaspoon garlic powder
S&P taste
10-12 fresh basil leaves
Vegan ranch dressing for drizzling
Instructions
Preheat oven and pizza stone to 425.
Chop the cauliflower into bite-sized pieces and water saute for just 3-4 minutes. They don't need to be fully cooked, you just want to take the edge off. Drain any water out of the pan, then stir in ~ 3/4 cup of the Franks.
Top the pizza dough with the remaining wing sauce, spreading evenly. Add the saucy cauliflower bites, then sprinkle with the cheese and seasonings.
Bake for 12-15 minutes, until the cheese is melty. Top with the basil leaves and drizzle with the dressing right before serving.
That Was Vegan? http://www.thatwasvegan.com/