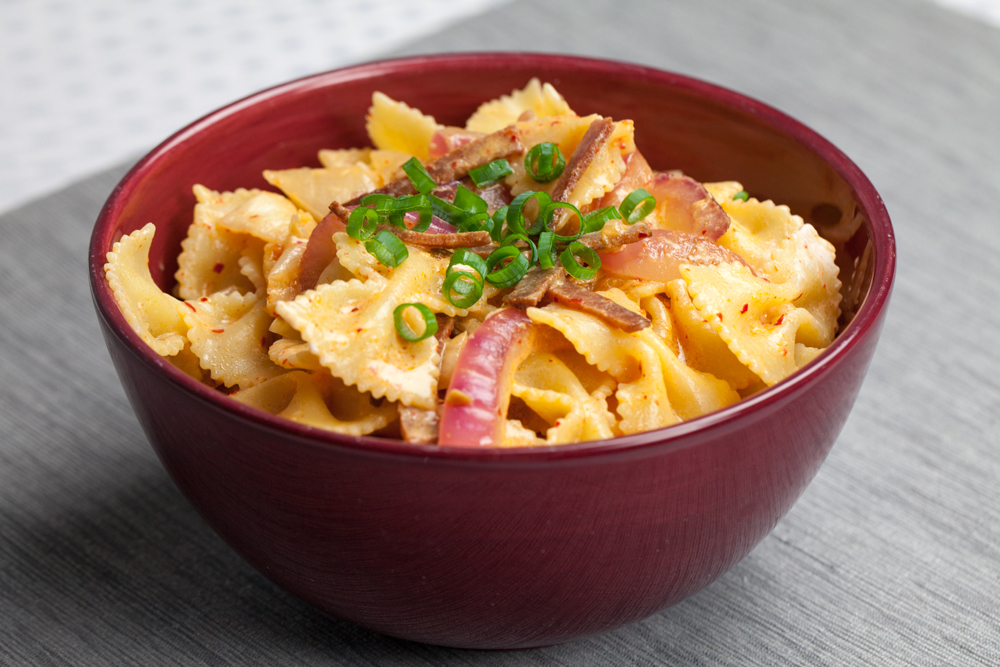 Kimchi, Pasta and Bacon, oh my!
Seriously you guys, if I was able to come through your computer screen and force you to make something for dinner tonight, it would be this Creamy Vegan Kimchi Pasta with Bacon! Just looking at these pictures while I write this post is making my tummy growl.
I love me some kimchi, but it turns out I love it even more when it's paired with bacon, sauteed garlic, and some super creamy sour cream. I can barely describe how well these flavors work together!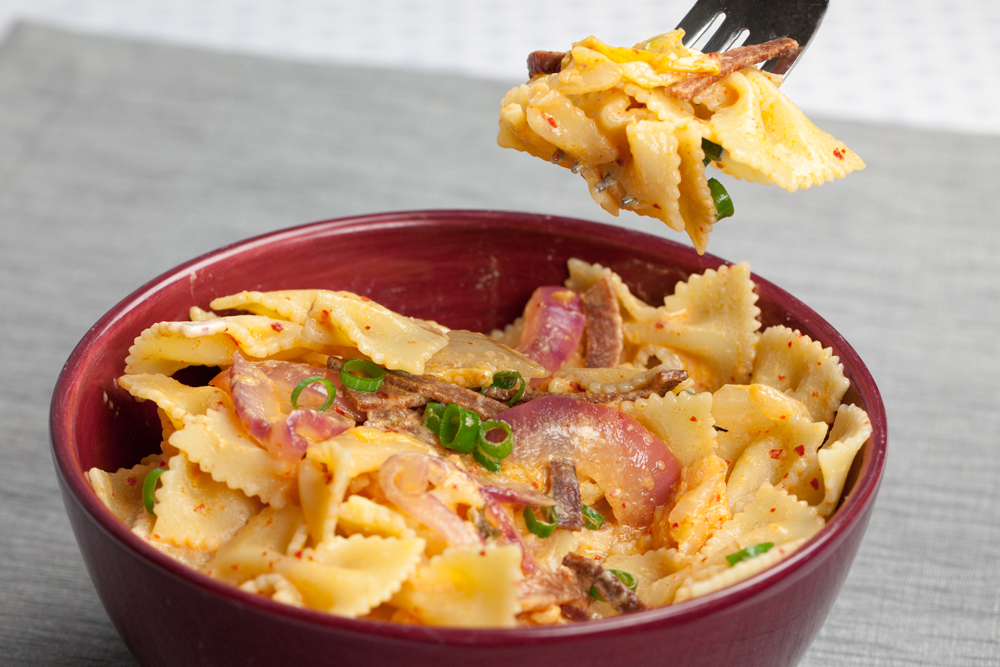 Each bite was like a big flavorful punch in the mouth… But in a good way!
As the weather turns colder I find myself craving pasta more and more, and this is a really great way to keep it from getting boring. Plus finding vegan kimchi is pretty easy these days, so you don't need to worry about making it yourself. I've actually never even attempted to make it myself because, honestly, it seems like a huge pain in the lady-balls. Much easier to just hop on down to my local Whole Foods (or Sprouts, Natural Grocers, etc) and pick up a jar. Plus, that way you'll have a little extra to make some Kimchi Relish for your veggie dogs!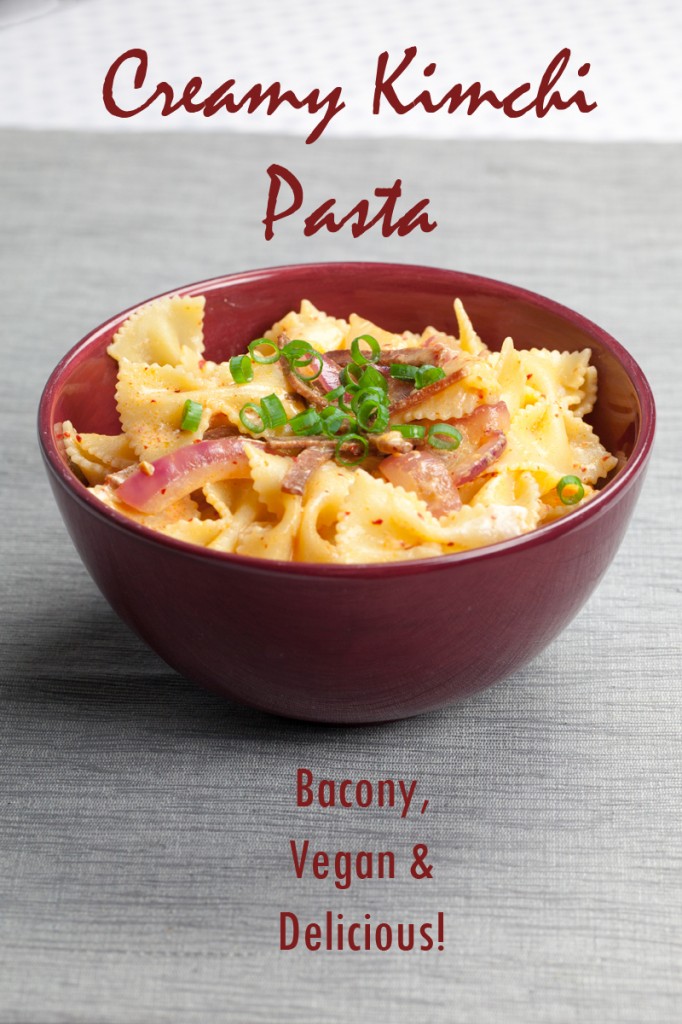 Okay, that's my spiel. Please just promise me you'll try this dish the next time you're craving pasta! Not convinced yet? Ok, here's one last look…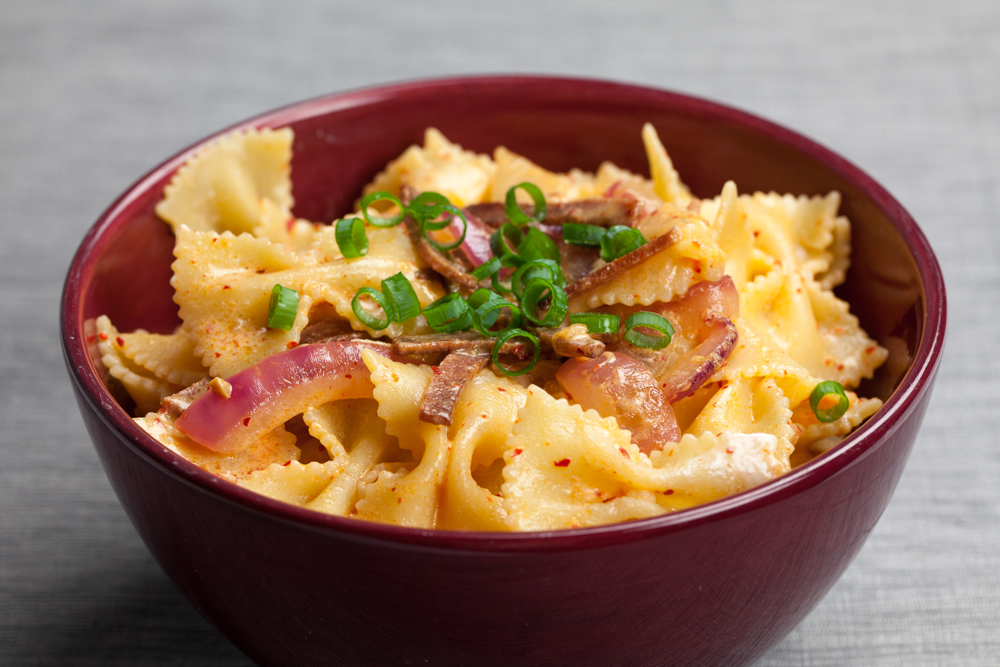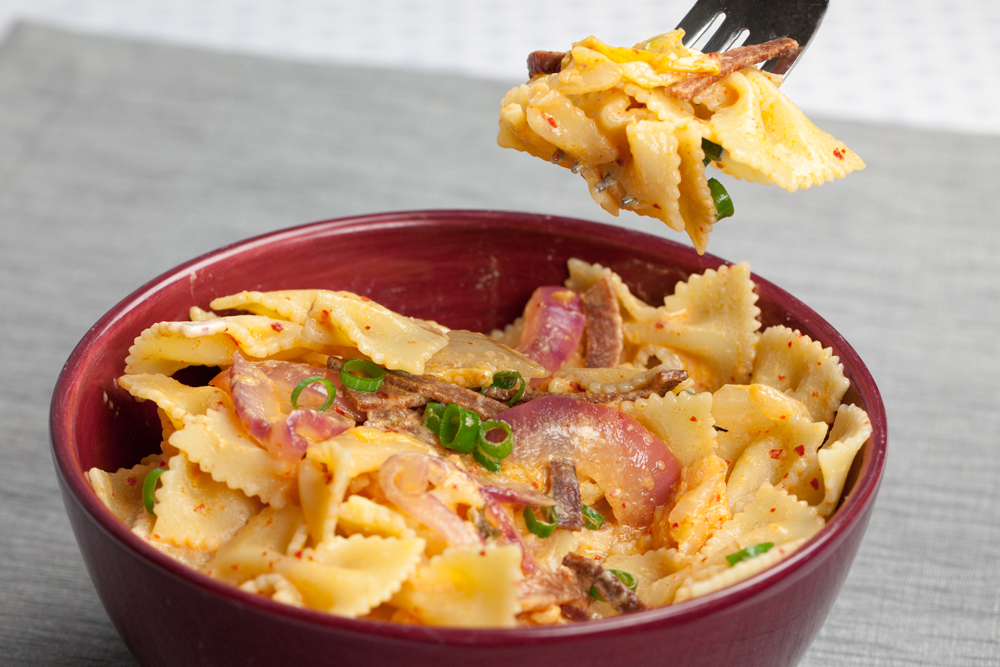 Creamy Kimchi Pasta with Bacon
2014-09-24 08:10:54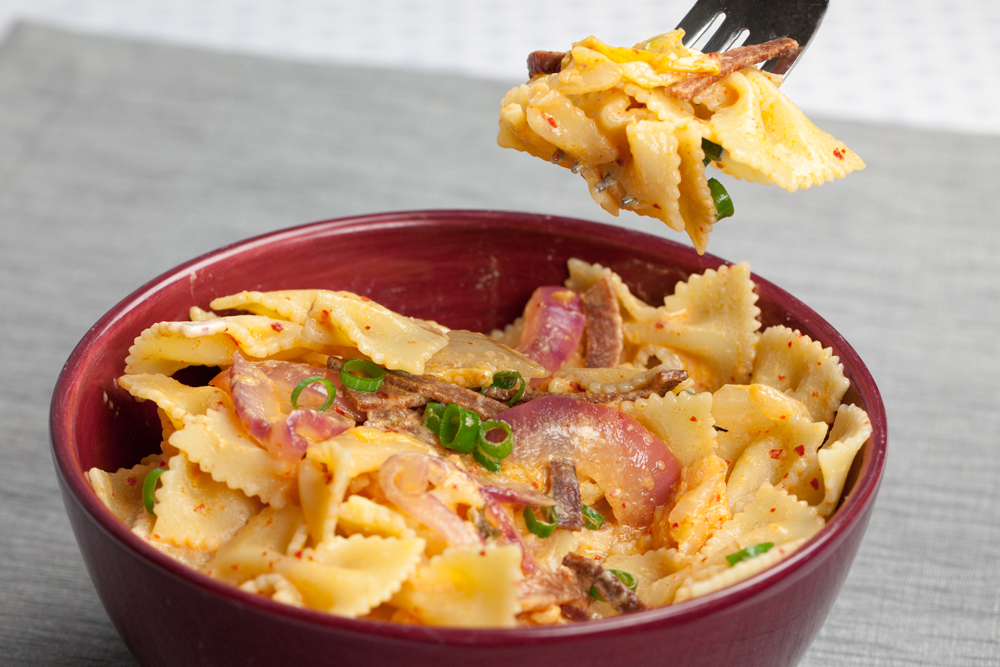 Serves 4
Korean pasta? YES!
Ingredients
8 oz your favorite bite-size pasta
Olive oil
1/2 red onion, sliced
2 cloves garlic, diced
4 strips vegan bacon (I used lightlife smart bacon), thinly sliced
Sea salt
1 1/4 cups Kimchi, roughly chopped
1 cup non-dairy unsweetened milk
2 tablespoons vegan sour cream
1/2 cube 'not-chicken' or veggie bouillon
Chopped scallions for topping, if desired
Instructions
Cook pasta per package directions.
In a large pan, saute the onion, garlic and bacon in the oil, and sprinkle with a bit of salt, for 7-8 minutes. Reduce heat to low and add the remaining ingredients, stirring until thickened and heated through. Stir in the pasta, top with the scallions, and serve immediately!
Notes
If you have applewood smoked sea salt, sprinkle a bit of that on the bacon, onion and garlic while they're cooking!
Adapted from My Korean Kitchen
That Was Vegan? http://www.thatwasvegan.com/