Happy hump day, as they say. I'm smack dab in the middle of a three-day work week (thanks to Monday's holiday, and Friday being a flex day) and I couldn't be happier about it. I mean, who wants to be at work when they could be home making Vegan Sausage n' Cheese Mini Quiche!?
And while we're at it, please allow me to clear the air a bit. I've been a flaky blogger lately, I realize it and I'm sorry about it. It seems I've been cooking less and photographing less and definitely writing less. I've tried to fill the void with more product reviews and giveaways, and I hope you guys are okay with that? I guess what I'm asking is: Does it kind of piss you off when you check in on TWV? and find a review or giveaway instead of a yummy new recipe? Please feel free to be honest. I can take it. Probably. It's just that there are ebbs and flows in life, and that applies to everything, doesn't it? Our relationships, our weight (haha), and even our blogging.
Oh! But I do have a bit of (fingers crossed!) good news! We've been battling a mysterious condition with this little guy: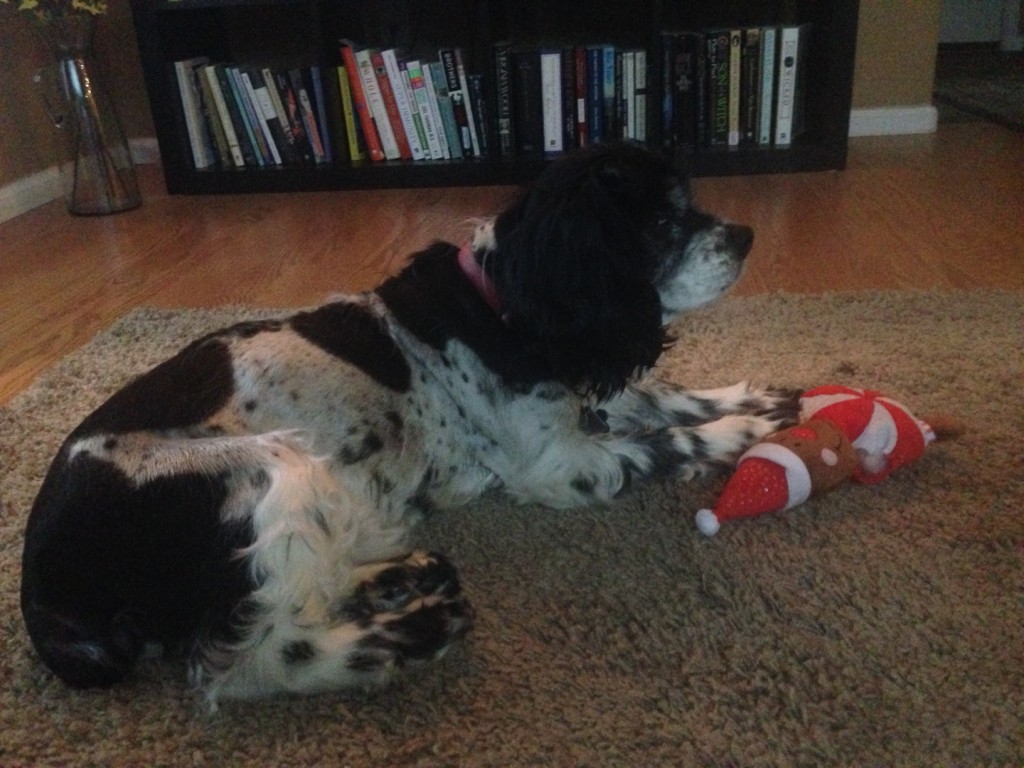 First he had a weird skin infection. Then a recurring infection. Then the fur stopped growing on his back and torso (but kept growing on his legs, head and upper chest). THEN his fur started to fall out. THEN he became so insanely itchy that he started chewing on himself. Throughout all of this I was taking him to the vet where they would run tests, but could never quite pinpoint what was causing all his health problems. His thyroid? Nope. Cushings disease? No, not that either.
So we continued to treat the symptoms as they would pop up, and try to keep him comfortable. Thankfully he never seemed miserable, other than the itchiness. His appetite was always good, and he was always playful and sweet. Anyway, we started seeing a new specialist and they called on Monday afternoon with the results from his latest culture: and my sweet little baby has a staph infection! I feel terrible that it went on for so long, but am very happy to finally have a diagnosis we can treat. He's been on antibiotics since Monday night and I feel like he's already less itchy. He's chewing at himself less, anyway. So, fingers crossed that Cooper keeps getting better!! I promise to post more pics as his beautiful fur starts to grow back in 🙂
In the meantime, I have some new quiche (quiches?) for you: this time they're full of sausage and cheese, which pretty much makes them #killinit. You can check out my other two flavors (Sweet Potato & Kale, and Broccoli & Cheddar) here.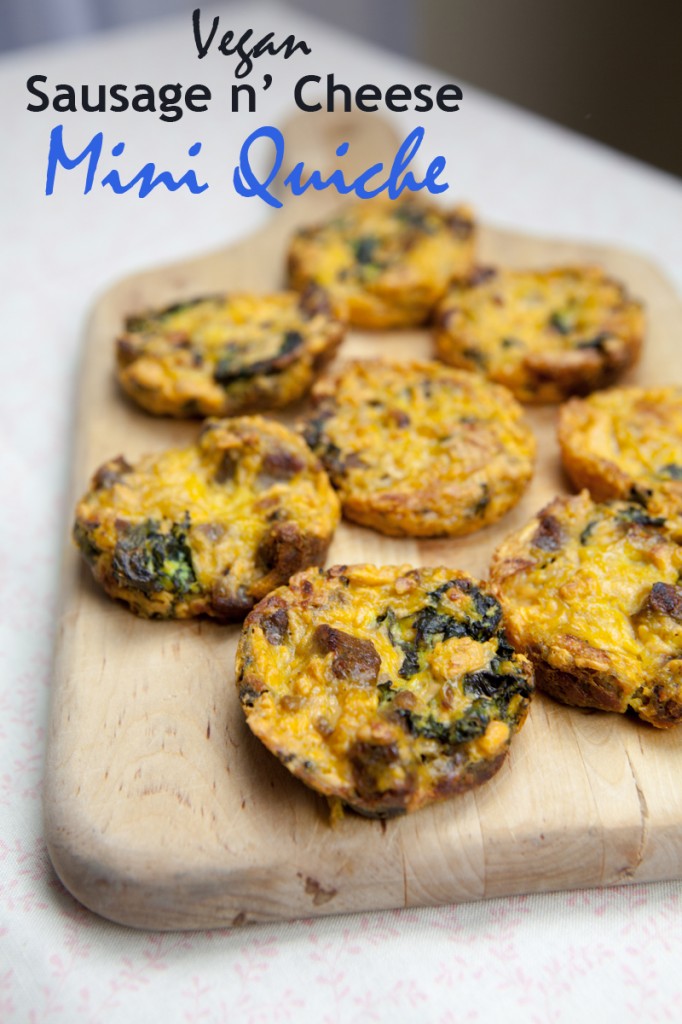 I used Kroger brand Simple Truth breakfast sausage (they have tons of vegan products if you have a Kroger or King Soopers near you, FYI) but any brand would work. These are really simple and I love how you can start with the base and then switch up the ingredients depending on your mood. And they keep really well in the fridge! I like to make a double batch and put them in sandwich baggies, 3-4 each. That way I can grab a baggie on my way out the door in the morning for an easy breakfast or snack, and if you seal them up airtight, they'll keep for 5-6 days.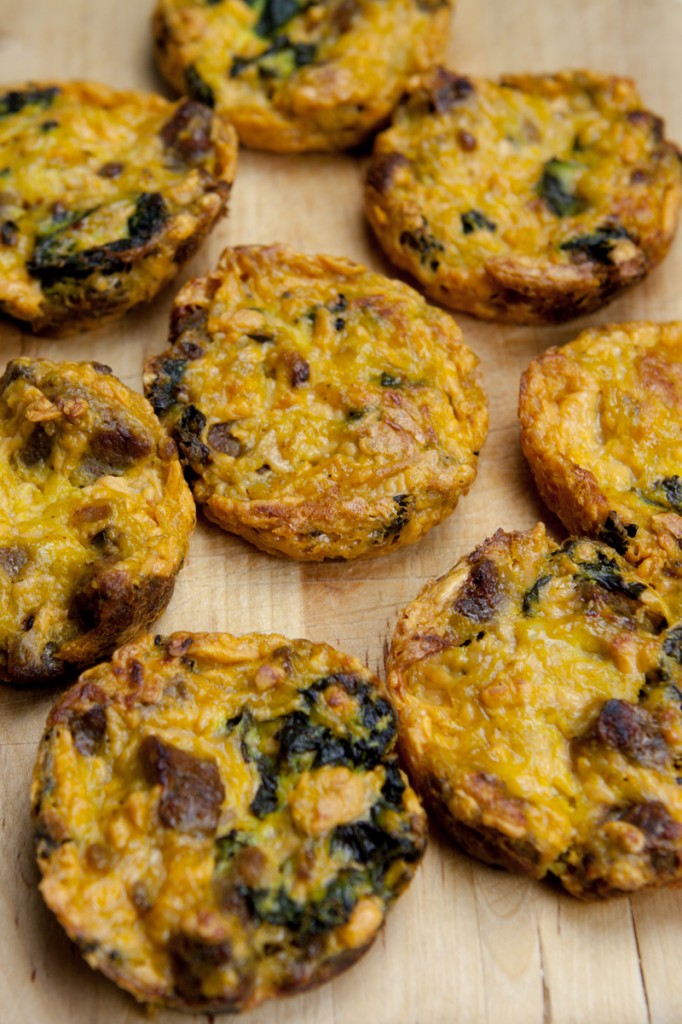 ---
Vegan Sausage & Cheese Mini Quiche
2014-10-15 08:03:40
Ingredients
Non-stick spray
3 vegan breakfast sausages
1 cup kale, chopped
A pinch of S&P
1 12.3oz package Lite Firm Mori-Nu Tofu, well drained
1/4 cup unsweetened non-dairy milk
1 tablespoon cornstarch
1/4 teaspoon onion powder
1/8 teaspoon garlic powder
1/4 teaspoon turmeric
1/2 teaspoon salt
1/2 cup Daiya cheddar shreds
Instructions
Preheat oven to 375 and spray a 12-cup muffin pan with non-stick spray
Dice or crumble the sausage and heat thoroughly in a frying pan over medium heat- you want the pieces to crisp up.
Water saute the kale with the S&P for 4-5 minutes until softened.
Combine the rest of the ingredients in the food processor and pulse until completely smooth. Scrape out of the processor and combine with the kale and sausage, stir and taste. Add more salt if needed.
Spoon into the muffin tins. Reduce oven heat to 350 and bake until the tops are golden and fork tines poked into the quiche come out clean, 30-35 minutes. Serve hot, warm or cold.
Notes
If you didn't do a great job draining the tofu, or there was a lot of moisture left in your veggies, the cooking time will need to be longer. Just keep an eye on them, and continue to add 5 minute increments to the oven timer!
Adapted from FatFree Vegan Kitchen
That Was Vegan? http://www.thatwasvegan.com/