My mom (who is just awesome in general) came up with the fabulous idea to have a girl's weekend for just the two of us Breckenridge to take in the autumn colors and celebrate my upcoming birthday, so we headed up there the weekend before last!
We left Denver mid-afternoon on that Friday and arrived in Breck just as it was starting to spit snow. We stayed at The Lodge at Breckenridge which, although a little ways outside of town, we pretty great. It's perched on the edge of a mountain and has incredible views. Plus their recent renovation achieved a nice balance of luxury and rustic (luxic? rustury?) so we were very comfortable there.
As soon as we had checked in, we ubered into town. We were ready for a drink and some shopping! We grabbed a beer at Ollie's Pub while watching the snow fall, and it was just lovely. Then we ventured out for some fresh air and checked out a handful of small shops, then ducked into The Blue Stag Saloon for one last drink before dinner. That place was really cute and homey and "mountainy". Loved it! But we only stayed for one drink because we were heading off to Piante Pizzeria for dinner and were So. Excited.
Piante is an all vegan pizzeria located on Breck's Main Street and it was adorable. Too cold to sit outside (it was still snowing and quite windy) but we did get a window seat facing the the slopes.
We started with the Roasted Jalapeno Poppers, served with organic cashew mozzarella, red onion, and plant-based Italian sausage: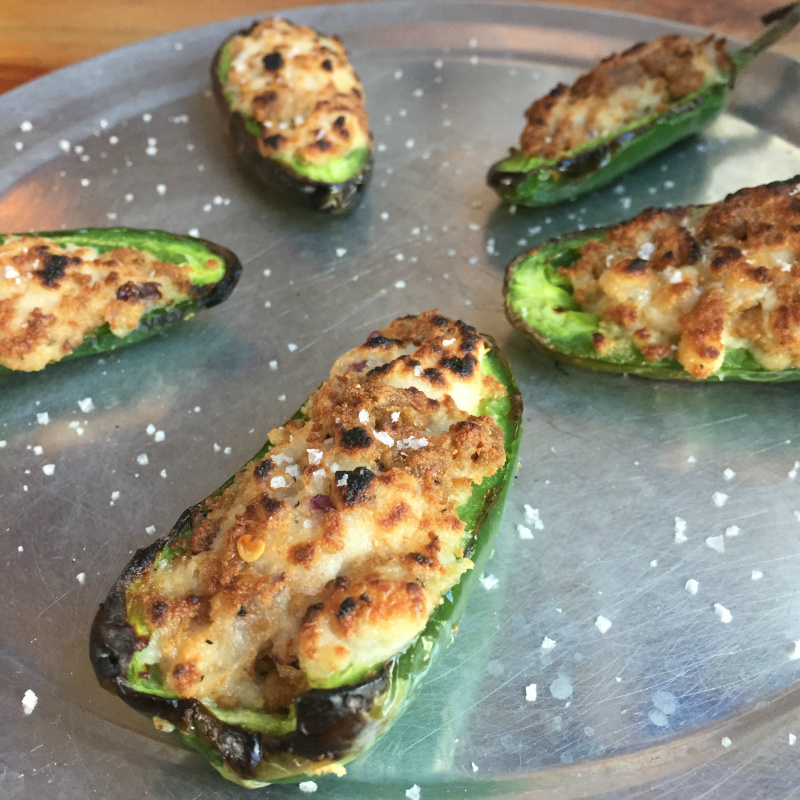 We scarfed them down pretty fast, with a glass of wine. In fact, here's a shot I took to show how they offer patrons quilts if you're cold (seriously!) that also features the empty platter: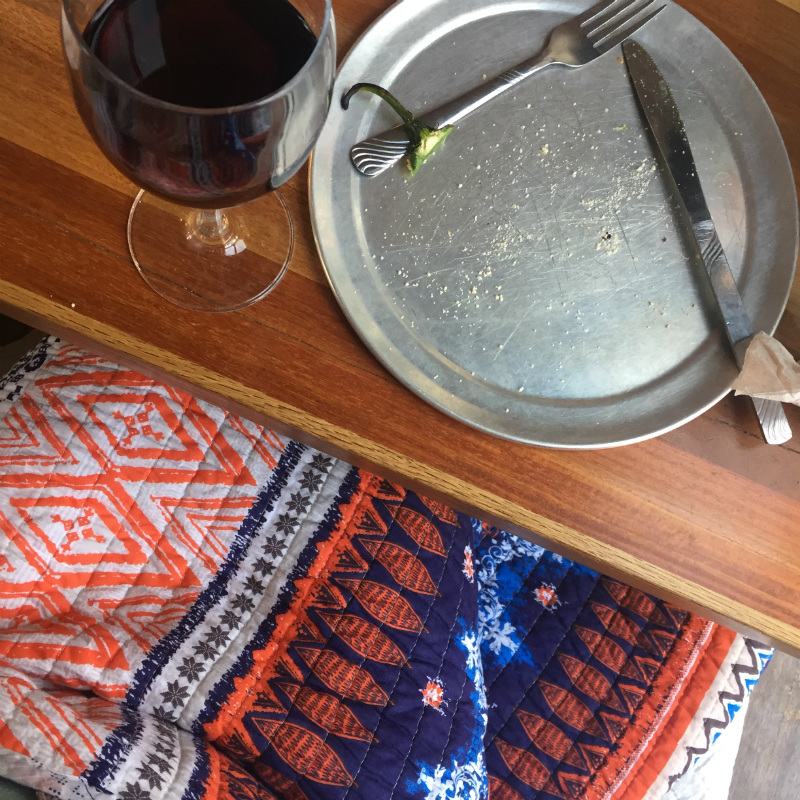 They also have some delicious sounding salads but honestly, we were all about the pizza. Mama chose the Lasagna Pizza, which featured house-made San Marzano tomato red sauce, organic cashew mozzarella, house-made organic cashew ricotta, meat crumble, and basil.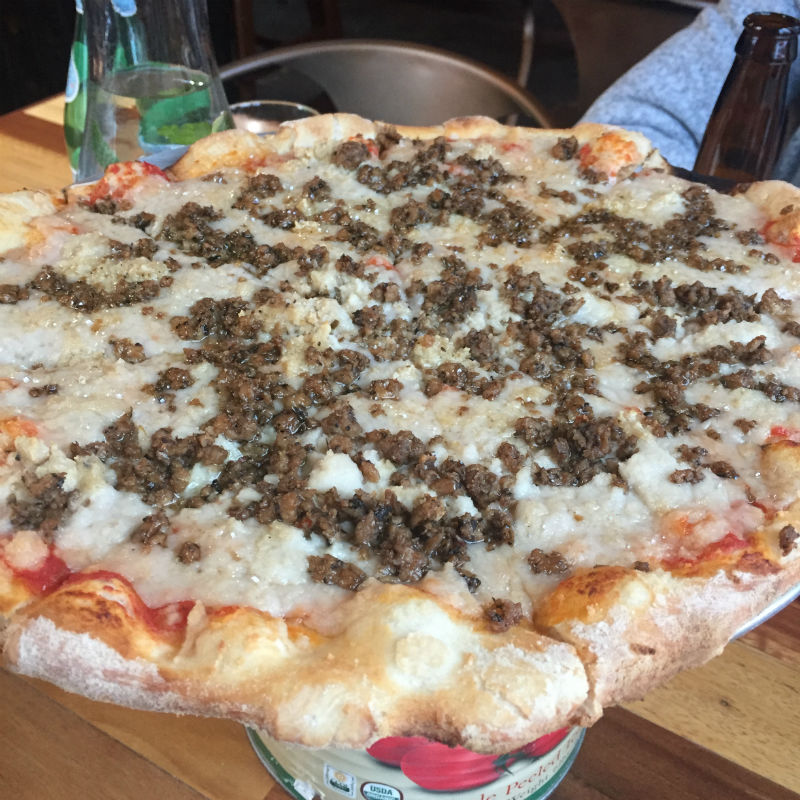 Honestly, I think this was the best pizza I've ever had. Vegan or pre-vegan, I don't remember anything comparing to this pizza. In fact, I burst into my own personal pizza-based rendition of Nothing Compares 2 U, right there in the restaurant. Okay, not really, but still. Amazing pizza. Here's an up-close shot to show how gooey and melty and oily the cheese was. SO REALISTIC AND DELICIOUS!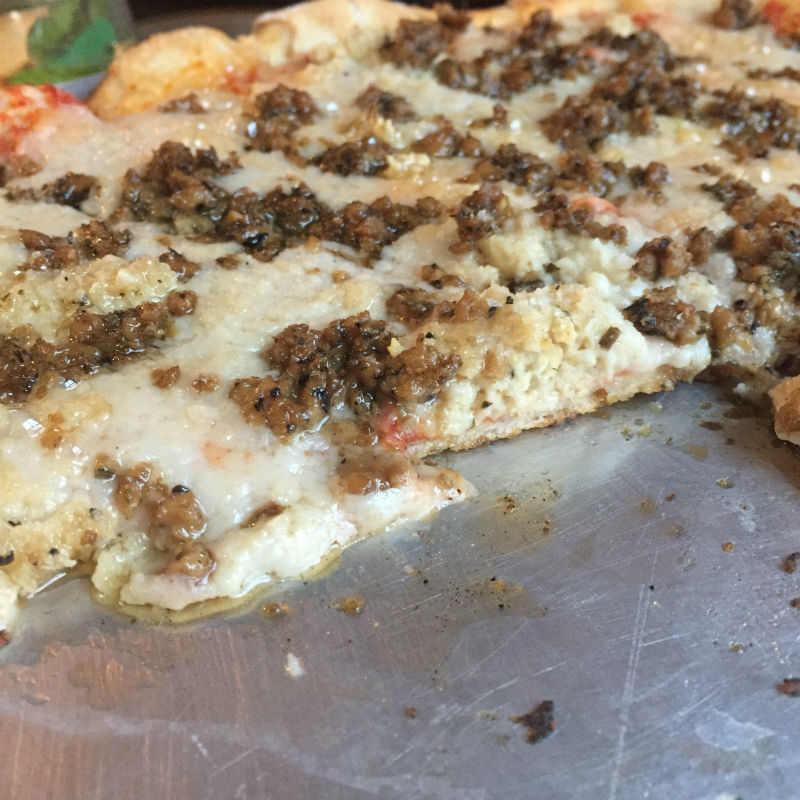 I also loved that they have vegan parm at each table: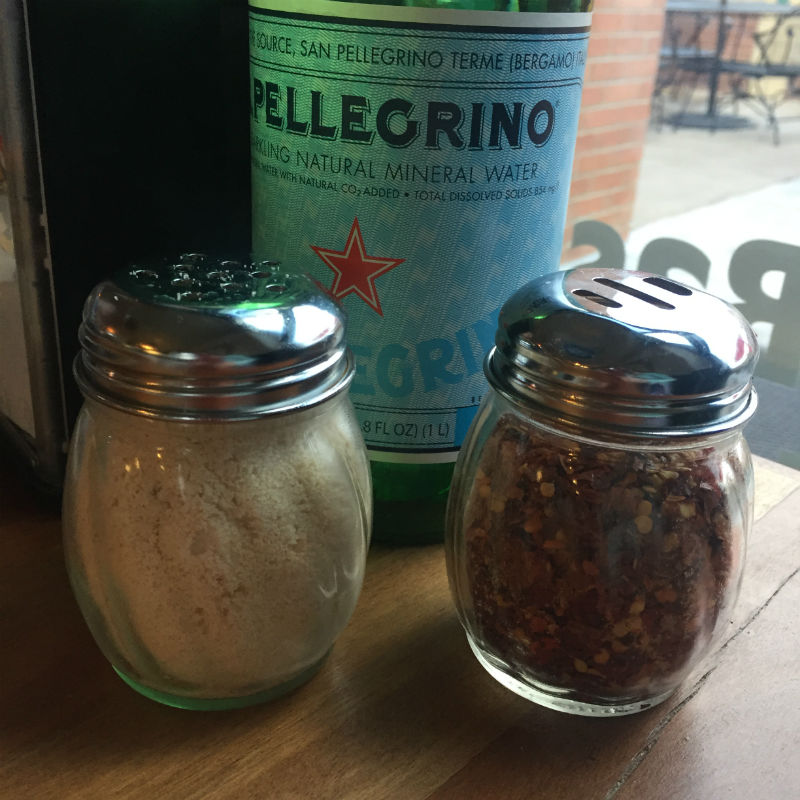 It's that attention to detail (along with the delicious food) that makes Piante so great. Also, our server was so sweet and gave us a free dessert because it was my birthday 🙂 We chose the Tiramasu: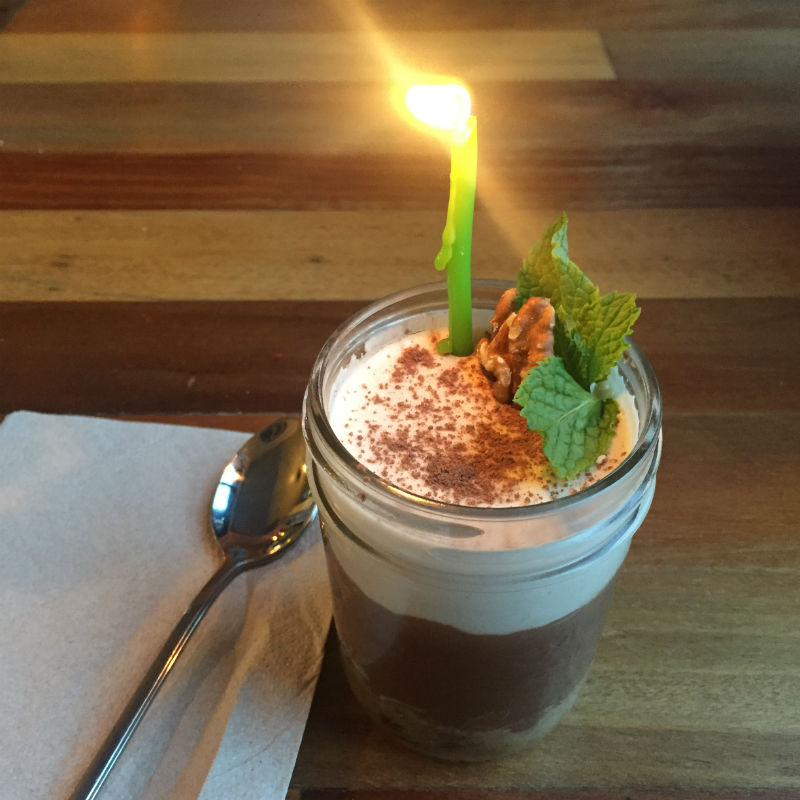 We called it an early(ish) night and headed back to the lodge after dinner. We had free drink coupons to use in the bar, then it was off to bed.
Saturday we got up early for breakfast at the lodge, which was included with our room. They actually had quite a few vegan options, including soy milk which you don't always see, so that was nice. Also? Please don't judge my weird breakfasts.
I started off with a piece of toast topped with peanut butter and sliced strawberries, and roasted potatoes swimming in maple syrup.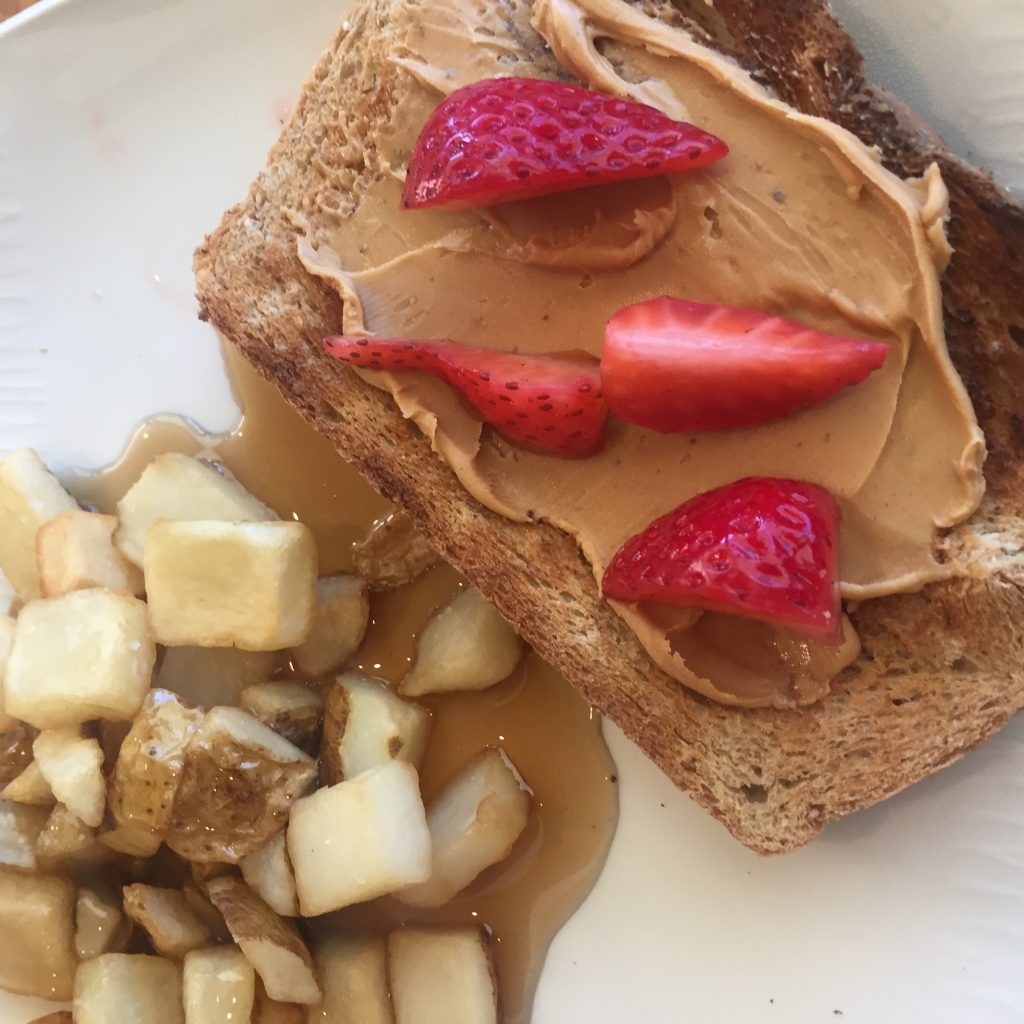 That was followed up with a bowl of fresh fruit (strawberries, watermelon, honey dew and cantaloupe) topped with their house-made granola which was really tasty!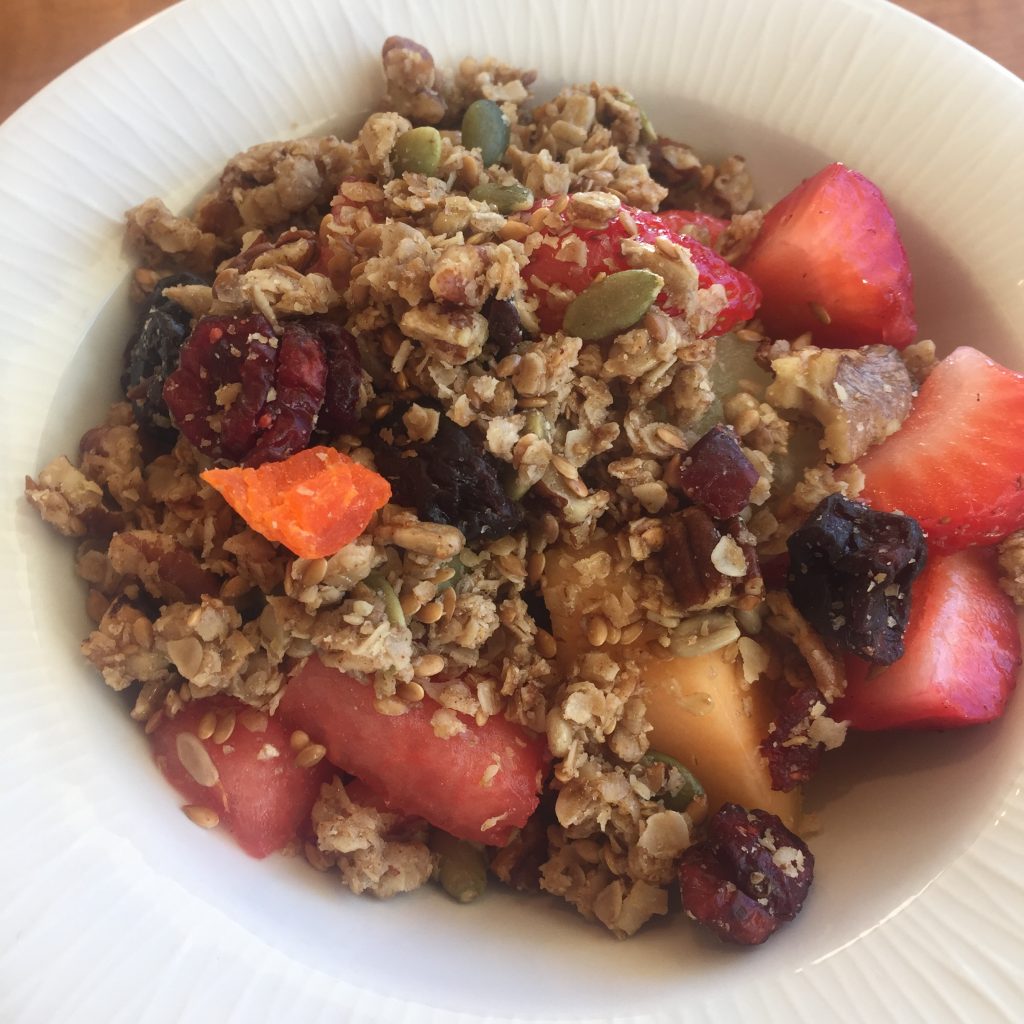 After breakfast it was time for a hike! We chose McCullough's Gulch because it was rated fairly easy, and because it was close. We had an afternoon of shopping and eating planned, so we didn't want to get sucked into a lengthy hike. Plus the reviews were great. It's on the backside of Quandry Peak, and local 14er.
It was really cold up there (we started off quite high) and very windy. Here's us at the trailhead, all bundled up!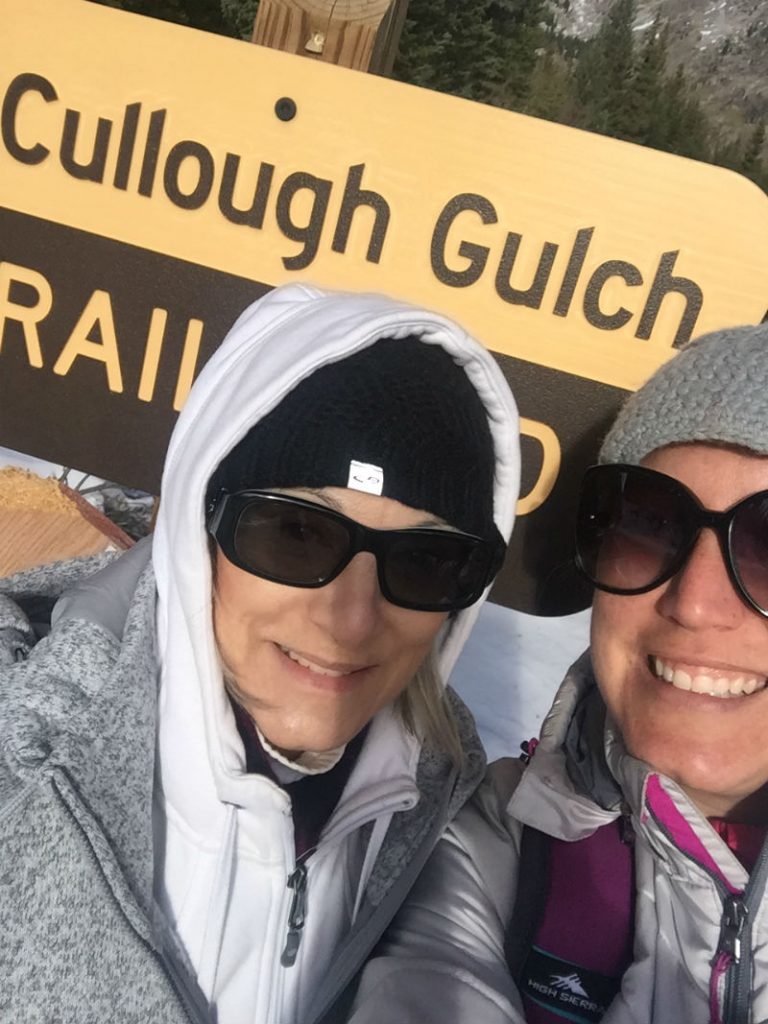 The views were beautiful…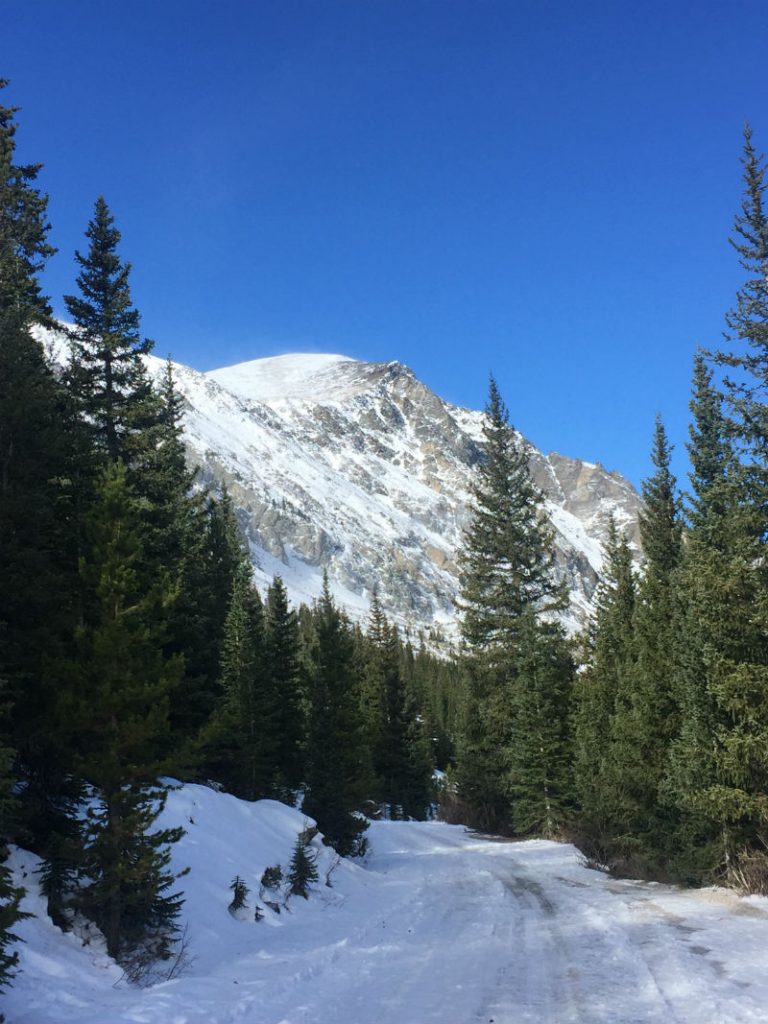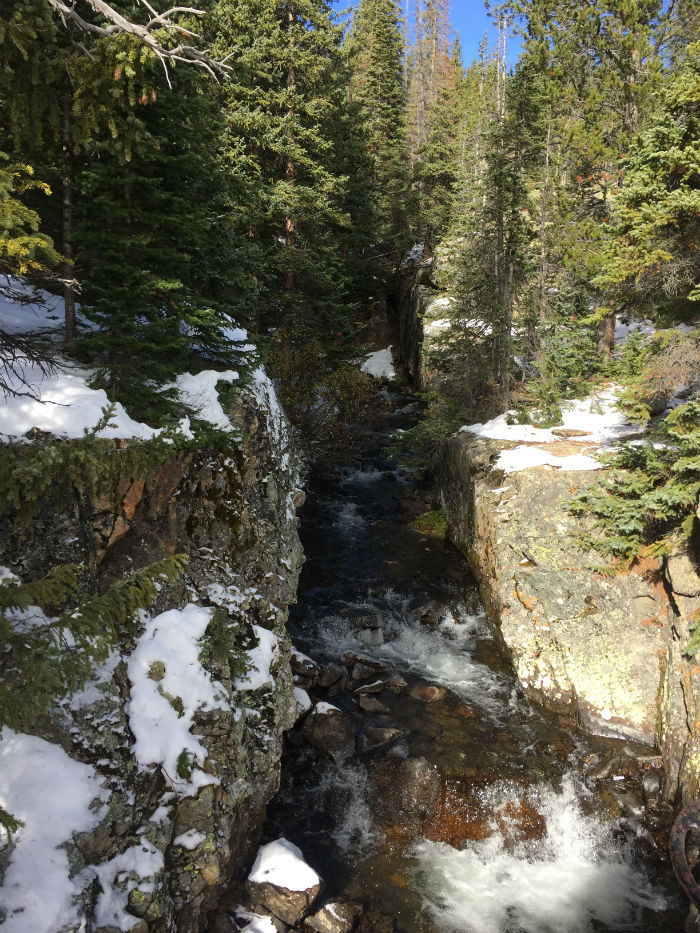 … but unfortunately we had to turn around pretty quickly into the hike, as the trail was a basically a sheet of ice. I made mama pose for a picture first tho-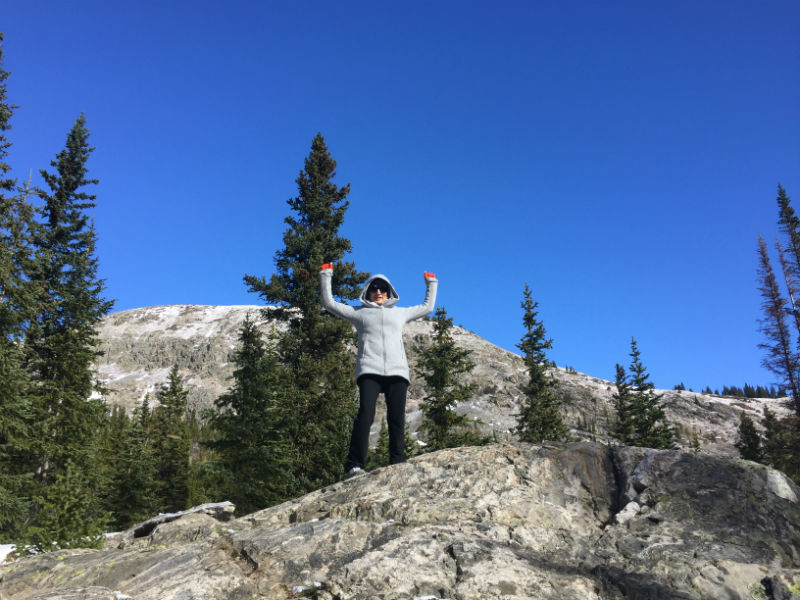 After a quick drive back to the lodge and freshening up, we hit Main Street. The sun was shining, it was in the high 50's… basically it was the quintessential autumn day! Before we arrived we thought we might have missed the best of the leaves, but nope. They were still there!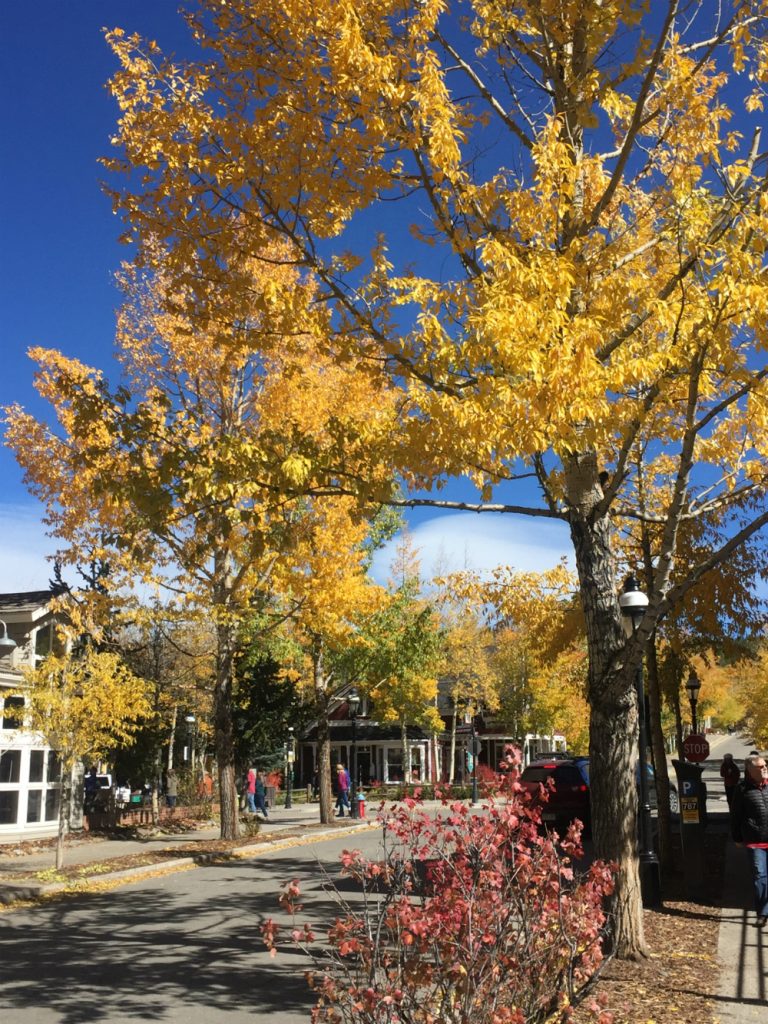 We window shopped and real shopped. We taste-tested whiskey and even popped into The Crown, a bookstore/wine bar/coffee shop that specializes in boozy coffee drinks. I had the Hot Apple Pie which was apple cider, fireball whiskey and vanilla vodka (omg! yum!) and mom had an Irish Coffee. Ain't she adorable all bundled up??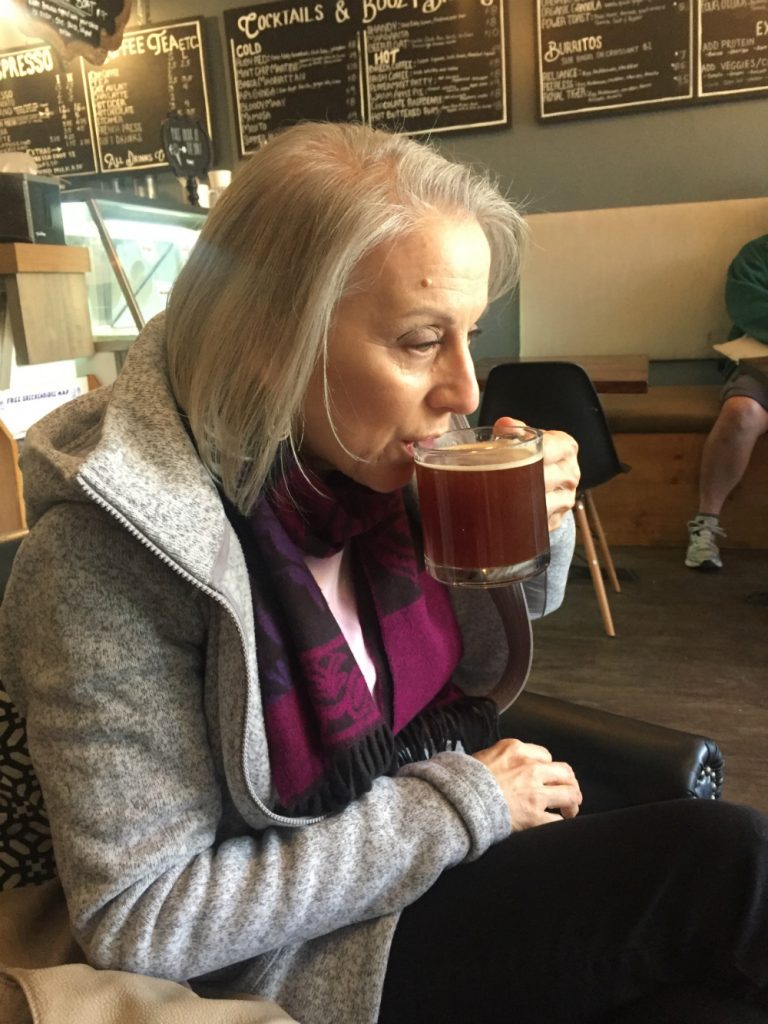 It was a super cute little shop, I definitely recommend it if you're in Breck and need a coffee, with or without the booze!
More shopping and a quick stop into the Barney Ford House Museum, which was really interesting. Ford was an escaped slave who moved his family to Breckenridge in the late 1880's. The museum is located in their fully restored home. Then.. more drinks! I had to share this one, because it's so fancy and because the menu description was so funny:
The Ten Mile High Club: This blend of Montanya Oro rum, Breck bourbon, cognac, orange juice & grenadine lets you join the club without entering the lavatory.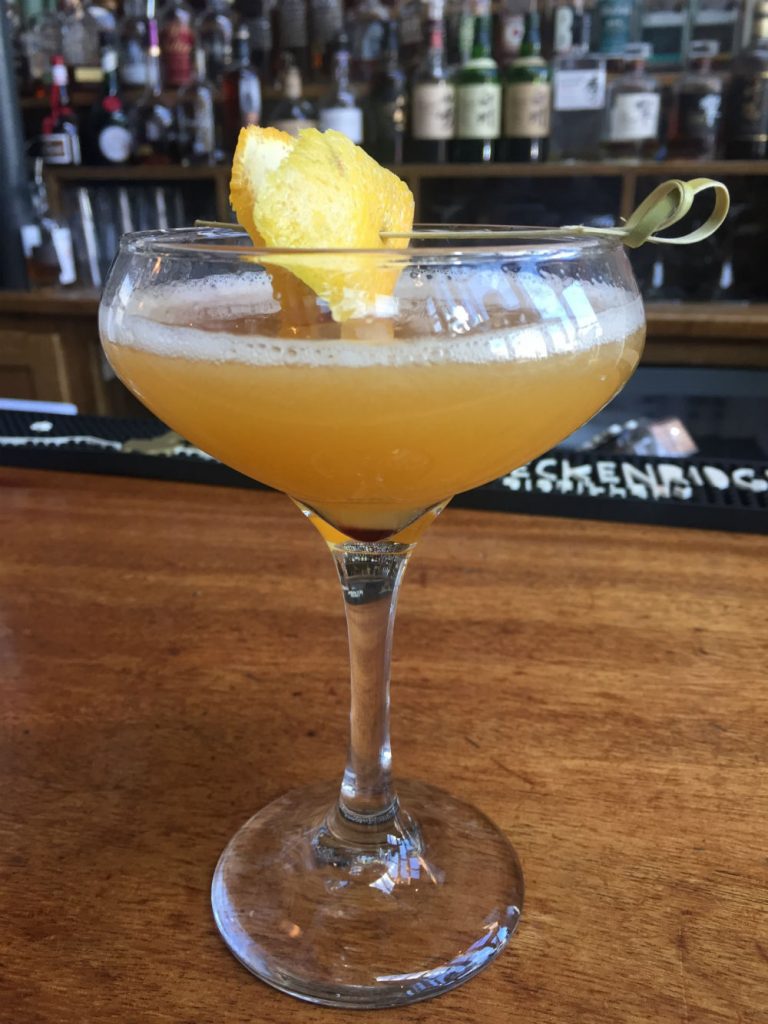 Eventually it was time for dinner. I chose Bangkok Happy Bowl because they have tons of vegan options, including a whole section of their menu (although there are other vegan options not in that section- just ask your server!). Appetizers were BOGO when we arrived so we started with the Edamame and Curry Puffs, which were stuffed with curry powder, potatoes, onions, carrots and corn, served with a delicious and light cucumber sauce.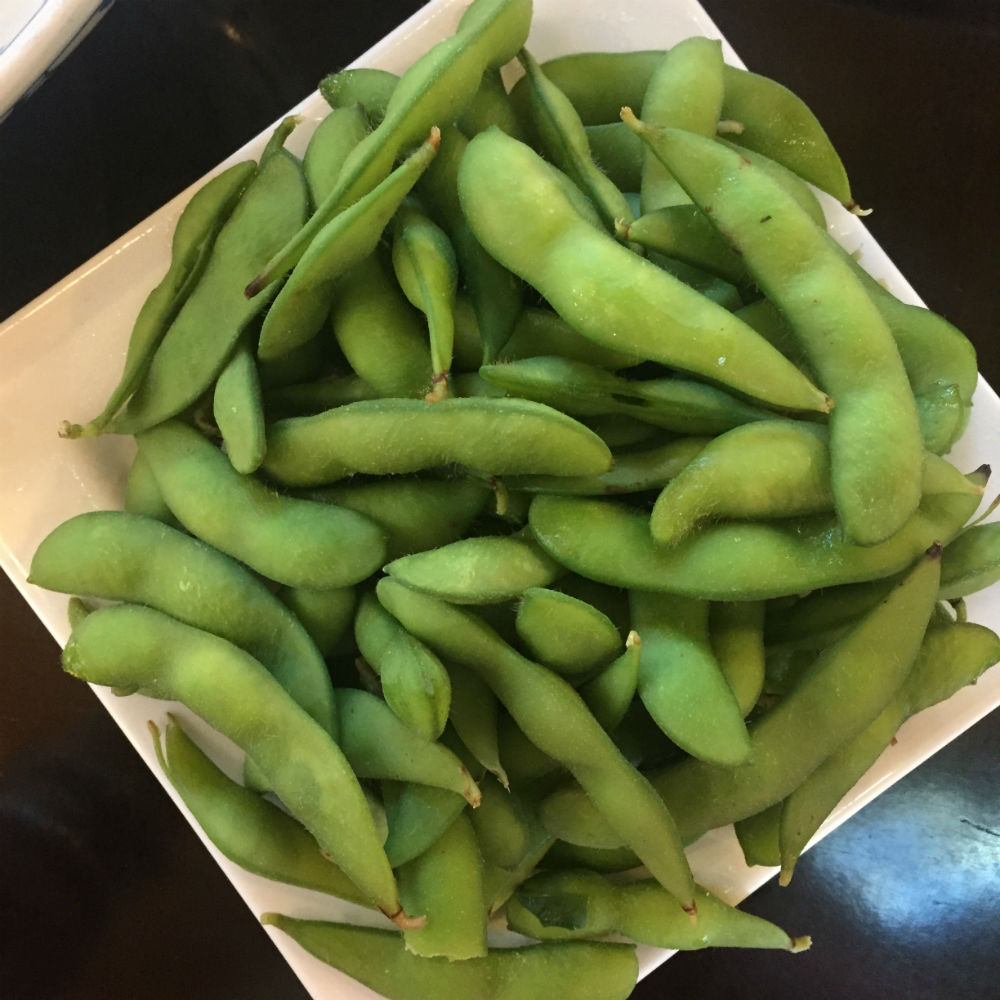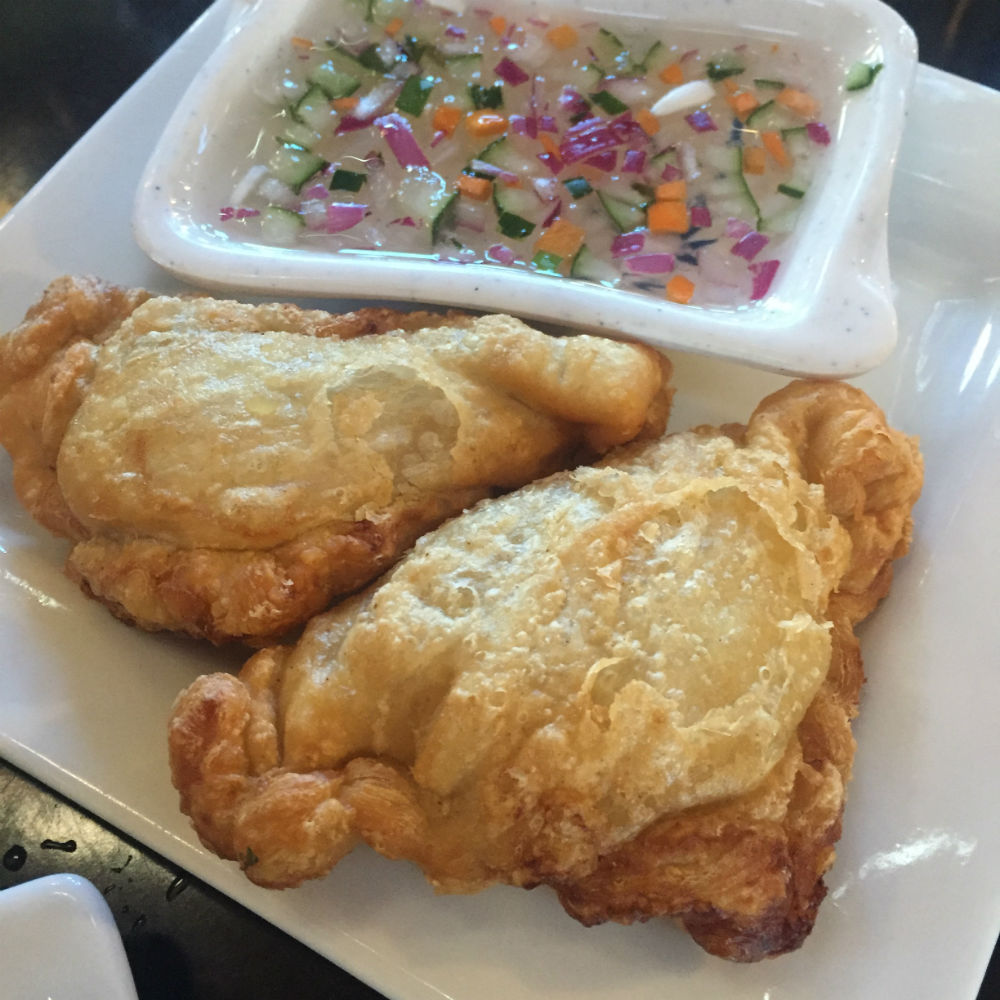 The edamame was fine (as edamame generally is) but the puffs were extra delicious! Very flavorful, but the curry wasn't over powering. I could've eaten a second order all by myself. We also split a bowl of the Tom Kha Tofu soup, tangy coconut milk with lemongrass, galengal, and mushroom with a dash of chili oil. Not all Tom Kha soups are vegan, but this one was! You can see how thick and full of tofu and veggies it was- and you can even see a lot of the seasonings. I haven't had Tom Kha in ages, and omg I've missed it. I need to make my own at home.
For some reason I stopped taking pictures after the soup, but there was also some vegan sushi, I believe it was a tempura sweet potato roll.
And that's pretty much it! We headed back to the lodge where we enjoyed one more glass of wine, this time in the outdoor hot tub gazing up at the night sky. Love, love, love being in the hot water with the freezing cold air around us. So relaxing… and the wine didn't hurt either 😉
It was a really great weekend away! We got to catch up and talk about upcoming plans and reminisce about Sally and just relax. Thanks mom!!