In my last Make That Salad Better post, I shared with you a little about how many salads I eat. TONS. I'm not complaining- since I've started incorporating more raw veggies into my diet, I've never felt better! But chewing that much lettuce can get all sorts of monotonous, so I like to add fun toppings to keep things interesting. We've all had walnuts similar to these in restaurants, and although a recipe probably isn't needed, I still wanted to share.
These baked walnuts are quick and easy to make, and use minimal ingredients. If you have walnuts on hand, you probably already have everything you need! These also make an excellent snack, sans lettuce 🙂
Also, I wanted to thank everyone who shared their thoughts with me on bugs! It was an interesting discussion, and I'm glad to know I'm not the only vegan who struggles with this. And lest anyone suspect I'm heartless to all of the creepy-crawly creatures, I wanted to share a picture of my pal William. We met while I was weeding last weekend: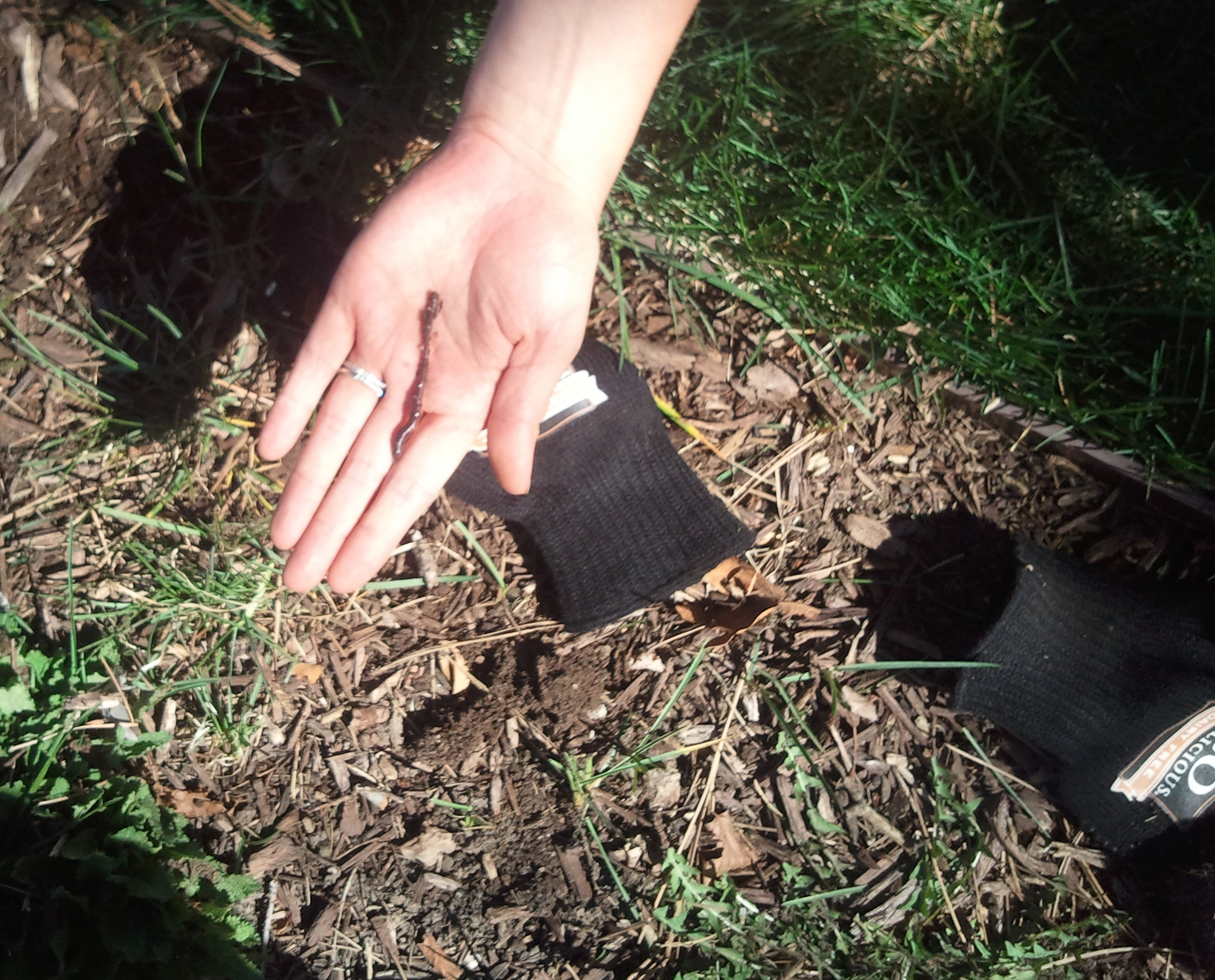 I actually found a ton of those little fellas while I was digging around with my little garden tools. It reminded me of that scene in Seven Years in Tibet, when HHDL made Brad Pitt stop digging so they wouldn't accidentally kill any worms. I was very careful, and every worm I came across was moved to a nice shady spot. And the next morning when I saw the robins eating worms in that nice shady spot, well… I just tried not to think about it.
And yes, those are So Delicious gloves! They came with my ice cream shipment, and I've been using them around the house every since.
---
Agave-Chili Baked Walnuts (Makes enough to top 4-5 salads)
Ingredients:
1 cup walnuts, roughly chopped (or just halved, whatever you prefer)
2 T plus 1 t Agave
3/4 t chili powder (I used a NM blend)
1/2 t (plus more if you'd like) sea salt
Dash of cinnamon
Parchment paper
Directions:
In a small pan, heat the agave over low heat just until it gets thin and liquid-y, then stir in the chili powder, salt and cinnamon.
Stir in the walnuts, just until they're pretty evenly coated.
Pour onto a parchment paper-covered baking sheet, making sure they're not too clumped together and aren't piled upon one another.
Bake for 15-20 minutes at 350 degrees, stirring 2-3 times. Keep an eye on them though- you don't want them to burn.
While they're in the oven, cover a plate with another piece of parchment paper. When the walnuts are done, pour them immediately onto the plate. Sprinkle with a little extra salt, if you're a salt fiend like me. Once they're cool, you can break them apart and store them in an airtight container.
Enjoy!