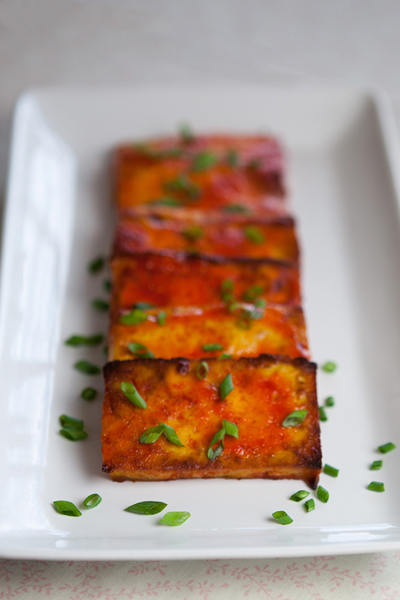 Those of you who follow me on twitter know that I just spent a fabulous weekend in Asheville, NC with my Mom, and I'll be posting a full review next week, but in the meantime this recipe is dedicated to her. Mom is vegetarian in a not-very-veg-friendly town and she struggles coming up with meal ideas that don't require much cooking. She's luckier than many, in that if she drives 30-45 minutes she has access to multiple vegetarian and even an all-vegan restaurant, but sometimes the lady just wants to eat at home, you know? She mentioned over the weekend that she likes to eat salads because the ingredients are readily available and they're healthy, obvs, but that she gets really bored with them. I mentioned this tofu, and she thought it sounded great, so here it is!
I first made this for a dinner party, and since then have been making a batch nearly every Sunday to cube and sprinkle on my lunch salads. It lasts at least a week if you keep it refrigerated in an airtight tupperware (not that you can go that long without eating it!)
A special thanks also has to go to Lauren, who- after laughing her ass off at me and my sad attempts- shared some insight on the best way to bake tofu 🙂
---
Sriracha-Agave Baked Tofu (2 servings served with a veggie – more if you're cubing for salads)
The sriracha and agave measurements are approximate- if you make 3 slices you might need a little more, but if you end up with extra I recommend just slathering it on there- it's REALLY good! You could also make this in advance and marinate, but it's not necessary if you're pressed for time.
Ingredients:
1 block firm or extra firm tofu, well pressed (if you don't have a Tofu Xpress try this method) and sliced lengthwise. After pressing with an Xpress I usually just slice it in half, but you might go with thirds if yours is still thicker.
1/3+ cup Sriracha
1/3+ cup Agave
Directions:
Mix the Sriracha and agave together in a small bowl. Taste test and adjust as necessary to get your preferred level of heat/sweet, then set aside.
Cover a baking sheet with a piece of aluminum foil, and spray it with your favorite vegan non-stick spray. Lay out your sliced tofu and cover the top of the tofu pieces with a couple spoonfuls each of the Sriracha mixture (saving half for the other side), then bake at 375 degrees for 20 minutes.
Pull the tray out, spray the tops of the tofu with more non-stick then flip them over. Cover them with the rest of the Sriracha mixture and put the tray back in the over for another 20 minutes.
Enjoy!