Well, the veggies are grilled, not the entire pizza, but anyway… I chopped up some summer squash, Mexican squash, sweet onions, and bell peppers, mixed them with a little olive oil, salt and pepper and let them spend a little quality time on the grill (on a veggie tray, to be specific). When they were almost done, they were added to some pre-made vegan pizza dough with a little pizza sauce, daiya mozzarella and a couple shakes of crushed red pepper flakes and baked.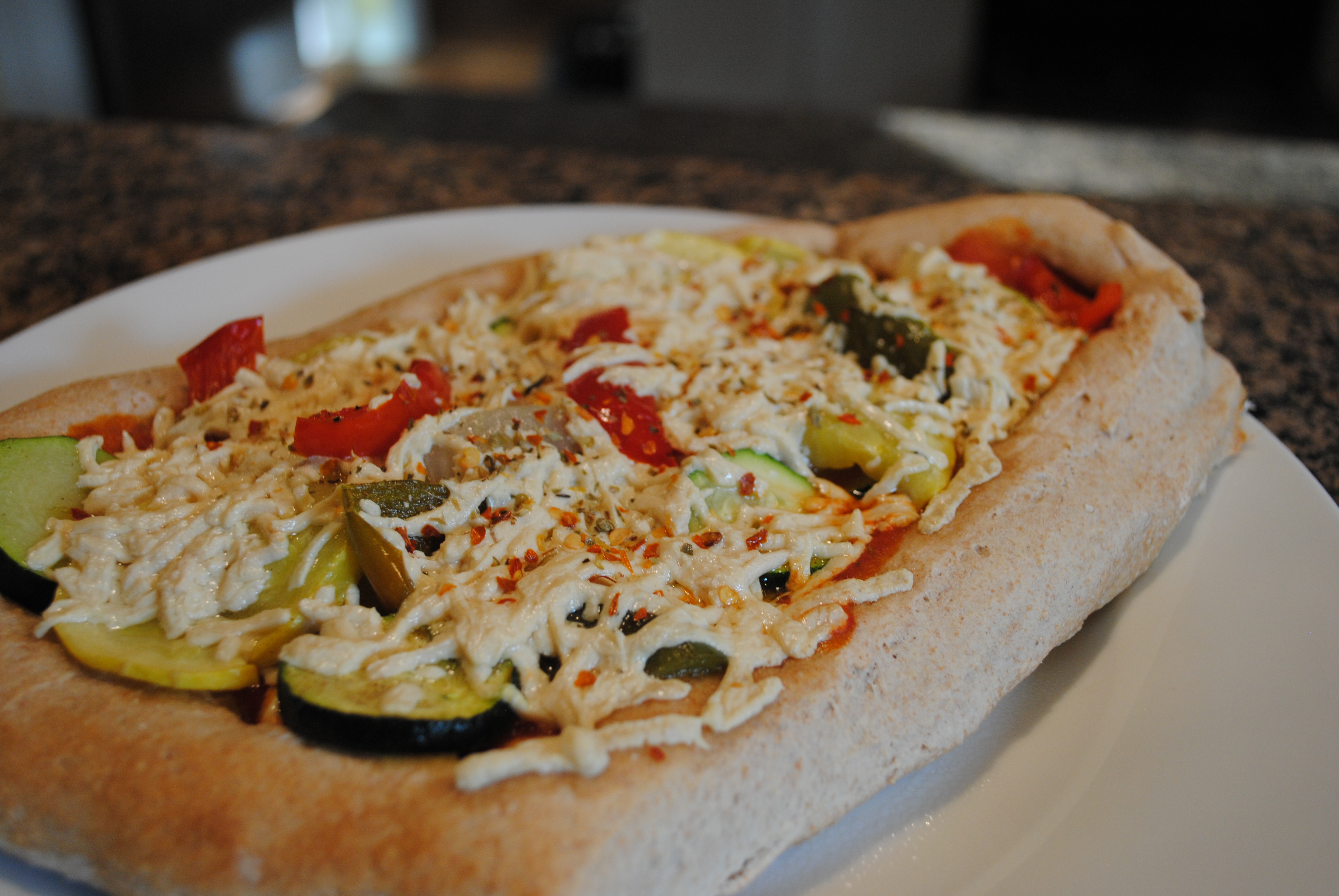 ---
Grilled Pizza  (Makes 2 big personal-sized pizzas)
Ingredients:
1 pre-made loaf of vegan pizza dough
A mix of grilled veggies, your choice
Oregano
Pizza sauce
Daiya Mozzarella
Crushed red pepper flakes
Directions:
Cut dough in half, and let sit out while you prepare the toppings.
Prep your grilled veggies- you want them to be *almost* done, and set aside.
Work your pizza dough into round(ish) shapes, or however you'd like your pizzas to be. You can cook according to the package directions, or just wing it like I do. I put mine on a lightly greased cookie sheet (they both fit, side by side), sprinkle with a little oregano and bake for 5-6 minutes at 375.
Spoon a couple of tablespoons of red sauce over your two pizzas, using the back of a spoon or rubber spatula to make sure you get even coverage.  Layer on your veggies then top with the Daiya and a couple shakes of red pepper flakes.
Continue to back at 375 for another 10 minutes or so. If your cheese still isn't melty, you can finish it under the broiler but be careful, you don't want the crust to burn!!
Enjoy!