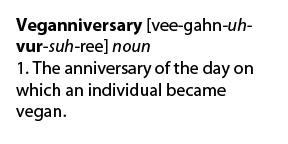 Firstly, can I get a big YAY! for me? This week marks my 2-year veganniversary and I couldn't be happier about it! Oh, what's that? You want to hear my vegan story? Okay!
I had been vegetarian for almost 2 years (and approximately 80% vegetarian for another year before that, if you're counting) but I knew I wanted more. I wanted to do more for animals, I wanted to be healthier, and mostly I wanted to live a life that was truer to my values. I had a couple of vegan friends who were great role models, and I was already using plant-based substitutes for most dairy products, but for some reason I was still hesitant.
It was right around that time that I joined our local Vegetarian/Vegan Meetup group and attended my first event- a book club meeting to discuss Skinny Bitch. That evening was a huge turning point in my life. I had read the book and it pushed me right up to the edge, but it was spending time with all those amazing vegans who were so happy and open and self-confident in their decision to be vegan- it gave me that extra bit of oomph that I needed! I went home and re-read the book, then went on Facebook to announce that I was going to go the long holiday weekend without eating dairy (because, obvs, nothing is real until you post it on FB, right?). My plan was to give it a shot, do my best, and see what happened. It was much easier than I thought it would be, probably due in part to the fact that I wasn't placing a lot of stress on myself.  So then I changed my goal to 2 weeks, then a month. Once those short-term milestones had passed w/out incident dairy, I went ahead and pronounced myself VEGAN, and the rest is history!
Can I get another YAY! for me? Thanks 🙂
According to PETA, vegans save an average of 198 animals per year which means that I've saved almost 400 lives in my two years of eating delicious meals without ever feeling as though I was sacrificing. And the added bonus? I haven't been sick A SINGLE DAY in the past 2 years! I had a headache once, but I drank some water and it went away so I think I was just dehydrated 😉 If you knew me pre-vegan you'd realize just how amazing this is. I used to get 2-3 colds a winter, one of which would often leave me with a bad bronchial infection- you know the kind that makes you cough like a donkey braying? Yah, I don't miss those.  The craziest part is that I didn't realize just how often I was getting sick, I (like so many Americans) just accepted it as "normal". Now I look around me at the non-vegans in my life and I'm in shock at how often they (and their kids) are ill. It's mind boggling, really.
Coincidentally, we have another milestone to celebrate this week at TWV?… 100,000 all-time views! That's right, in the less than 7 months this little blog has been around, a whole lotta peepers have been checking out my recipes, and for that I have a big YAY! for you all! Thank you so much for all the support and comments and ideas you've shared with me. You guys rock!
In case you're curious, my most popular post ever (so far, anyway!) has been Cauliflower & Cheese:
It's not hard to see why that one was so popular. I might go whip up another batch of it myself 🙂