Updated Review March 2015!
Now that I'm finally living in a very vegan-friendly city (for the first time since being vegan) I thought maybe I'd start reviewing some of my favorite spots for vegan grub. There are just so many great places to eat here, and I want to share in case any of you are planning a trip to the Mile High City!
First up is Sputnik, a "hipster dive bar" on Broadway. It's just a few minutes south of downtown which makes it perfect for me to meet a friend for lunch on a weekday. Well, they're perfect for a meal anytime because they have a full bar AND they serve brunch till 3:00 with vegan options!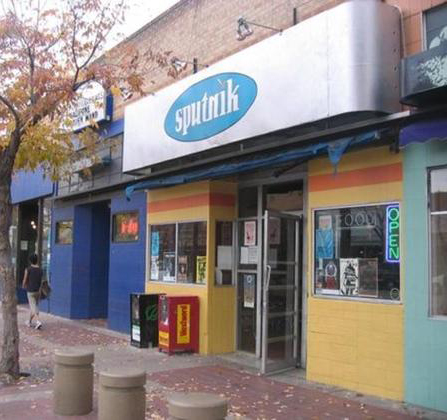 Reia and I have had lunch there a couple times, and have always been very pleased with the food. Their menu makes me sooo happy! Although they're not an all-vegan restaurant (they serve meat), all but 2 items on their menu are either vegan or vegan optional. For example, you can order a Cubano and get it with jackfruit while your omni friend can order his with pork. They also have a ton of special sauces for the fries, most of which are vegan.
My absolute favorite menu item is the Falafel Wrap: Israeli Style.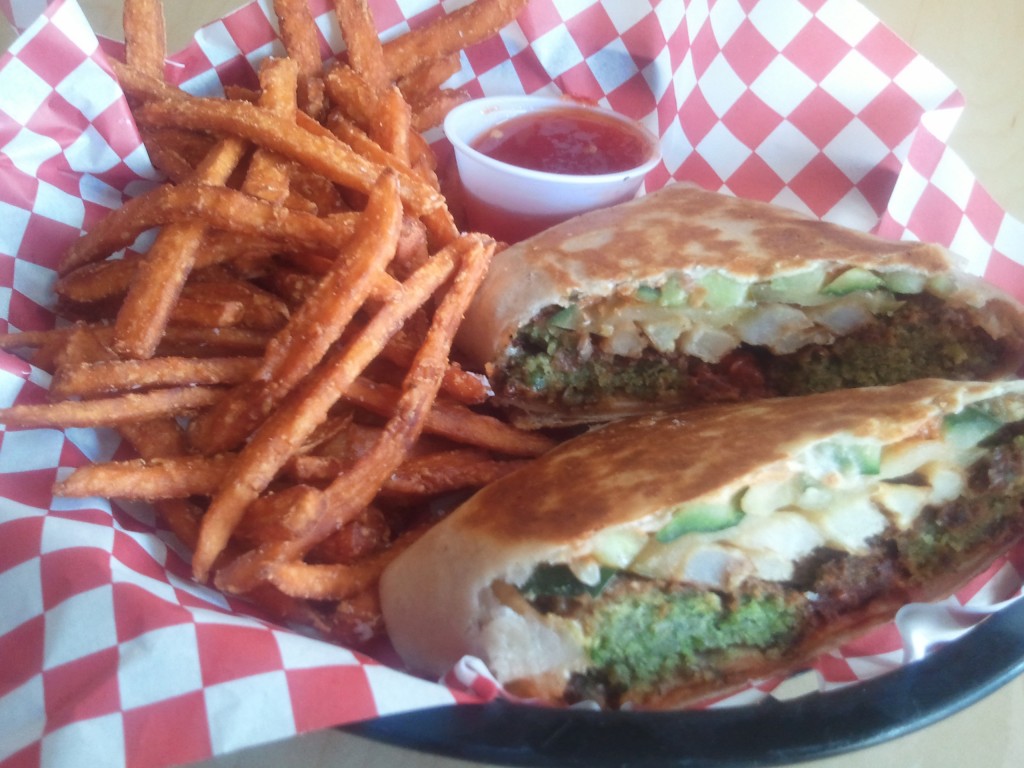 It's warm crispy falafel, hummus, cucumber salad, pickles and french fries all wrapped up in a thick tortilla and then crisped on some kind of press. The way they make it is perfect, because everything stays inside the wrap, where you want it. And those fries!? If you go, get half n' half sweet and regular, and definitely get the habanero jam for dipping. Trust me, you wont regret it.
My second favorite thing to order would have to be the Hush Puppies.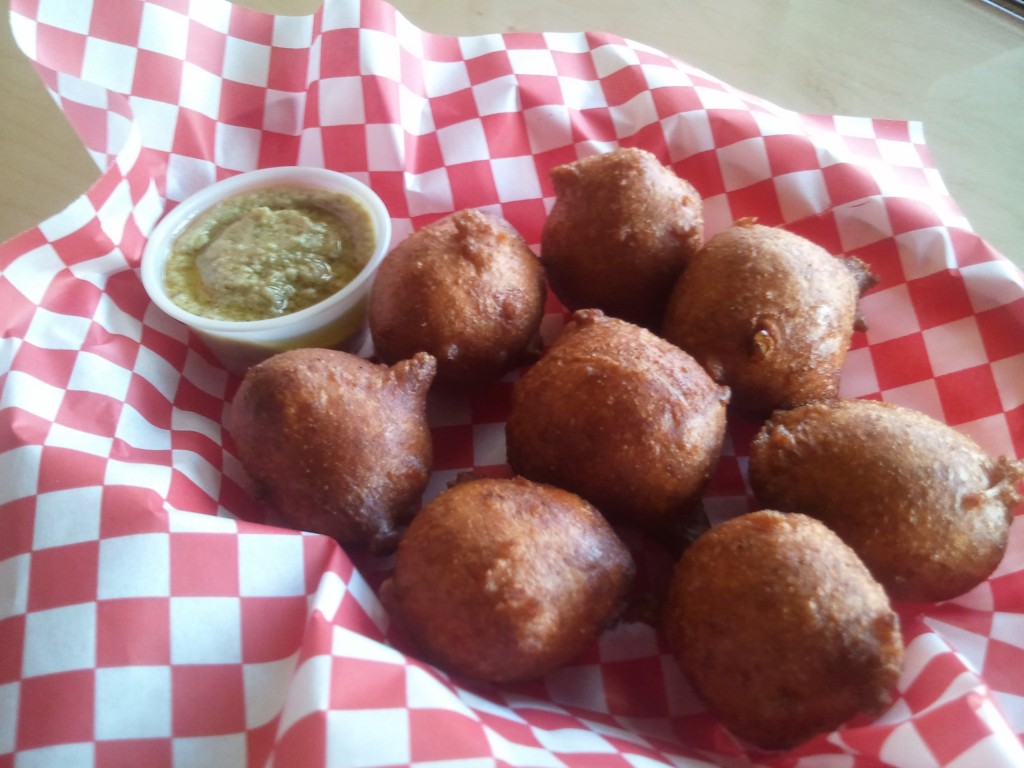 These little corn fritters are automatically vegan and come with a roasted jalapeno sauce that complements them perfectly. They're so crispy on the outside and mealy on the inside you'll want to eat them all, but you wont be able to. Share.
Also yummy? The aforementioned Cubano made with spicy jackfruit, mustard and pickles. You have to order this one vegan otherwise you'll get cheese on it. This one is actually a bit spicy for me, so I only like to order it when I'm also having beer…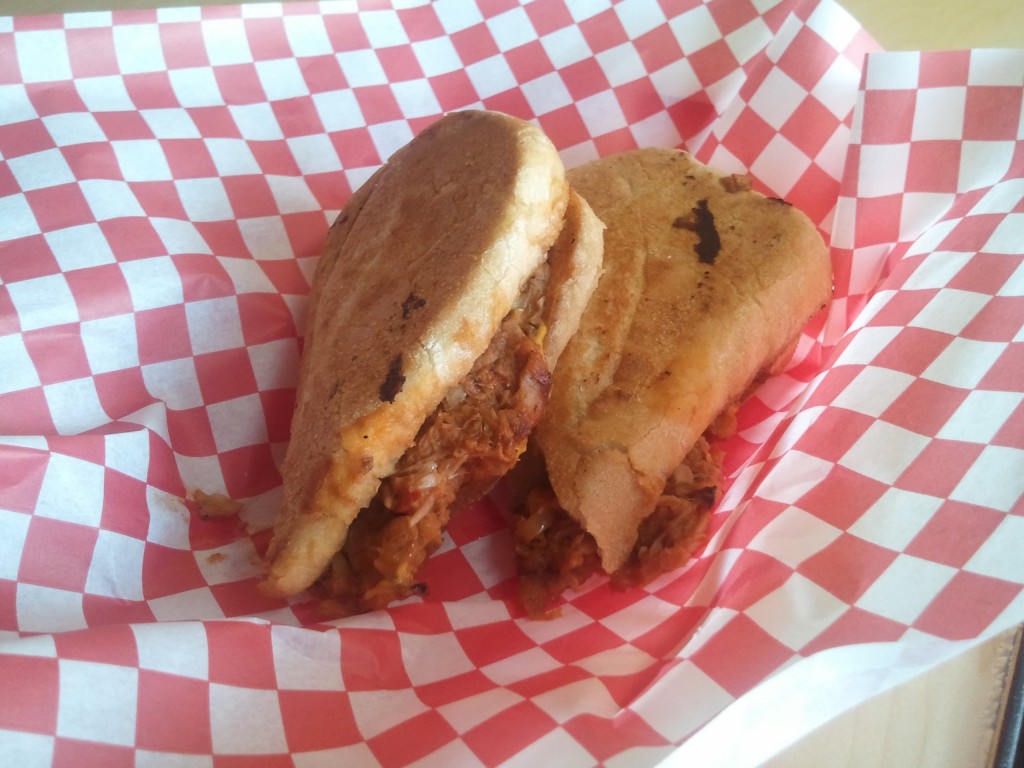 Oh, and how about a vegan Hand-dipped Corn Dog!? That's right- that's smoked tofu in there! I didn't try it, but Reia assured me it was great.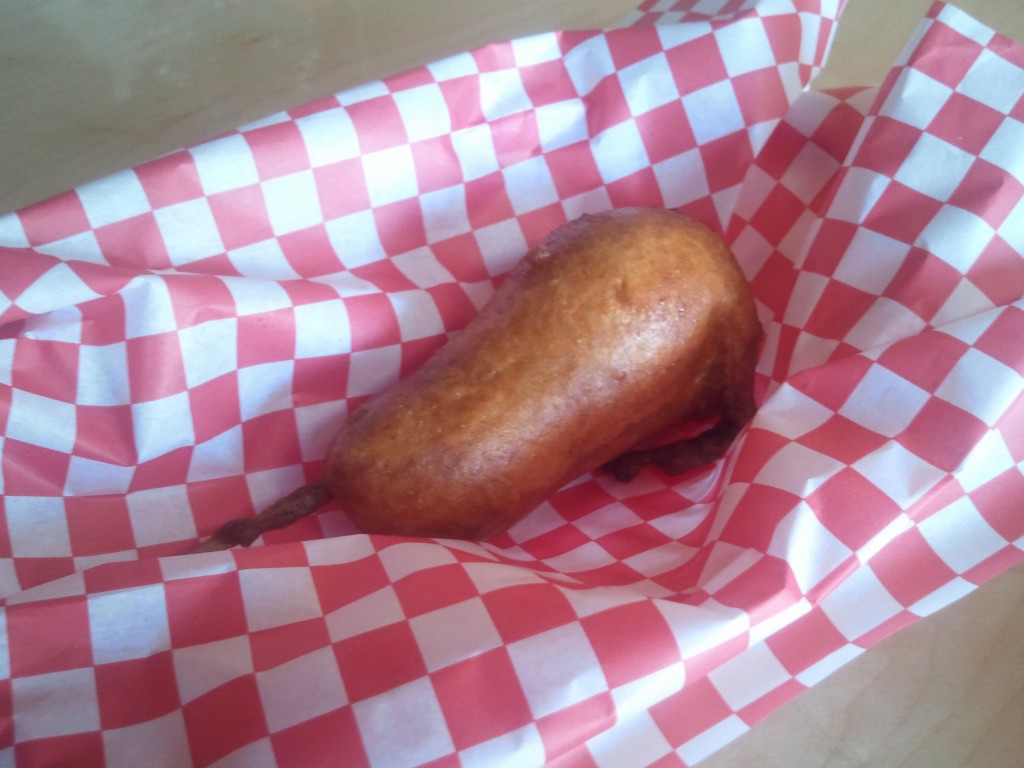 So that's the food. As I mentioned, it is a hipster dive bar and as with all hipster dive bars (in my experience at least), the bathroom is just gross. Update: As of July 2013, the bathrooms are remodeled and perfectly nice! Yay! And the tabletops are always sticky. But the food is really good, so just pee before you go and bring some purell or something 🙂
Updated March '15:
My mama was out visiting this past weekend and we had Sunday brunch at Sputnik!
I had the Stacks of Vegan Power, which are quinoa cakes, potatoes, tons of veggies and greens, and perfectly ripe avocado: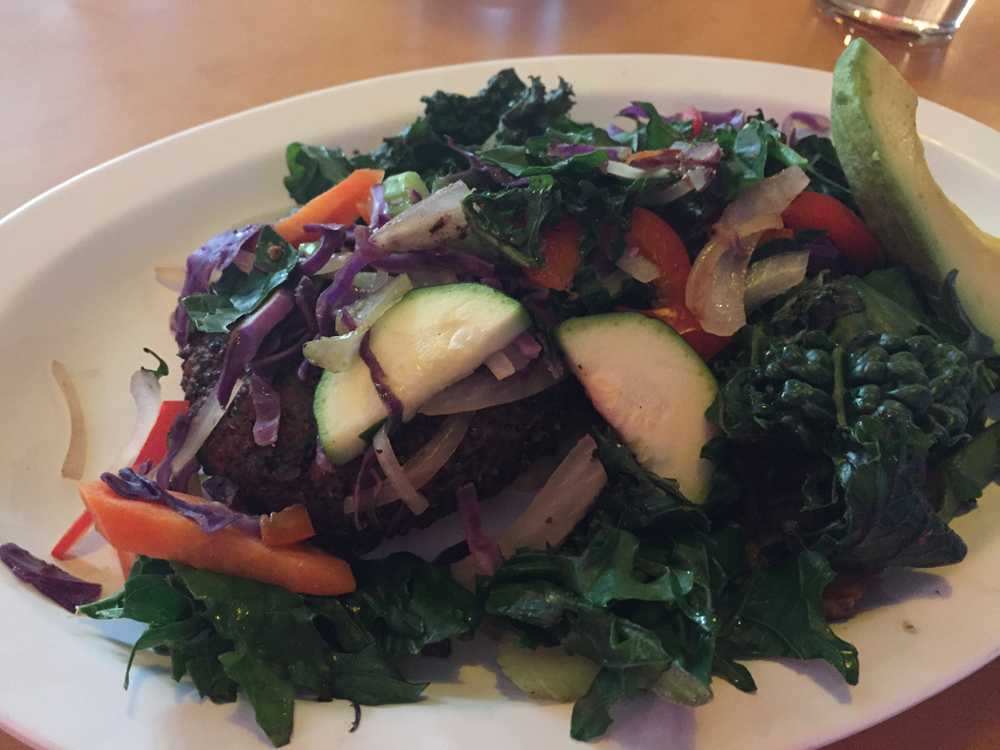 Mom had the Breakfast Sliders (which can come vegan or non-vegan, so order carefully) which don't look super pretty but I loved them- tofu scramble, soy ham and spinach pesto, with plenty of crispy potatoes on the side.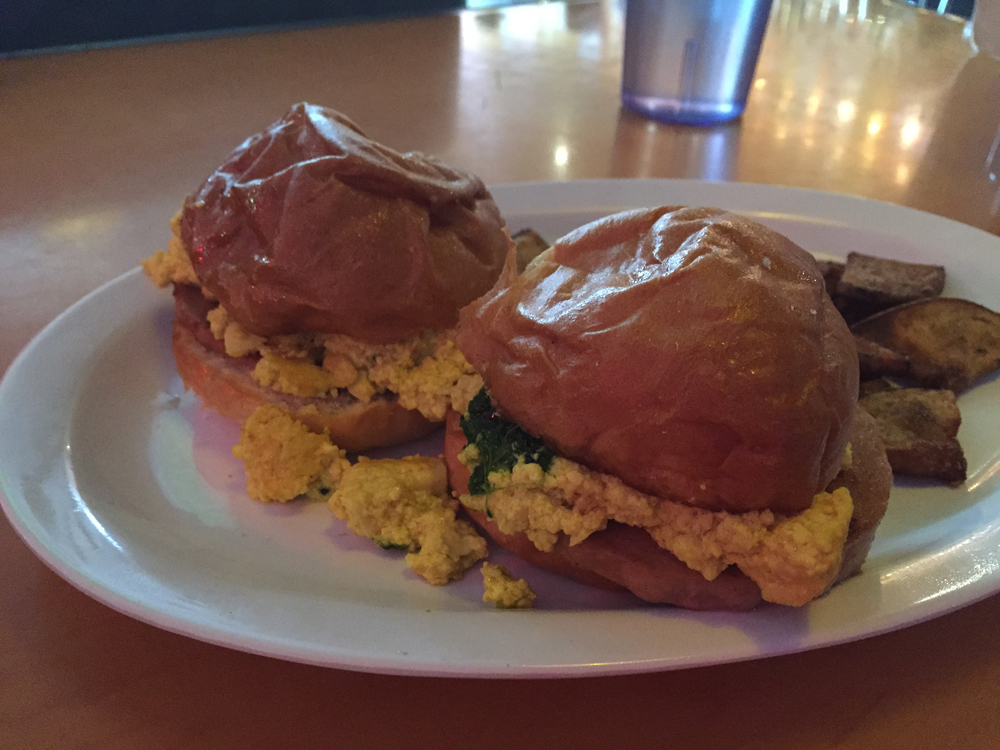 Want more Denver-area restaurant reviews? Check out my Mile High Vegan Eats page!