In case you guys haven't noticed, I'm back to my original posting schedule of Monday-Wednesday-Friday and am pretty darn proud of myself. Even before I moved I had downsized to just twice a week, and then there was that loooong dry spell of which we wont speak.  Oops, I just spoke of it!
Maybe I should just stay on topic, with the topic being: "Mexican food and how tortillas have too many calories". I love Mexican food and when I eat it I want to eat a lot of it, so when tortillas are involved I'll end up having a couple of those as well… and those suckers can really add up. I'm not a crazy calorie-counter by any means, but I try to pay attention.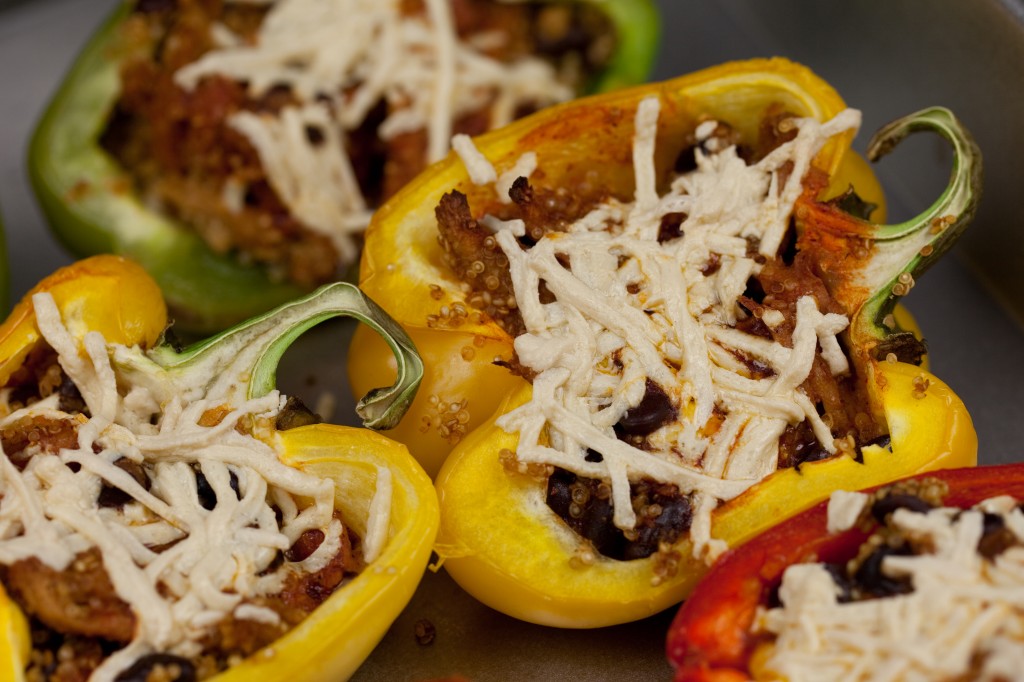 Anyhoozle, I was craving some delicious Mexican flavors last week (even after I scarfed down those roasted poblano peppers) and decided I needed something a little bit different, so I went the stuffed-pepper route. Admittedly there's nothing new or particularly exciting about stuffed peppers, or even enchilada stuffed peppers. But who cares? Mine have quinoa and soy curls and black beans and they're just darn delicious!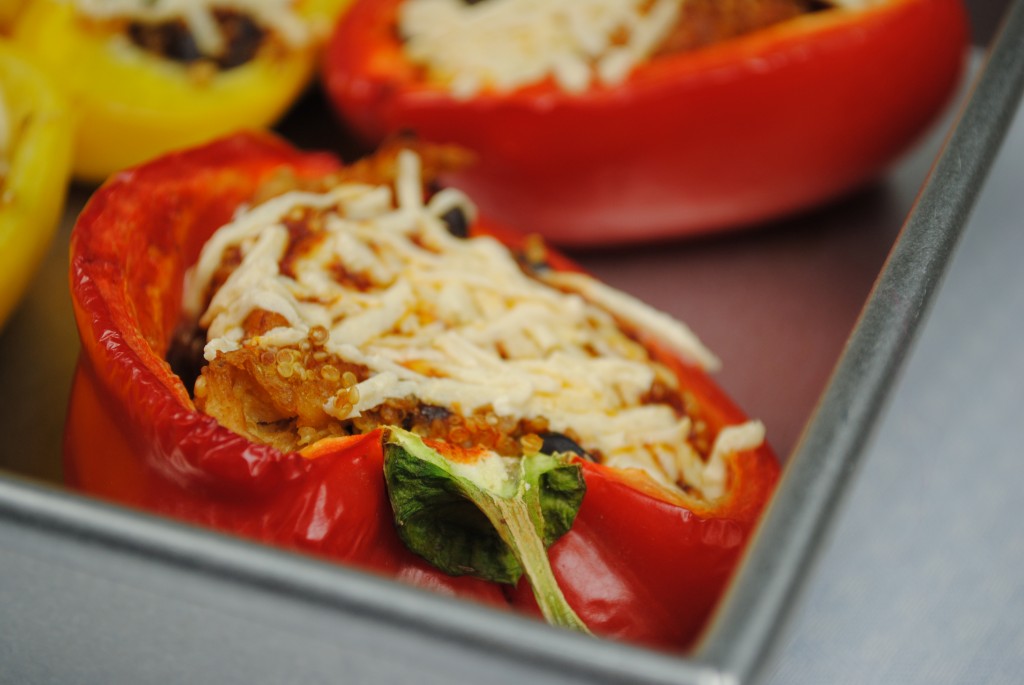 ---
Enchilada Stuffed Peppers with Soy Curls and Quinoa (makes 6 half peppers)
Note: If you don't have soy curls, you could use seitan or add some other beans in there… Chickpeas would be good!
Ingredients:
1 cup soy curls
3 medium/large bell peppers, any color you like
1 cup quinoa, cooked
2-3 Tablespoons lime juice
1 cup black beans, drained and rinsed
1/2 sweet onion, diced
2.5 teaspoons cumin
1 teaspoon garlic powder
3/4 teaspoon (or more!) sea salt, plus black pepper to taste
Palm full dried cilantro
14oz can red enchilada sauce, halved
1/2 cup (ish) Daiya (I used mozzarella but pepper jack would be fun too)
Directions:
Place the soy curls in a bowl full of warm water to soak for 10 minutes, then squeeze out excess liquid.
Slice your peppers in half, cleaning out the ribs and seeds, then set in the baking dish open side facing up.
Mix together soy curls, quinoa, black beans, lime juice, onions, cumin, garlic powder, S&P, cilantro and about half the enchilada sauce.
Stuff the peppers, then top with the remaining enchilada sauce (1-2 Tablespoons each) and the Daiya.
Bake at 375 for about 35-40 minutes. You want the peppers to have softened and the cheese to be super melted.
Enjoy!