Ahhh… Vegan Chinese Food. Yes, that's right, I said VEGAN. In a time when so many Asian-style restaurants are loading their dishes with fish and oyster sauce, finding suitable options at your local Chinese joint can be challenging to say the least. But if you're lucky, you have at least one local spot where you can get veggie lo mein or maybe some sesame tofu, right? Well, if you're really lucky, you live within driving distance of Southeast Denver and can pop into Sunny Gardens because not only do they skip the fishy sauce, they also have vegan meat!
Yes. Vegan meat.
Don't get me wrong, I love me some veggie lo mein and sesame tofu, but ohmygosh what a treat it is to be able to enjoy sweet n' sour chicken again without all that pesky guilt and those cancer-causing proteins! And since I know you're probably wondering what the vegan meat is made out of, it seems to be seitan-like. They said it's made out of gluten, mushrooms and other vegetables. They did have a little problem a couple years back when they switched to a faux meat that contained egg powder (as their yelp reviews show), but happily for us and the hens, they've switched back to a fully vegan product!
Check out their vegan menu: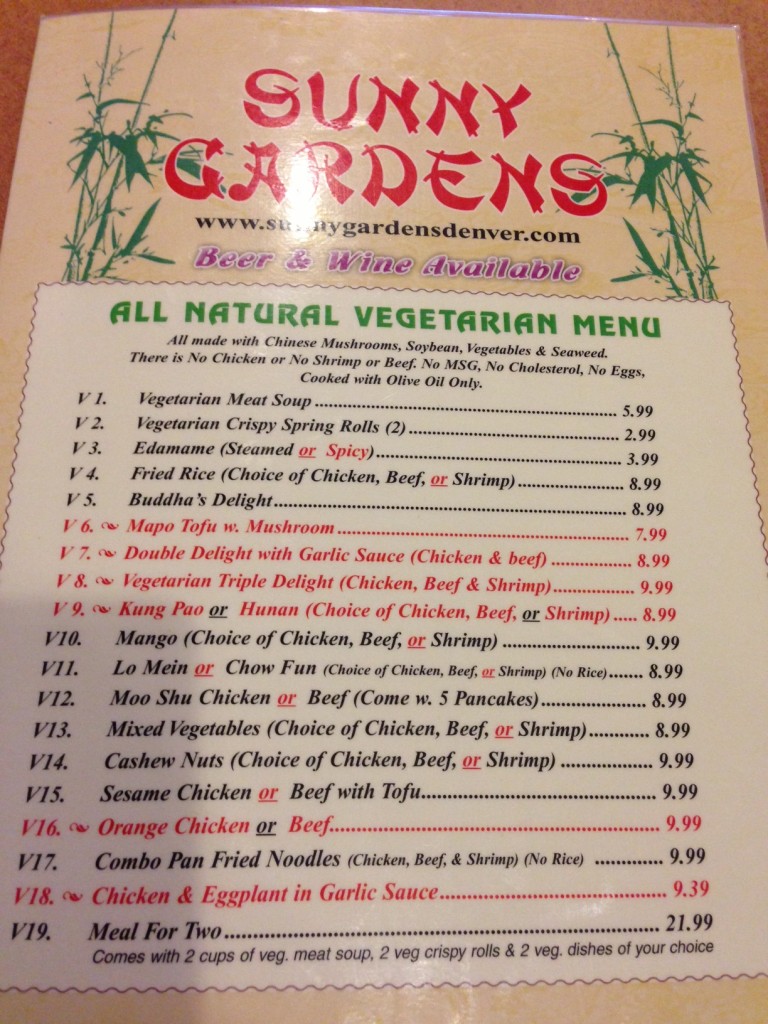 First of all, does "vegetarian meat soup" not make you laugh? It made me laugh. Also (and this is the bestest), the veg section is on the FRONT COVER of their menu! When vegans and vegetarians visit Sunny Gardens we're not some kind of second class citizens who need to skulk in the back door and be happy nibbling on fortune cookies dipped in spicy mustard. Oh no. We're the guests of honor!
And my excitement doesn't stem only from the possibility of vegan food, oh no. I'm excited because the food here is really good. Really. Really. Good.
My girlie Jamie (speaking of bestest!) and I had dinner here last Sunday. It was my second visit and I couldn't wait to take her there.
We always share (cause that's how we roll), and since we couldn't really narrow it down, we ordered 3 dishes to split. To quote JL, no shame in our game!
Hands down, my favorite was the Sesame Chicken with Tofu. The tofu was all breaded up and fried, and the "chicken" was fried as well, just enough to be a little bit crispy. I also love how there were so many veggies, and the entire plate was ringed with steamed broccoli!
A strong second place goes to the Orange Chicken (which wasn't spicy like the menu indicated) but still delicious. Again, the "chicken" was a bit crispy and felt very meaty in my mouth. If it had tofu as well, it would've tied for first! Once again there were tons of veggies and the wonderful ring o' steamed broccoli.
This last one was our least favorite, although it was still quite good. It was the Double Delight with Garlic Sauce and included veggie chicken and beef. Jamie thought the flavoring of the 'beef' was a bit strong, but I liked it. It wasn't fried though, so the texture was a little softer.
Favorites and least favorites aside, you can't go wrong when everything is this tasty! And veeegan!
The restaurant is located in a strip mall just a mile or two off I25 (Yale and Monaco for you locals), and while it's nothing fancy, it is clean. It seems to be family run, and our server was very nice and knowledgeable.
Did I mention how yummy it was? 😉
Want more Denver-area restaurant reviews? Check out my Mile High Vegan Eats page!