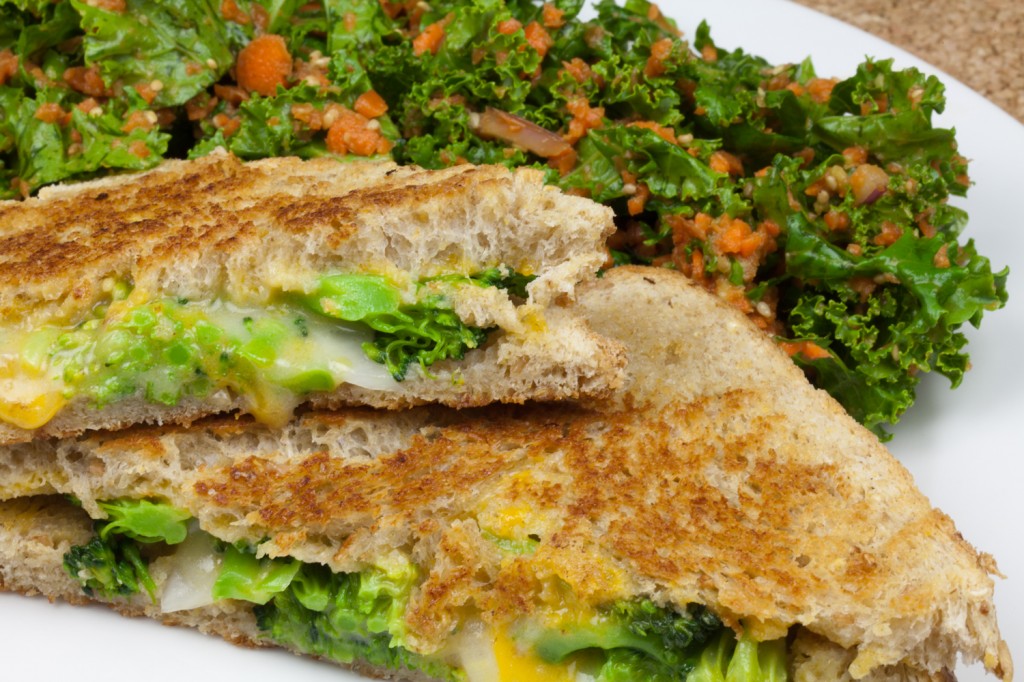 When Go Veggie! (formerly known as Galaxy Nutritional Foods) sent me some of their new vegan shredded cheese and asked if I wanted to participate in National Grilled Cheese month, it was really a no-brainer. Not that I knew it was National Grilled Cheese month until they told me… but once I found out, I was totally in! And so I present to you (drum roll please)… the Vegan "Broccoli Cheese Soup" Grilled Cheese Sandwich!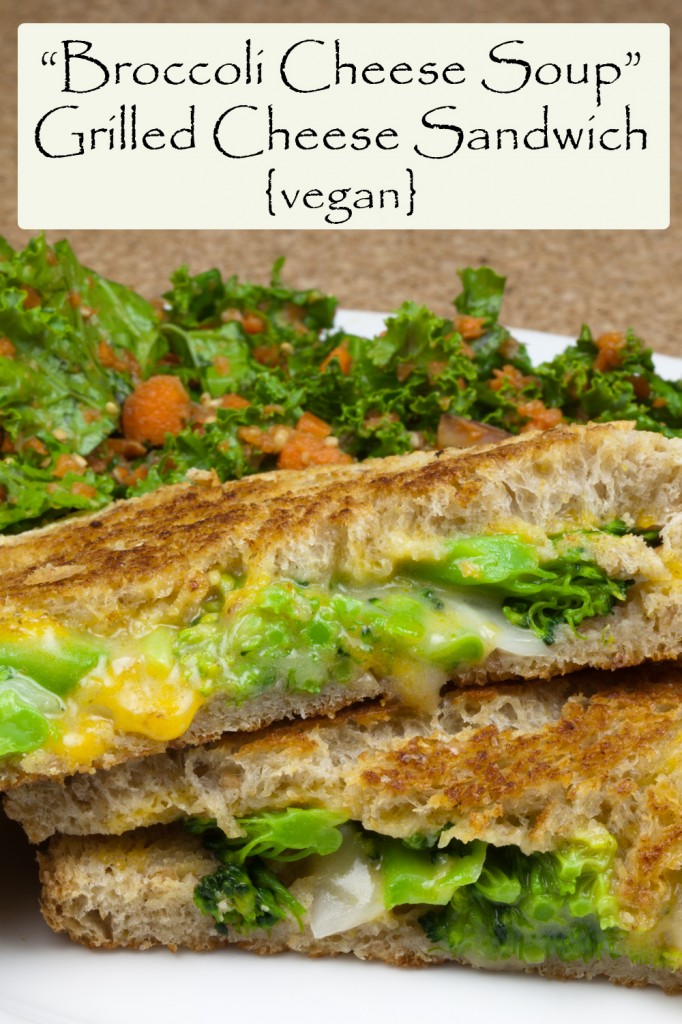 It's got steamed broccoli, sweet onions sauteed with garlic, and a delicious mix of Go Veggies! new vegan Mozzarella and Mexican shreds combined with just a little bit of vegan butter. It's rich, but it also has a ton of broccoli so we're going to call it a health food, k? What is absolutely healthy is that delicious massaged kale salad in the background – they went perfectly together!
As you can see from the pictures, the shreds melted perfectly. I still have lots of the mozzarella left, so I'm thinking another crazy pizza creation is in my near future, ha ha. I'll keep you posted of course!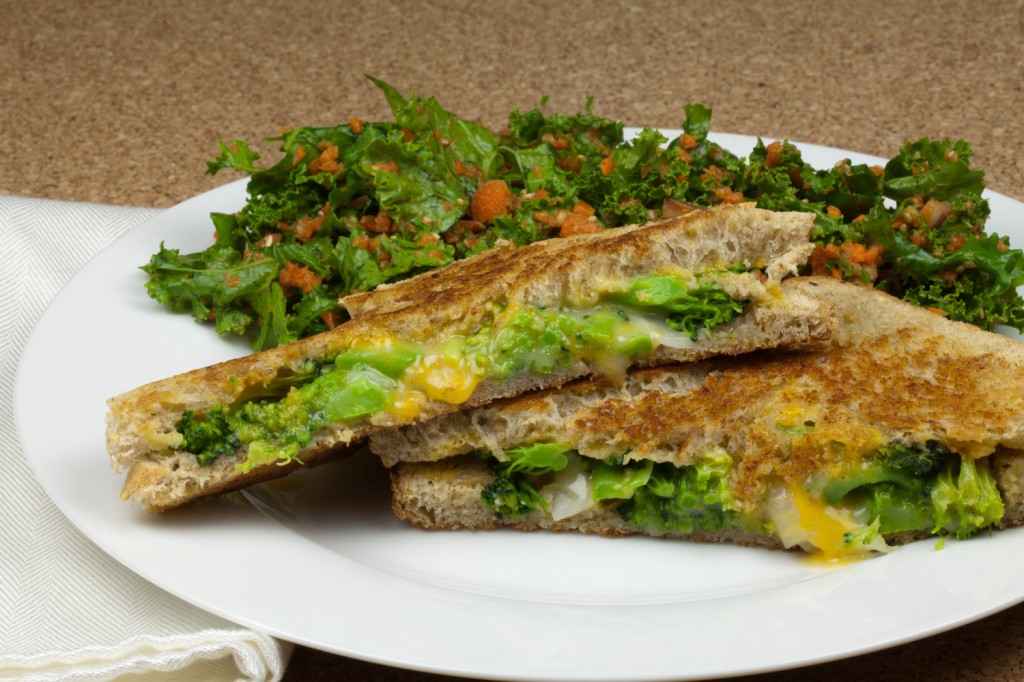 Look at all that green on my plate!
---
"Broccoli Cheese Soup" Grilled Cheese Sandwich (makes 2 sandwiches)
Ingredients:
4 slices hearty bread (I used a homemade multi-grain 'cause I'm fancy)
Vegan butter
1 heaping cup broccoli florets (it helps if they're sliced thin)
1+ teaspoon garlic powder
Sea salt
2 1/4 inch slices of sweet onion, each sliced in half so you get the long pieces of onion
2 handfuls Go Veggie! vegan cheese shreds (Either flavor would work, I used a mix of both… 'cause I'm fancy!)
Directions:
Schmear butter on one side of each slice and set aside.
Steam the broccoli (I use a colander in a pot of boiling water because maybe I'm not so fancy after all?) until it turns bright green, 5-6 minutes. About halfway through, sprinkle it with the garlic and sea salt and give it a stir.
Water saute the onions just until soft, 4-5 minutes. Give them a sprinkle of garlic too!
In a frying pan over medium heat, lay down your first two slices of bread, buttered side down. Top each with about 2/3 of the cheese, then add the broccoli and onion. Cover the pan and turn the heat down to low, just for a couple minutes. We want that cheese to get reeaaal melty!
Turn the heat back to medium and remove the cover. Add the rest of your cheese and the remaining slices of bread, buttered side up. Now, if you want your sandwich to be a little bit extra decadent, add a little butter to the side of the bread that's facing the cheese. It's not required, but it sure is good!
When the bottom slice is browned, flip and continue to cook until the color is the way you like it! Serve immediately!
Enjoy!
*Go Veggie! provided me with free product to review, but the opinions are 100% mine!