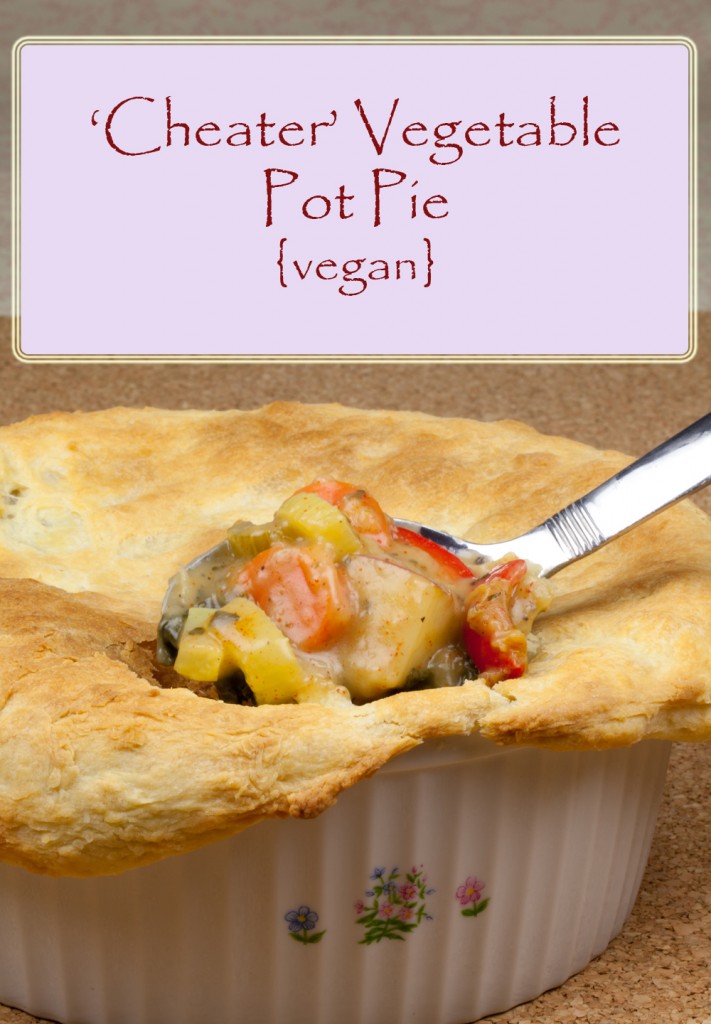 No, this pot pie wasn't discovered in some no-tell motel, that's not why I call it a cheater 🙂 I call it my Cheater Vegetable Pot Pie because you use puff pastry for the crust, which makes it feel so easy you'll feel like you're cheating!
It's also healthier than a lot of pot pies out there because there's only crust on the top. You'd be surprised how much fat and calories that'll save ya. It's also full of all my favorite veggies including: kale, carrots, celery, potatoes, onions, mushrooms and bell peppers.
Yes, you read that right. I put kale in a pot pie!
This might seem like another seasonally-odd menu choice, but I made it last week during that silly snow storm we had here along the Front Range (and we're having more winter weather this week, sheesh!). Plus you can totally enjoy pot pies all summer long- just fill 'er up with your favorite summer veggies instead of the heavier root vegetables they're usually made with.
---
"Cheater" Vegetable Pot Pie (makes 7-8 servings)
Ingredients:
1 small sweet onion, roughly chopped
1/2 bunch kale, de-stemmed and chopped
2 large carrots, thinly sliced (peeled or unpeeled is up to you)
1 Tablespoon vegan butter
2 red potatoes, chopped (peeled or unpeeled is up to you)
1 bell pepper, sliced
2 stalks celery, sliced
6-7 crimini mushrooms, sliced
1/4 cup whole wheat flour
1.5 cups vegetable broth
Half cup non-dairy milk (I used almond)
2/3 cup frozen sweet peas
S&P
1 sheet puff pastry crust, thawed and rolled out (Pepperidge Farm is accidentally vegan and available at most stores, or you can make your own!)
Directions:
Water saute the onion, kale and carrots for 2-3 minutes.
Add the butter, potatoes, bell pepper, celery and mushrooms and cover with the heat on medium/low for 5 minutes.
Stir the flour into the veggie mix, mixing until it's all combined, 1-2 minutes.
Pour in the veggie broth and the almond milk. Keep stirring until there are no flour lumps, then bring to a simmer. It'll start to thicken up in about 4-5 minutes. Add the frozen peas then remove from heat.
Add a bit of sea salt and freshly ground pepper, then stir. Spray your 8×8 baking dish with some non-stick spray, then pour in your delicious veggie mixture. Cover with your puff pastry and cut slits in the top to vent. Bake at 375 until the crust is golden brown, 15-20 minutes (or maybe more depending on your oven). Let cool for a few minutes then serve.
Enjoy!