Yes, another potato appetizer… I was on a kick, what can I say!? And if these Vegan Chipotle Potato Bites sound a little bit familiar, they should… they led to the creation of my Chipotle Sweet Potato Dip!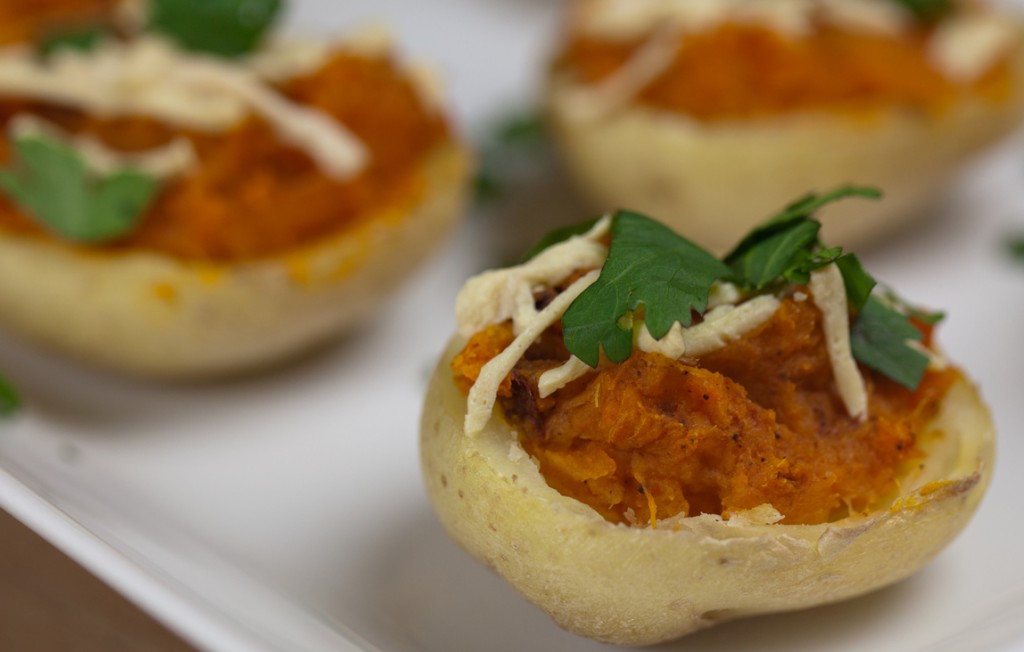 I'm not sure why I spent a week eating almost nothing but baby potatoes (have you seen my Easy Stuffed Potato Skins yet?), but it's really not that unusual for me. I'll get obsessed with a certain food or ingredient, and find that I'm basing most of my meals around it for a short period of time. This only tends to last a few days to a week, so it's not like I'll overdose or die from malnutrition, so no need to worry about me or send the police to my house to check on me.
And of course, because this is a blog and not real life (how weird is that?), these were actually made and enjoyed waaaay back before my trip. I know I told you all that my air cast made my foot so comfortable that I could just stand around all day and cook, but it turns out I lied to you. I haven't been cooking much at all since I got back… actually I haven't been doing much of anything except being lazy resting 🙂 I need to get back into the swing of things tho, because I really do have a backlog of recipes to share with you, and I have some other really exciting ideas of things I want to do! Some new features I want to share on this blog, and I want to start an etsy store… lots of stuff! I just need this silly broken foot to cooperate with me!
You know what else I want to do? Sit around all day and watch this video. Over and over. And over.
My little Cooper is just the cutest! I know I've shared his official story before, but the truth is, he was actually in the special forces. How else would he have learned to commando crawl like that? It's the only explanation! The whole puppy mill story was his cover, because he can't talk about being in the special forces, obvs. So, umm, don't tell anyone. Thanks.
Okay, back to these here taters…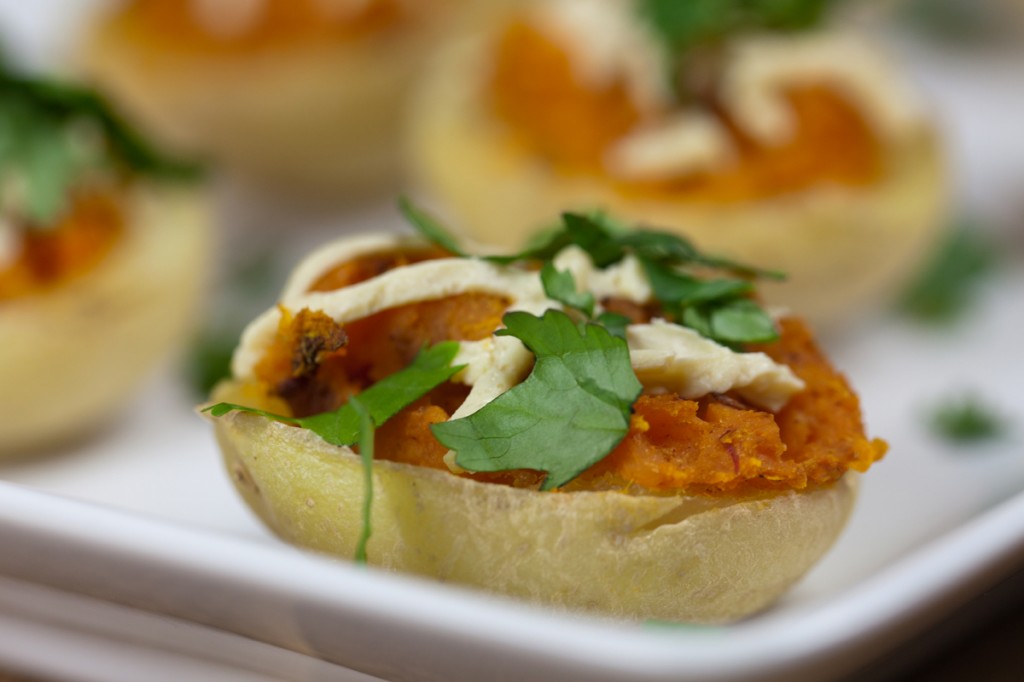 Tell us: Am I the only one who gets obsessed with ingredients and uses them in most of my meals? What ingredients or foods are you obsessed with?
---
Chipotle Sweet Potato Bites (makes 36 "Bites")
What to do with the scooped out insides of the baby potatoes? You could save them and make mashed potatoes for dinner, or if you have dogs, mix it in with their food!
Ingredients:
2 large sweet potatoes
1/2 teaspoon ground cumin
1/4 teaspoon sea salt (or a bit more if you're salty like me!)
3 chipotle peppers in adobo, diced, plus 2 teaspoons of the sauce
1 clove garlic, pressed or finely diced
Zest of 1 lime, plus 1 Tablespoon lime juice
3 Tablespoons non-dairy milk (I used almond)
18 white baby potatoes
Daiya mozzarella shreds
Chopped cilantro
Directions:
Peel, chop and boil the sweet potatoes until soft, then mash thoroughly. Stir in cumin, salt, chipotle peppers and sauce, garlic, lime juice and zest, and milk. Set aside.
Scrub the baby potatoes, poke a few times with a fork, and microwave ~90 seconds on each side. Slice in half (lengthwise, so they'll lie flat!), and scoop out the filling. Make sure you leave enough to keep the sides of the potatoes strong- don't poke any holes. Fill each with the sweet potato mixture and top with the Daiya. Bake at 375 for 20 minutes. Top with cilantro (if desired) and serve warm or at room temperature.
Enjoy!