Happy Friday, I hope you're ready for another giveaway! A copy of the new YumUniverse Cookbook (print or e-book, it's up to you), and the YumUniverse Holiday Survival Guide (e-book). I'm also sharing the recipe for this delicious Roasted Red Pepper and Tomato Bisque!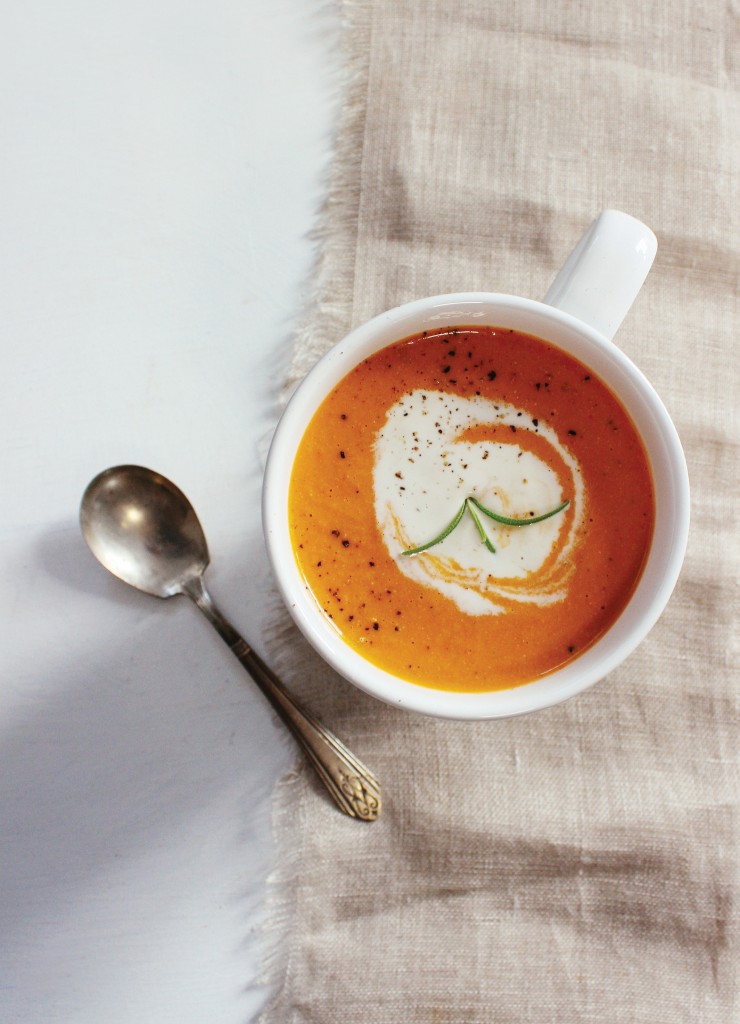 Okay, so you're all probably already familiar with YumUniverse the blog, but now there's a book, too! And the thing this, YumUniverse: Infinite possibilities for a gluten-free, plant-powerful, whole-food lifestyle is more than just a cookbook. Heather Crosby provides tons of background information on food science, nutritionism, and even a whole section of fruits and veggie storage! Basically, this book could be the perfect go-to for a new vegan. Perhaps there's someone on your Christmas list who would appreciate a copy…?
There are tons of recipes too. I made the Creamy Broccoli and Red Pepper Macaroni (p. 236) and loved it: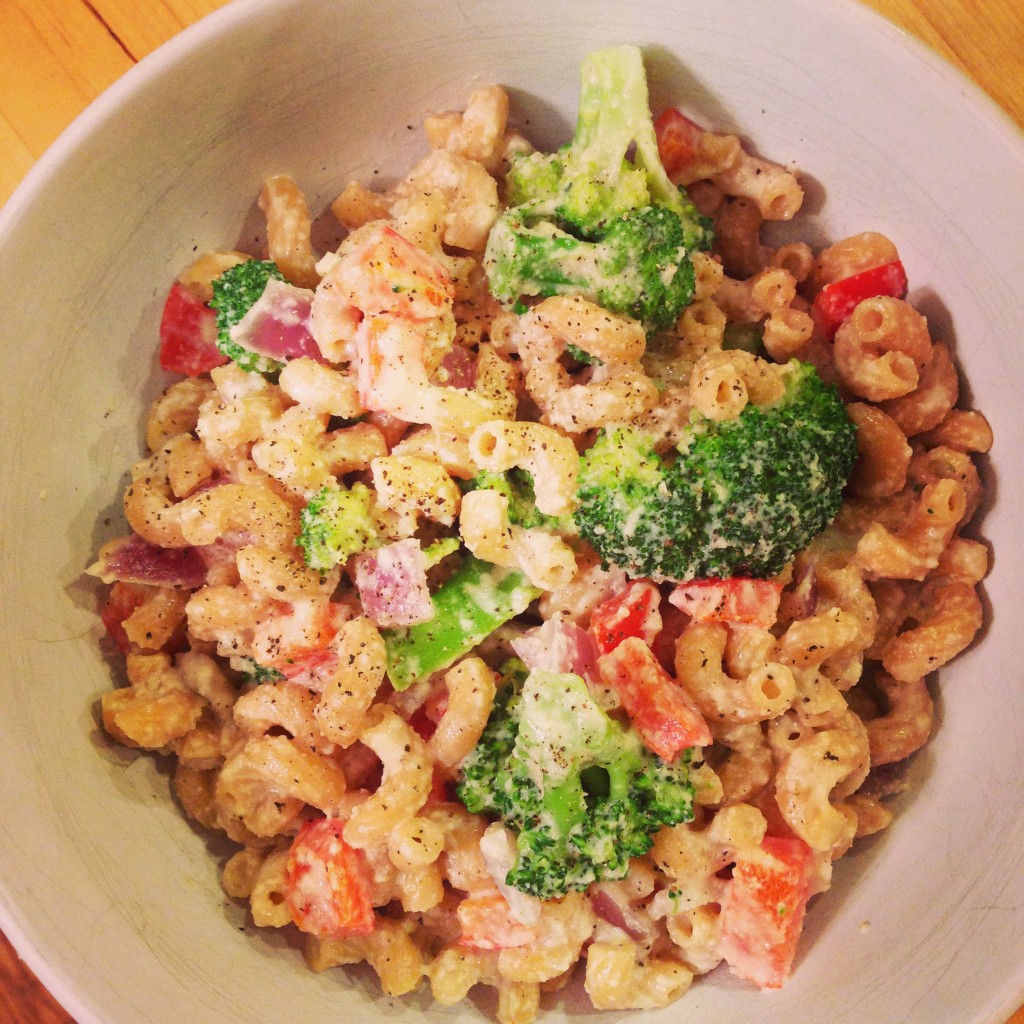 It has a creamy cashew-based sauce and tons of fresh veggies. Plus it's a pasta, which is perfect for the cold weather we've been having here. The funny thing is that back when I reviewed The China Study All Star Cookbook, one of the recipes I chose to try was… Creamy Broccoli and Red Pepper Macaroni! I didn't realize it was the same one until I had already started making it, so I grabbed a copy of TCSAS cookbook off the shelf and there it was, contributed by Heather Crosby. Clearly that recipe speaks to me, haha.
For breakfast one morning (before work, which tells you how quick and easy this was) I made the Strawberry-Banana Crunch Snack Wraps (p. 260), which Heather describes as a healthier version of a PB&J: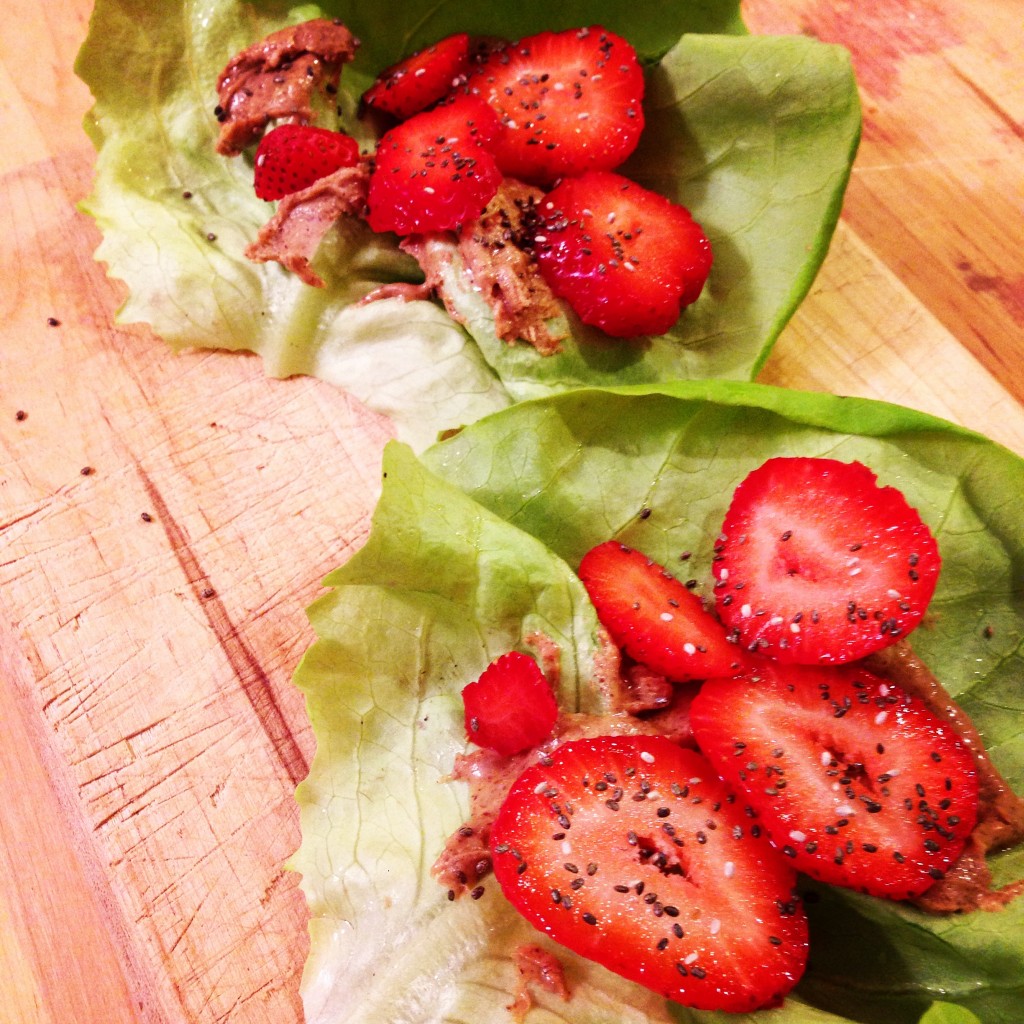 What you're seeing there are leaves of Boston bibb lettuce stacked with fresh strawberries, seeds and nuts. I had to improvise a little (chia seeds instead of hemp, and I skipped the sliced almonds) but ohmygoodness were these delicious! So light and fresh and I felt really good after eating them, satisfied but not weighed down. A very healthy breakfast or snack!
Now what? Well, enter the contest below, print out the recipe for the delicious Bisque (also below) and then click here to check out the rest of the #YUHealthyHolidays Blog Tour!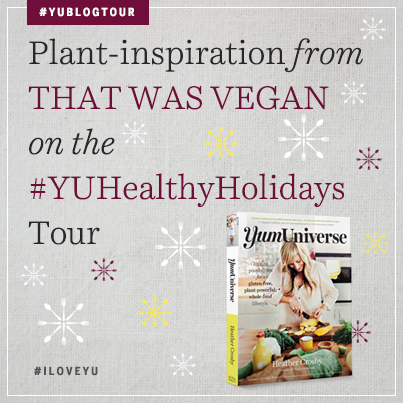 As promised, the recipe for the Roasted Red Pepper and Tomato Bisque is below, but first, here's the super awesome giveaway!
---
The Giveaway
One lucky reader, to be chosen by random, is going to win the new YumUniverse Cookbook (print or e-book, it's up to you), and the YumUniverse Holiday Survival Guide (e-book).
The contest is open until Midnight (Mountain time), Friday 11/28. The winner will be chosen randomly and announced the following day. To Enter: All you gotta do is leave a comment below telling us about your cookbook collection then log it into the rafflecopter widget. How many do you have? Are they mostly print or ebook? Or have you gone completely paper-free and only use Pinterest? Tell us!
*I was provided free product to review but the opinions are 100% mine!
---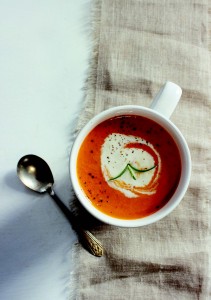 Roasted Red Pepper & Tomato Bisque
2014-11-21 08:16:44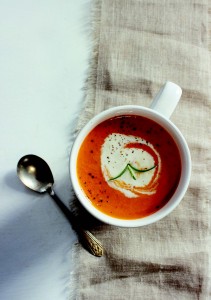 Serves 2
Ingredients
2 red bell peppers, seeds and ribs removed, quartered
2 large tomatoes, quartered
½ cup onion, quartered
1–1 ½ teaspoons sea salt or more to taste
Pinch of black pepper, plus more to taste
2 teaspoons rosemary leaves, chopped
4 cloves garlic, sliced in half
1 ¼ cups veggie stock
1⁄3 cup cashews, soaked
Instructions
Preheat oven to 325°F and grease a large baking dish with oil, or line with parchment paper. Place red bell peppers and tomatoes face down in baking dish with onion, sprinkle with a pinch of salt and pepper, and roast for 25 minutes.
Remove baking dish and add rosemary and garlic and roast another 7 minutes.
Transfer all ingredients to the blender and purée until smooth. Season with salt and additional pepper to taste. Serve warm, so heat up on the range if you need to.
Notes
psst! This also makes a nice cold soup.
Serve with Cashew Sauce (in the book) and Basil & Pepper Pine Nut Crisps (in the book) to take it all to the next level of tastiness
Add cooked quinoa, buckwheat, lentils, brown or Forbidden rice for more texture..
That Was Vegan? http://www.thatwasvegan.com/