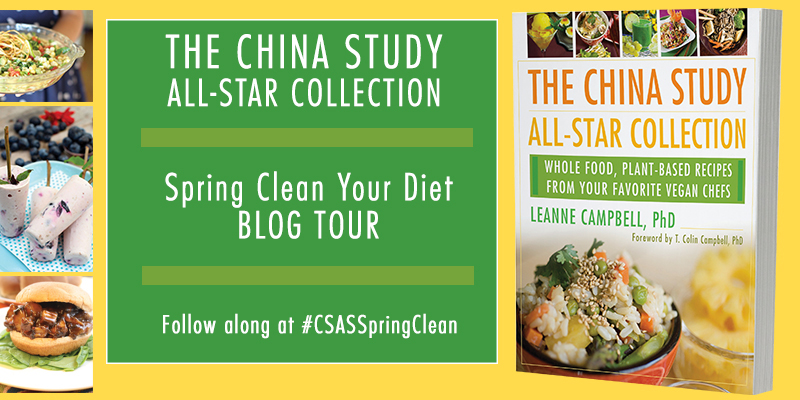 Last November I posted about the China Study Cookbook, which has become one of my go-to books when I'm craving something healthy, low-fat, oil-free and delicious. (Note: If you want a delicious summery dessert, go back and click through and check out that Fresh Strawberry Pie!) The same folks, namely Leanne Campbell, PhD., have put together a fantastic follow-up: The China Study All-Star Collection!
Who are these all-stars, you ask? Lindsay Nixon of Happy Herbivore, Laura Theodore of Jazzy Vegetarian, Chef AJ and Dreena Burton just to name a few! This cookbook is chock-full of delicious and healthy recipes: breakfast dishes, appetizers, soups, burgers, tacos, desserts and more! The best part is that I get to share a copy with one of you lucky readers! I've also shared one of the recipes below… Peanut Butter Fudge Truffles. #yum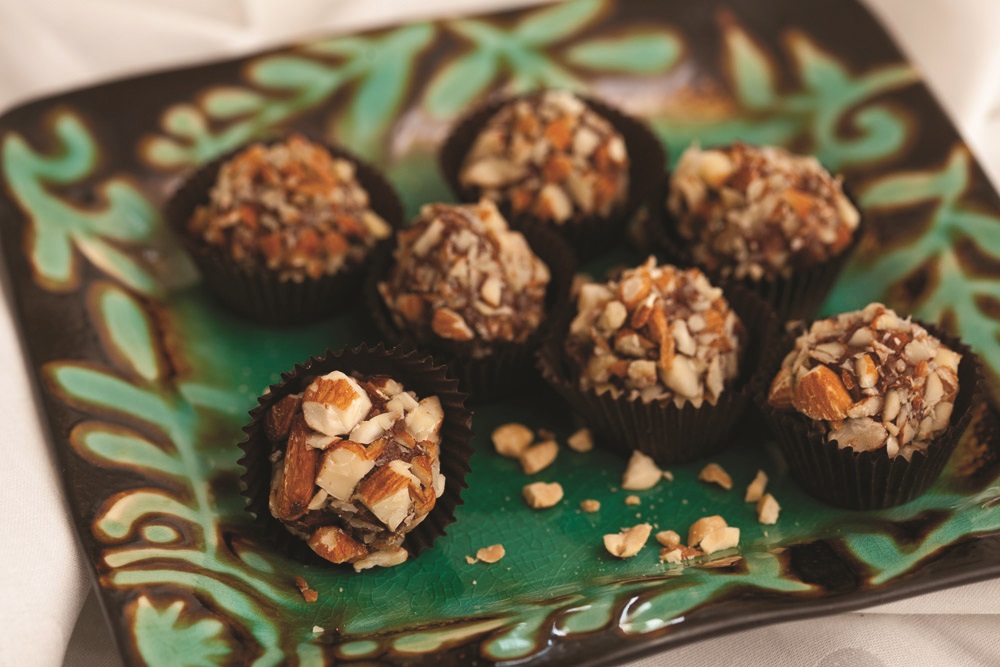 But first, here's a look at one delicious meal we made out of this book. Our friends Jamie and Mike came over for dinner (and rum drinks…), and Jamie and I made the Festive Kale Salad (pg. 75 by Laura Theodore), the Creamy Broccoli & Red Pepper Macaroni (pg. 157 by Heather Crosby), and the Thai Pineapple Curry (pg. 181 by Lindsay Nixon). Everything was delicious, although my favorite was definitely the pasta.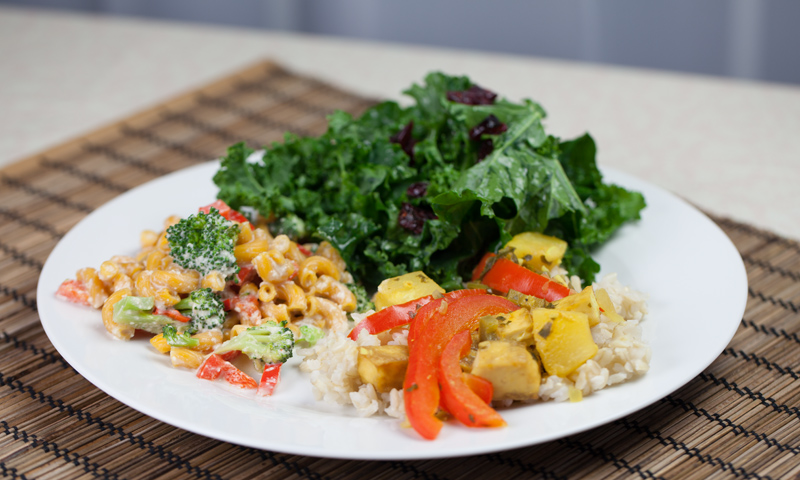 ---
---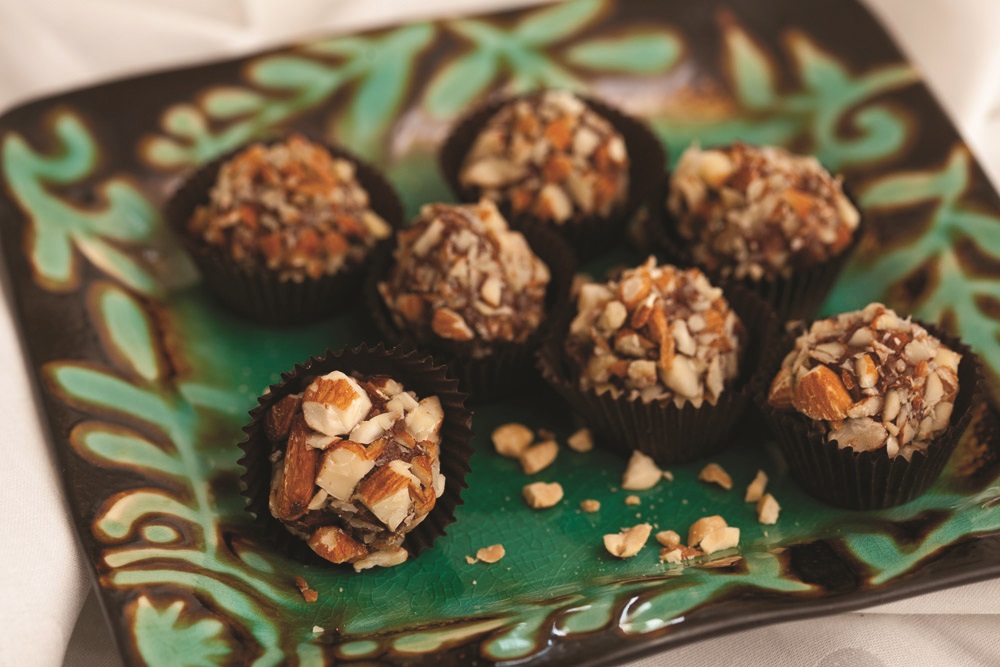 Peanut Butter Fudge Truffles
2014-05-05 11:13:45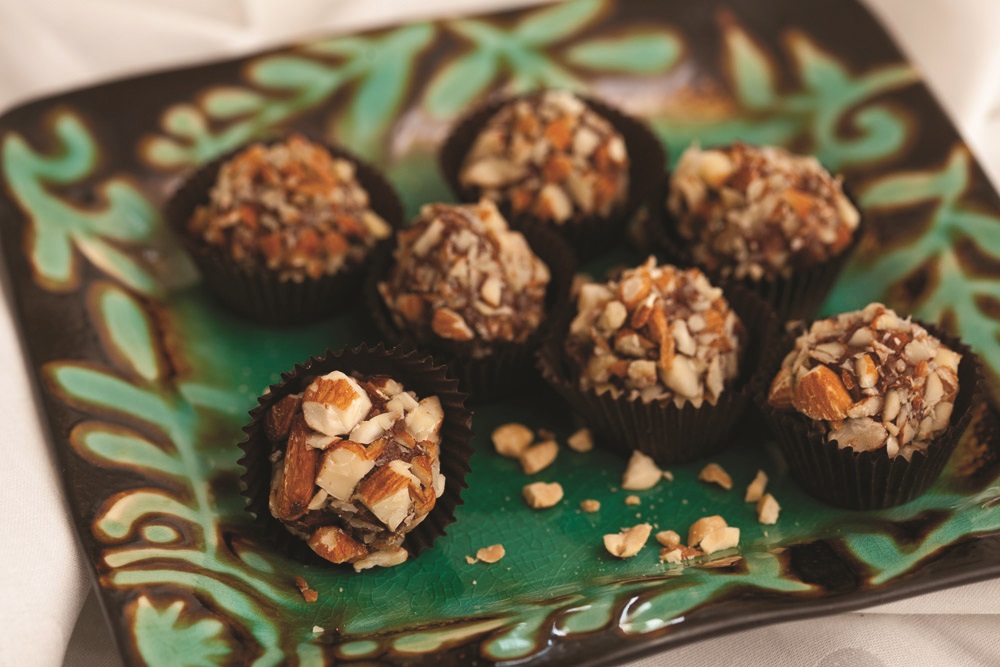 FOR THE DATE PASTE
1lb pitted dates
1 cup liquid (water, unsweetened nondairy milk, or unsweetened juice)
FOR THE CHOCOLATE FUNDUE
1 cup date paste
1 cup peanut butter (not salt or sugar)
1/2 cup raw cacao powder
1/2 cup unsweetened nondairy milk
1 tablespoon vanilla extract
Crushed peanuts
Instructions
Soak dates in liquid overnight or for several hours until much of the liquid is absorbed.
In a food processor, process dates and liquid until completely smooth. You can store date paste in the refrigerator.
Place all ingredients for Chocolate FUNdue in a food processor and process until ingredients are incorporated, scraping down the sides if necessary. Chill FUNdue until firm.
Using a small retractable cookie scoop, drop FUNdue into crushed peanuts and coat evenly.
Notes
Substitute cannellini beans for some of the nut butter for a lower-fat version.
The FUNdue is also delicious when made with raw almond butter or tahini.
Try dipping bananas in the FUNdue, rolling them in crushed nuts, and then freezing for a tasty treat.
That Was Vegan? http://www.thatwasvegan.com/

*The sponsors provided me with free product to review, but the opinions are 100% mine!