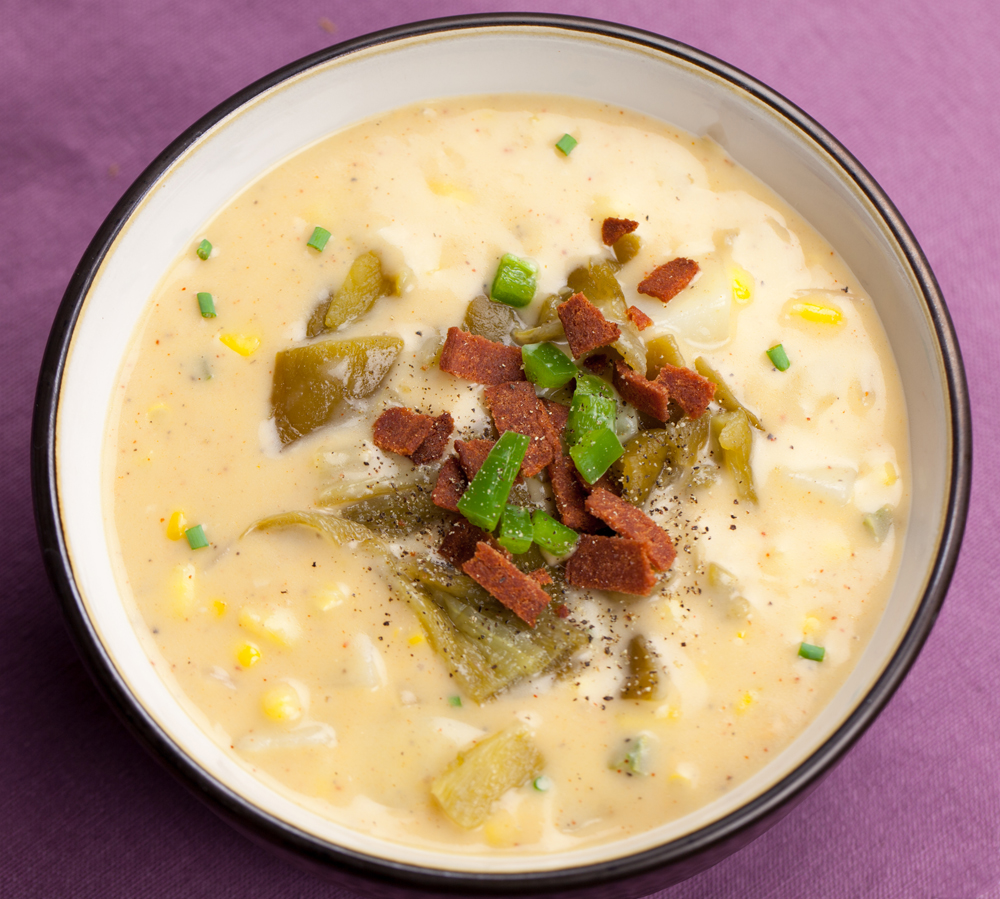 I told you I was on a soup/chili/chowder kick! The thing is, my Vegan New Mexican Corn Chowder kinda kicks back, if you know what I mean… Just look at all those green chiles in there! This chowder is so thick and creamy and rich. A real stick to your ribs kind of chowder! A little bit spicy with the green chile, but a little sweet too, from the corn. And filling with all those delicious potatoes. Plus, as we all know, nothing says "This soup is delicious and satisfying and awesome" like vegan bacon sprinkled on top!
You know what else is awesome? Being invited to the pre-opening party at Denver's newest Native Foods!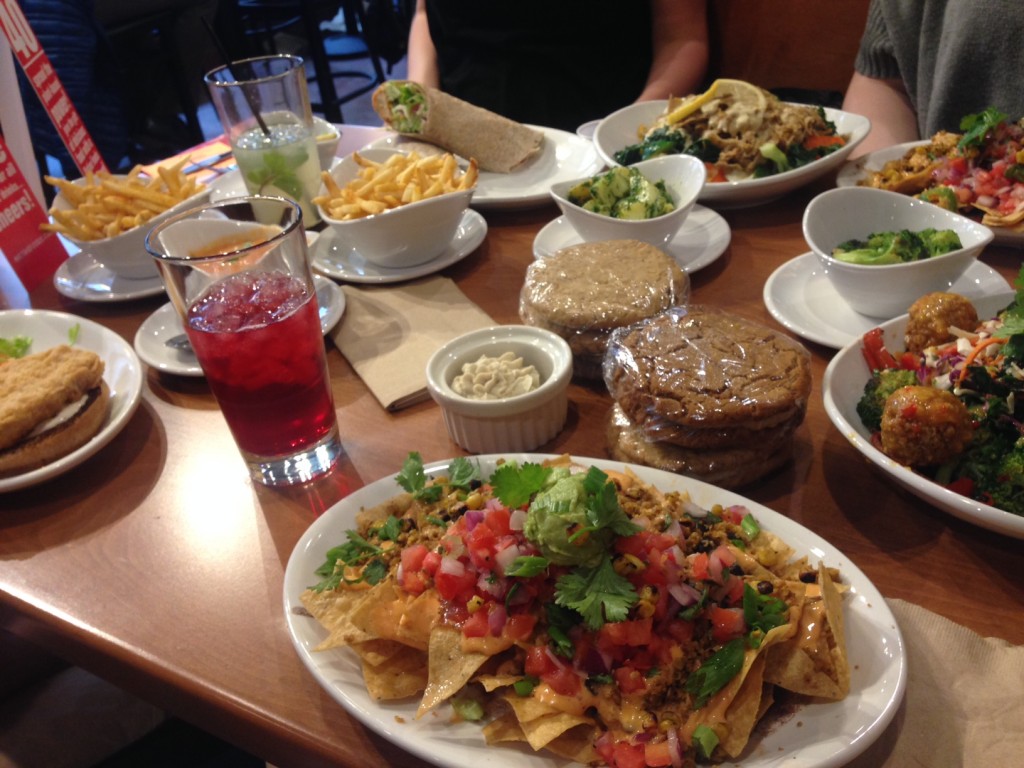 Cynthia, Denise, Quinn and I strolled down to their newest store on the 16th St Mall last week to stuff our faces. That big plate of nachos right there ended up being my entire lunch. The Thai meatballs, broccoli, and ginger creme cookie went home with me for later. Denise did the same thing (although her entree was the Gyro bowl), and it was nice to have someone else demolishing an entire place of nachos along with me. Cynthia and Quinn were first timers, but they loved it. Cynthia had the Chicken Run Ranch burger which is what I always recommend to newbies (it's also great for omnivores), and Quinn had the Buffalo Twister wrap. We all had the creme pies… those things were freaking amazing! Our server took a picture of us, but it came out blurry. Sad face.
The only problem is that this new location is totally within walking distance of my office, which means it's going to be really hard to not be eating those nachos for lunch every day!
Except, of course, for when I have leftover chowder waiting for me…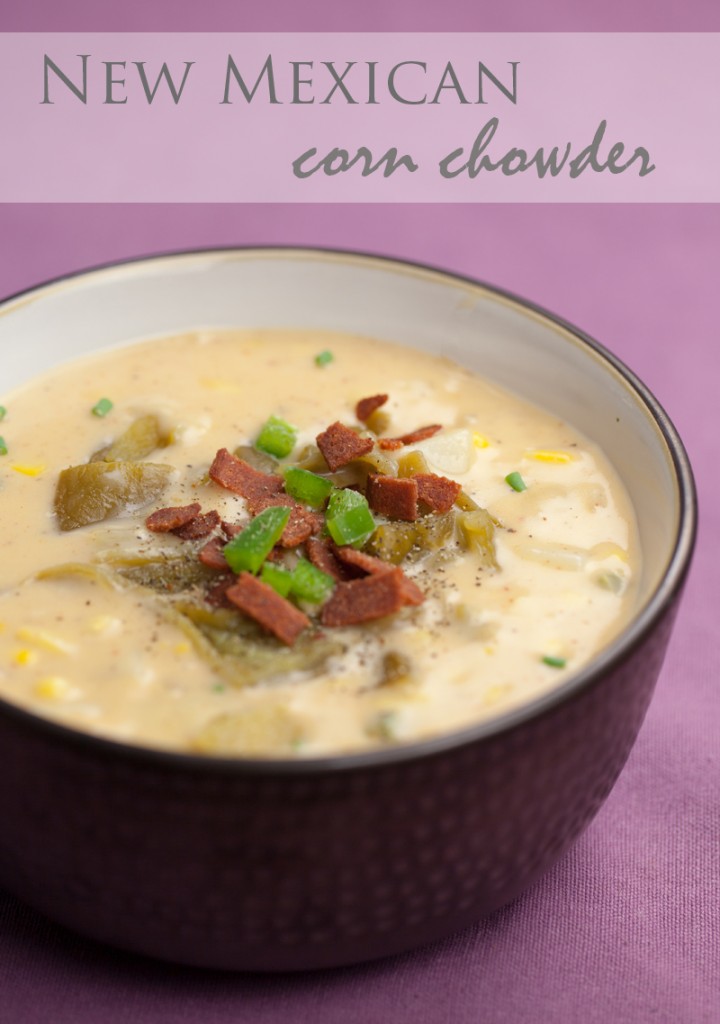 All I can say is that when you're craving chowder and want something a little bit different, try this. Green chiles! You can't go wrong!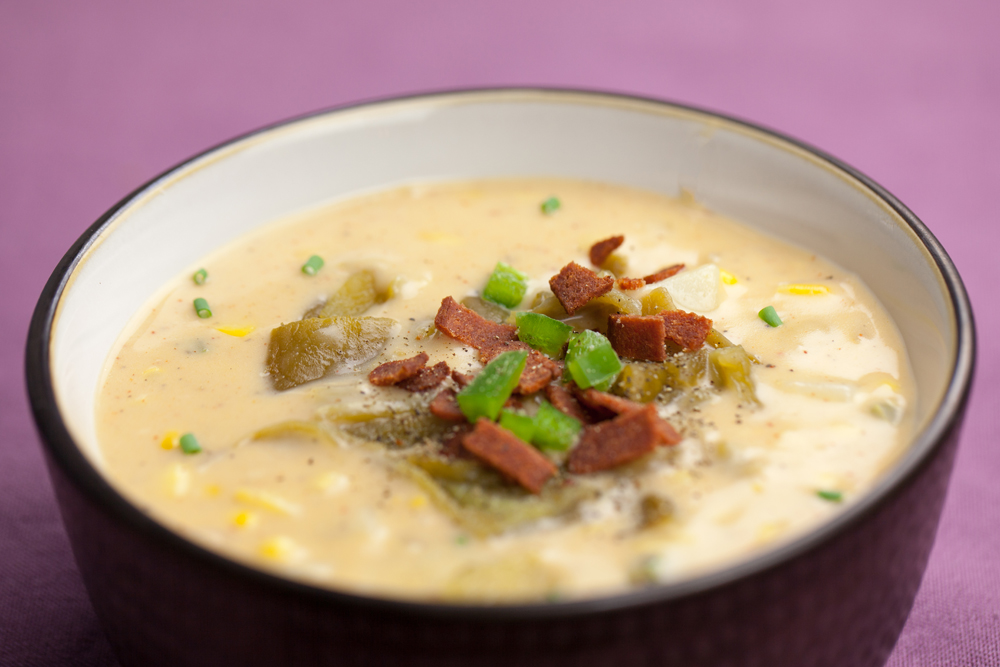 ---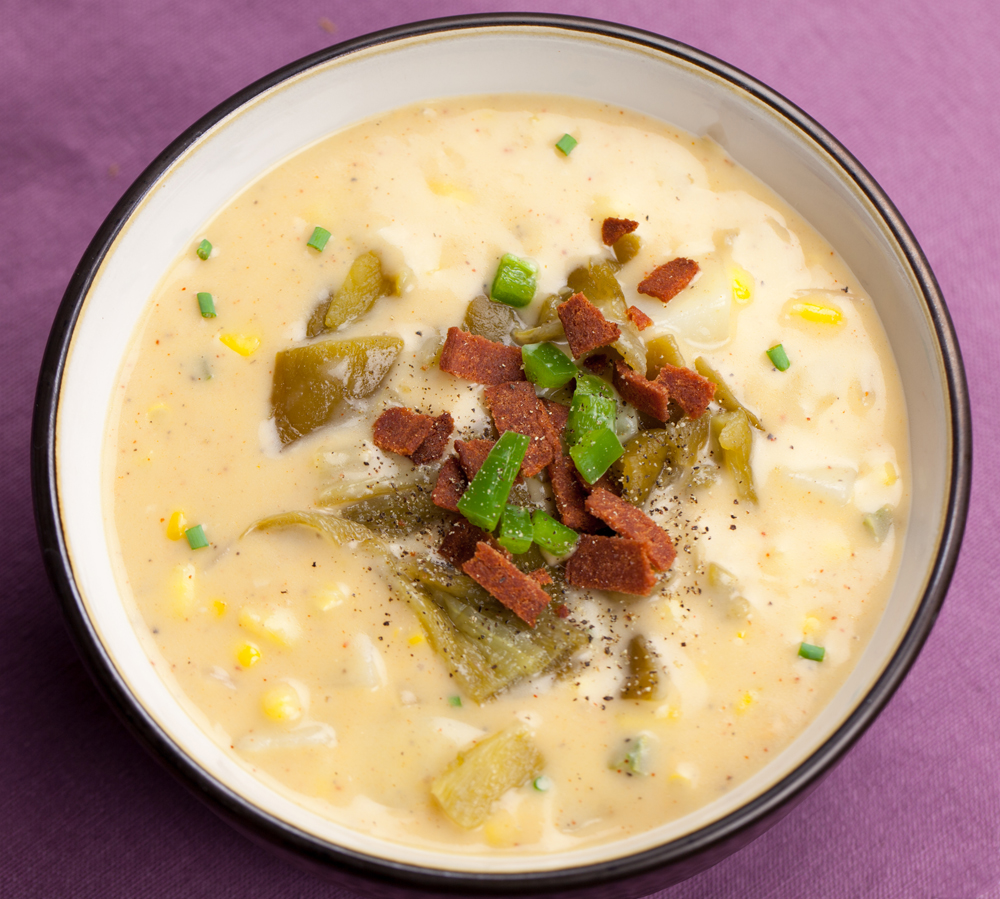 New Mexican Corn Chowder
2014-12-09 11:14:43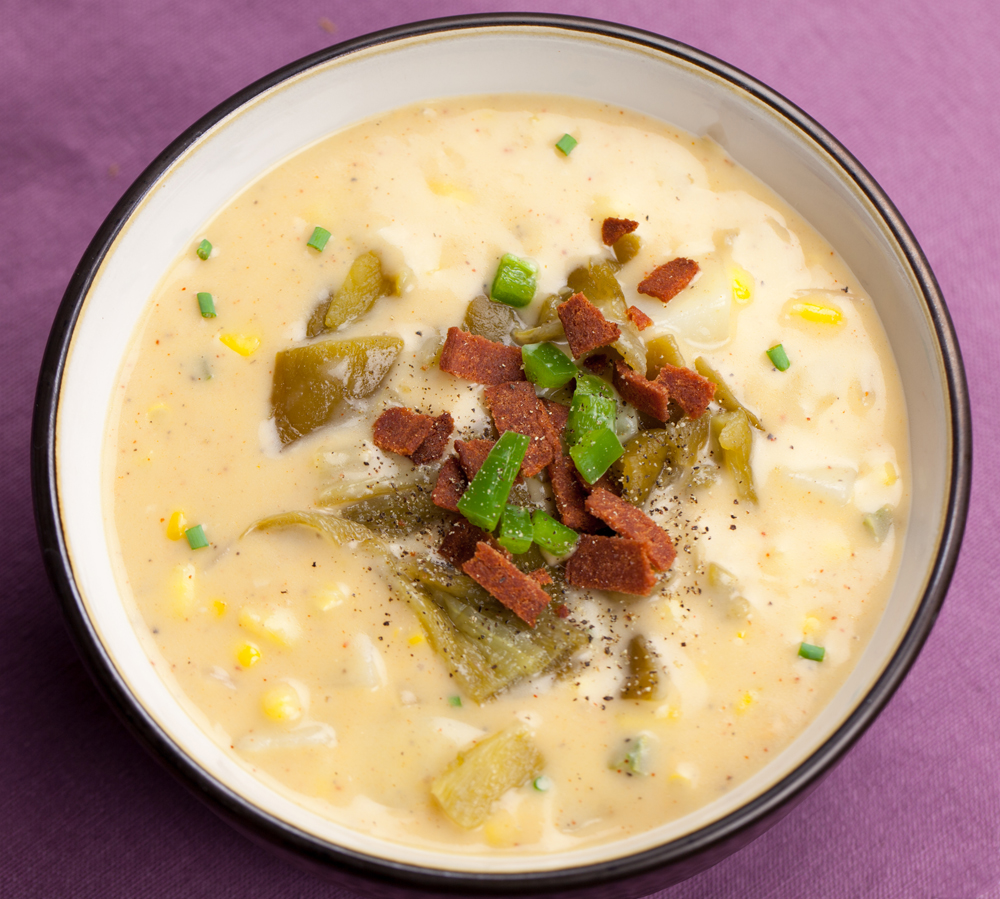 Serves 4
A spicy and delicious new take on corn chowder!
Ingredients
5 slices vegan bacon (I used lightlife)
Butter-infused olive oil (or regular olive oil)
1 small sweet onion
3 cloves garlic
1 jalapeno, diced and halved
1/2 teaspoon chili powder
2 tablespoons vegan butter
5 tablespoons AP flour (1/4 cup plus one extra tablespoon)
1 "not chick'n" bouillon cube
1 cup water
3 cups unsweetened almond milk, plus another 1/2 cup
2 large russet potatoes, chopped into bite-sized pieces
1 cup Daiya cheddar shreds
2/3 cup diced green chiles, with about 1/3 of that reserved
12oz bag frozen corn
Instructions
Cook the bacon per package instructions, dice, and set aside.
Dice the onion and mince the garlic. Heat the olive oil over low/medium heat and saute the onion, garlic, half the jalapeno and the chili powder for 5-7 minutes. Add the butter and flour and stir together over the heat for another 2 minutes.
Add the bouillon, water, and 3 cups milk and bring to a boil, whisking until the roux is dissolved. Add the potatoes and reduce heat. Simmer until the potatoes are cooked, about 15 minutes. Add the additional 1/2 cup of milk if it gets too thick.
When the potatoes are ready, add the cheese, corn, and green chiles, stirring until everything is warm and melty. Serve and top with the bacon and remaining jalapenos and green chile.
Notes
Regular olive oil will work just fine, but the butter-infused stuff is just amazing- pick some up if you ever get the chance! (And yes, it's plant-based)
That Was Vegan? http://www.thatwasvegan.com/