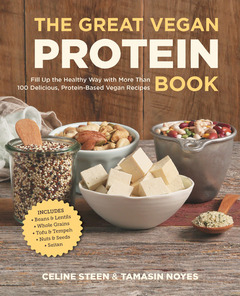 This giveaway is closed. Legumes and beans and tofu, oh my! That's right, tons of plant-based protein, all covered in one handy book! And one of YOU lucky readers is going to get a free copy of The Great Vegan Protein Book by Celine Steen and Tamasin Noyes!
I receive a lot of cookbooks to review and I'll admit that I feel a bit ambivalent towards some of them, but not this one! I actually had trouble deciding which recipe to try first, but being the lover of both animals and whimsy that I am, I chose to go with the Unicorn Tacos… (please pardon the cell phone pictures… and also, why aren't you following me on instagram yet?)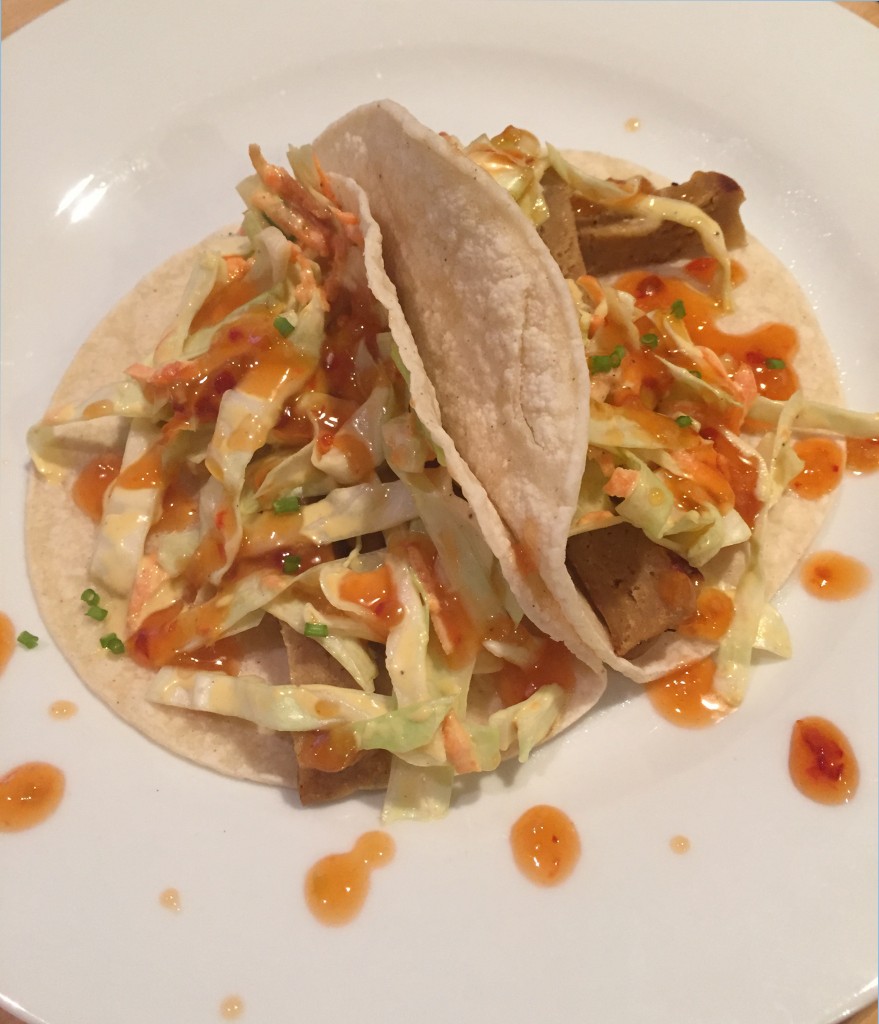 Seitan, flavorful cabbage, and a delicious (and easy to make sweet n' spicy sauce) all combined into the perfect taco! I didn't stick the recipe exactly (I used my own seitan, and corn tortillas because I already had some), but it's now one of my favorite taco recipes! And, lucky you guys, the publisher let me share the recipe with you – it's at the end of the post!
I also made the BBQ Lentils, with brown rice. I'm a huge fan of BBQ sauce (one of the greatest joys of my vegan life was discovering that so many bbq joints in Denver serve tofu!), but I had never thought of putting in on lentils. Brilliant!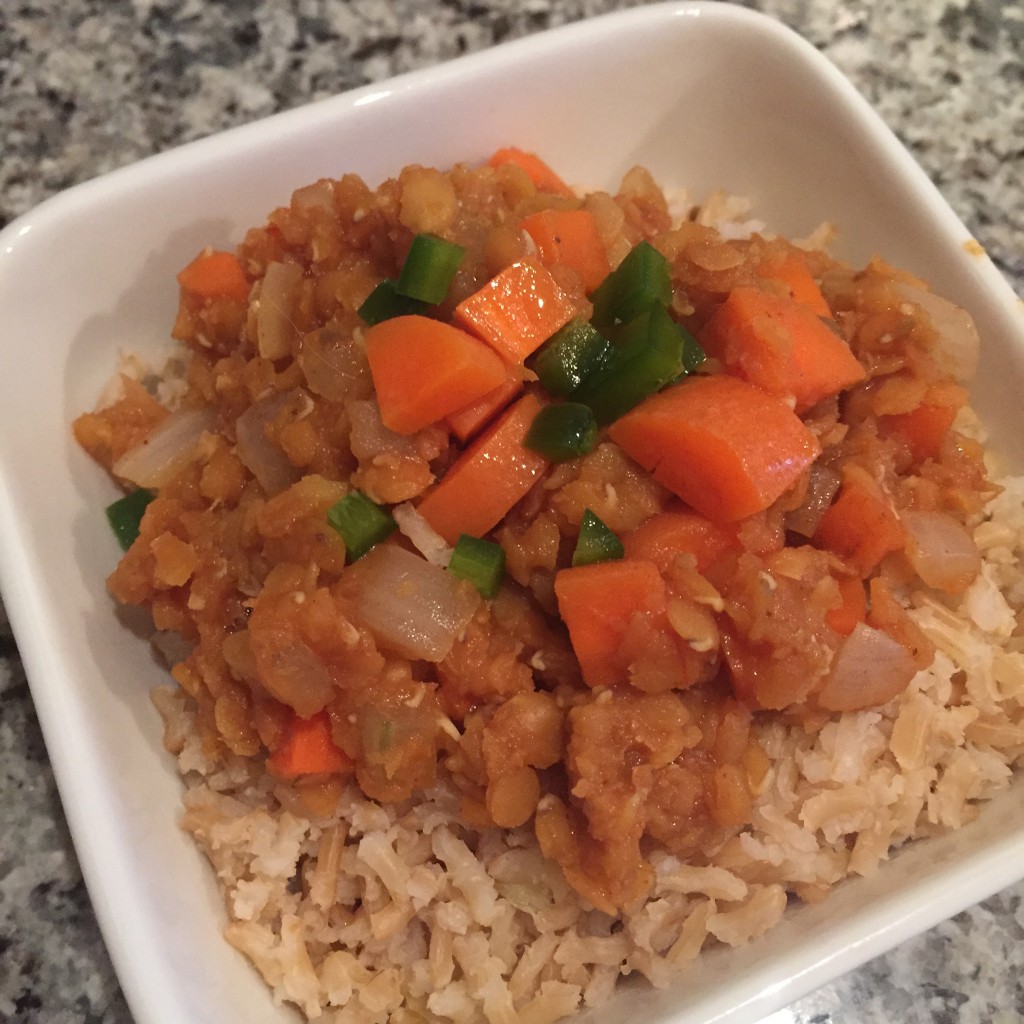 The recipe includes a homemade BBQ sauce with is SO MUCH BETTER than bottled, but of course that's one of those things you can easily cheat on to save time. There are carrots and onions in there, and I added a few bits of diced jalapeno because I had half of one sitting in my fridge begging to be eaten, and because I like a little heat with my bbq. It was delicious, and I can't wait to eat the leftovers for lunch today.
Now for the giveaway (and don't forget to scroll down for the Unicorn Taco recipe!)…
---
The Giveaway
One lucky reader will win a copy of The Great Vegan Protein Book by Celine Steen and Tamasin Noyes! To enter, leave a comment below sharing what your favorite vegan protein is… BBQ tofu? Stir-fries full of lentils and veggies? Twizzlers Edamame? You can also score extra entry points with some fun Twitter options. Contest ends May 24th at midnight (mountain time). One winner will be chosen at random and announced the following day. Be sure and log your comment into the Rafflecopter to make it count! Open to residents of the US, Canada and the UK!
---
Unicorn Tacos
2015-05-14 09:20:46
To the best of our knowledge, these are a Cleveland thing that originated at Deagan's in Lakewood, Ohio. Sweet (or not so sweet, as you prefer) chili-garlic sauce tops a crisp slaw and grilled seitan strips. For a sweeter sauce, add an additional tablespoon (12 g) sugar. Save any extra sauce in a covered container in the refrigerator for up to 1 week.
For the sauce
3 tablespoons (36 g) sugar
3 tablespoons (45 ml) seasoned rice vinegar
2 cloves garlic, minced
1/2 teaspoon onion powder
1/2 teaspoon fine sea salt
1 tablespoon (15 g) sambal oelek, or to taste
3 tablespoons (45 ml) cold water, more if needed
1 tablespoon (8 g) cornstarch
For the tacos
3 cups (210 g) shredded cabbage
3 tablespoons (21 g) grated carrot
2 tablespoons (12 g) minced scallion
3 tablespoons (42 g) vegan mayonnaise
1/2 teaspoon Dijon mustard
8 ounces (227 g) Kind-to-Cows Seitan (page 138)
Salt and pepper
Nonstick cooking spray
4 (8-inch, or 20 cm) soft flour tortillas
Instructions
To make the sauce: Whisk the sugar, vinegar, garlic, onion powder, salt, and sambal oelek in a small saucepan over medium heat. Cook for 3 to 4 minutes until the sugar is dissolved and the mixture comes to a boil. Whisk the water and cornstarch together in a small bowl, and then pour into the sauce. Cook and whisk for 2 to 3 minutes, until thickened. Add additional water 1 tablespoon (15 ml) at a time, if needed, to get a drizzle consistency. Set aside.
To make the tacos: Toss together the cabbage, carrot, and scallion in a medium-size bowl. Stir in the mayonnaise and mustard. Season to taste with salt and pepper. Heat a grill pan over medium-high heat. Season the cutlets with salt and pepper. Lightly coat the grill pan with the cooking spray. Grill the cutlets for 4 to 6 minutes, until they have marks. Turn over to grill the second side for 3 to 5 minutes, until they also have grill marks. Cut into thin strips.
Heat a skillet over medium-high heat. Cook the tortillas one at a time, for 1 to 2 minutes, turning them over with tongs until softened and hot.
To serve, put one-quarter of the seitan strips in each tortilla. Top with one-quarter of the cabbage mixture and drizzle with 1 to 2 tablespoons (24 to 48 g) chili-garlic sauce, as desired.
Notes
Yield: 4 tacos, plus ⅔ cup sauce (240 g)
Protein content per taco (with sauce): 28 g
That Was Vegan? http://www.thatwasvegan.com/