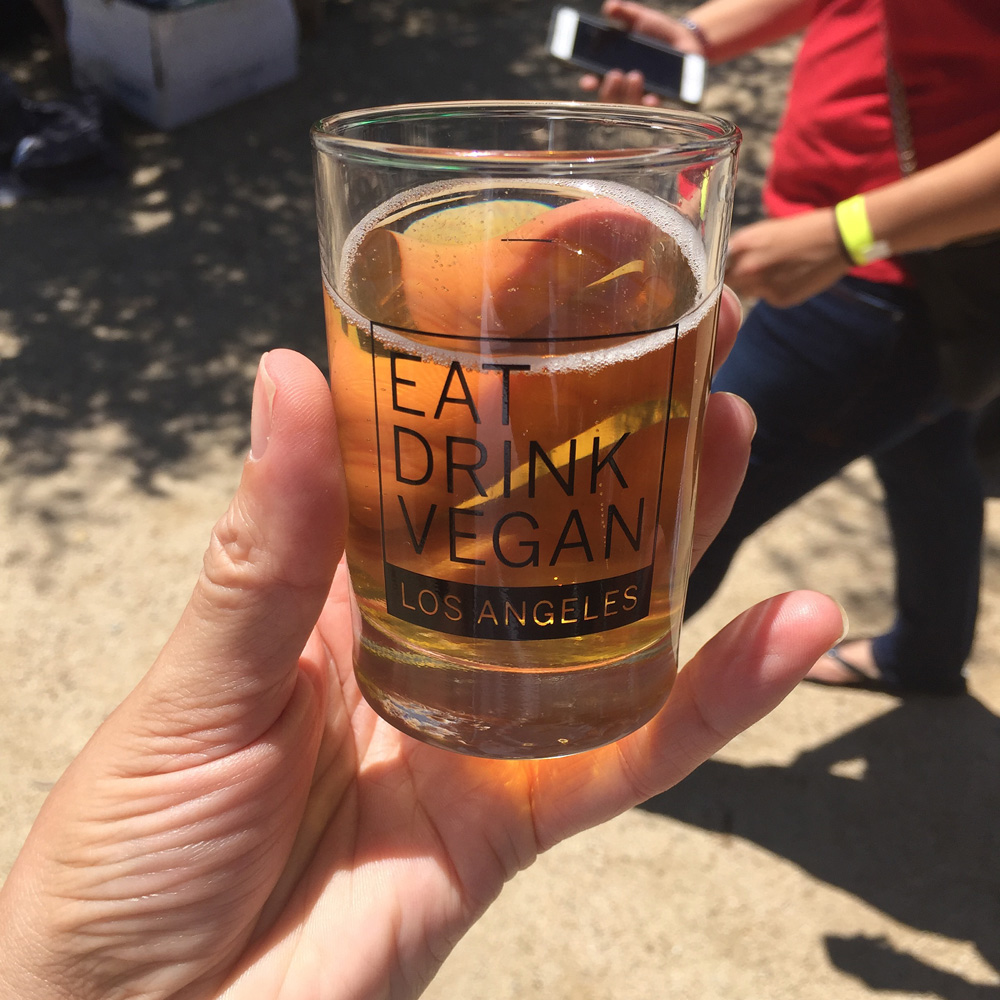 Every year I'd see my LA blogger friends posting pics and stories from the LA Vegan Beer and Food Festival and would succumb to massive jealousy. I lived in LA for years (and San Diego for years after that) and I wasted all that time by not being vegan! Gah! But this year I finally put things right, got my butt on a plane, and went to the festival. And let me tell you… it did not disappoint! If you're thinking of attending next year, be sure and scroll all the way down for my own personal checklist of ways to make it more enjoyable!
Although I spent most of the long weekend partying it up with canine celebrities in WeHo, my old bestie Patrick was my date for the fest. I did a very poor job of documenting all that we ate and drank, but here are some of the highlights:
A plant-based version of KFC's "Double Down" from the Herbivorious Butcher – 2 pieces of fried seitan with the bacon, mayo, lettuce, tomato and onion in between. We waited in line for at least 45 minutes for this bad boy, and it was delicious! Too big for me to finish though.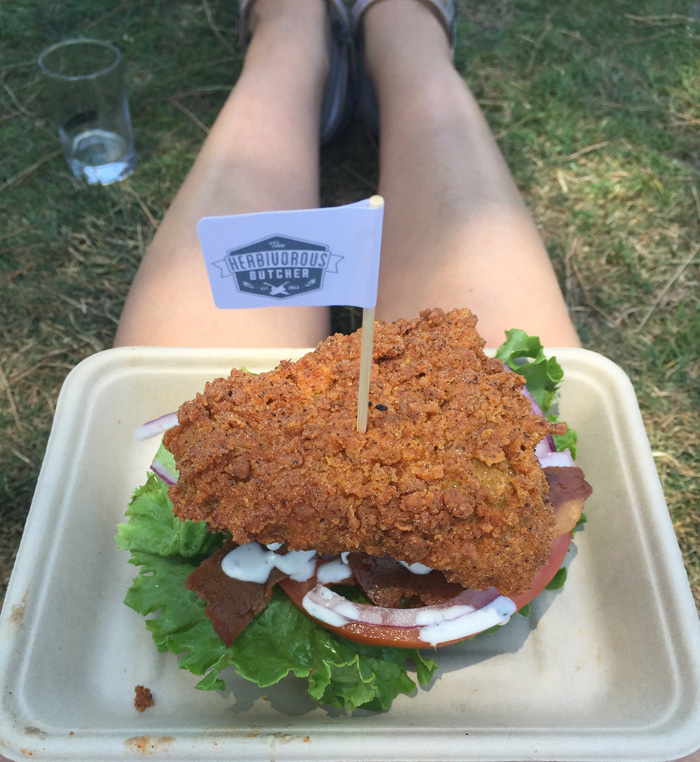 Coconut macaroons and peanut butter cheesecake from The Little Sweet Place: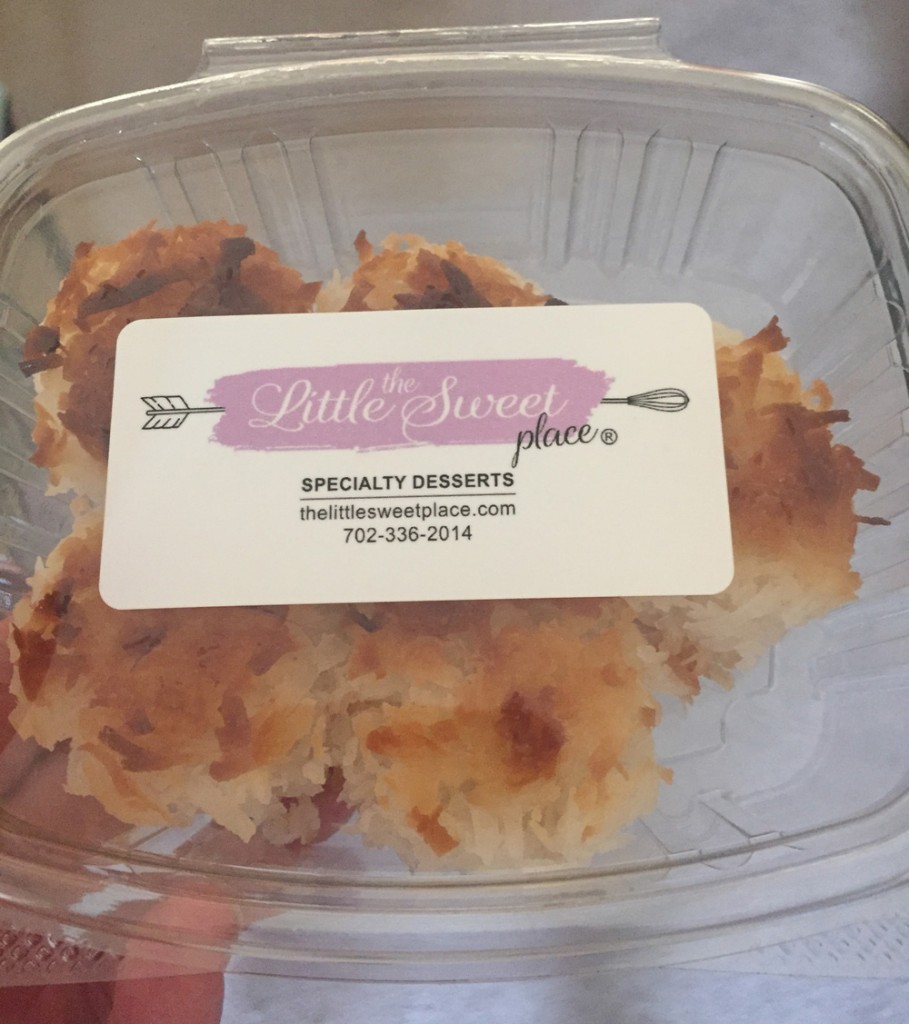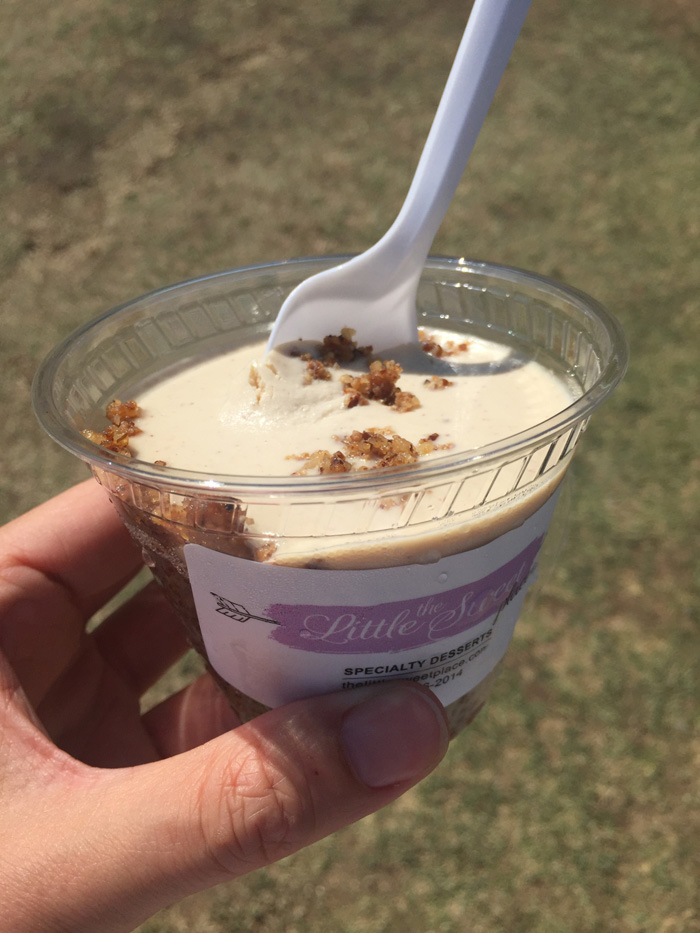 I won (WON!!) this 2lb bottle of FYH Vegan Egg just for tweeting a picture of my posing with their logo! I can't even imagine how much this would cost in a store?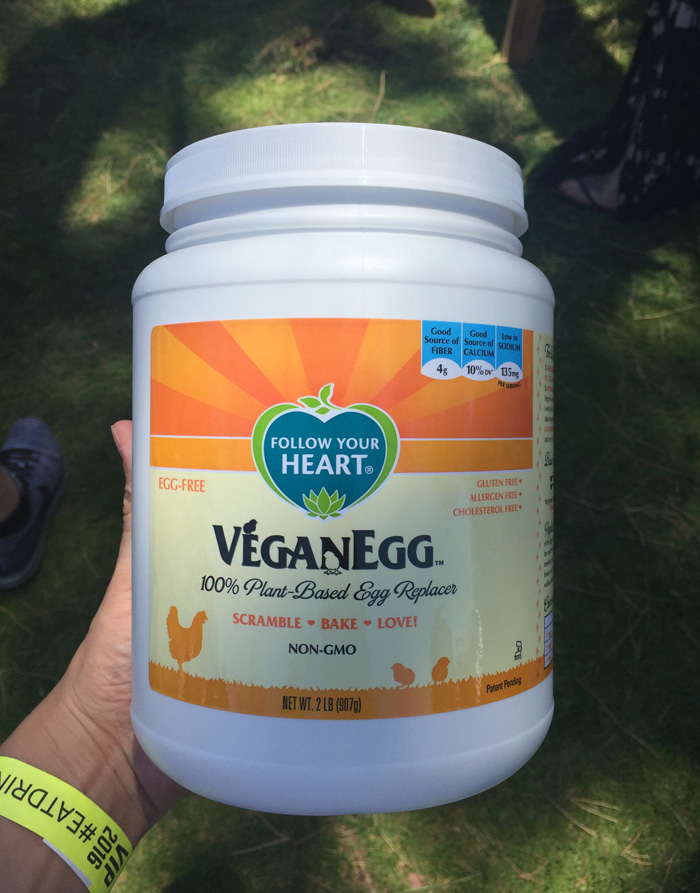 This was an avocado taco from somewhere I can't remember (See? I did a terrible job!) but it was good. The avocado was dehydrated, covered in salsa, and wrapped in lettuce which was perfect for the hot day: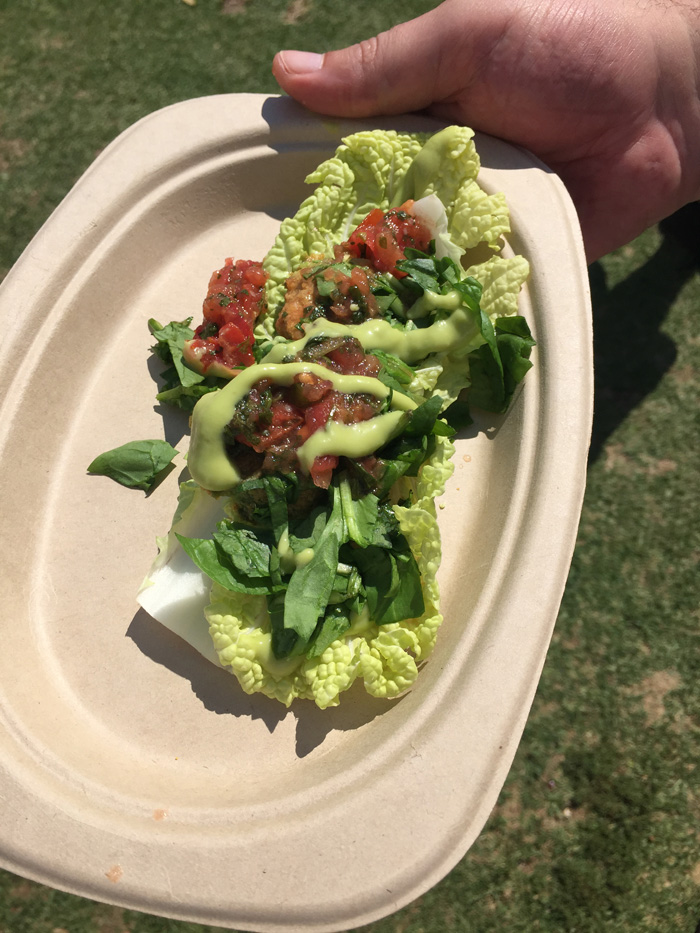 There were lots of brands with lots of freebies too. FYH, in addition to giving away the yummy Vegan Egg were also serving up free "pizza" grilled cheese sandwiches, and handing out cheese samples. Gardein was there with their fishless filets and fries: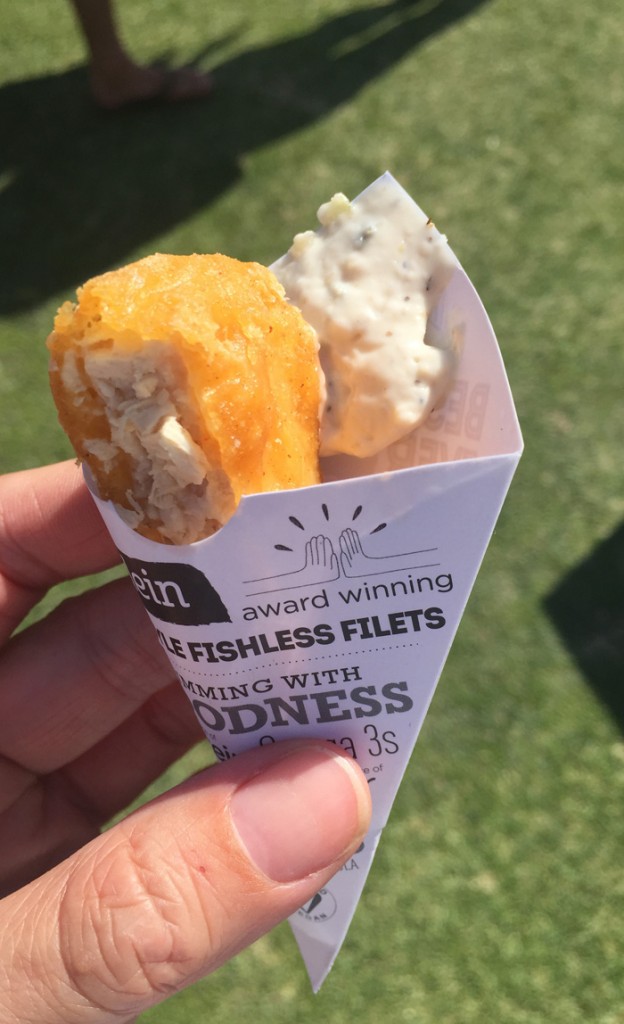 And of course there was a lot of beer. A.Lot.Of.Beer. But I didn't take pics of that. It was so hot and I didn't have enough hands, so I decided to just enjoy myself. And I finally met my favorite Instagrammer- The Unhealthy Vegan!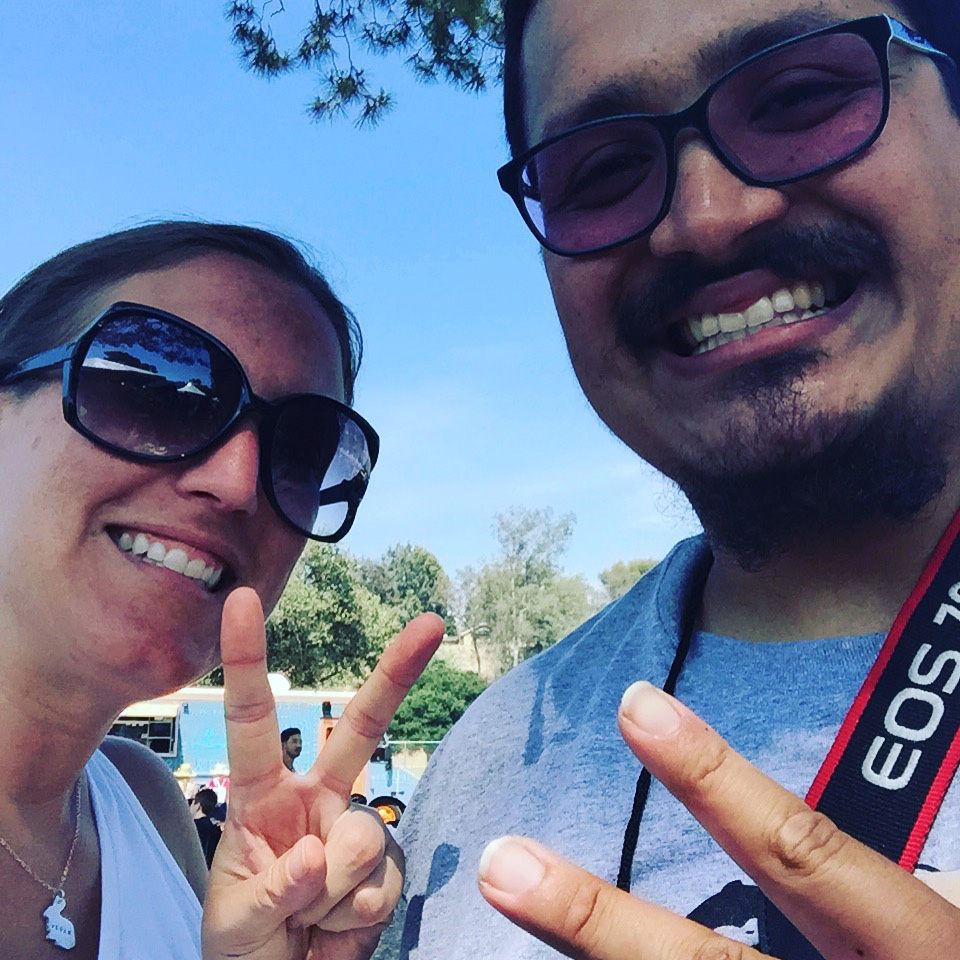 He was a food judge and was set up at a table with one of EVERYTHING. And he shared! Love that guy.
There were so many people there, it was insane.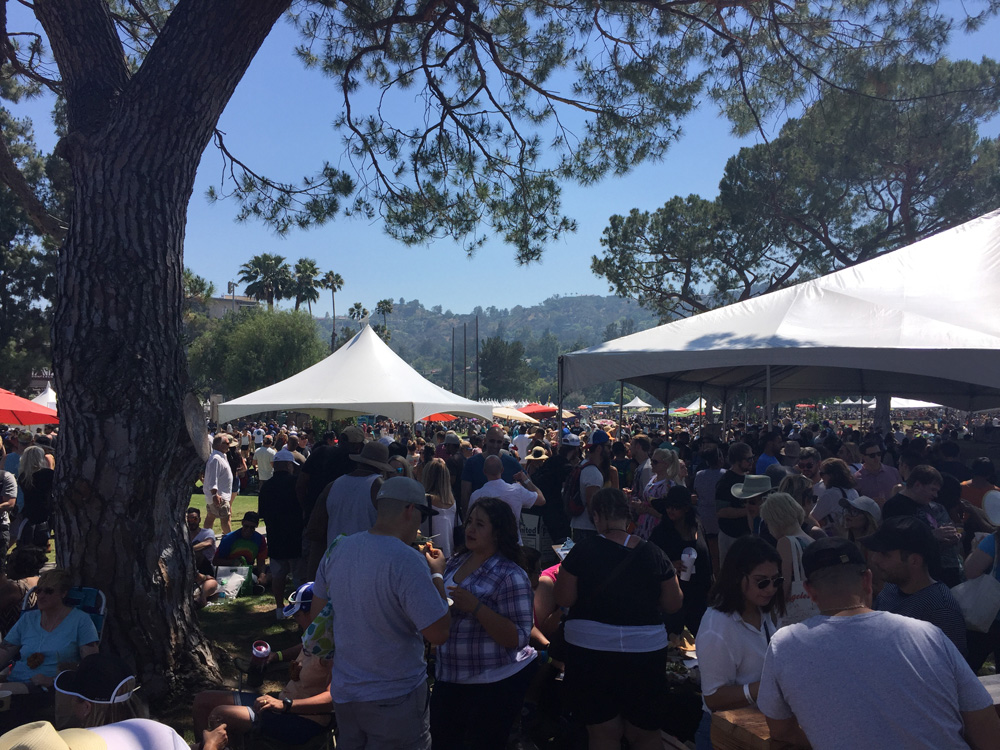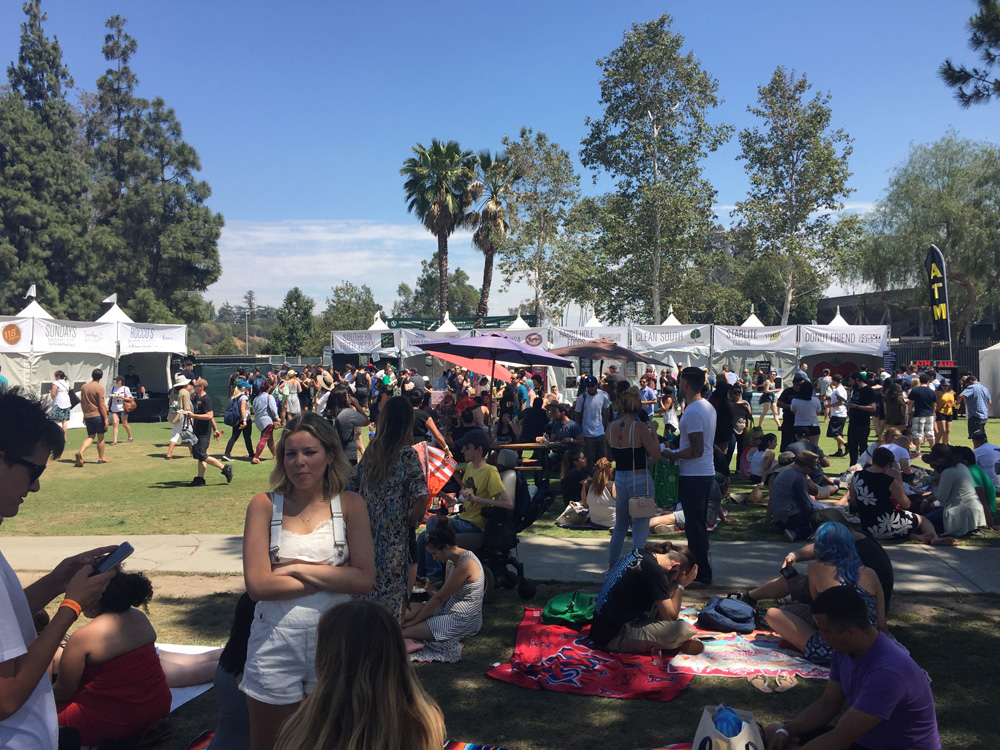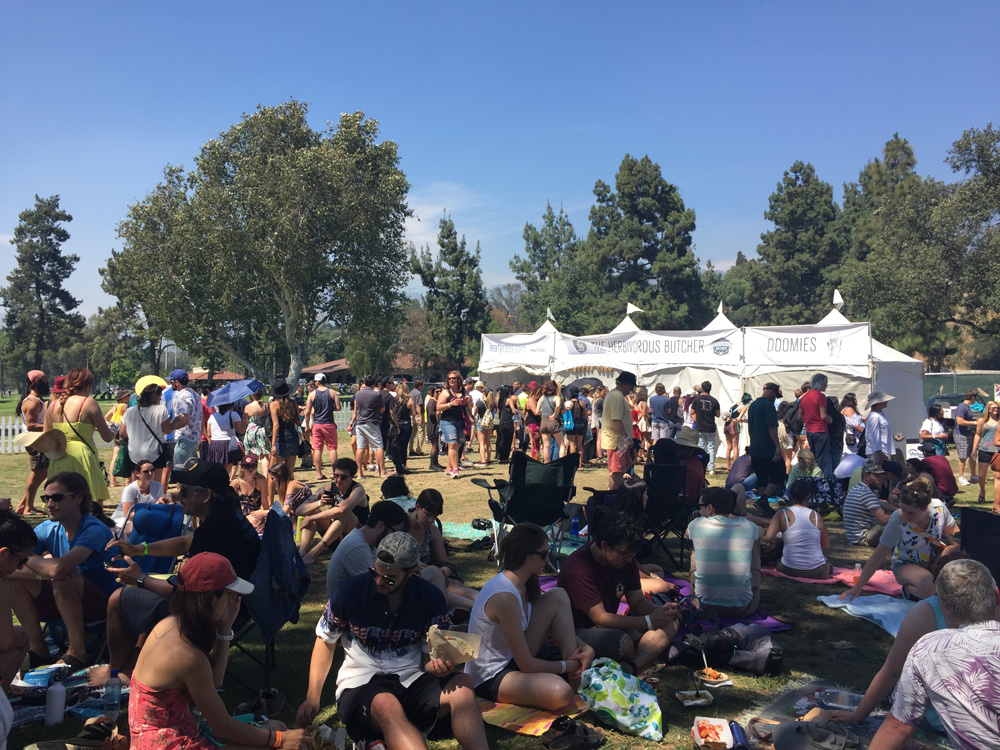 And this was a shot taken from the VIP area, where it was a lot less crowded: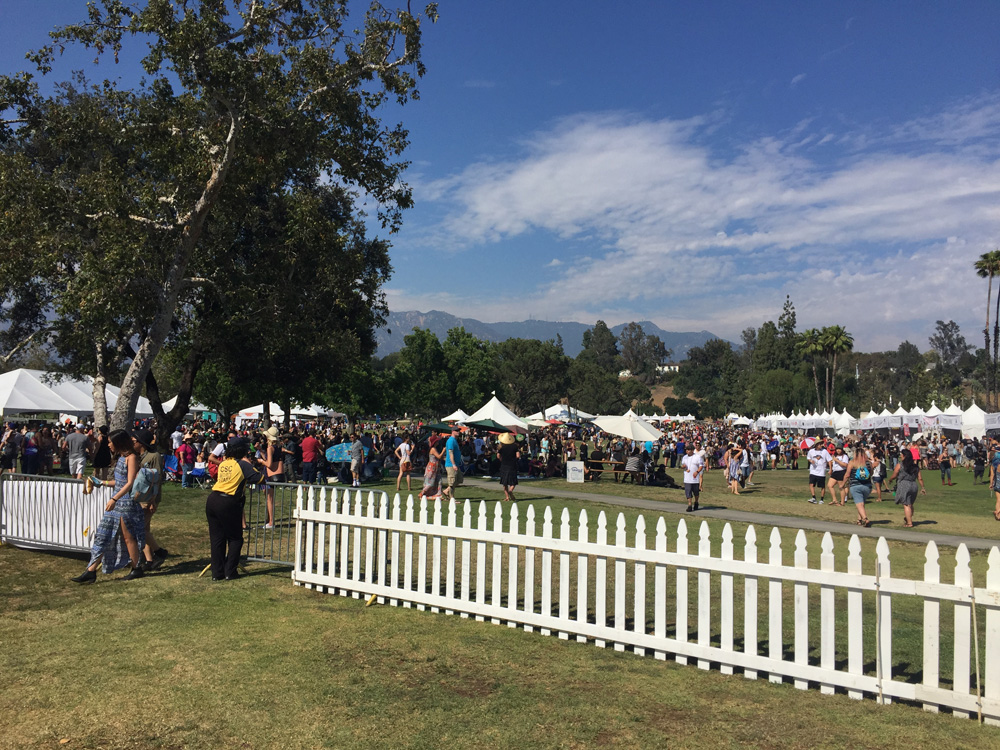 Okay, enough pictures… here are my thoughts:
VIP access is worth the extra $$ for 3 reasons: You get in two hours earlier which allows you to get in line for things like the "double down" or the vegan "big mac" before that line is a mile long. The VIP area has their own bathrooms (in the regular area you have to actually leave the beer/food space to get to any) with no lines, and they stay cleaner because fewer people are using them. And, finally, it gives you a less crowded place to go if you're like me and get a little uncomfortable in crowds.
Go with friends/a group is better than a duo: First of all, you have more people to talk to, or walk around with. It's summer in Pasadena so it's hot. Some of you are going to walk to chill in the shade while others are all "Let's get more beer!" Also the portions are huge so that way you can share and try more things! Set up a blanket in the shade, and you all have a sort of homebase for the rest of the day. And draw straws so one of you is the DD.
Bring a blanket: See #2
Bring a tote bag or backpack: Don't be that person carrying a 2lb jar of Vegan Egg around all day, juggling her beer glass and phone and food. The parking lot is really far away, you don't want to be going back and forth, trust me.
Wear something light but fun: I saw people in all sorts of crazy outfits and I wished I had thought of that. Next year I'm wearing a pink tiara and maybe a tutu. Depends on the weather.
Did any of you attend? Do you have other ideas? Add them to the comments section!!