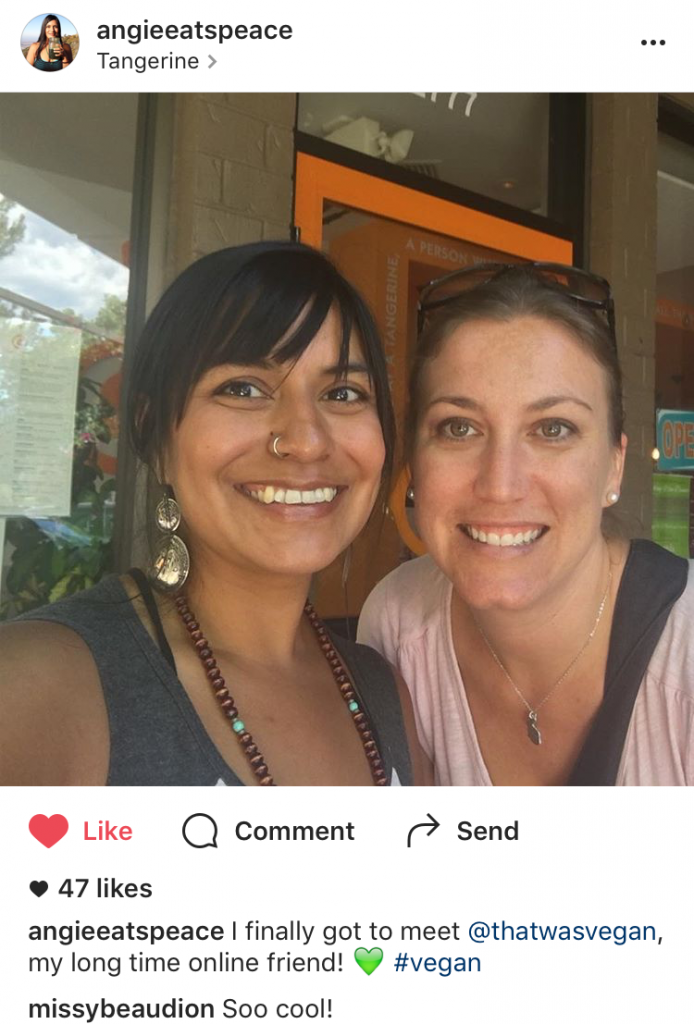 Who says online friends can't become IRL friends? Not I! Angie and I first became acquainted in October 2012 through the old monthly vegan swap. Bloggers and readers would sign up to participate, and we'd be matched… and send each other boxes of vegan deliciousness. It was a lot of fun, although also a lot of work for the organizers which is probably why it no longer exists. Anyway, back then Angie had signed up and drew my (lucky) name… and proceeded to send me the best box I ever received- mostly because of these chocolate chip cookies from Loving Hut. And also because I had just spent a day flying back from DC with a broken foot, had lost my car at DIA, then had to drive over an hour home and got there after midnight. It was a rough day, but this box was waiting for me on the front step and it made everything better.
Fast forward a bit and Angie now has two great blogs: Angie Eats Peace, where she shares her vegan journey, and Spiritual Bahana where she and her spiritual "sister" blog about religion and spiritualism. They call it "A girl, a gay, and God" which I love.
So we were reading each other's blogs and even guest posting for each other here and there, but we still hadn't met in person. But we finally did! We had brunch the other morning in Boulder at Tangerine. The food was delicious, but the company was even better!
We each had The Vegan, which was tempeh, avocado, fresh arugula, sauteed spinach, eggplant caponata, pinto beans, almond romesco sauce and walnut pesto. Delicious, and healthy, and perfect for brunch on a hot day.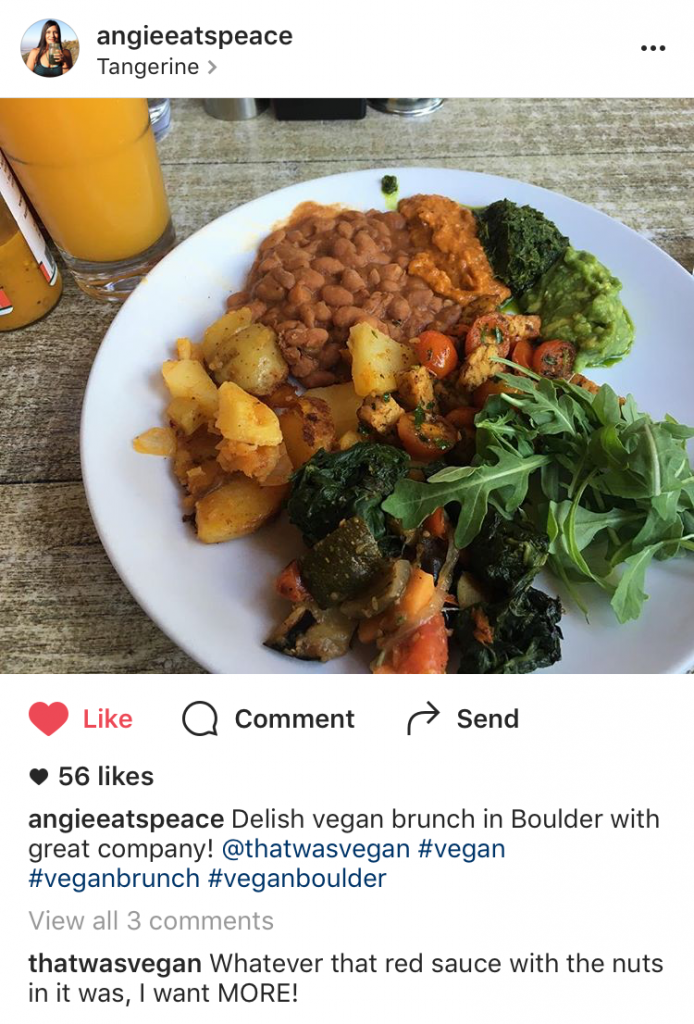 And Angie? She's that person who can only be described as beautiful, both inside and out. She emanates gentleness and understanding and empathy, and just being around her is calming. She really makes me want to do more yoga haha! Her MIL lives in Estes Park, so we're hoping to plan a snowshoeing outing this winter, which would be great. Angie, I'm so glad we finally met!
Okay, podcasts!
I take the bus back and forth to work most days, and I've found this is time best spent with my earbuds in and a "Don't talk to me" look on my face. Sometimes I'll listen to audio books or music, but mostly I'm listening to podcasts. There are a few that I really love, and wanted to share with you in case you're looking for any new ones to listen to.
In no particular order…
I have an iphone so I get my podcasts directly from My Podcasts, but these are also available via iTunes or Stitcher. Tell us, what are your favorite podcasts?