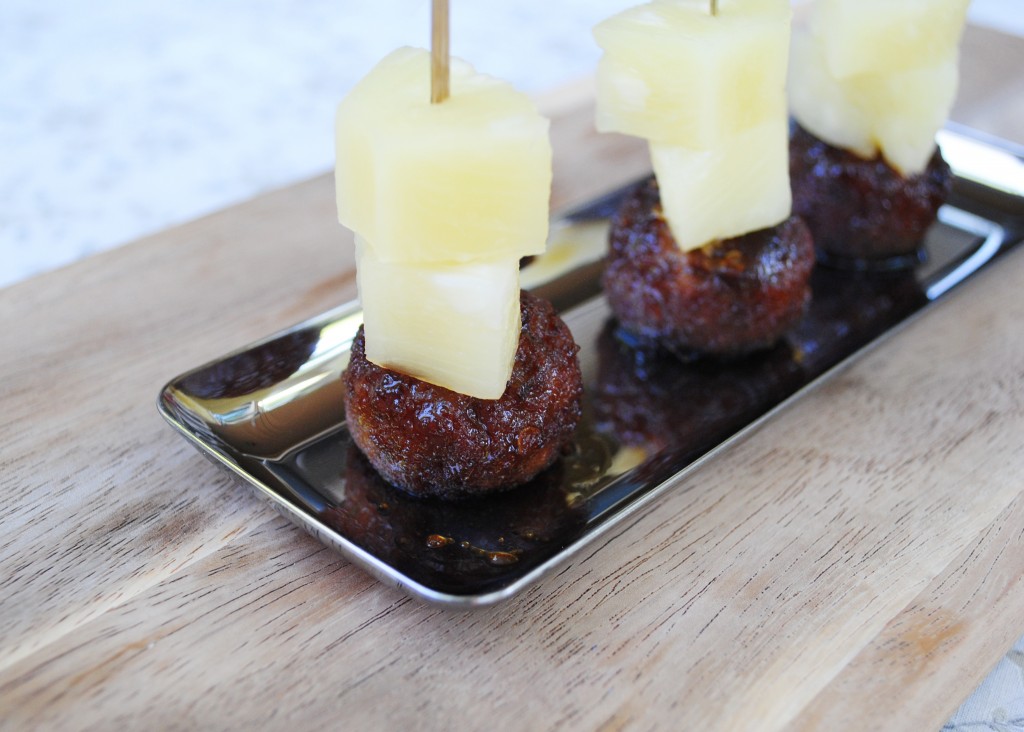 I'm an unapologetic fan of spicy Korean BBQ flavors. Tacos, pizza, bowls… all are fair game when it comes to incorporating that wonderful, sticky sauce into my mouth meals.
You can use any veggie meatball you prefer, or make your own. I used Nate's, a brand that's sold at Sprouts and Trader Joe's (although at TJ's is sold under their own brand name). I also used canned pineapple which made this a super quick dish. I made the sauce from scratch but many mainstream grocery stores (Kroger, etc) carry a jarred Korean BBQ sauce, and if you go that route, it's even quicker. Definitely something you could throw together at the last minute when guests stop by.
Very much like that other meatball and pineapple recipe that I'm a huge fan of… Kathy's 5-Minute Spicy-Sweet Glazed Cocktail Balls! If you haven't made those yet, please do. A different flavor profile, but still very similar. And easy!
Not as easy? Climbing a 14er. It's been two years since I summited Grays Peak and Mt. Bierstadt, and I'm ready for my next. A girlfriend and I have decided to do Quandry Peak in August… and I can't wait! I love having something to work towards, it keeps me from getting lazy. I'll keep you posted on my progress.
---
Spicy Korean BBQ Meatball Appetizers
2016-07-13 13:16:56
Sauce
1-2 tablespoons Korean hot pepper paste (Gochujang)
3 tablespoons soy sauce
2 tablespoons sesame oil
3 tablespoons brown sugar
3 tablespoons water
1 tablespoon pineapple juice from can
1 tablespoon rice wine vinegar
1 teaspoon minced garlic
1/2 teaspoon onion powder
Everything Else
Additional sesame or hot chili oil for frying
8 veggie meatballs, thawed
8-16 pieces of cubed pineapple
8 toothpicks
Instructions
Whisk all the sauce ingredients together and set aside.
Heat the oil in a frying pan over medium/high heat and cook your veggie balls for 3-4 minutes. Roll them around in the pan, you want them lightly browned on all sides, as evenly as possible.
Pour the sauce over the meatballs. The sauce will start to bubble and thicken, and cook off pretty fast, so make sure you're still rolling the balls around so they get fully coated. They'll be nice and sticky!
Combine the fruit and balls on the toothpicks and serve warm or room temperature.
Notes
If you're not using canned pineapple, just use an extra tablespoon of water in place of the juice.
The number of pineapple cubes depends on how large your veggie balls are. Bigger balls need 2 pieces of pineapple to keep the flavor balanced!
Adapted from Easy Vegan Glazed Cocktail Balls
That Was Vegan? http://www.thatwasvegan.com/
Save