If someone invents a new diet where all you are allowed to eat are Whoopie Pies from The Piping Gourmets, I'd do it. Even if the diet actually turned out to be a cult and you had to sign a billion year contract stating that all you would ever eat, for your next thousand lifetimes, are these whoopie pies, I'd still sign up in a hot second.
These delicious little desserts are one of those products I'm really excited to share with you guys. They come in five flavor combos (you can see them all in the pic above), and they are:
Vegan
Gluten-Free
Kosher
Non-GMO
I found them in my local Whole Foods and Safeway stores, but there are stores all over, as well as online retailers. I chose the Chocolate Cake with Vanilla Frosting, Chocolate Cake with Raspberry Frosting, and Chocolate Cake with Mint Frosting. I wanted to try the Vanilla Cake/Frosting combo ones, but couldn't locate them nearby.
These were my favorite: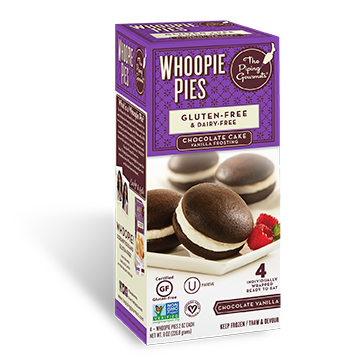 I'm always a sucker for the chocolate-vanilla combination, no matter the dessert. They were sweet, but not too sweet, and they're individually wrapped so they were perfect for an easy dessert where I didn't have the temptation of eating more than I needed, like with an entire cake or pie. The Chocolate Raspberry was a close second, followed (also closely) by the Chocolate Mint. The raspberry and mint frostings had so much flavor, and contrasted really well with the chocolate.
They come frozen from the store, which is also the best way to store them at home. Then, a few hours/days before you're ready to eat them, just transfer them to the fridge…
Or…
Eat them straight out of the freezer. I tried this on my second one, as I hadn't planned ahead and defrosted any. Surprise, surprise, this turned out to be my favorite way to eat them! The chocolate sticks to your fingers a bit more when they're frozen, but if you keep the wrapper on to hold it while you're eating, problem solved!
I'm so grateful to companies like The Piping Gourmets for creating delicious vegan products like this, and I definitely recommend you guys buy a box (or seven) the next time you're at a store that carries them!