This Vegan Thai Chicken Pizza (or if you prefer, Thai Chik'n Pizza) is made with soy curls (I love soy curls!) and is a veganization of a Rachael Ray recipe. It also happens to be The.Best.Pizza.I've.Ever.Made.
There are rather a lot of ingredients on the list, but it's worth it. The soy curls are spicy and peanutty, the cucumbers are sweet and sour, the Daiya is (obvs) creamy and melty, and the scallions and cilantro really Thai it all together into the perfect pizza (ha ha, see what I did there?). Did I mention there's plum sauce involved?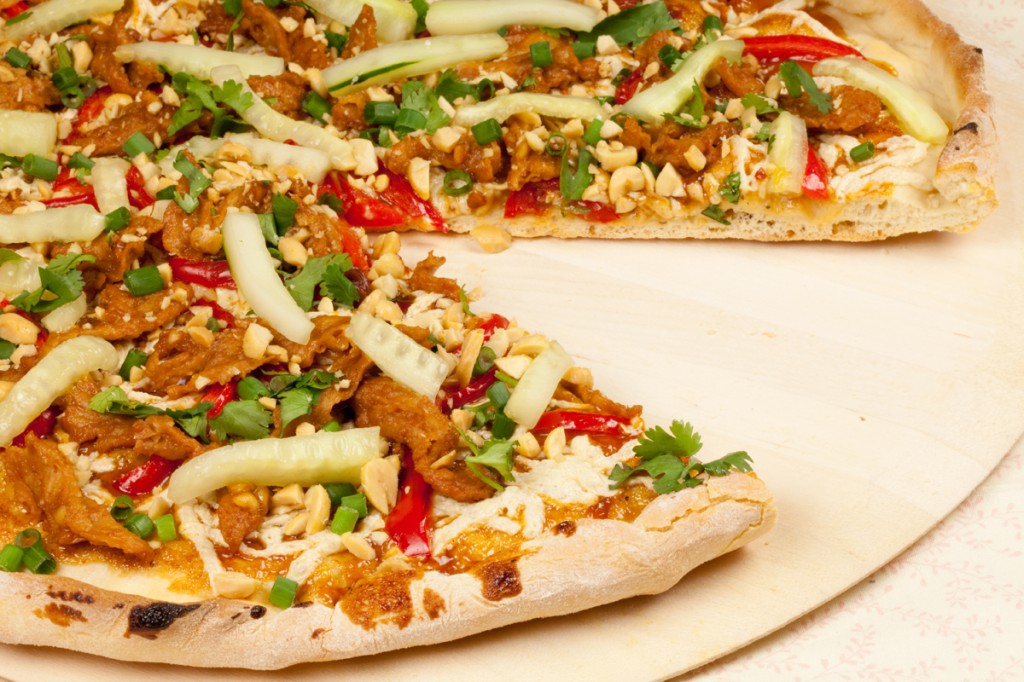 I've recently become housemates with a bread machine and I have to admit that I'm a little bit in love. I've been trying out all sorts of new bread recipes, although the only one that's been perfected so far is the pizza crust. I used it for my breakfast pizza as well, and it's just to die for. Watch for the recipe next week!
Also going down next week? Well, my lovely friend Jamie and I are embarking on our own Green Smoothie Challenge as designed by the fabooolous Somer over at Vedged Out. Somer recently hosted a challenge which I missed, so we're going to do it on our own. I can't have carbs or alcohol so I might be a little grumpy, wish me luck 🙂  Luckily for you I have a few recipes stockpiled, so you'll still get plenty of good vegan eats here at TWV!
For now though, please go make this pizza and stuff it in your mouth!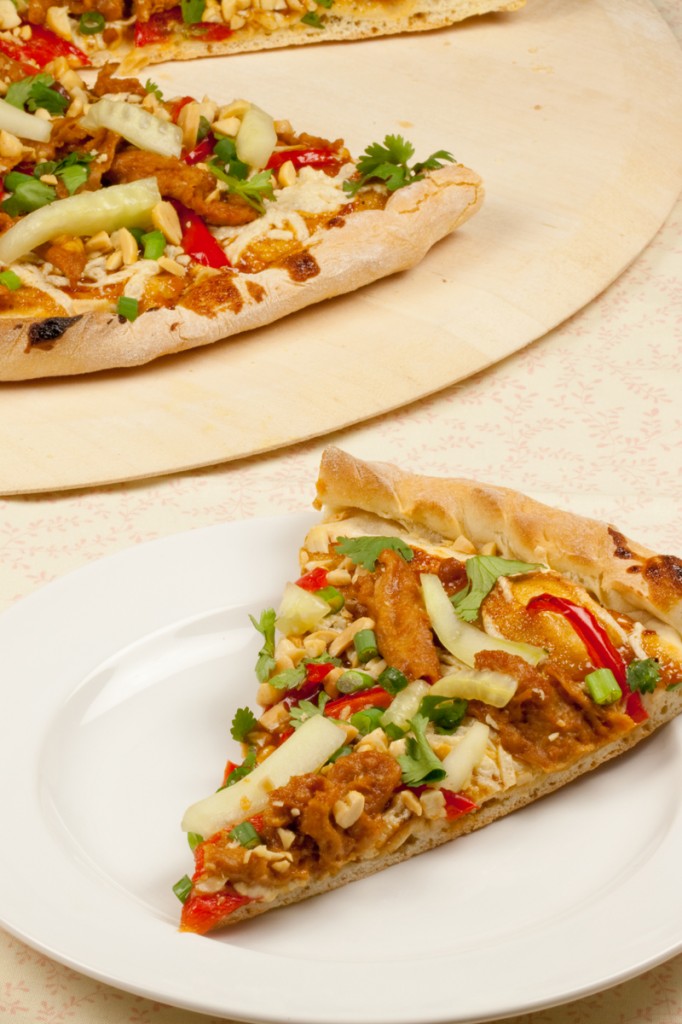 ---
Vegan Thai Chicken Pizza (makes one 12″ pizza)
Adapted from non-vegan/vegetarian recipe
Ingredients:
1 cup dry soy curls
Pizza dough of choice
Generous 1/2 cup plum sauce
1/2 teaspoon crushed red pepper flakes
1+ cup Daiya mozzarella
1/2 red bell pepper, thinly sliced
1 Tablespoon sesame oil
3 Tablespoons Bragg's liquid aminos (or soy sauce)
2 Tablespoons peanut butter
3 teaspoons sriracha
1/2 teaspoon garlic powder
1/2 teaspoon black pepper
2 Tablespoons agave
2 Tablespoons rice wine vinegar
1/3 cucumber, peeled and sliced into matchsticks
4 scallions, chopped
Palm full of cilantro leaves, chopped
Generous 1/4 cup salted peanuts, chopped
Directions:
Place the soy curls in a bowl of warm water to soak, set aside.
Form the pizza dough on cookie sheet or pizza stone and top with plum sauce, spreading evenly.
Top with red pepper flakes, then Daiya, then bell peppers and bake at 425 until the cheese melts, 12-15 minutes.
Combine sesame oil, braggs, peanut butter, sriracha, garlic and a pinch of black pepper in a frying pan over medium heat. Squeeze all water from soy curls then add to the peanut sauce, stirring until the curls are coated.  Reduce heat to low and cover. If the sauce gets too dry, add more braggs and/or sriracha, depending on your tastes!
Mix agave and vinegar in a medium bowl, then add cucumbers, stirring. Set aside.
When the pizza is out of the oven, top with the soy curls, scallions and cilantro. Drain the cukes and scatter across the pizza as pretty as you can 😉  Sprinkle the peanuts over the top and serve immediately!
Enjoy!