The Vegan Food Swap took a holiday break, but came roaring back with a vengeance! Wait, that makes the swap sound mean or aggressive… which it's not! It's totally sweet and unassuming and delicious 🙂
In case you're not familiar, here's the 411: Participants are paired up, and each spends about $20 on their favorite vegan goodies that they want to share. They ship them, the other person tears open the box and devours said goodies, the end. Oh, and if you happen to be a blogger, you take pictures and write about it. But you don't have to be a blogger to participate! Go visit Cat for more details.
Here are the goodies I sent out: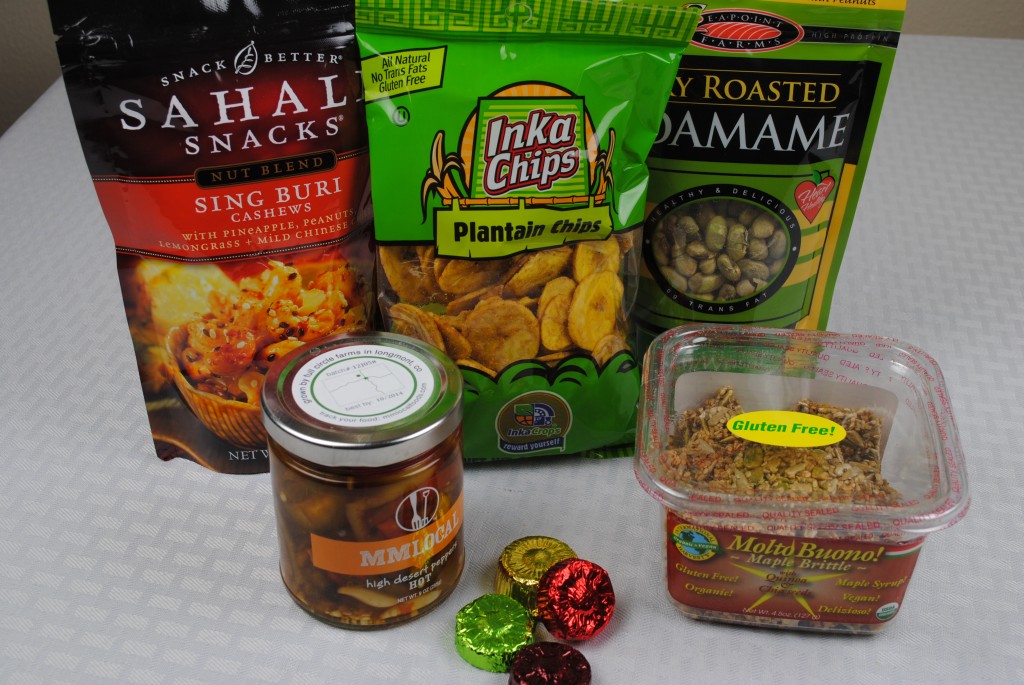 Funny story about Tamara, who I sent the box to- She lives in CA not too far from where I used to live, AND we both lived in San Diego at the same time AND lived not-too-far from each other AND hung out in the same areas AND we were both going to SDSU! Small world, huh?
Anyway, Tamara(who blogs at Tamara Eden) and her hubby Gerard are not only plant-based eaters but they try to be very healthy eaters, so I was hesitant to send her too much sugary chocolately madness. I still sent mostly snacks (because I wanted the package to be fun for them), but I tried to keep it (mostly) healthy. Included were:
Sahale Sing Buri cashews (possibly my favorite thing in the world)
Roasted edamame
MMLocal high desert peppers grown and packaged here in Colorado
A handful of mixed chocolates- there was one filled with PB, one filled with caramel, a raspberry, and … I can't remember what the other was.
Everything except for the cashews came from our local all-vegan grocery Nooch or Whole Foods. You can read about these from Tamara and her hubby's POV over at her blog!
AND THEN… I also got a box in the mail! Mine came from Denise in Texas, and although she "warned" me that she's a newish vegan, there was no need for concern because her box ROCKED! Here's a peek: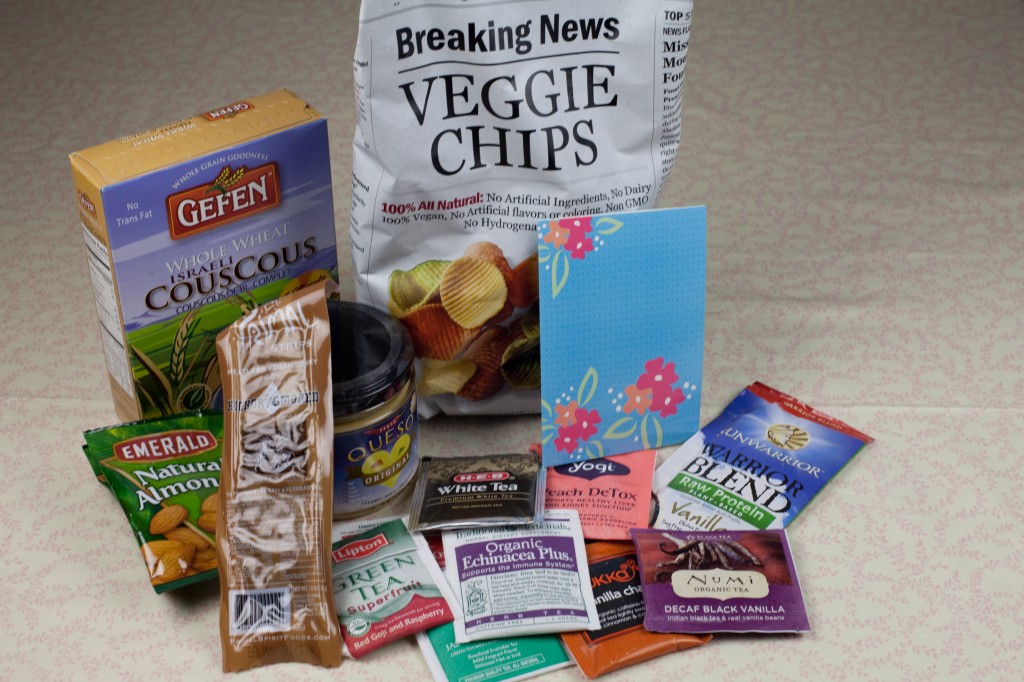 Breaking News veggie chips: I love these! They're chips that are healthier so I can snack without all the guilt (not that I ever feel guilty about snacking, ha ha!)
Primal vegan jerky: I ate this first, it was THE BEST!!!
Food is For Lovers queso: I haven't tried this yet but I've tried other jarred quesos and liked them
Emerald almonds: Who doesn't love almonds? Not me!
Sun Warrior raw protein powder: I've been wanting to try this forever!
Whole wheat Israeli couscous: I love couscous, and am excited to try the WW kind! I bet it'll be wonderful!
A mix of herbal teas: I was particularly happy about the tea because I'm starting on Somer's Green Smoothie challenge and the only thing you're allowed to drink (besides water and smoothies) is herbal tea. And I have had no herbal tea! So, perfect timing.
BUT WAIT! There's more!
Thang was the recipient in my very first vegan food swap last year and being the sweet person she is, she decided to reciprocate! She sent me a "care package" right before Christmas (which was perfect because I was in the midst of house drama and really needed some "care")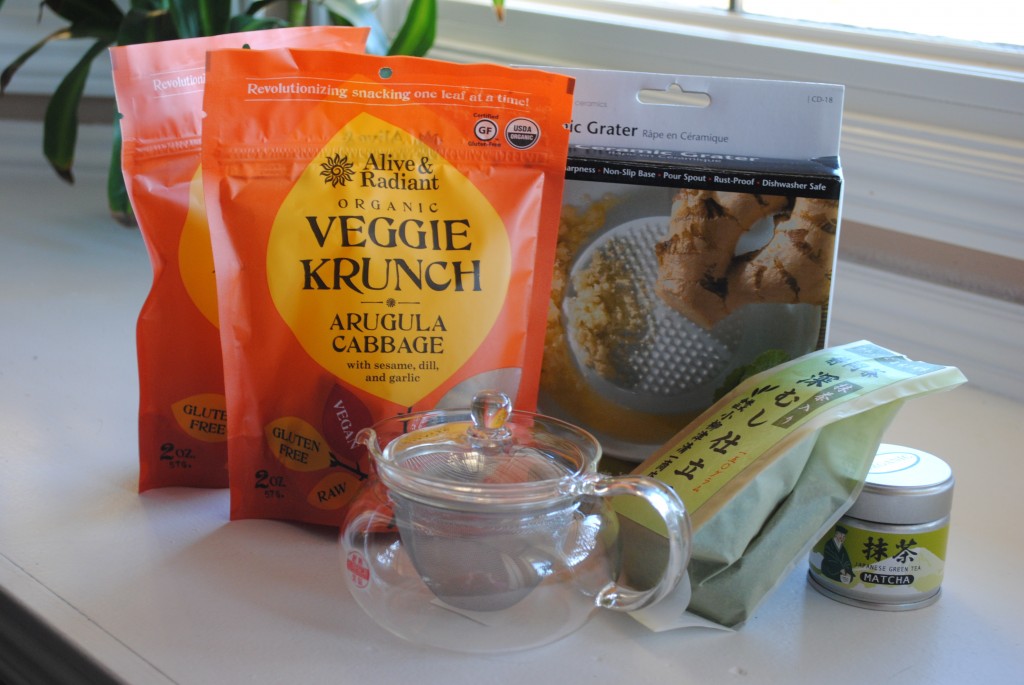 Let me put it this way: kale chips have officially been replaced in my heart and stomach by arugula and cabbage chips!!! They're crispy and covered in a mix of sesame, dill and garlic and are phenomenal. They're made by the same folks who also make those (vegan) ranch kale chips… so obviously a great company. Thang also included a neat little grater and an awesome tea pot- complete with green tea which is my favorite. Oooh, and matcha green tea too.
But she didn't stop there. She followed up with another box last week: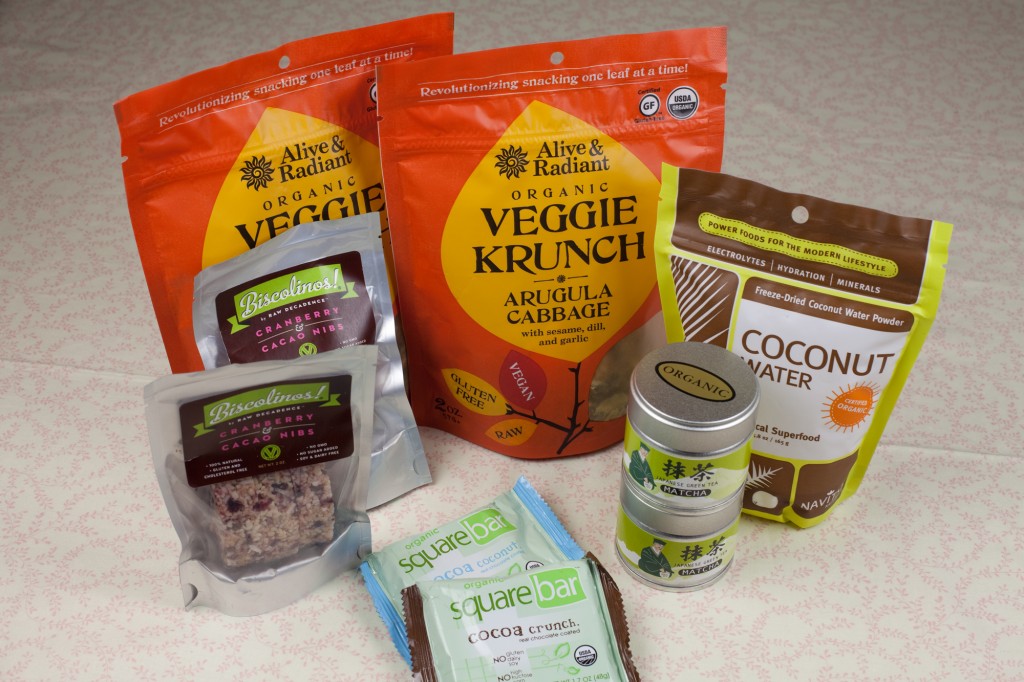 Obviously I had been blathering to her about how much I love matcha and that veggie crunch, because she showered me with some more. She also included the most intriguing food item I've come across: Freeze-dried coconut water powder! I can't wait to use this is smoothies and baking! She also sent these Biscolinos– a raw, "biscotti-shaped" treat (per their website) that were so good.  If you see these on any local shelves, grab them for sure! The Square bars look really good too, although I haven't had a chance to try them yet.
A girl (even this girl) can only eat so much…
Ok, that's all I got for now. I'll check back in next week after I've started the challenge and let you know how I'm faring! Hope you all have a great weekend 🙂