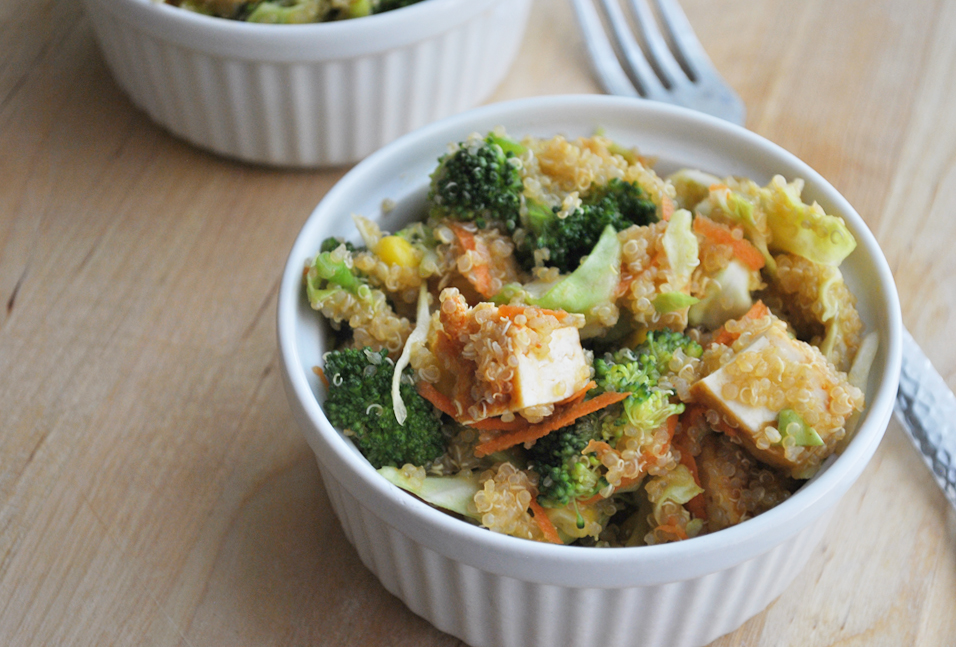 Not only is this the most literal interpretation of a recipe name ever, but this is also the first official TWV? recipe created in my new kitchen! That's right, these Vegan Buffalo Tofu Quinoa Veggie Bowls are delicious, healthy, AND history in the making!
You guys, seriously… it felt freaking phenomenal to be back in the kitchen this past weekend. It was like coming home after too long away, or a hug from your favorite old friend.
But enough about me, let's talk about these bowls, which I am proclaiming to be 100% Perfect For Spring! They're light yet filling, and oh-so healthy with all those great veggies in there (broccoli, cabbage, carrots, and corn just to start with – you can totally add whatever else you love) and we all know how much I love buffalo tofu.
(And buffalo cauliflower pizza. And buffalo baked potatoes. And buffalo spring rolls.)
Mmmm… buffalo tofu…
Plus, because the tofu is baked, there's not really any added oils in here. Just a little non-stick oil to keep it from, you know, sticking. Heh.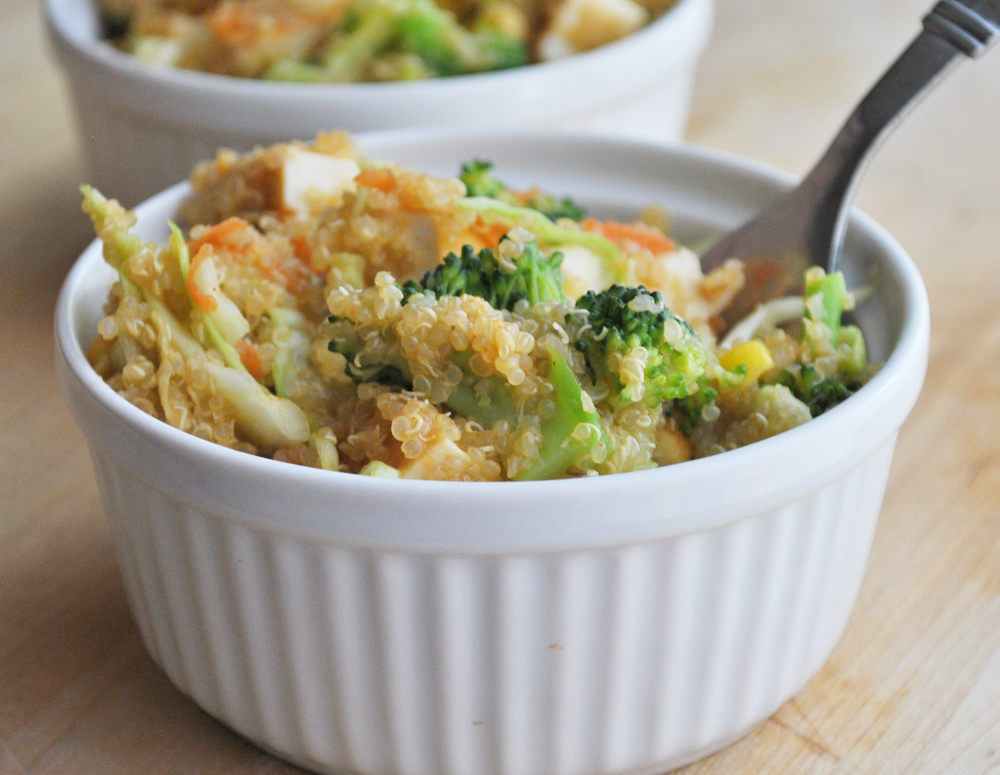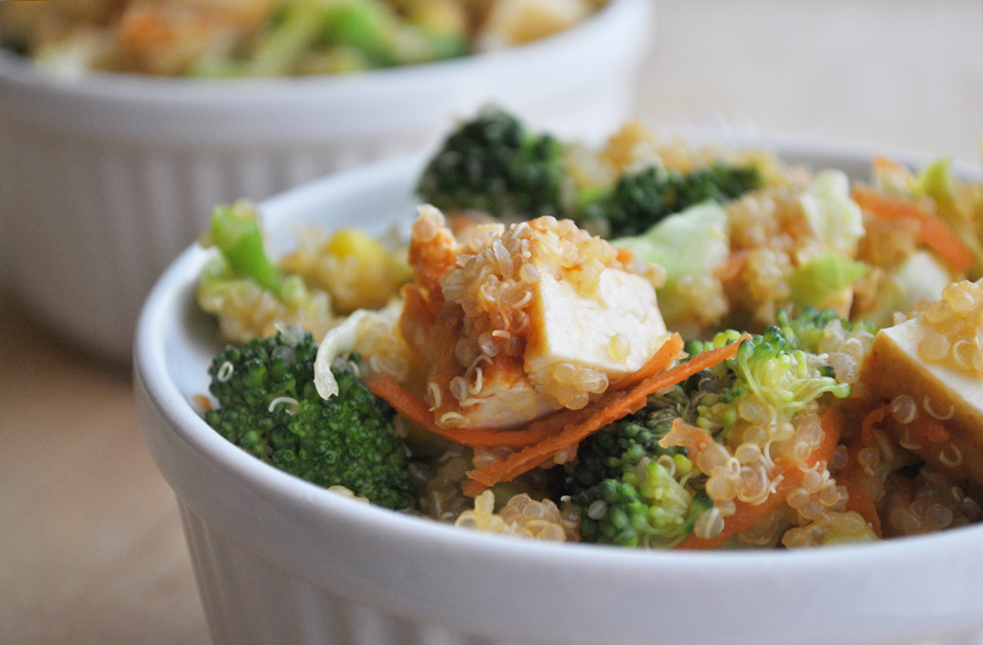 We all know quinoa is a nutritional powerhouse, and it's also what helps make this bowl so satisfying and filling, especially when combined with the tofu.
But the best part? The BUFFALO SAUCE! I use Franks. It's vegan and easy and helps bring this dish together in a snap. So go ahead and pin this recipe right now, because you know you want to make it! And although I proclaimed it the perfect spring dish, I have a feeling it'll continue to be perfect all summer long!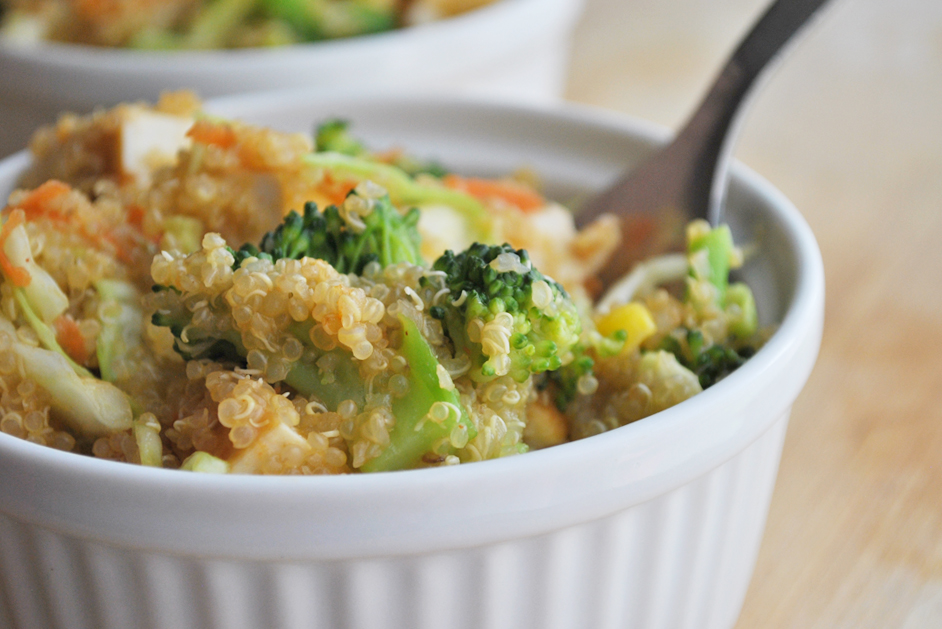 ---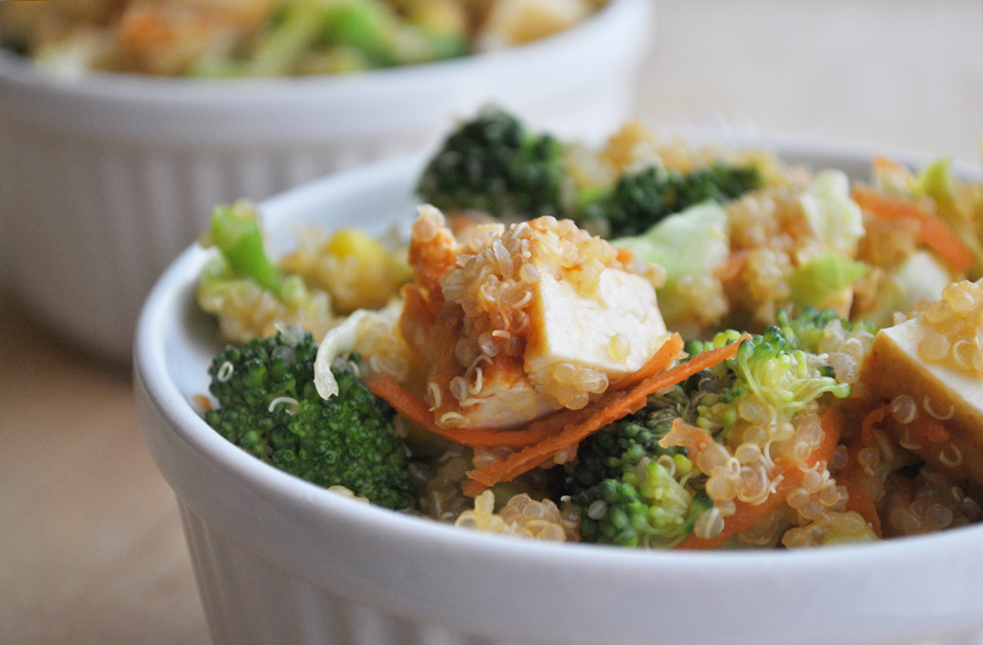 Buffalo Tofu Quinoa Veggie Bowl
2015-04-08 08:45:02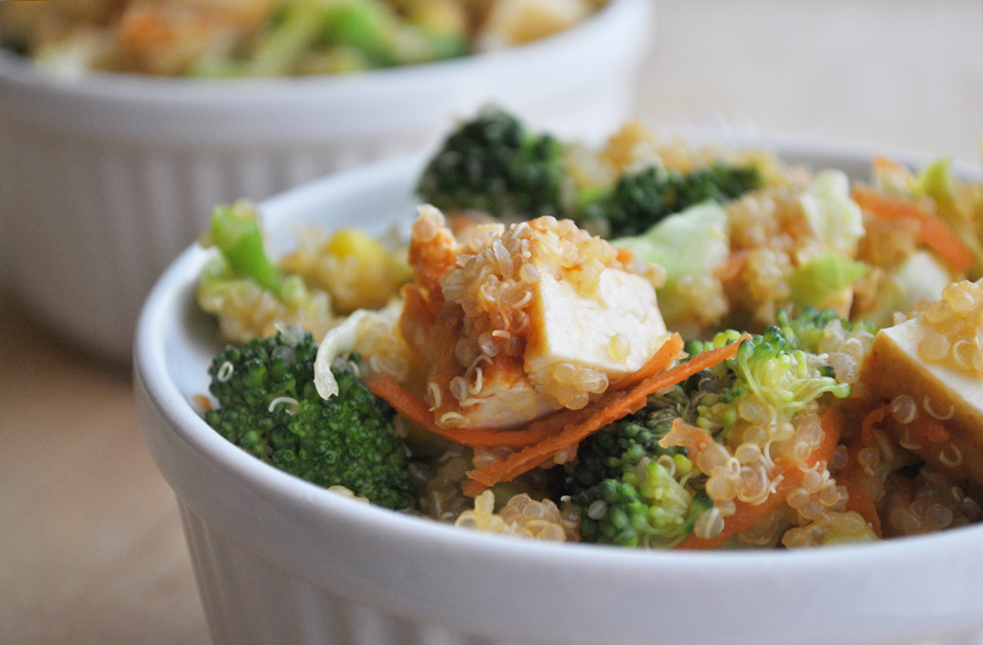 Serves 4
This bowl is healthy, delicious, and filling all at once... give it a try!
Ingredients
1 package firm tofu, well pressed
1/2 cup Buffalo sauce (I use Franks, it's vegan!), halved
1 cup quinoa, rinsed
2 cups veggie broth
1 cup broccoli florets, steamed
3/4 cup shredded carrots
1 cup thinly sliced green cabbage
1/2 cup frozen corn (or whatever other veggies you have in your freezer!)
Instructions
Preheat the oven to 400 degrees, and give the baking sheet a thin layer of non-stick spray.
Slice the tofu in half, then into quarters so you end up with 4 thin rectangles. Spoon 1 teaspoon (ish) of buffalo sauce onto each side, place and on the baking sheet, and bake for 30 minutes, flipping once halfway through. (Make sure to add a little more spray and buffalo sauce when you flip!). When done (you might need a few extra minutes to get the consistency you like), cube and set aside.
Combine the quinoa and broth in a medium pan and bring to a boil. Cover, reduce heat to low and let it simmer for about 20 minutes or until all the liquid is gone. Still over low heat, stir to fluff up the quinoa, then stir in the veggies, cubed tofu, and the remaining quarter cup of buffalo sauce. Serve warm!
Notes
This recipe will give you a moderate buffalo flavor, if you're a HUGE fan of the taste, simply add more at the end!
Adapted from Half Baked Harvest
That Was Vegan? http://www.thatwasvegan.com/