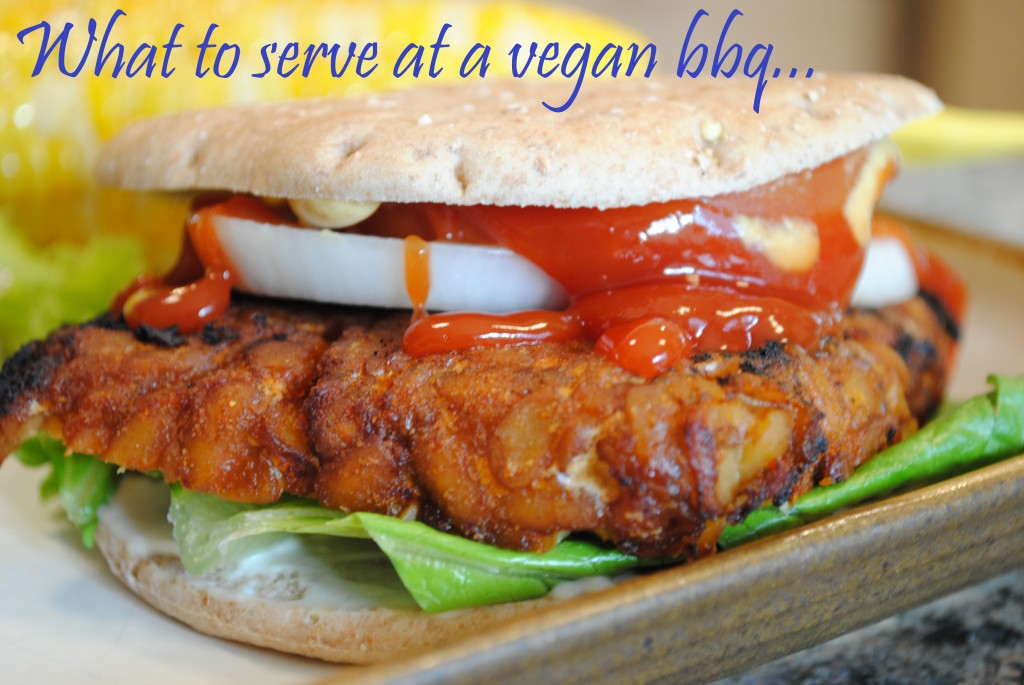 Alternate title: What Should I Serve My Crazy Vegan Cousin at my BBQ Next Weekend? I've wanted to do a recipe roundup of all my favorite vegan BBQ items for those of you looking for some new ideas, but I got to thinking about how there are probably a lot of omnis out there who have a vegan friend or two and, (if they're nice omnis) maybe they don't want to just throw a Boca patty at them and be done with it. Maybe they want to put some thought into it. Maybe they really have no idea what a vegan would want to eat at a BBQ, but after reading this will be so inspired they'll become vegan themselves! Ha ha 🙂
Below I have a nice compilation of links (and one new recipe!) divided up into food categories, but first I want to share a couple thoughts that I have on planning a successful BBQ:
Serve lots of appetizers! Your friends are going to be drinking and talking and they're going to eat more apps than you think they will, so plan accordingly.
Have lawn games! People like to play games while they're drinking and talking, before the grill is fired up.
Don't overextend yourself! Decide how many guests you're comfortable having, and draw the line there. If the hostess is stressed out, no one will have fun.
Planning is everything! Make a spreadsheet- Figure out everything that needs to be done before the first guest arrives, and put yourself on a schedule. Also? Make sure everything is done before the first guest arrives. (See #3)
Paper plates are lame! Visit your local thrift shops and buy yourself a whole mess of mismatched dinner and dessert plates. I've built a huge collection never paying more than $.50 each, so if one breaks I don't stress about it at all. And the crazier the patterns, the better! They're fun, a great conversation piece, sturdier than paper, and you're not contributing to the landfill. Win-win-win-win!
This is the most important: Invite guests that will love on your dogs!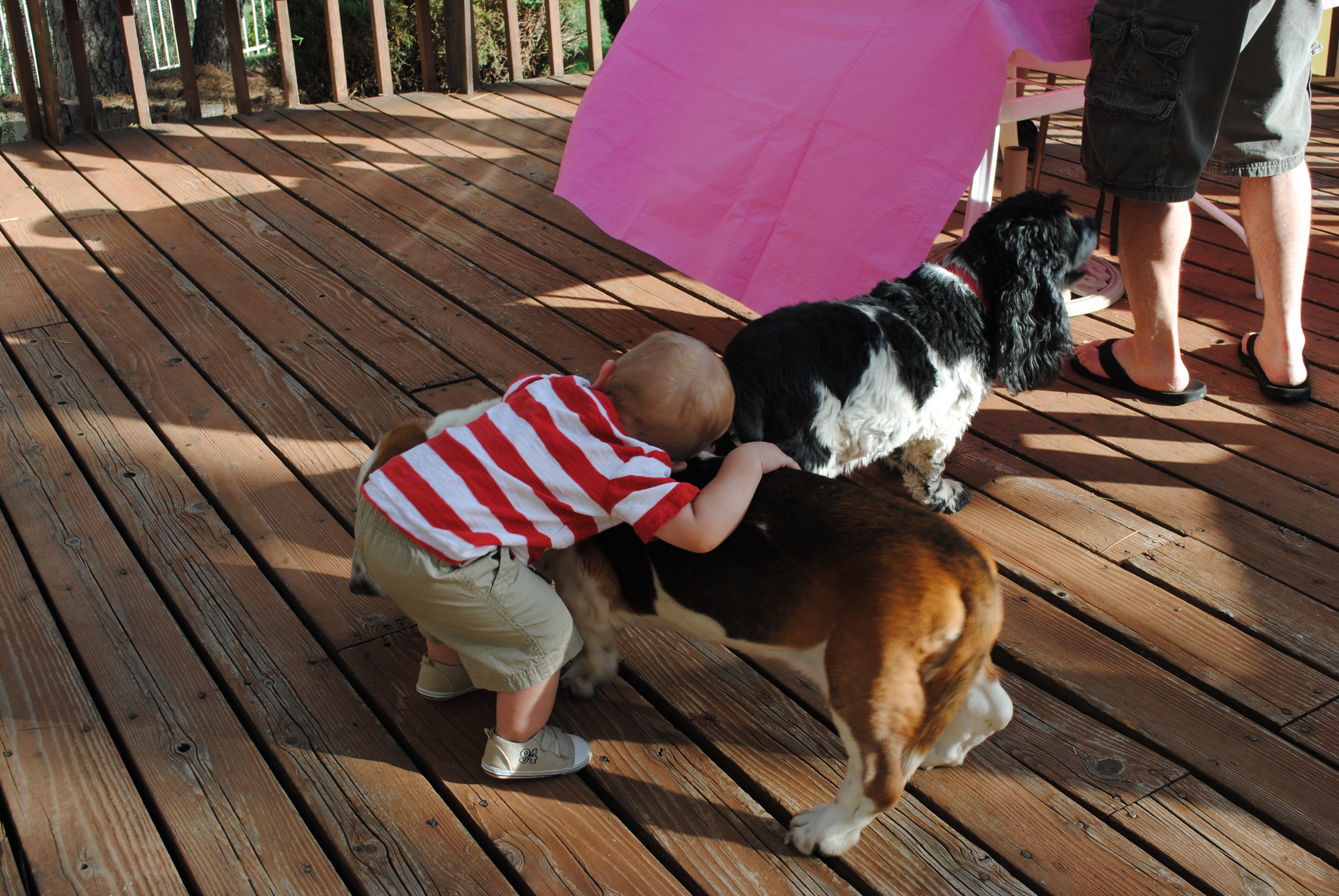 Cute, right? That little dude spent the whole afternoon loving on my dogs, and in return they taught him how to use their doggy door. Seriously, it was hilarious. If I had kids, I'd have them going in and out of the doggy door all the time, just for my own amusement 🙂
But back to the food! Here are a few of my favorites.
What To Make For A Vegan BBQ: Some Ideas…
Appetizers
Sides
Creamy Avocado Potato Salad (from PPK)
Green Chile Baked Beans (could be as simple as mixing a can of vegetarian beans with a can of diced green chilies and heating!)
Mains
Asian-Style Tempeh Burgers (recipe below!)
Desserts
Serve any of those dishes and I'm pretty sure you'll be a very popular hostess!
Need more ideas? Check out my posts on Grilling Vegan Style and my Labor Day Burger Round-Up!
Now let's talk Tempeh Burgers, shall we?
I've been trying to create a veggie or bean burger with Asian flavors for the past month or so, but nothing was really working. Chickpeas seemed wrong, black beans just seemed weird… What the heck was I going to make my burger with? Then, one day, I was on Slate.com and saw this article in the side bar. It seemed like the perfect starting point for my asian-style burger! I just wish I knew where they got their enormous chunk of tempeh that could be cut into burgers! My local store carries rectangle pieces that gave me leftovers -which were reincarnated as Curried Tempeh Salad.
---
Asian-Style Tempeh Burger (Makes 2-4 burgers)
Recipe adapted from Slate
Note: Once your tempeh is cut into 2 equal squares you can prepare them as is, or you can slice them horizontally through the center to create 4 thinner burgers. I tried the thicker version, and it was just too much for me- but might be great for those with a larger appetite!
Ingredients:
Two 8 ounce packages of tempeh, cut into 2 equal squares (I used about 6 oz from each package, so you might have something a little better in your local stores)
1/3 cup Braggs liquid aminos
4-5 tablespoons sesame oil
1 teaspoon powdered onion
1/2 teaspoon powdered garlic
1 tablespoon agave
2 good pinches of powdered ginger
2 teaspoons sriracha
Dash of sea salt, if desired
Non-stick spray
2 (or 4) hamburger buns, toppings as desired
Directions:
Steam the tempeh for 20 minutes.
In the meantime, mix all other ingredients in a large bowl. Marinate the tempeh for 30-45 minutes.
Heat grill to medium, and cook burgers for 7-8 minutes on each side. You want grill marks, but be careful not to let them burn.
Enjoy!