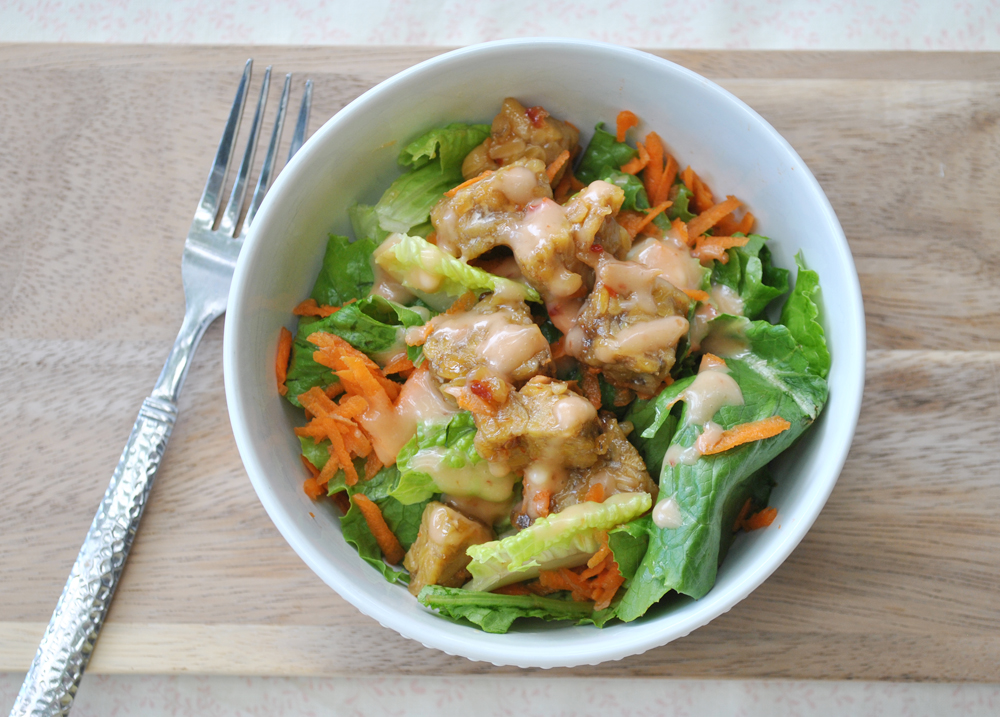 I have a very favorite sub shop near my office. It's called Subculture and it is phenomenal. Phe-nom-en-al. They're fast and relatively inexpensive, and delicious. Oh, and they have vegan substitutes for pretty much everything, which means my choices there are virtually unlimited. The sandwich I order the most often is called The Bangkok (do you see where I'm going with this?), and it has "tempeh, sweet chili sauce, pickle, romaine, carrot, mayo". It's wonderful, and so that I can enjoy it more often (and in my pajamas), I've gone ahead and created a salad version: The Bangkok Salad! Tempeh cooked in a homemade Thai sweet chili sauce, dill pickles, tons of crisp romaine, all with a very special twist: the dressing. It's a little bit of the sweet chili sauce combined with extra Thai hot chili paste and Vegenaise!
This way I can have all the same flavors, but with about 200 times more lettuce. And no bread. In my pajamas. Win-win-win.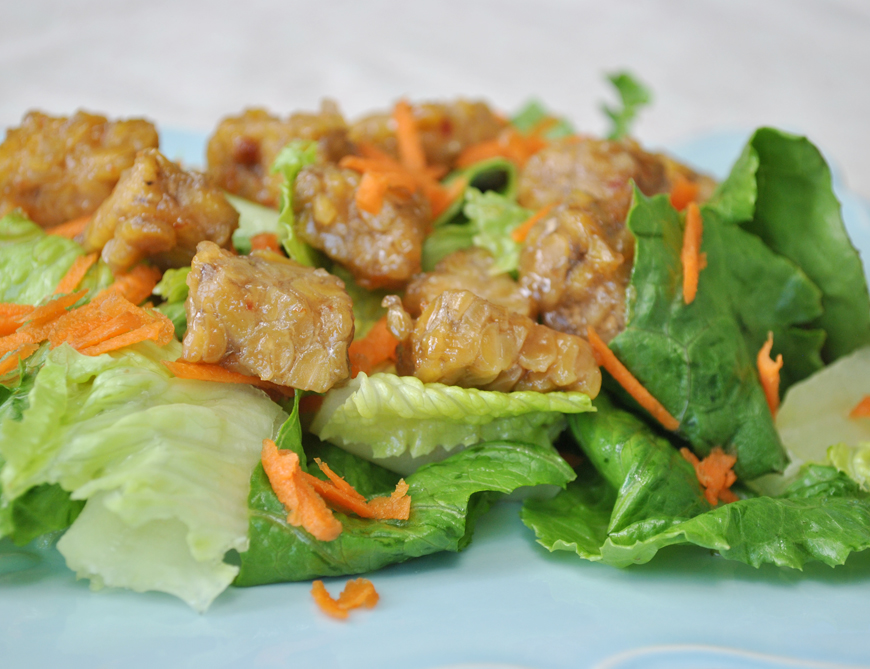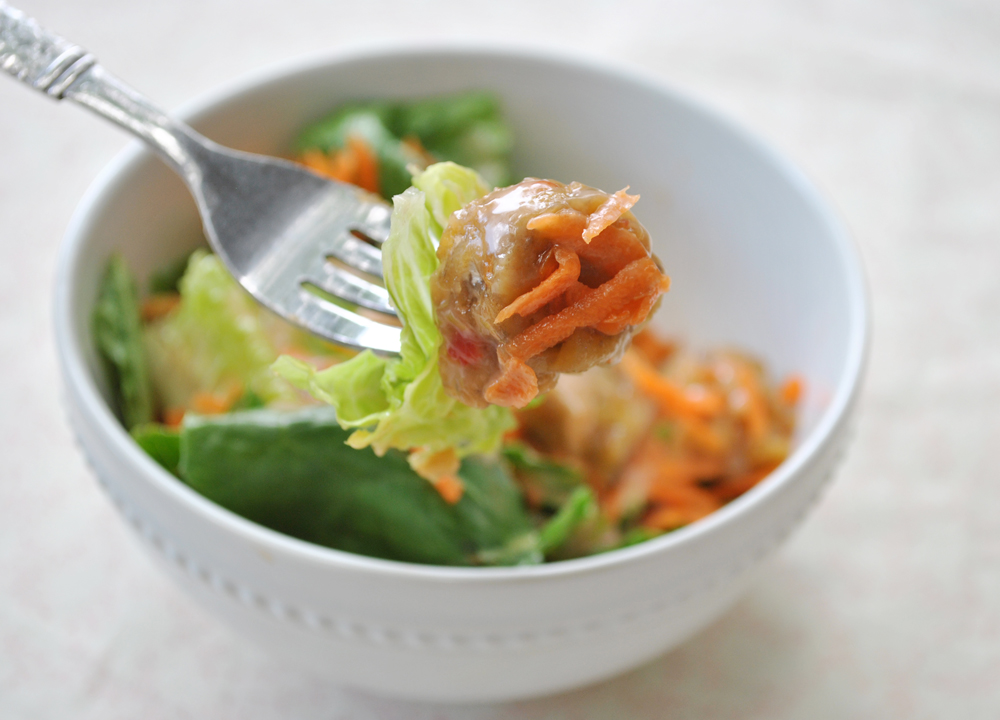 Tempeh and I have rather a love/hate relationship, but it's just perfect in this salad. Look at that tempeh, all smothered in the sweet chili dressing! This is one of those salads that is just so flavorful, you'll forget you're actually eating a salad!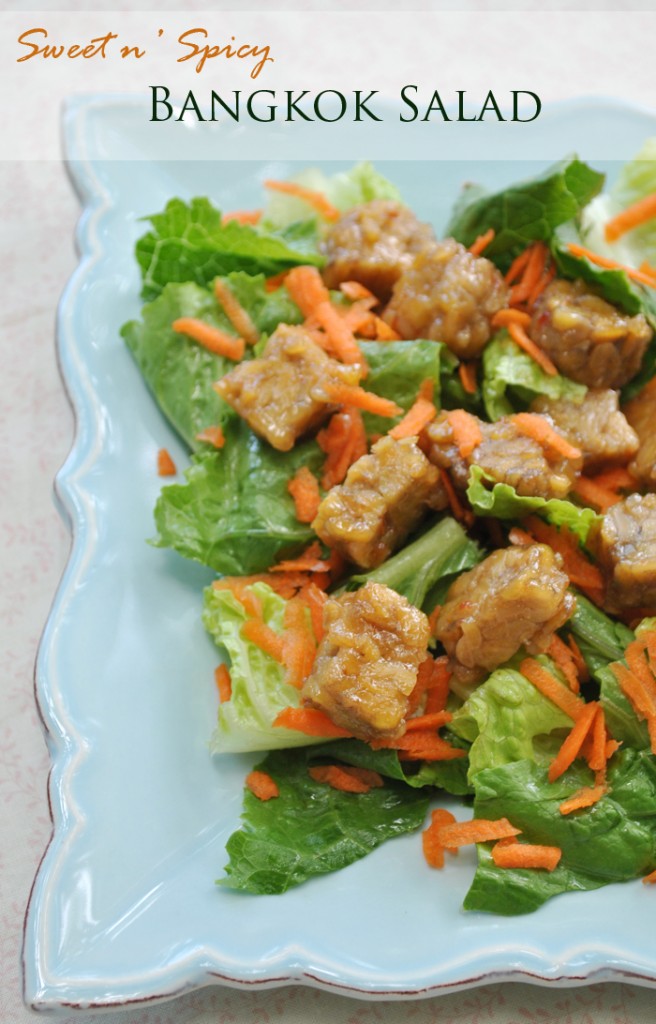 I've been to Bangkok, and I remember eating tons of amazing food, but I don't remember anything like this. I actually don't think I ate anything with sweet chili sauce. Pretty sure it's like Sriracha in that we have it here and call it "Thai", but they don't actually eat it? I expected rooster sauce to be everywhere over there, and I don't think I saw a single bottle of this stuff. Interesting.
Of course, I was all hopped up on Chang beer, so who knows?
Haha, get it? "Hopped" up on beer?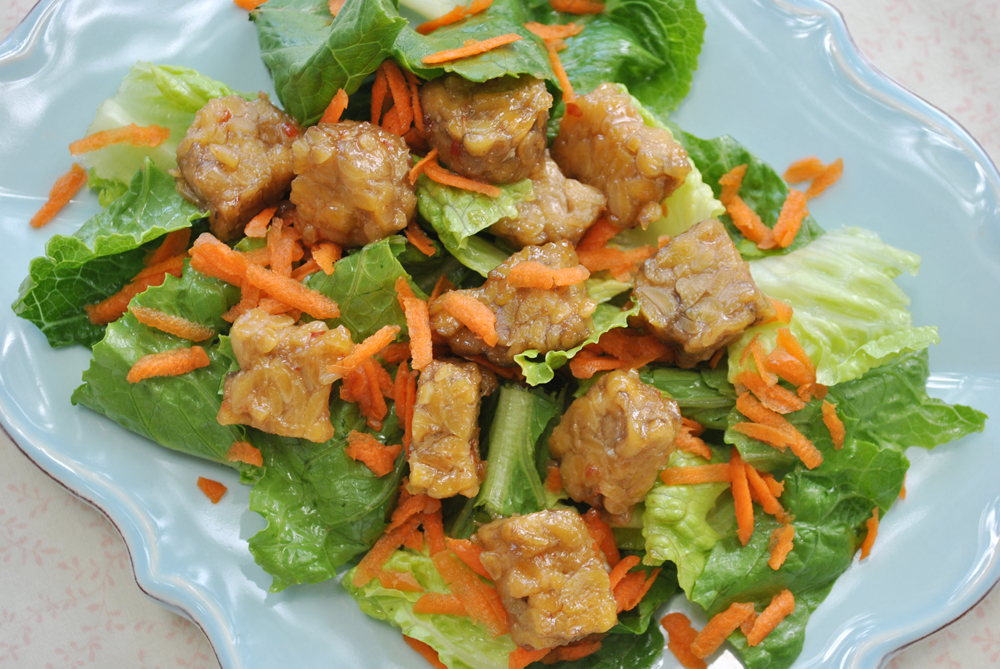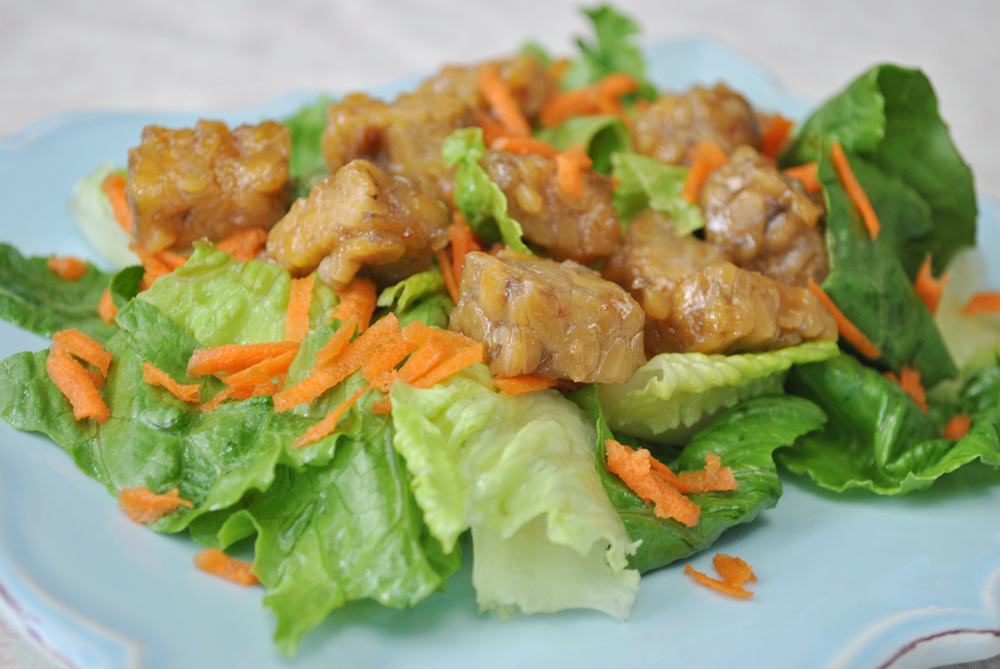 If you're interested in other salads that are hearty and filling and sort of outside the bowl (gawd I'm funny today!), give one of these a try!
---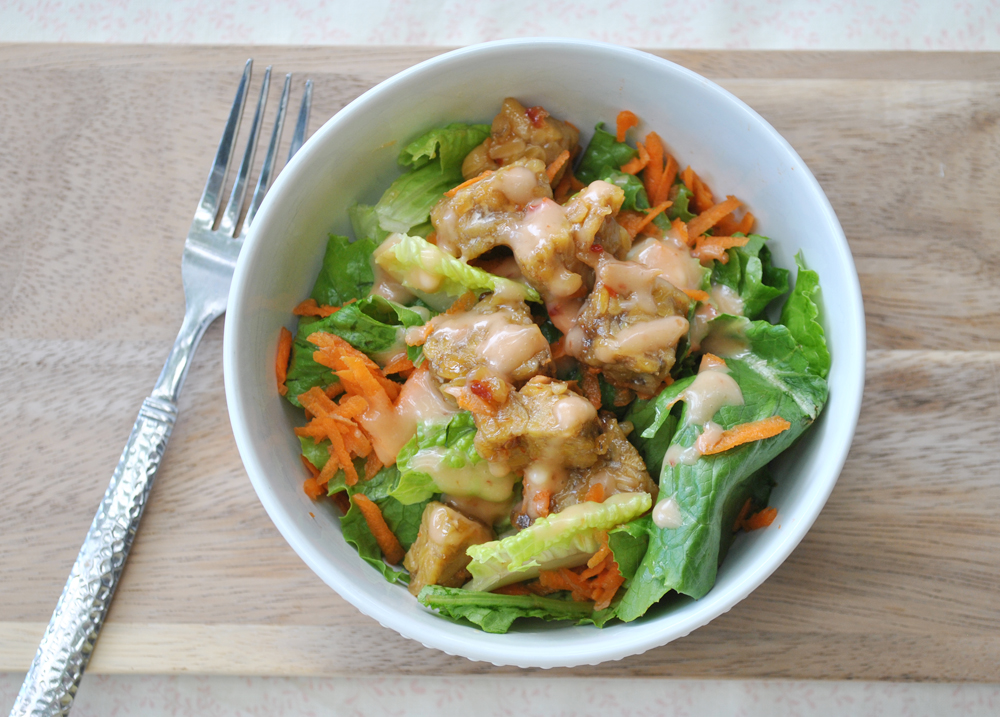 Bangkok Salad
2015-06-15 15:29:08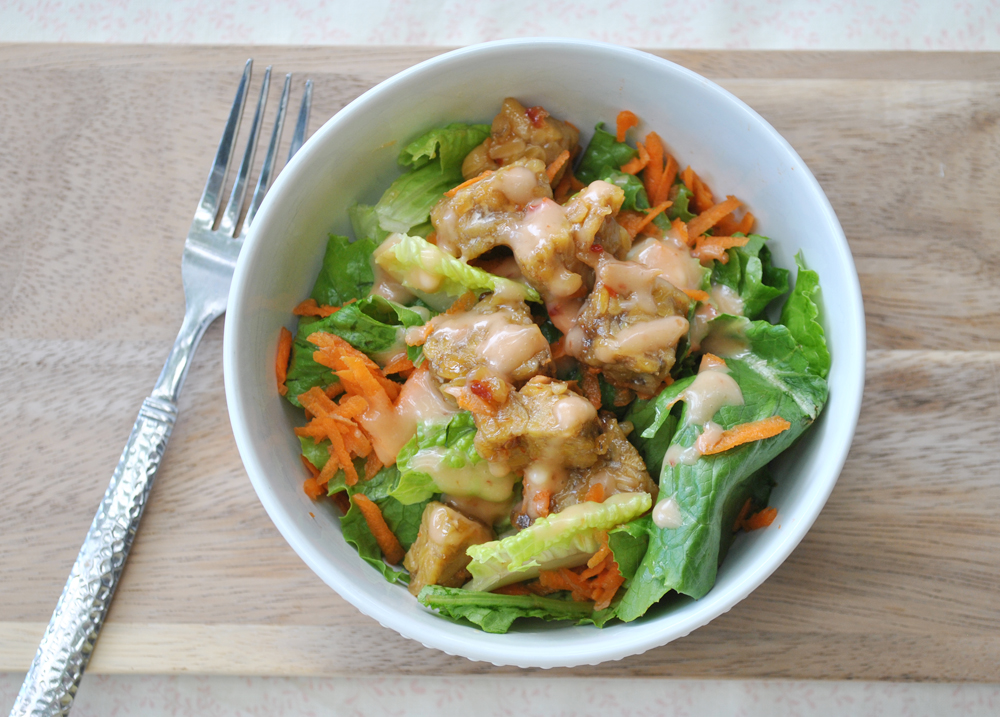 Serves 4
A flavorful salad that's hearty enough for the hungriest eater!
Ingredients
1 batch Thai sweet chili sauce (recipe below), with 1/4 cup set aside
1 package tempeh
4 tablespoons Vegenaise
1-2 teaspoons sambal oelek (Thai chili paste)
2 heads of romaine lettuce
2 large carrots, grated
3-4 dill pickle spears, chopped
Instructions
Chop the tempeh into bite-sized pieces. Combine with the sauce in a small pan over low heat. Simmer uncovered for 10-15 minutes. When done, remove from heat and set aside. You want it to be warm but not hot when added to the salad.
While the tempeh is cooking, mix the remaining sweet chili sauce with the Vegenaise and sambal oelek in a small bowl. Whisk with a fork to make sure it's completely combined. Start with 1 teaspoon of the chili paste, adding more to suit your tastes. Set aside.
Build your salads, starting with the lettuce and carrots, then sprinkle the pickles and top with the warm tempeh. Drizzle with the dressing, and serve immediately.
Notes
If you want to make this ahead of time, just don't add the tempeh or dressing to the veggies until you're ready to serve (and re-heat the tempeh in the microwave!)
This may not seem like a ton of dressing, but it's totally enough for 4 salads, trust me. You might even have a few tablespoons leftover.
That Was Vegan? http://www.thatwasvegan.com/
Thai Sweet Chili Sauce
2015-06-15 15:33:52
Ingredients
1/2 cup water
1/2 cup rice vinegar
1/2 cup sugar
1/2 teaspoon ground ginger
1 clove garlic, minced
2 teaspoons sambal oelek (Thai chili paste)
2 teaspoons corn starch
Instructions
Combine all ingredients except corn starch in a small pan over medium heat, and bring to a boil. Reduce heat and allow to simmer for 5 minutes, then whisk in the corn starch making sure there are no lumps. Allow to simmer for another minute or so then remove from heat and set aside until you're ready to use it.
Adapted from all recipes
That Was Vegan? http://www.thatwasvegan.com/