Some of these are a wee bit old because I haven't shared one of these posts in foreva, but here we go! Also, apparently, I've been eating out a lot lately…
Sesame Tofu from Spicy Basil on Broadway. Their dinner portions are huge and could probably feed a family of four, but this was alllll for me! They have fantastic breading and a really sweet n' spicy sauce, plus it comes with tons of veggies.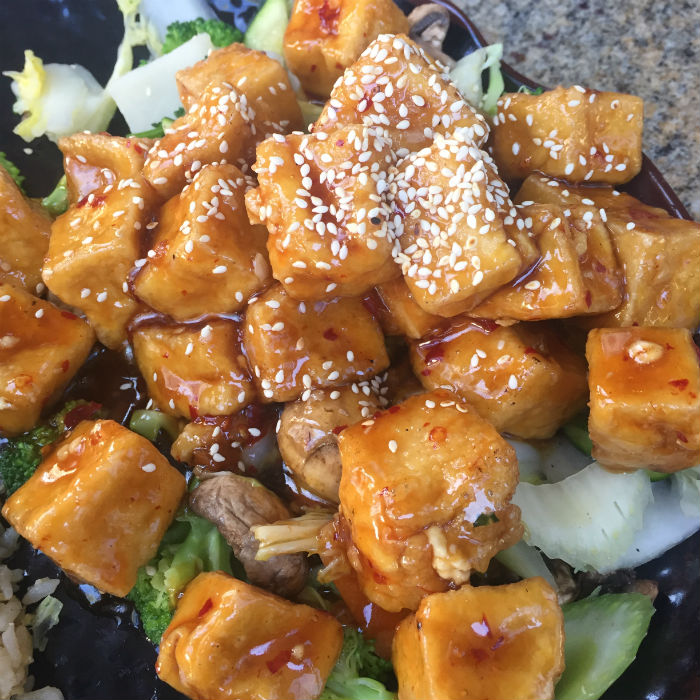 Last week it was rainy and chilly, so for lunch one day I ordered the Tofu Noodle Bowl from Phonatic. I usually get the Pho, but this seemed better for a to-go order. I still prefer the Pho, but this was a close second. If you live in Denver and like Pho, you absolutely have to try Phonatic.
I was at a work event last week too, and all I knew was that they were serving "BBQ" as the lunch, so I really didn't have high hopes of actually being fed. Plus I was a late addition and didn't go through the actual registration process, so never had a chance to specify my dietary preferences. So I did what smart vegans everywhere do, and threw a KIND bar into my purse. But! It was my lucky day, and I was surprised with Tofu & veggie kabobs, salad without cheese mixed in, plain baked potatoes and bbq sauce, and fresh fruit salad for dessert!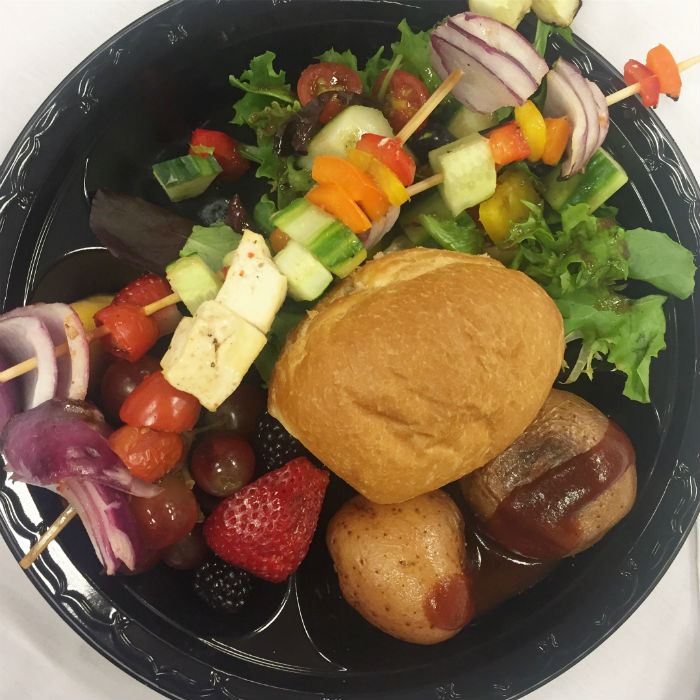 My friend William who I used to work with quit his job to go to law school, and we had a celebratory lunch for him at City O' City, an all-veg and mostly-vegan restaurant and bar near the office. I had the daily special, which was Tofish n' Chips, where the "chips" were actually pieces of savory waffle. It came with vegan tartar sauce and malt vinegar (which I hilariously thought was syrup for some reason, dipped my waffle in there, and got a very strange surprise haha!). COC has spotty service and high prices BUT sometimes their food is just knock-it-out-of-the-park delicious, and this was one of those times!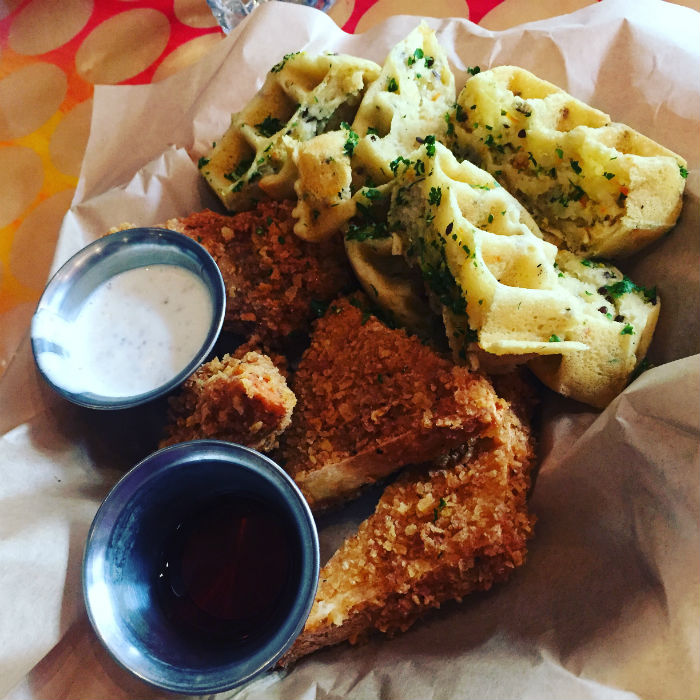 I've been on a bit of a Mad Greens kick lately, and nearly every time I've gone in this summer I've ordered the Pancho Villa Salad, which is baby greens, roasted corn, quinoa, spiced pumpkin seeds, and tofu- it might be my favorite salad ever. In fact, I had it again for lunch yesterday!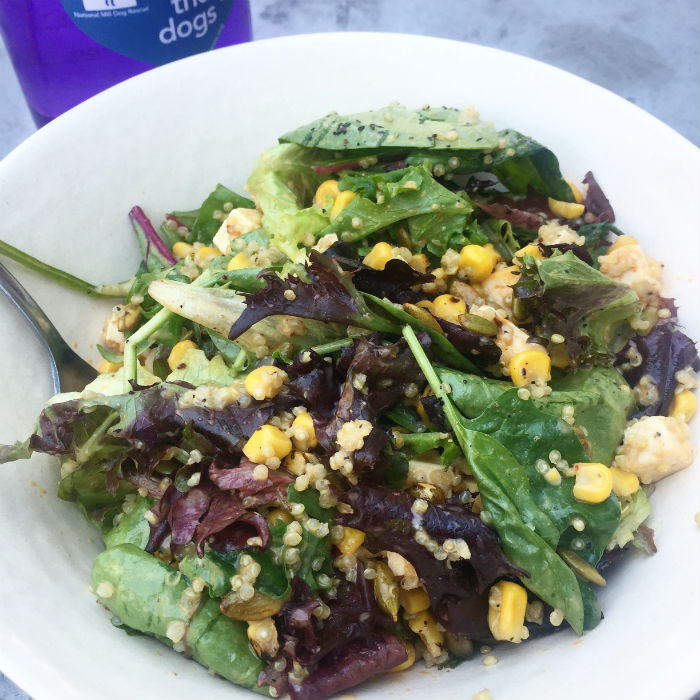 I feel like every single What I Eat post has included a picture similar (or even identical) to this one- A yummy Veggie Dog & Sweet Tater Tots from Steve's Snappin' Dogs on Colfax. This time I had the dog Chicago Style with funky green relish, red onions, celery salt, mustard, and hot peppers. YUM!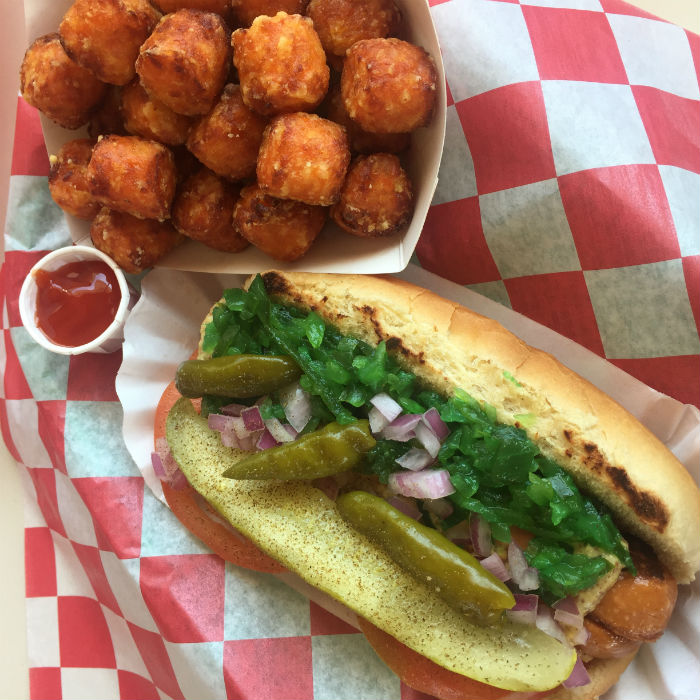 I went to a conference in Asheville last month, and one night I found my way to this amazing Mexican restaurant called Mountain Madre. I had lots of beer and tequila but also these Vegan Chicken Enchiladas that were super tasty.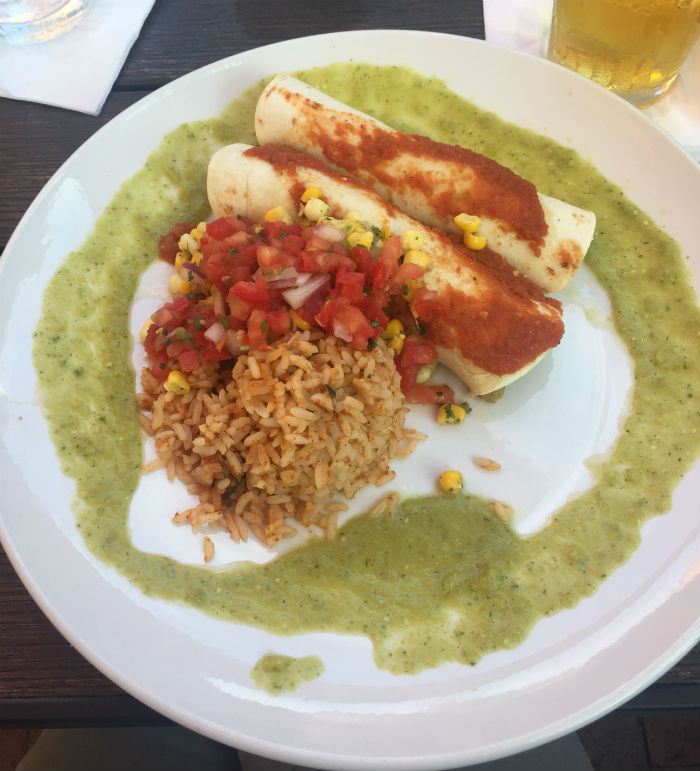 My step-brother, SIL and three kiddos came and stayed with me last month, and it was my SIL Kathy's birthday while they were here, so I made these Cookie's n' Cream cupcakes from VCTOTW. They tasted amazing, although the cake part came out a little weird. Oh well, we all know I suck at baking!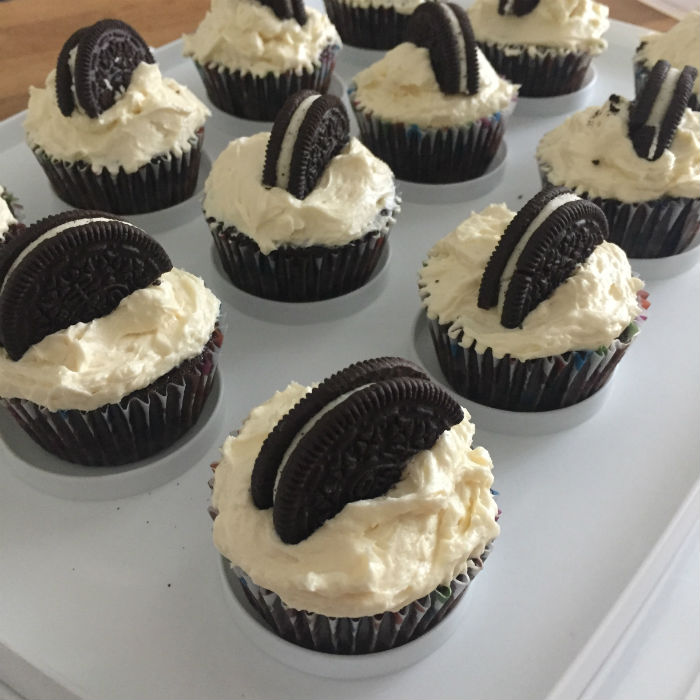 The last night they were here we all went for dinner at Uncle Maddio's which is a chain but is really good- My mom and I split a pie with Daiya mozzarella, seasoned tofu, tomatoes and bell peppers.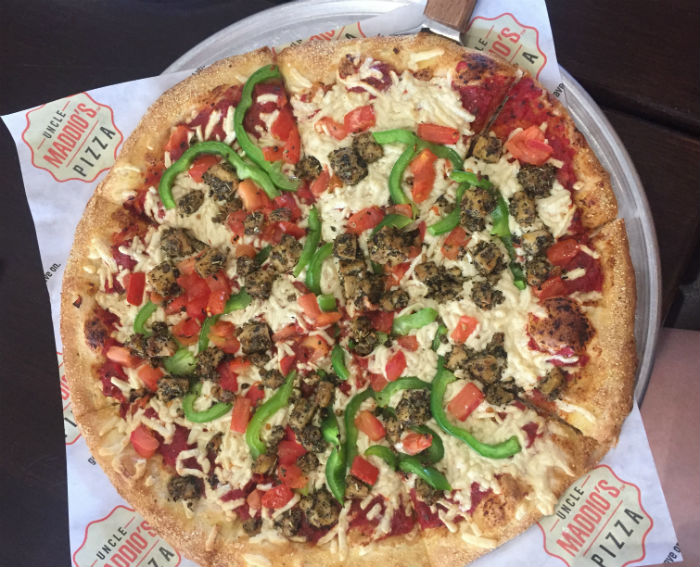 A few weeks ago my friend Denise and I drove down to Pueblo for a girl's weekend with Chelsea. Pueblo has gotten a lot cuter over the past couple of years- they've had a big influx of young professionals which has brought new restaurants and bars. We walked around downtown and by the riverwalk, and stopped at a few places for cocktails. I failed to take any pictures of that, but I did get a shot of our lunch the first day at Bingo Burger where I had the Veggie Burger, made of quinoa, garbanzos, mushrooms, vegan mayo and Pueblo chilis… and fries of course! To save a few calories for drinking I went bunless.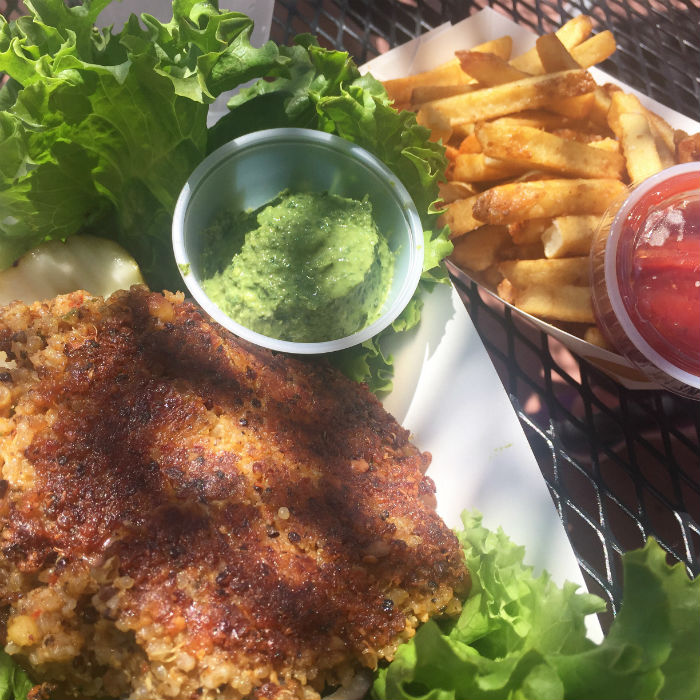 The next morning we headed out to The Hanging Tree (very dark name!) for coffee and breakfast. I had their Vegan Breakfast Sandwich which was a thick portabello, red pepper hummus and spinach on a toasted bagel. It didn't knock my socks off, but I was just so excited to have vegan options that I would never complain!