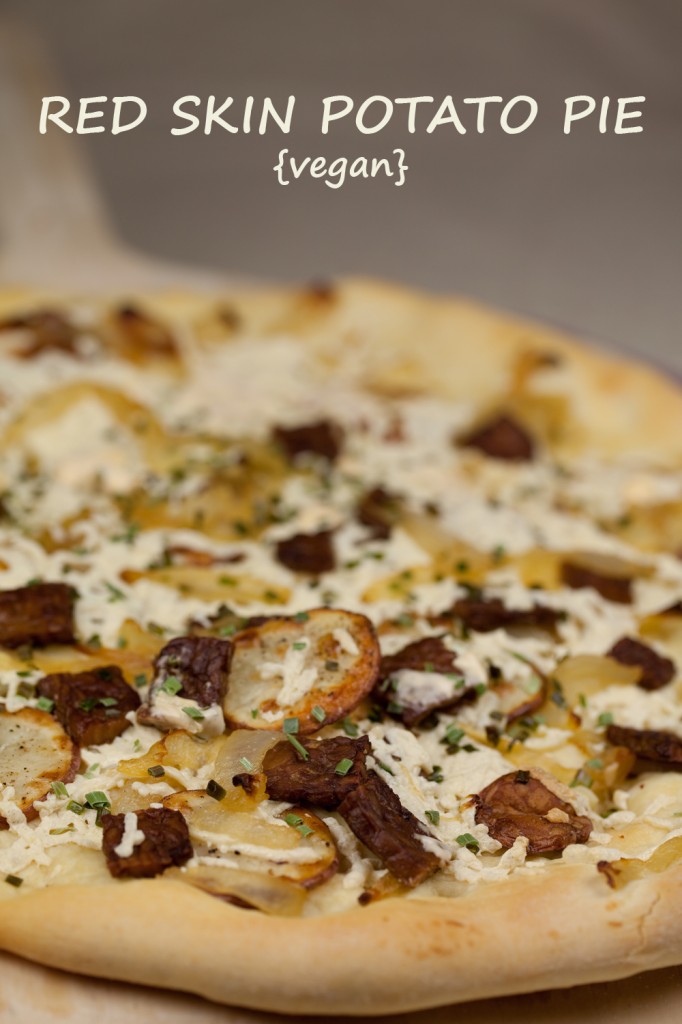 Last year when my mom and I went to Asheville on an eating-binge vacation I popped into the Mellow Mushroom on my last day, right before heading to the airport. At the time I didn't realize it was a chain, and I'm glad I didn't because if I had I would've skipped it… and I would've missed out. The funny part is there's a Mellow Mushroom here in Denver and I never realized it. In fact, it's just a free shuttle ride down the 16th street mall from my office, so I could've been eating lunch there all the time! Sheesh!
I still haven't been to the Denver location, but I have looked at their menu about a billion times, and there was this one (non-vegan) pizza that really stood out- called (obvs) the Red Skin Potato Pie. Their menu describes it as:
"Olive oil and garlic base with sliced roasted red potatoes, applewood smoked bacon, caramelized onions, cheddar and mozzarella cheeses. Garnished with chives then drizzled with sour cream and spicy ranch dressing."
Sounds intriguing, right? And you guys know I'm always down for a pizza that stretches (ha ha, get it?) the boundaries of "what a pizza should be" (as evidenced here, here, here, and here.) So, I veganized it, and here's a close up shot.
It's got all the toppings: roasted red potatoes, tempeh bacon (cooked in applewood smoked sea salt), and olive oil and garlic base, caramelized onions, mozzarella… and I even topped it with a spicy sour cream and ranch mix!
It's an unusual flavor profile, but it's really delicious. The smoky, salty tempeh bacon and the sweet onions play very nicely together, and you can make the sour cream/ranch mix as spicy as you like, which adds a little oomph.
Mmmm, you know what this would be good for? Stuffing your face while you watch the season premiere of G.O.T this Sunday! I cannot wait to see the dragons now that they're bigger, and even though I'm already having nightmares about the White Walkers, I'm looking forward to them as well.
Is anyone else as excited as I am? What will you be eating while you watch??
---
Red Skin Potato Pie (makes one 14″ pizza)
Adapted from Mellow Mushroom menu
Keep in mind that you'll have to start caramelizing the onions well ahead of time!
Ingredients:
Pizza dough of your choice, rolled out
1 small vidalia onion, caramelized
2 red skin potatoes, cleaned and sliced 1/4″ to 1/3″ thin
Non-stick spray
8 strips Tofurky smoky maple tempeh bacon
Applewood smoked sea salt
3 Tablespoons olive oil
3 cloves garlic, finely minced
Daiya mozzarella (I used a half cup, use more for a cheesier pizza. You can also add in some cheddar to make it more "authentic")
4 Tablespoons vegan sour cream
2 Tablespoons vegan ranch dressing
1 teaspoon Sriracha (or more, to taste)
2 Tablespoons dried chives
S&P
Directions:
Cover a baking sheet with aluminum foil and spray with non-stick. Lay out your sliced potatoes, sprinkle with S&P and spray again. Bake for 10 minutes at 400 degrees, then flip them. Add another sprinkle of S&P and a touch more spray, then bake for another 6-8 minutes.
In a medium skillet, cook the tempeh bacon according to directions, sprinkling with the applewood smoked sea salt (this is important, it really gives it that "bacony" flavor!). When it's done, set aside on a paper towel, then chop into bite-sized pieces.
In a small bowl mix the oil and the garlic, then spread evenly across your dough. Top with the onions, potatoes, bacon and cheese. Bake at 425 (on a pizza stone) for 12-14 minutes or until the crust is done and the cheese is melted.
Whisk together the sour cream, ranch and sriracha (and maybe a pinch of salt!?), and when the pizza comes out of the oven drizzle over the top right before serving. Sprinkle with dried chives and a bit of ground pepper, and serve!
Enjoy!