First, don't miss your last chance to enter the Super Amazing Awesome giveaways before they end- Superfun Times Holiday Cookbook by Isa Chandra, Superfood Soups cookbook by Julie Morris, and 4 bags of delicious Activated Superfood Popcorn!
Second, I hope you all had a lovely ThanksLiving! I spent it with family, and most importantly with my mom- it was our first Thanksgiving together in 17 years! I made so much food… Isa Chandra's seitan roast, stuffing, mashed potatoes, carrots, corn, rolls, apple pie, pumpkin pie, sugar cookies. It was insanity. Delicious, delicious insanity.
Here's the obligatory shot of the table, and my plate: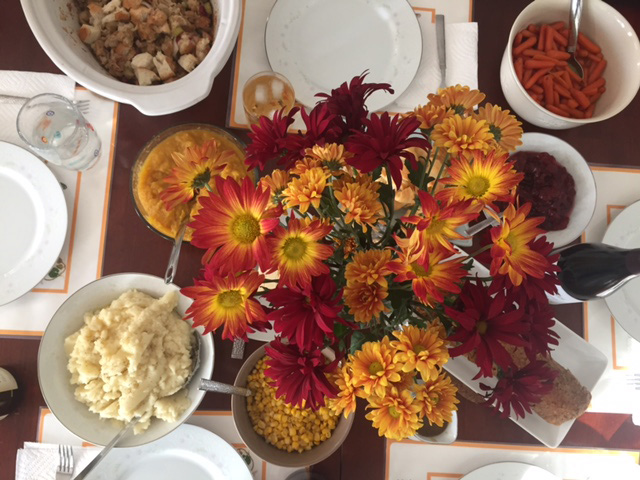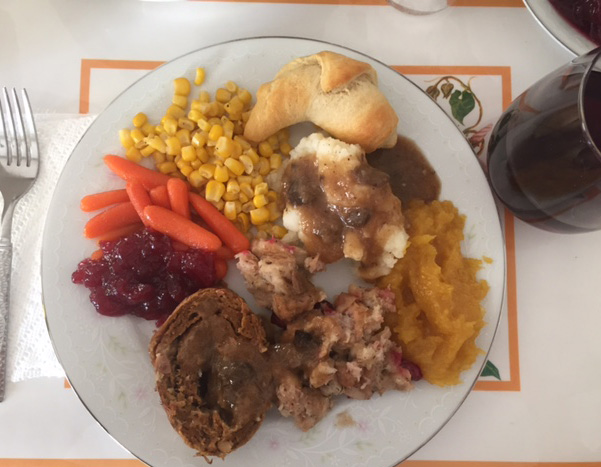 We did have a little drama on Sunday though… I woke up to sweet Teddy with a snout so swollen his eyes could barely open! Poor kid. I got him in the car and called the ER vet on my way and Alex the vet tech was waiting for us in the lobby to make sure right away that Teddy was breathing okay. He was, so she took him back for a more thorough exam. The vet told me it was an allergic reaction to something, but since they couldn't find a stinger and he wasn't on any new food or medication, they didn't know what it could be- so they treated his symptoms and sent us home. Thankfully the swelling started to go down right away, but it was still really scary!
I'm off to a work conference this week, so I'll just leave you with a few shots of the amazing food I'm lucky enough to have here in Denver. I hope you all enjoy your week, I'll be back next Tuesday!
Pho! This time to go, but as always it was from Phonatic– the best pho in Denver! What made this even better is that it was raining and I somehow convinced a co-worker that HE really wanted to Pho… and since he was going anyway, could he just pick mine up as well? 😉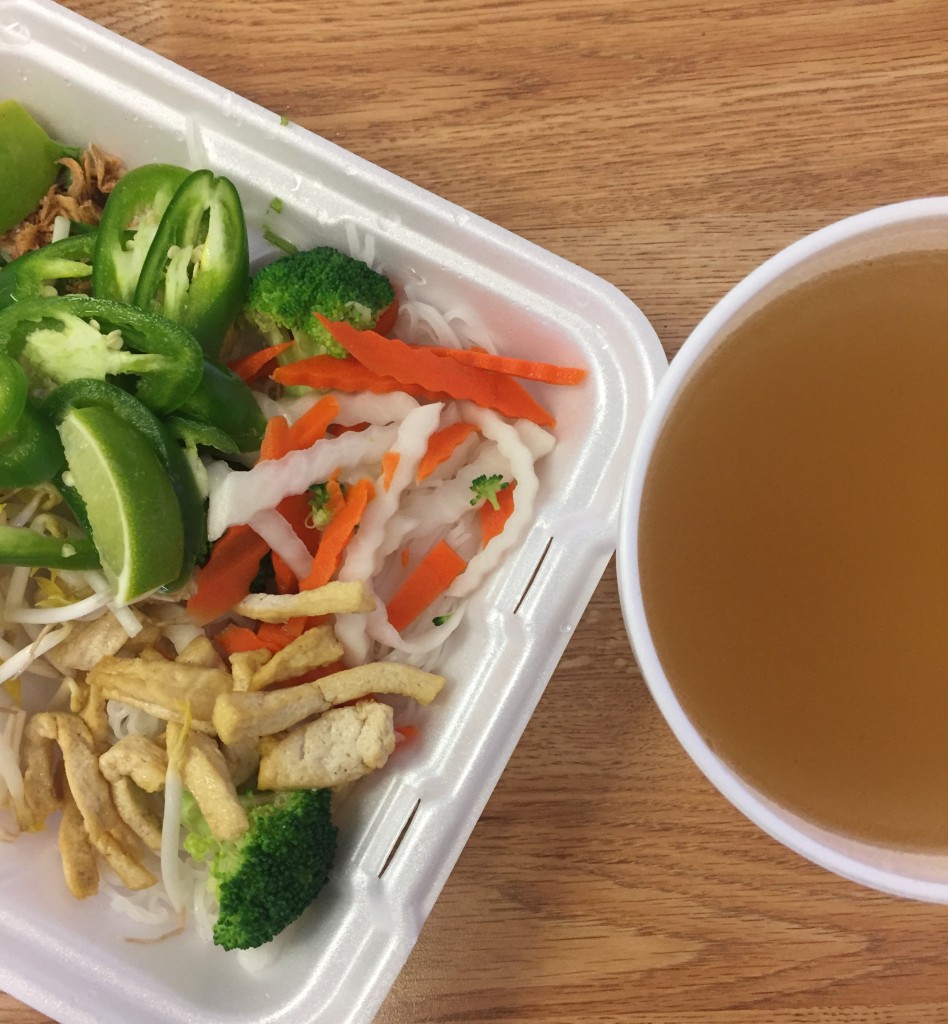 Another delicious lunch at work- Falafal wrap and fries from the Shish Kabob Grill in Cap Hill. They make this dairy free sauce, it's not quite tzatziki, but more like a thinned out hummus? Whatever it is, it's tasty!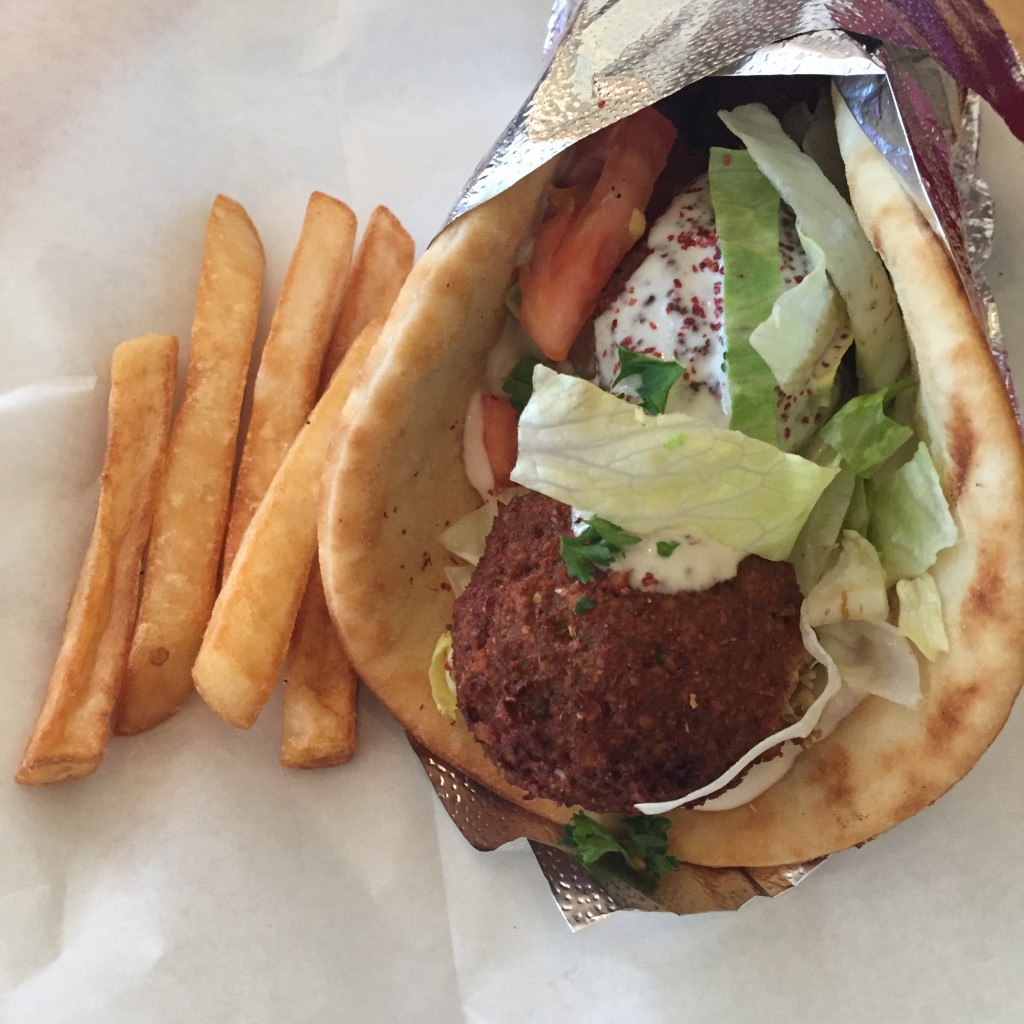 I know this bowl looks like a crazy mess, but I promise you it was delicious- it was tater tots with nacho toppings, except not nearly as organized as Totchos. I just baked the tots, mashed an avocado, chopped some veggies, and covered it all with that Wayfare nacho cheeze dip. Excellent!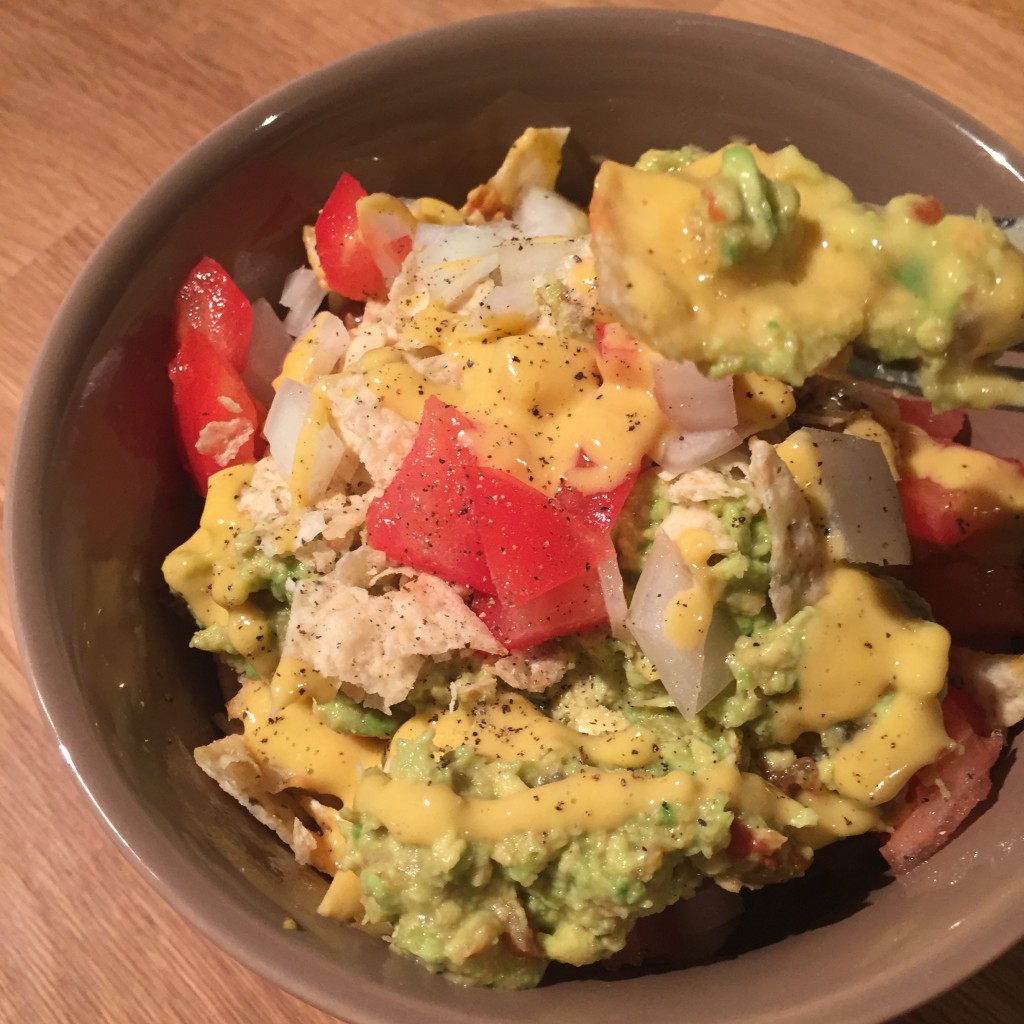 Beet infused vodka shot from the Red Square Bistro. I'm not sure what flavor the other one was. They had close to 20 different infused vodkas, and we tried a lot of them. A. Lot. They all come with pickles, which is fun.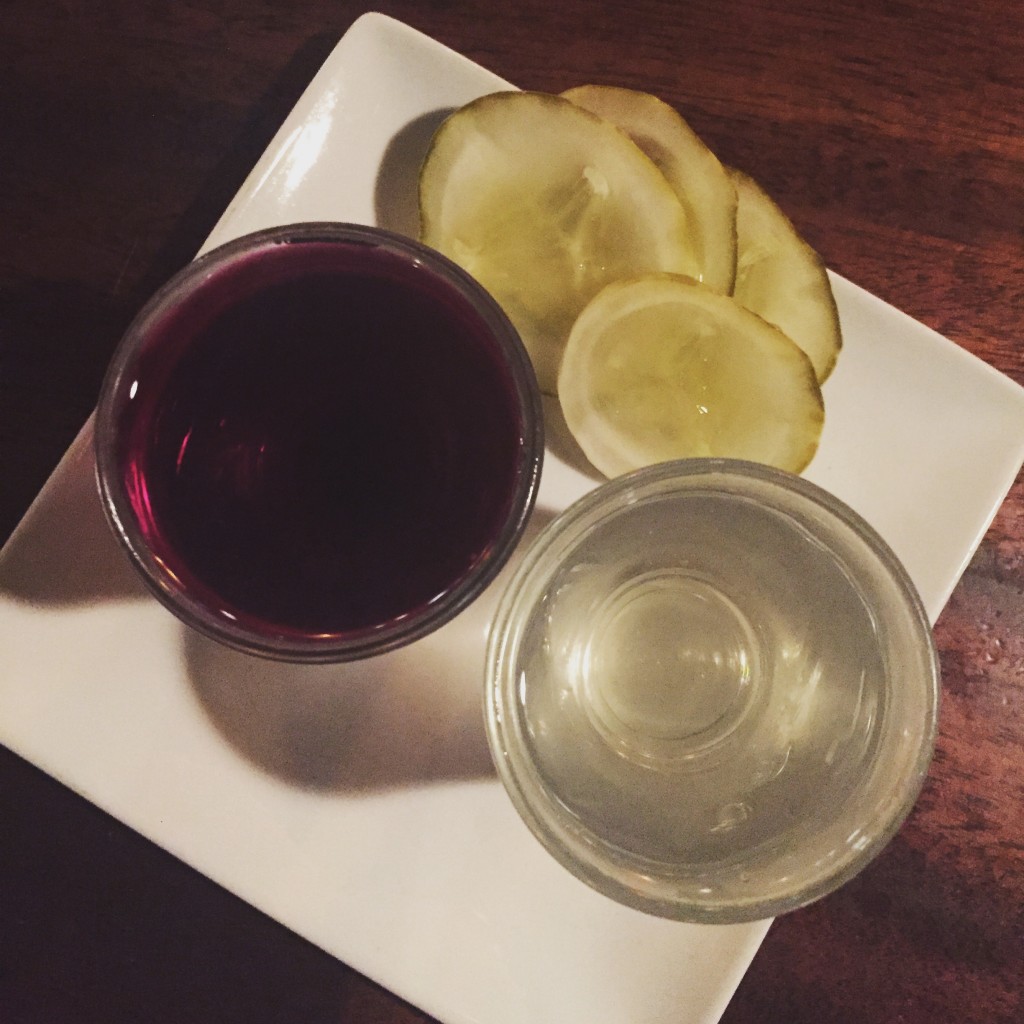 This was a dinner at home with the fam… my Best Fall Casserole, Orange-Vanilla Massaged Kale Salad, and a yummy pasta salad my mom made.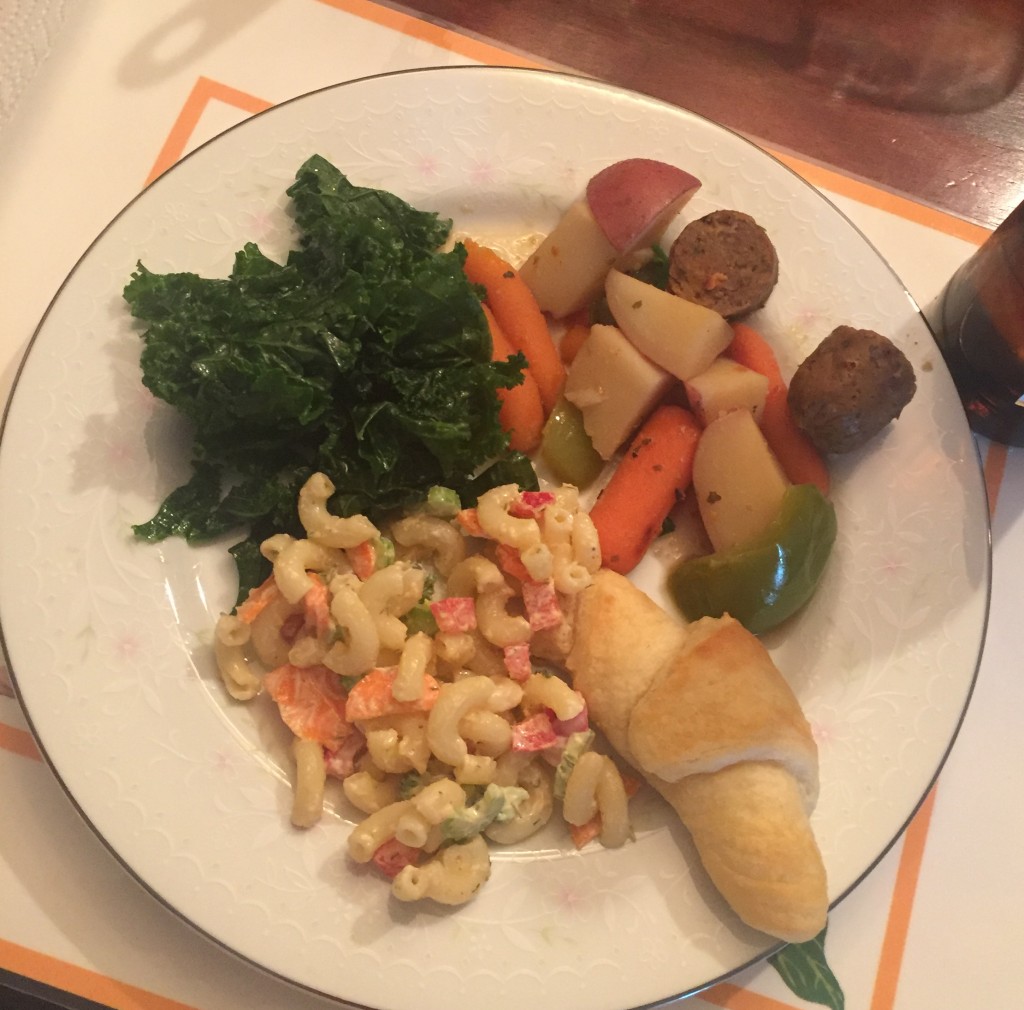 My mom and I had brunch at City O' City a while back, which consisted of Buffalo Seitan Wings with vegan ranch, and …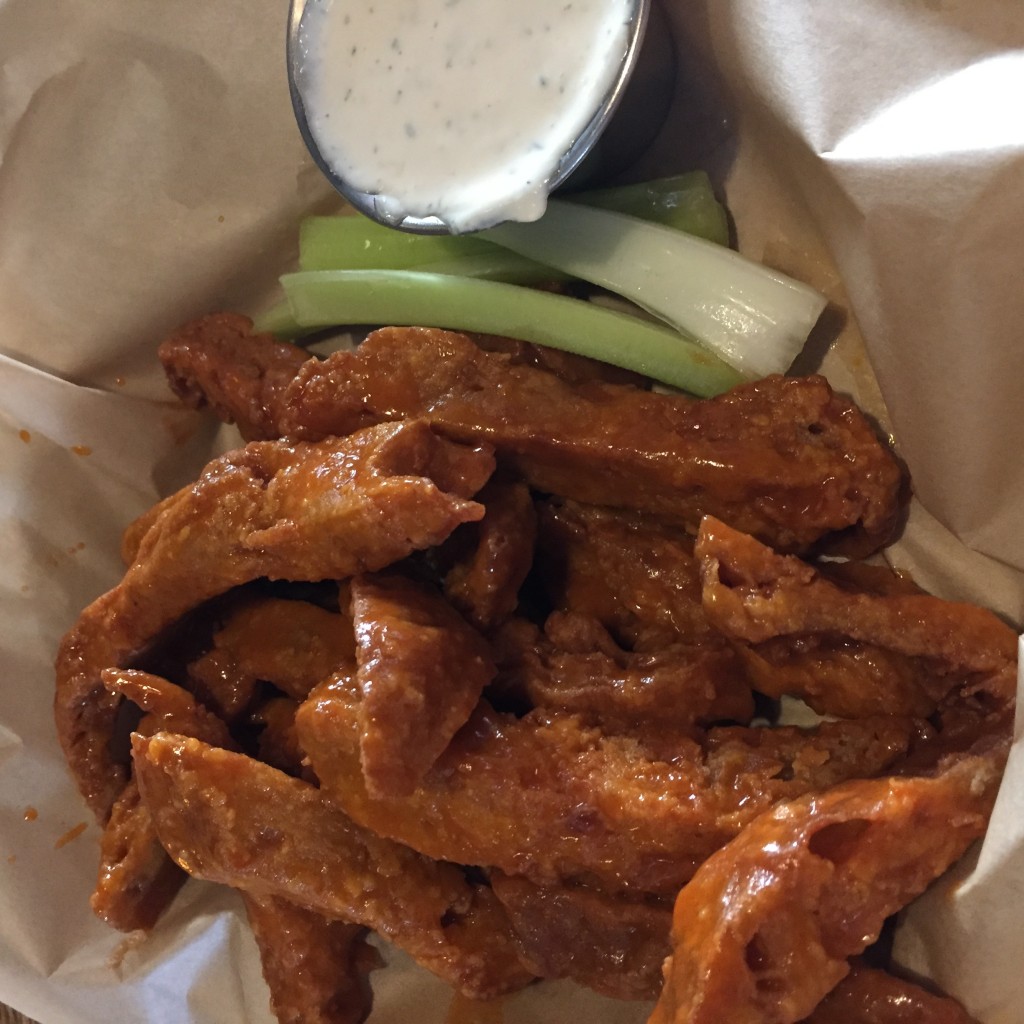 Cauliflower Chorizo Tacos which were one of the best things I've ever eaten! From the menu: "chorizo spiced cauliflower topped with chipotle aioli, chimichurri slaw and vegan sour cream. served on corn tortillas." Freaking amazing!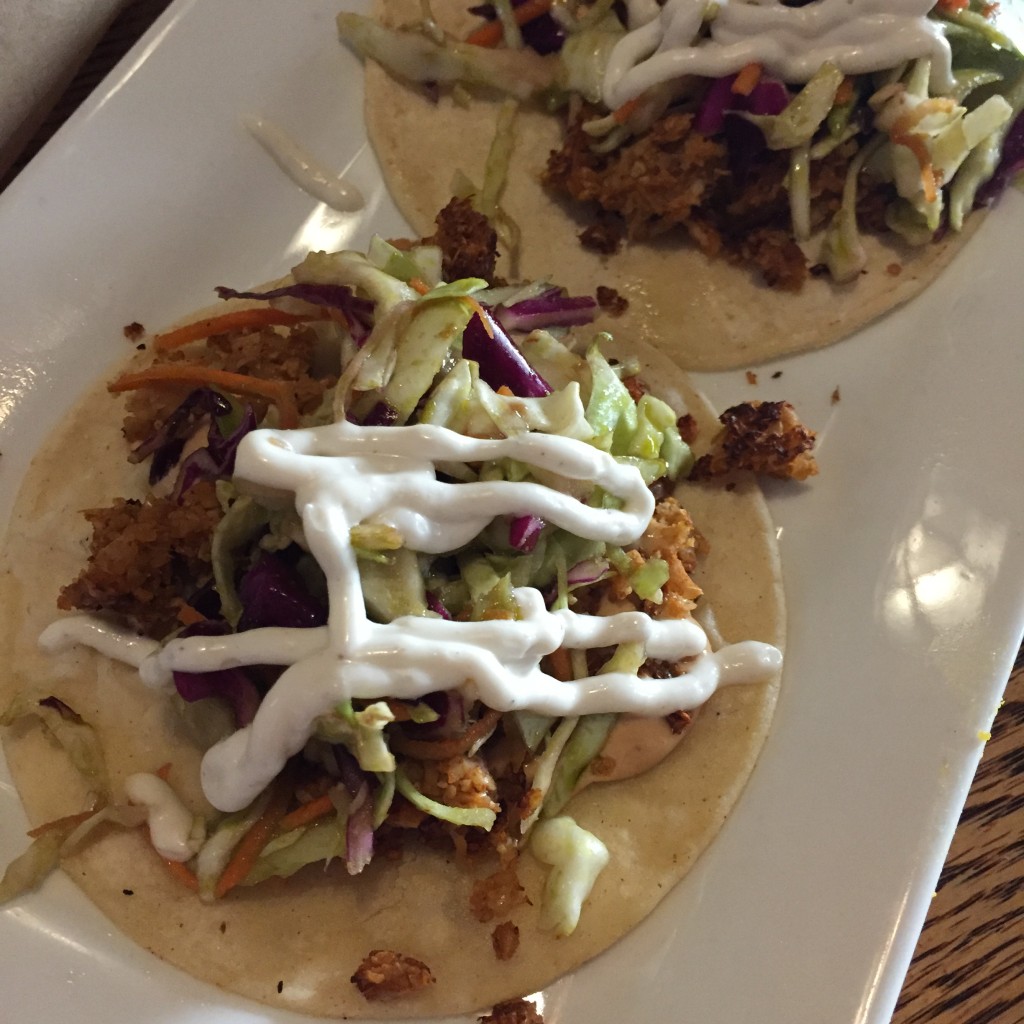 Oh, and there were more Buffalo Wings too… this time to go, from The Vegan Van, Denver's very own all-vegan food truck. I had just finished dinner and was walking home with my cousin and brother when I spotted them. Even though I wasn't hungry I had to show them so love, so I got the wings to go and ate them for breakfast next morning. Delicious! They came with buffalo and bbq sauce, and they made their own vegan ranch, which was super tasty!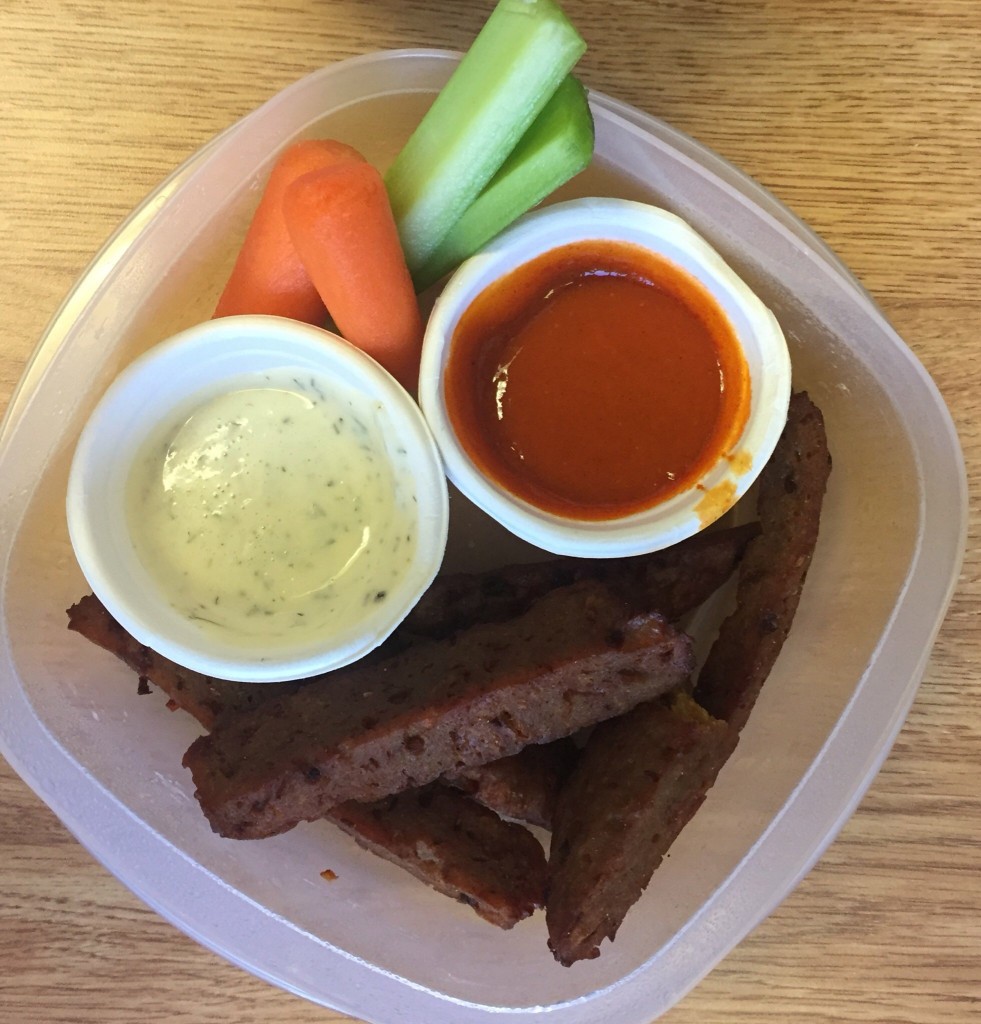 This was Birthday Sushi I had with my bestie Eric at Tokyo Joe's- not the best sushi but I was craving it, and it really hit the spot.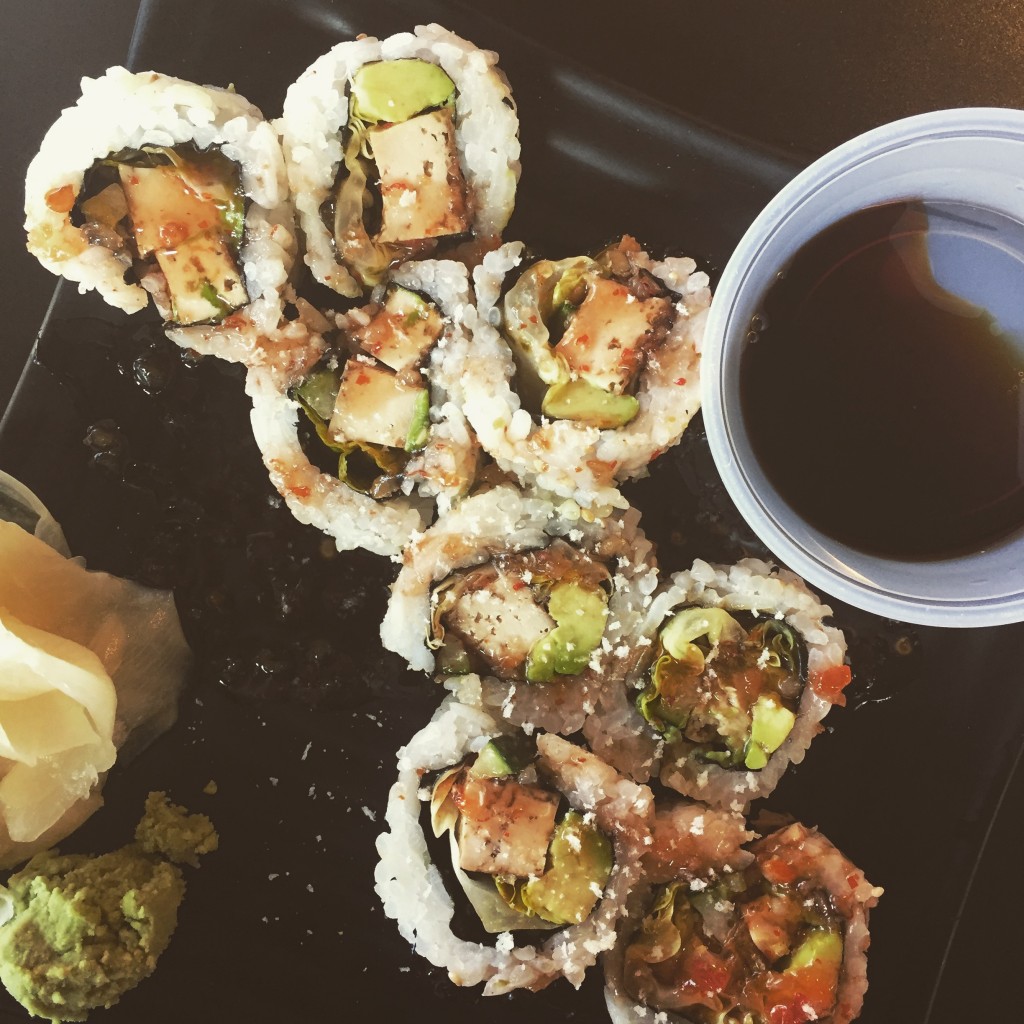 I learned about Sushi Burritos from my blogger friend Hannah, and set out immediately to try one. I wasn't disappointed! This monster is from Komotodo (which, funny enough, is basically next door to the beet vodka place!) and is called The Green' Go: it's got tofu, portabello mushroom fries, avocado, asparagus, and other stuff, all with a teriyaki sauce. The sauce it was supposed to come with has dairy in it, so you have to be a little careful when ordering. Also prepare to be a bit annoyed- their menu reads "Dairy free cream cheese option"… the option is to not have cream cheese added to your burrito. Huh? But, anyway, the sushi burrito is enormous and delicious and I can't wait to have another one!