Some of these are kind of old… but still make for delicious eye candy!
I had dinner last month with my Grandma Josie at Lowdown Brewery (which I luurve). We each started with a beer- I had the Patio Pounding Pilz because it's my fave: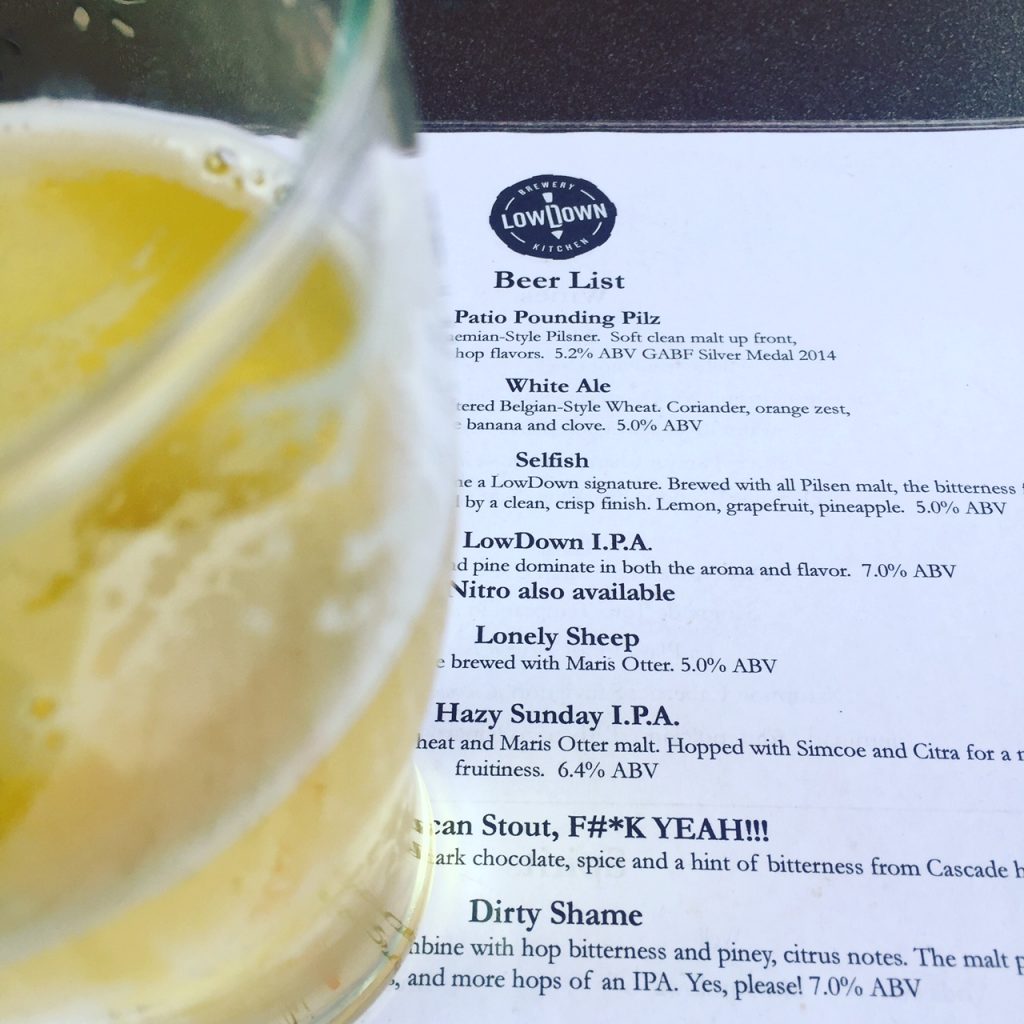 And I followed that up with a really delicious wrap called The Incredible Edible Eggplant Sammy with thick-sliced eggplant, Baba Ganoush, pickled carrot, red onion, roasted red pepper, toasted pumpkin seeds, and mixed greens wrapped in pita bread. It's automatically vegan, ordered directly off the menu (Lowdown does an exceptional job with labeling!). It was huge and I chose their thick cut, super salty fries as my side. There were DEFINITELY leftovers!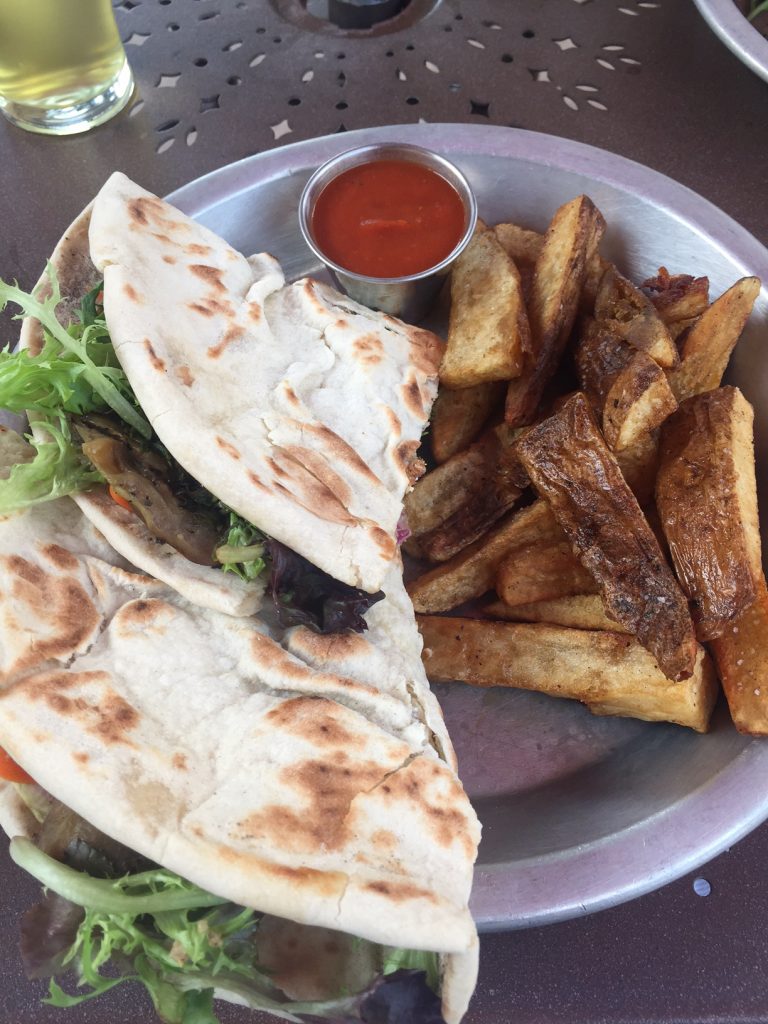 The next weekend my bestie bestie from LA Randy was in town. We started the night at Upstairs Circus, a spot in LoDo where you drink booze and do crafts (very fun!), followed by dinner at Freshcraft. I had wonderfully greasy fries and another wrap- only I don't remember what it was and it's not on their menu anymore! Looks like spinach and artichoke hearts and maybe sundried tomatoes? But still- I highly recommend them. Lots of great vegan options!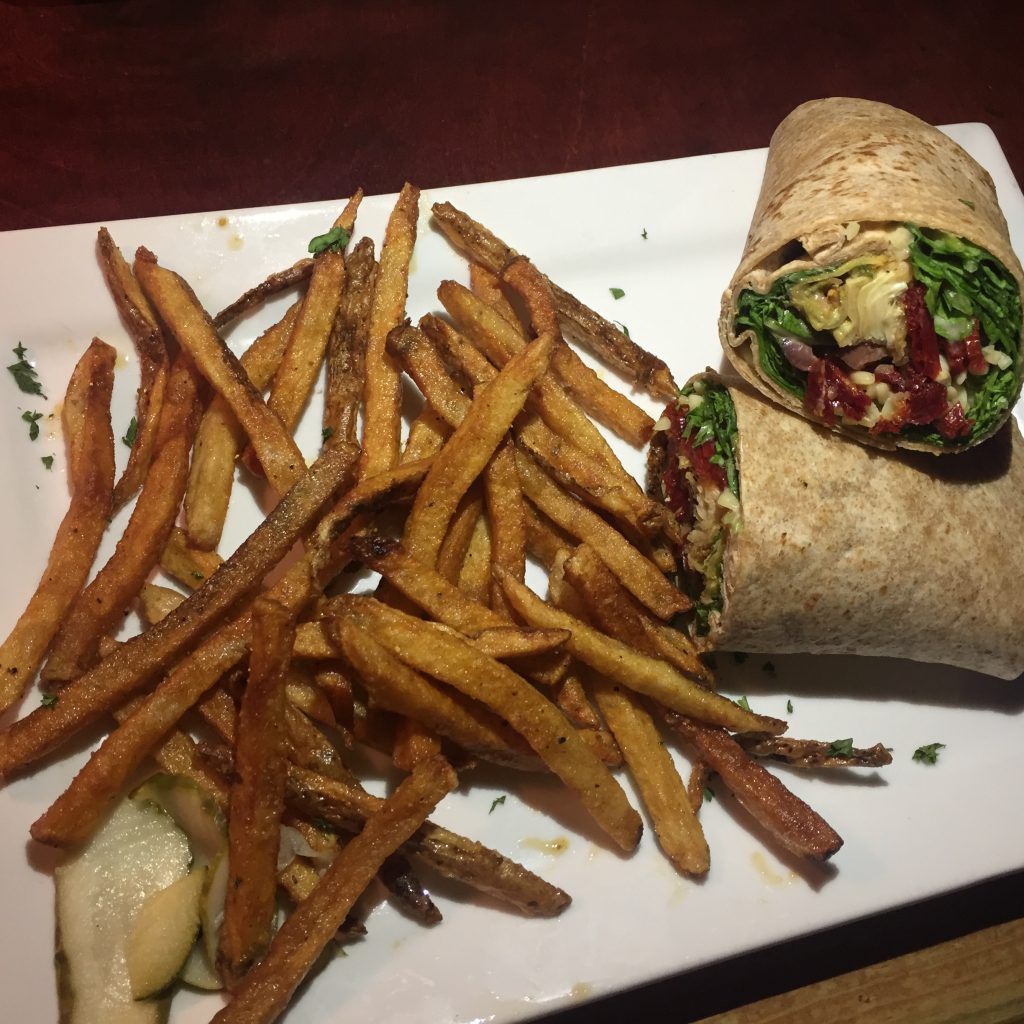 My mom is uber trendy and lives just on the edge of Baker and SoBo, and so is in walking distance of all the coolest (vegan) spots like Nooch Vegan Market, True Love Vegan Shoes, Sweet Action Ice Cream (that always has vegan flavors available), just to name a few. One recent hot Sunday afternoon we strolled down Broadway to Historians Ale House which has the coolest rooftop bar. They also have a fantastic drink menu and a really yummy Hummus Plate: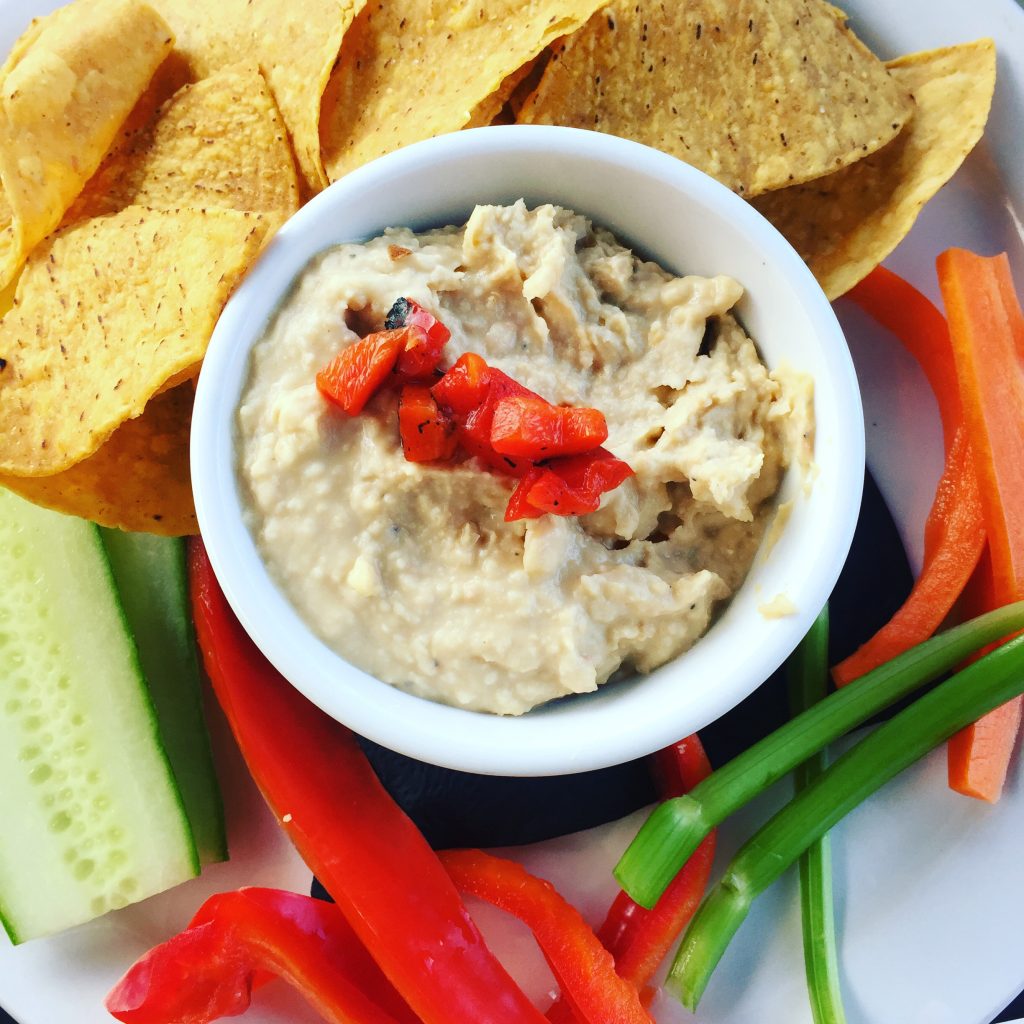 I like that it comes with a variety of (healthy) veggies and (naughty) corn chips, so you can choose how virtuous you feel as you eat 😉
Okay, okay, I know you feel like you see this picture in EVERY 'what I eat' round up, and you're sort of correct. It's never the same picture, but it's the same dish from Steve's Snappin' Dogs. My pal Eric and I eat there on the regular and I pretty much always get the Veggie Chicago Dog and Sweet Tots… and I always steal a few of his fries, just to be safe.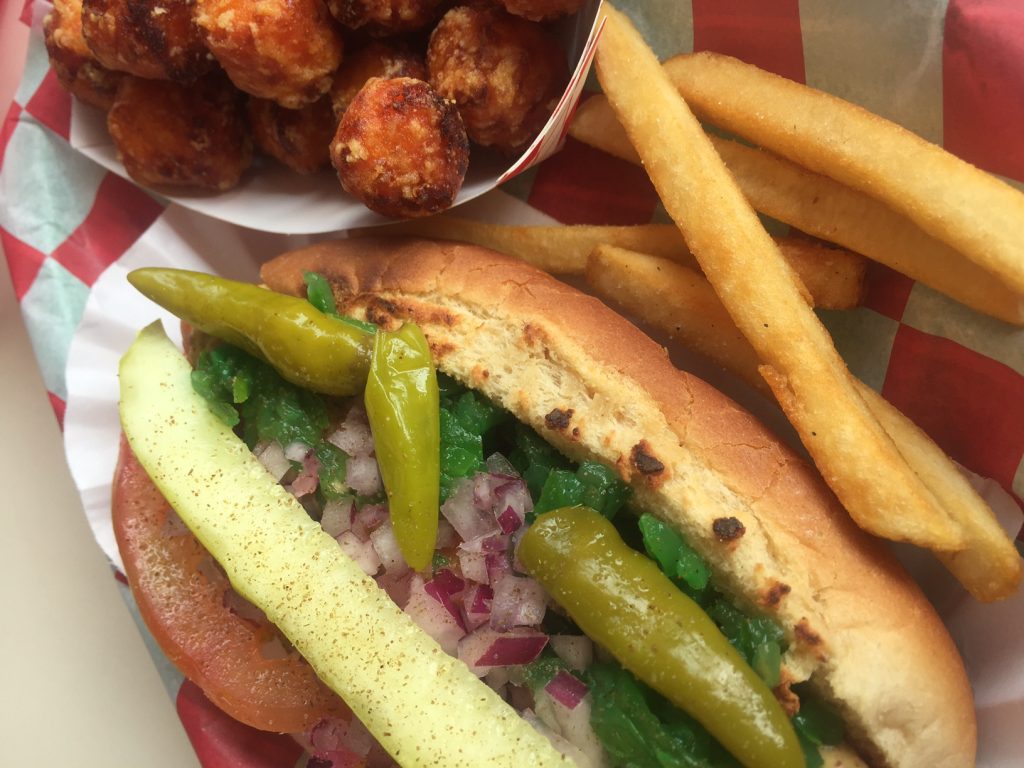 I almost always bring leftovers for lunch but decided to treat myself one day last week to a Build Your Own Bowl from Tokyo Joe's, which is a chain. What you see here is brown rice, sweet potato, broccoli, water chestnuts, sweet onions, edamame and a sweet teriyaki sauce. I don't eat there often because I work in Denver's Cap Hill neighborhood so there are like millions of lunch options, but I'm always pretty happy with their food.
My fam and I try to do Sunday Family Dinners when we can, and I hosted a couple weeks ago. I made Stuffed Shells (using my awesome ricotta recipe) topped with Daiya cheese and fresh sweet basil, my Orange Vanilla Massaged Kale Salad, and a side of peppers and onions cooked with Field Roast spicy mexican sausage. Oh, and some homemade garlic bread too! Here's a shot of my plate: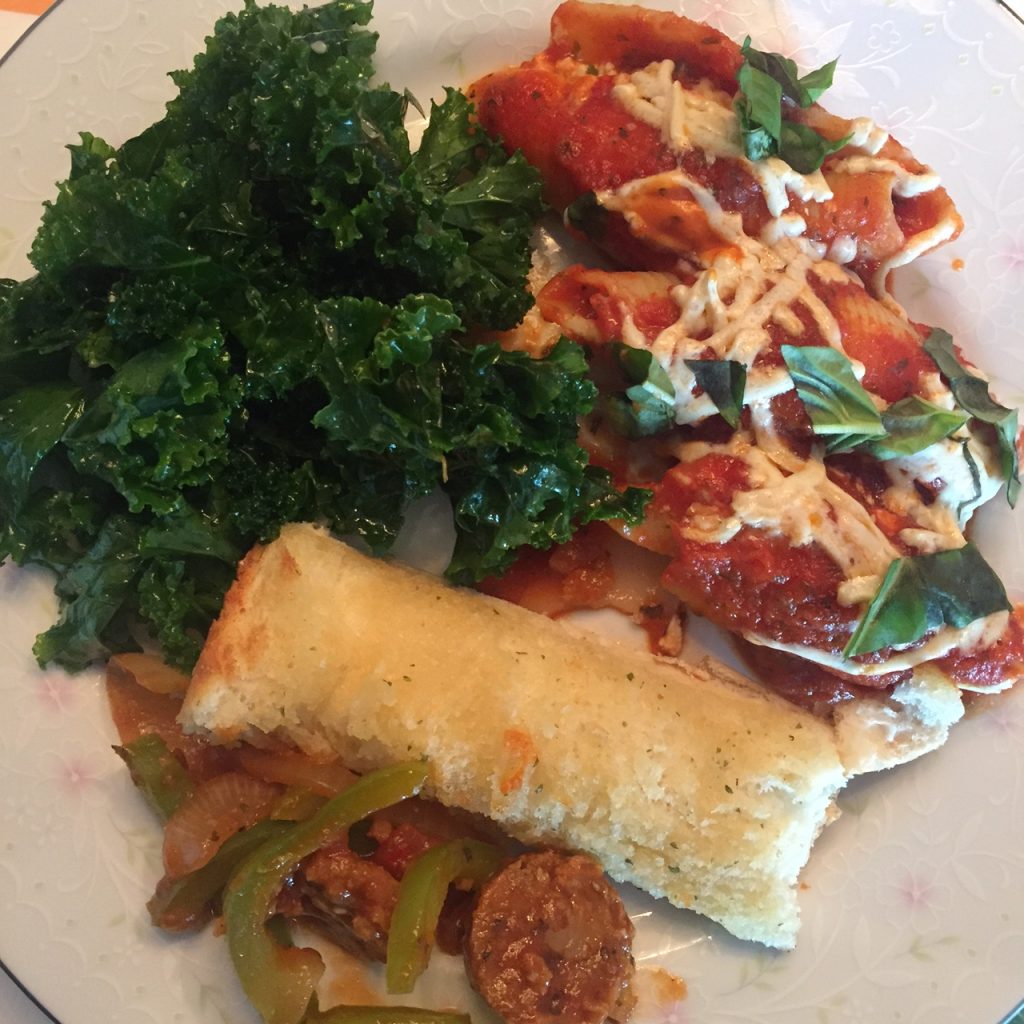 This was dinner the other night: Oven fries with a homemade 'honey' mustard sauce, and a sandwich of Tofurky slices, FYH provolone cheese, and spicy mustard along with some baby spinach and tomato.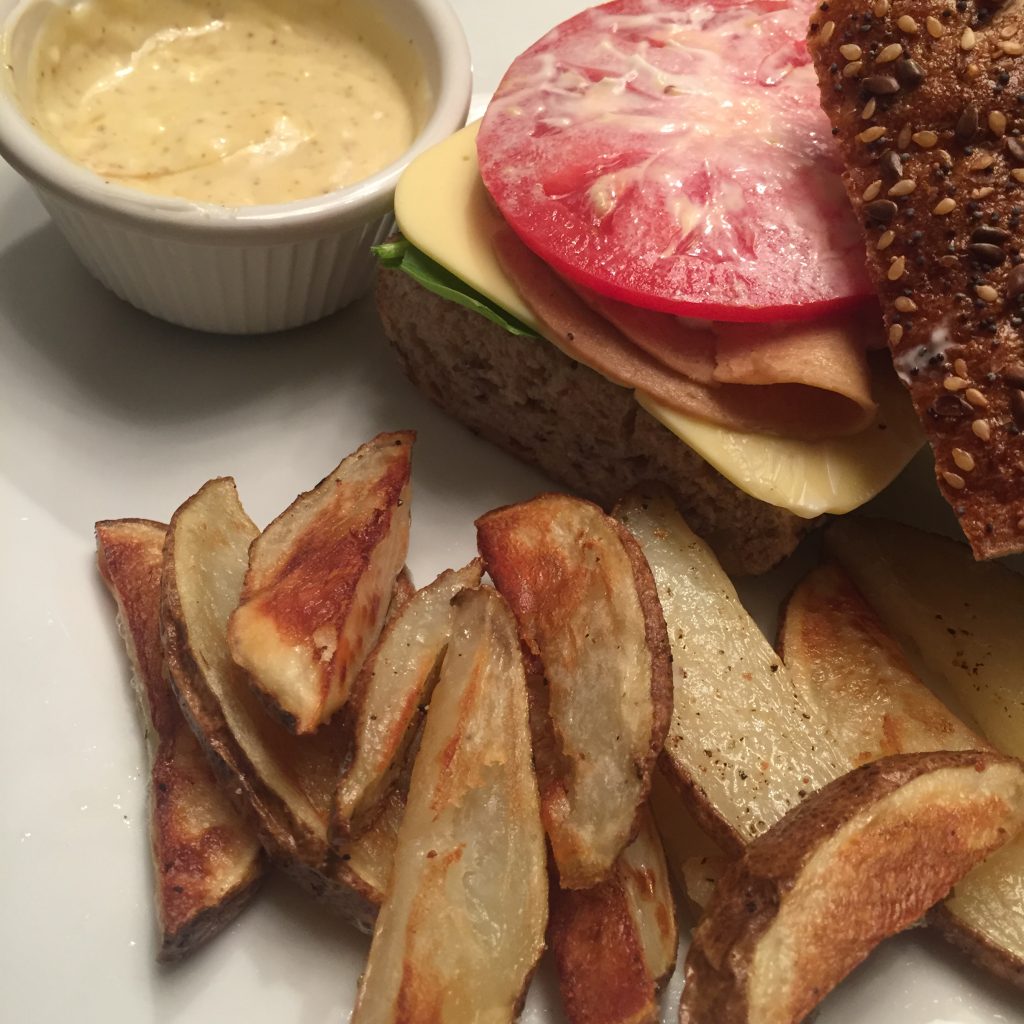 Last but definitely not least, my most favoritest salad ever. It started with a bagged kale and brussels mix that included a small portion of pumpkin seeds and dried, sweetened cranberries. I grabbed it on sale at Safeway last weekend to make my life a little easier. I mixed that with some baby spinach, half a chopped red bell pepper, some homemade croutons, diced Nasoya pre-baked teriyaki tofu, and (not pictured) FYH vegan ranch dressing. Best. Work. Lunch. Ever.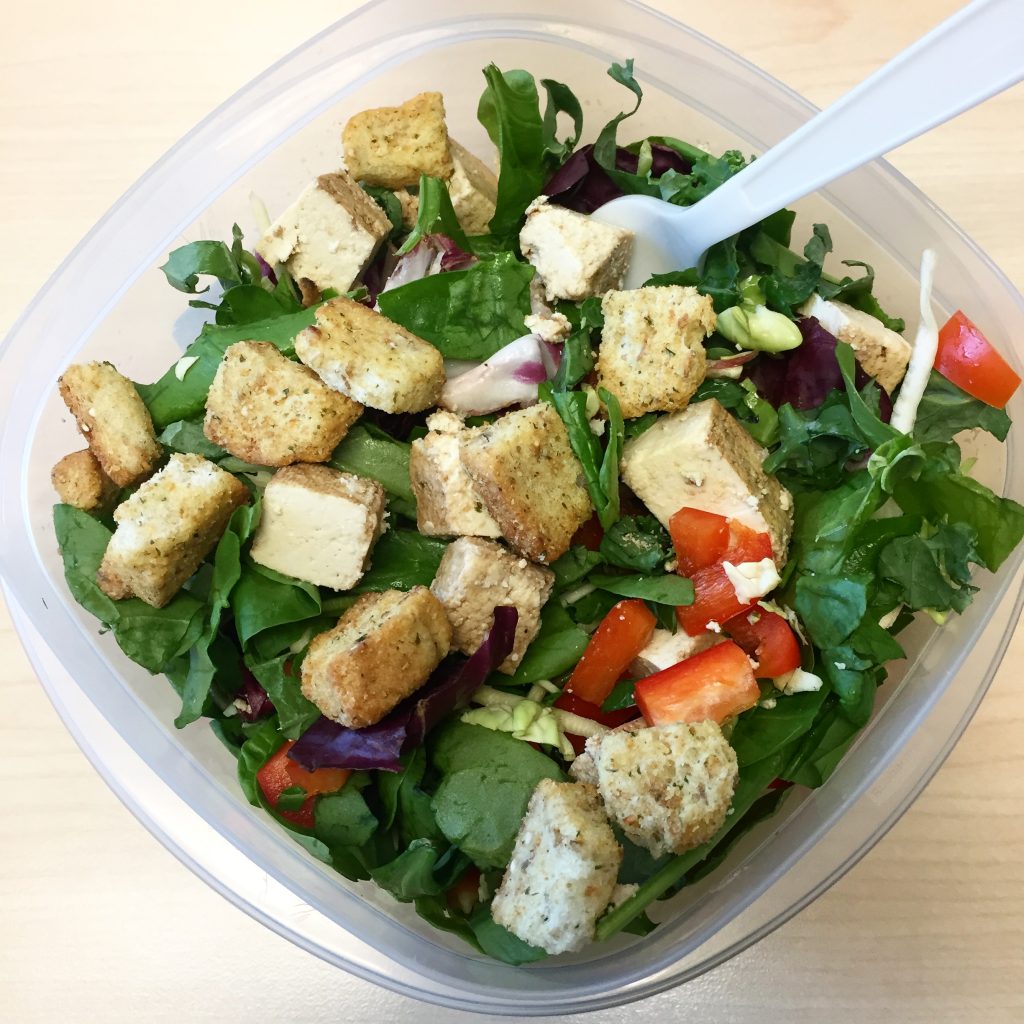 Okay my friends… that's what I've been eating. Do you have anything good to share?