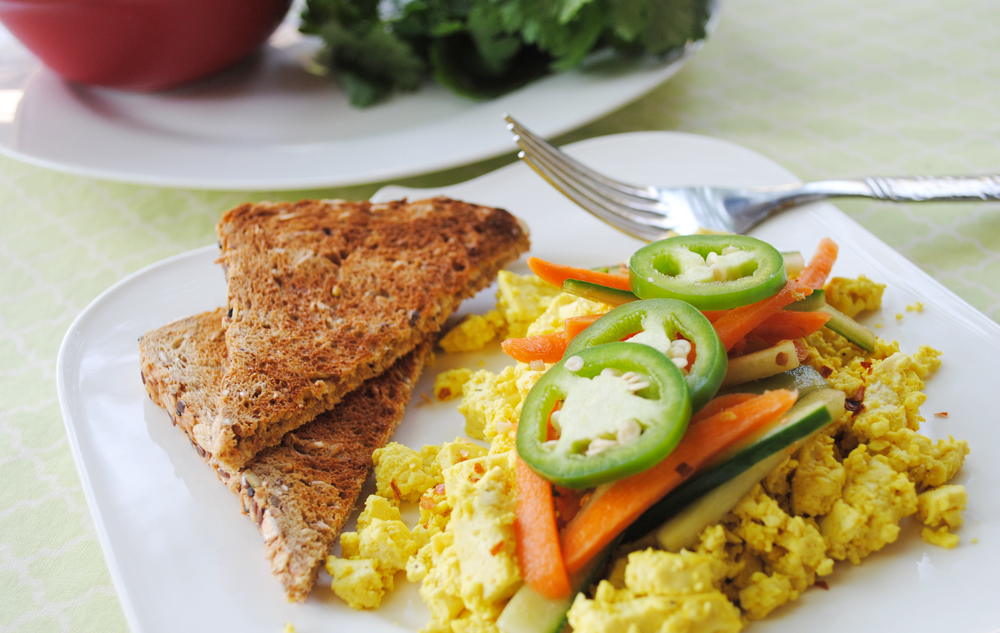 Tofu scramble can be maple-y-sweet, or spicy and full of kale. It can go in a casserole or lasagna or a sweet potato. Even on a pizza! But if you're looking for some serious heat in a savory breakfast dish, I suggest you try this Banh Mi Tofu Scramble!
The traditional Vietnamese sandwich is usually made on a baguette with mayo, cilantro, jalapeno, cucumber, and pickled carrots. And <ahem> pork. Vegan versions are pretty common, usually made with tofu and an egg-free mayo. The tofu scramble version captures all the flavors and will fill you up without weighing you down.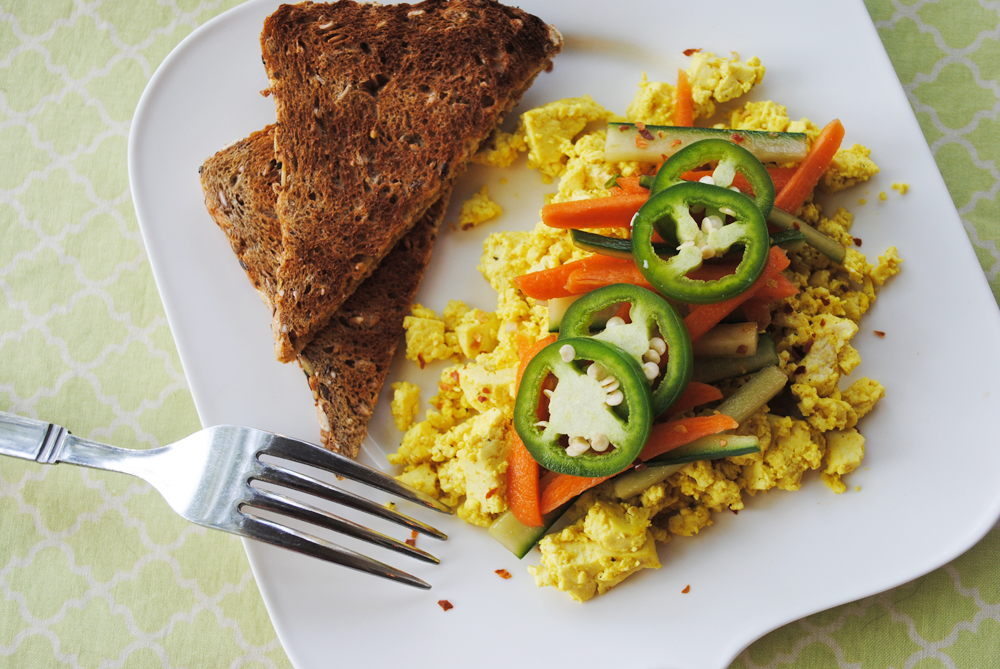 Tofu scrambles (especially savory ones like this) are wonderful for brunches or lazy weekend breakfasts. They're also great to make ahead and reheat during the week. I'll make up a batch on a Sunday, portion it out into tupperware, and grab one each morning on my way out the door to heat up when I get to work.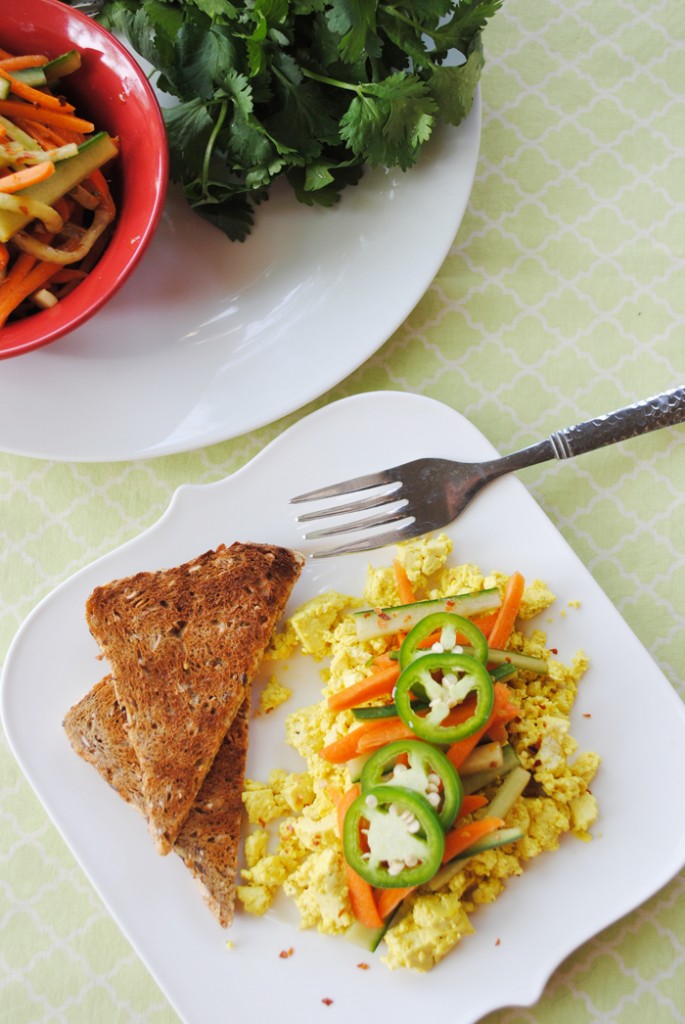 I forgot to photograph it, but a healthy dose of hot sauce (I used Sriracha) on top brings it all together in the most delicious way possible. The pickled veggies are delicious and a must have, and I highly recommend the cilantro, although I know now everyone loves that flavor.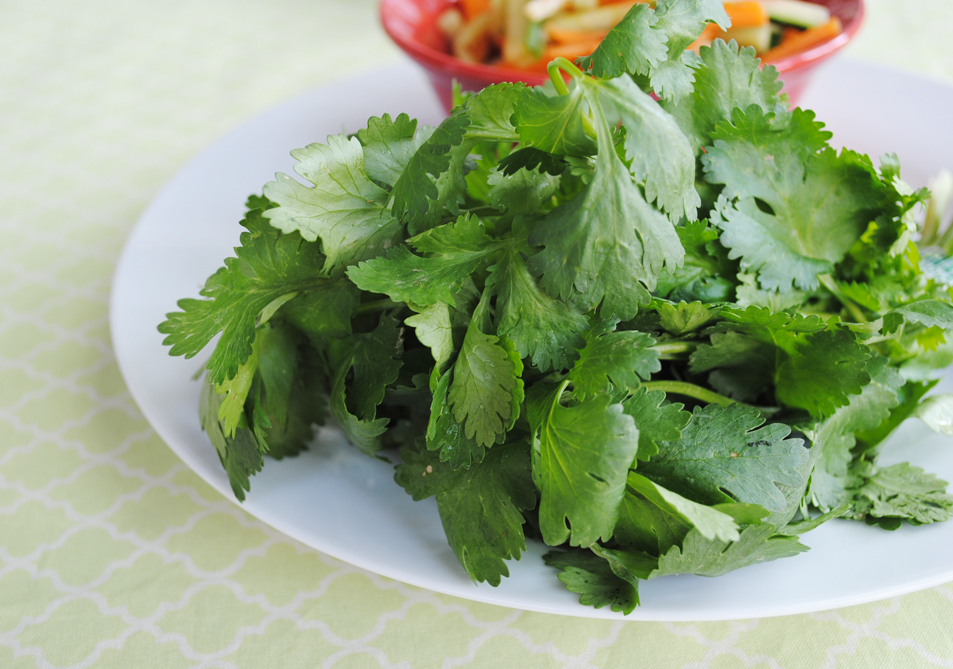 Scroll down for the recipe but first… Here's what I've been reading!
---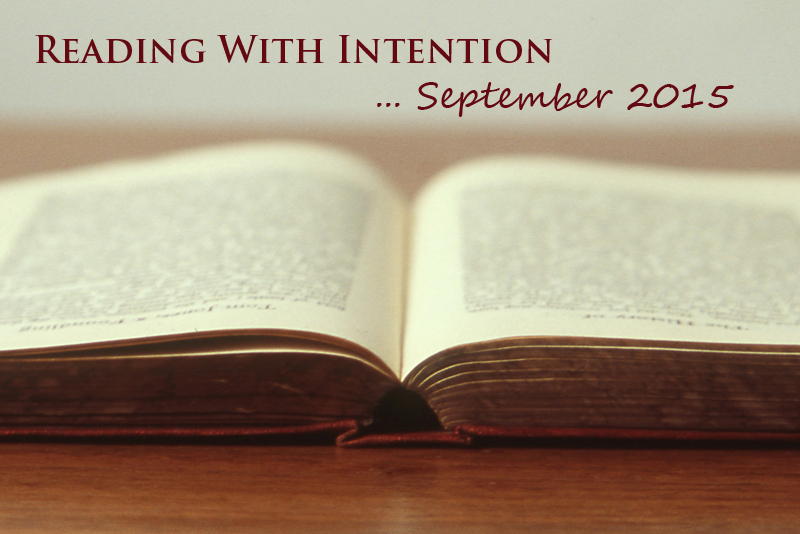 August already seems like a hundred years ago. I didn't read everything I set out to, but that's okay!
---
Books for September, 2015
---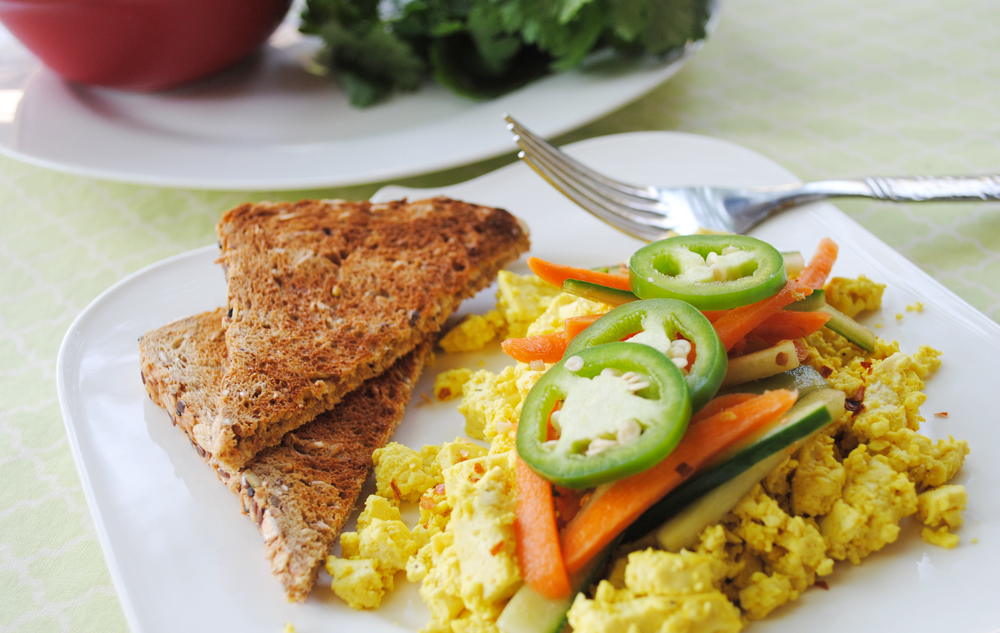 Banh Mi Tofu Scramble
2015-09-03 14:40:17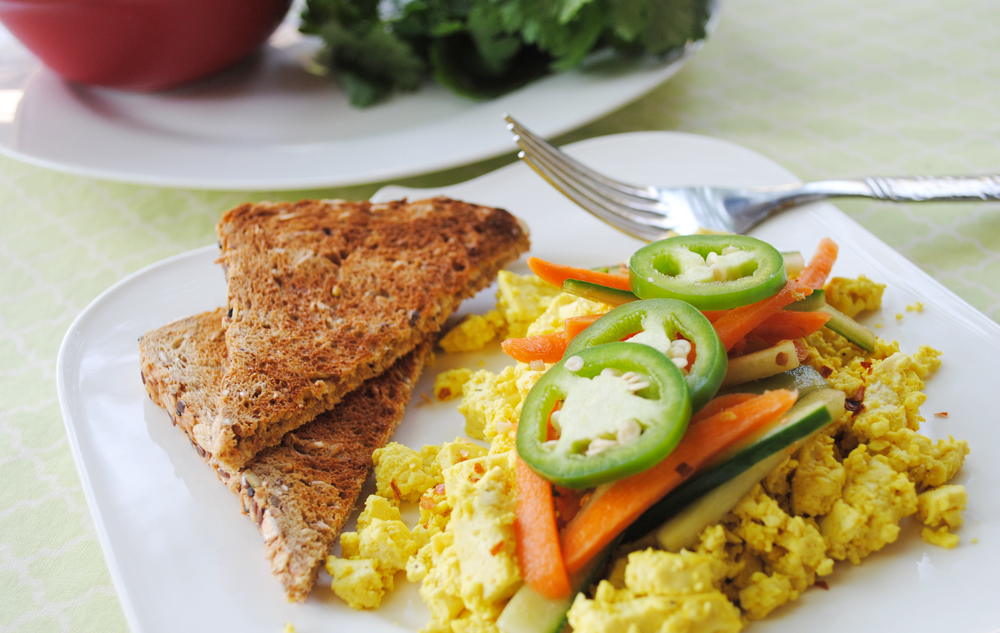 Serves 4
Ingredients
1 cup carrots, cut into matchsticks
1 cup cucumber, cut into matchsticks
Non-stick spray
1 package firm tofu, well pressed
3-4 tablespoons non dairy milk
1/2 teaspoon turmeric
1/4 cup nutritional yeast
1/2 teaspoon powdered garlic
Pinch chili powder
S&P
Sriracha for drizzling
1 jalapeno, sliced
Marinade
1 clove garlic, minced
Juice and zest of 1 lime
1 teaspoon powdered ginger
1.5 teaspoon soy sauce
2 tablespoons rice vinegar
2 tablespoons warm water
1/2 teaspoon sugar
4 stems cilantro, diced, with leaves separated
Heaping 1/4 teaspoon crushed red pepper flakes
Instructions
Mix the marinade in a medium bowl, at the chopped veggies, and set aside.
Heat a good sized pan over medium heat, and coat lightly with the non stick spray. Crumble the tofu and season with the turmeric (for color!) and a pinch of salt and pepper. Add the milk and the rest of the seasonings, and stir it around until it's heated through and the tofu is the consistency of scrambled eggs.
Plate, top with the veggies, jalapeno and sriracha.
Notes
Serves 4 with a side of toast or crispy baguette!
Adapted from The Washington Post
That Was Vegan? http://www.thatwasvegan.com/