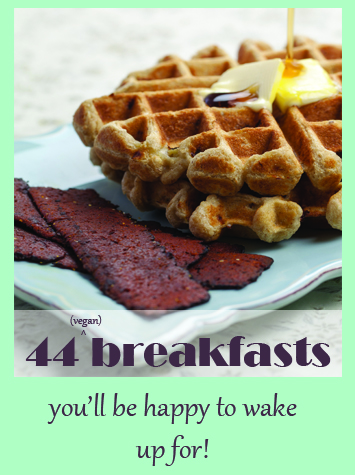 Ahhhh breakfast. The most important meal of the day, and for many, the most challenging as well. Eating out at breakfast can certainly be tricky for vegans, but eating at home never has to be – not with delicious recipes like these.
Some are mine, some are not… but all are vegan and will (hopefully!) make you bound out of bed in the morning! Oh, and if you're still questioning how to make breakfast work for you, check out my other post on easy vegan breakfast solutions.
In no particular order…
#1 Breakfast Chimichangas! Guaranteed to fill you up AND make you smile… and as an added bonus you can make them ahead of time!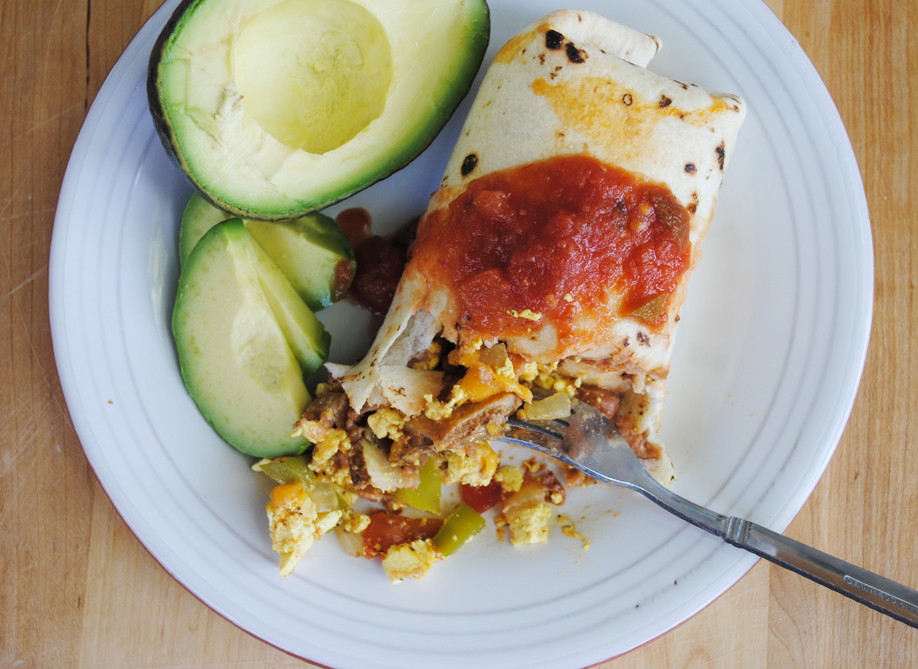 #2 Breakfast Lasagna! It's hearty and filling… and fun! It would be great for a special morning, perhaps a holiday or before a big hike. Plus, you get to eat pasta for breakfast, and who doesn't like that?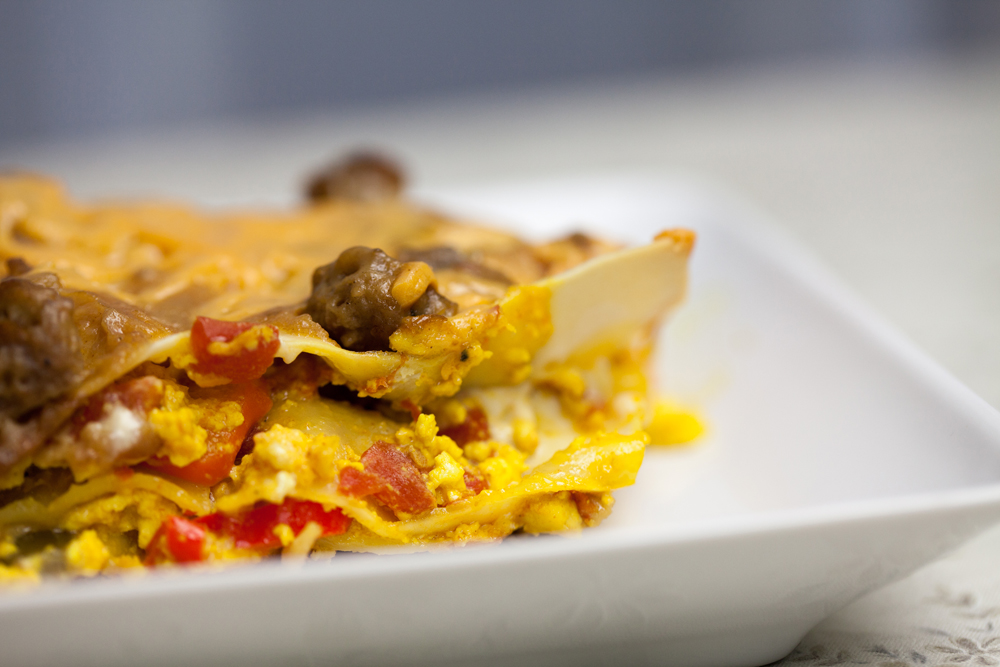 #3 Banh Mi Tofu Scramble! Yes, there will be a few examples of our beloved tofu scrambz on this list. But! This will be the only one modeled after the everyone's favorite spicy Vietnamese sandwich!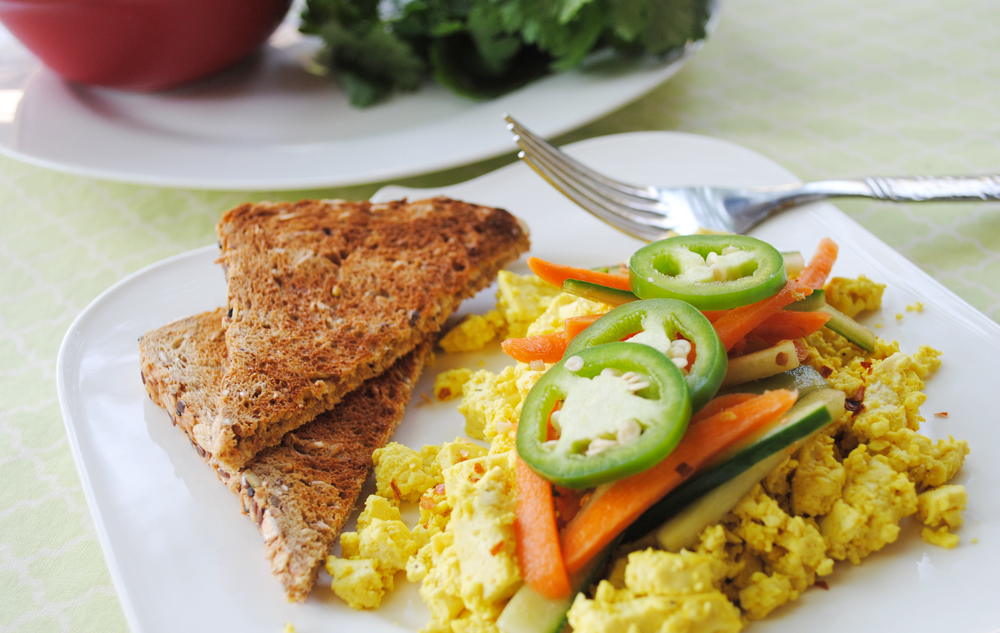 #4 Nut & Seed Hummus Toast! Not all breakfast recipes need to be big and involved. They can be simple yet healthy and still totally delicious. It's true! This breakfast toast creation from Bianca at Vegan Crunk proves it.
#5 Blueberry Cinnamon Sourdough Waffles! When you follow a blog called Sunday Morning Banana Pancakes you kind of expect to see a lot of breakfast recipes. Believe me when I tell you Heather does not disappoint, and these waffles look mindblowingly delicious!
#6 Maple Sweet Tofu Scramble! Yep, more tofu scrambz. If you love maple syrup like I love maple syrup, this is the scramble for you. The sweet potatoes and kale help the nutritional value keep up with the flavor.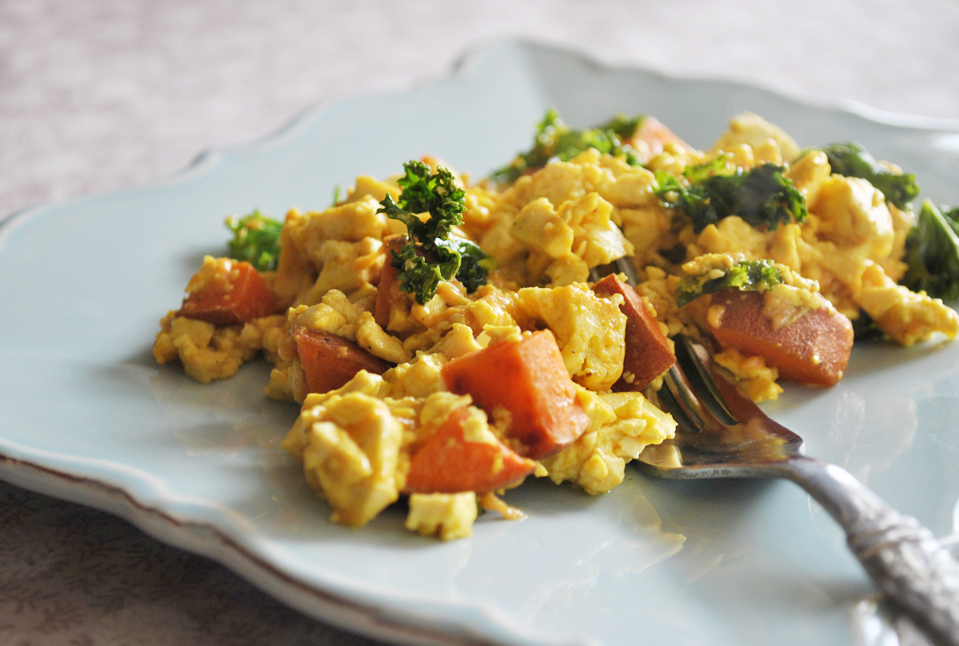 #7 Jelly Filled Muffins! OMG yes, these really are a thing!
#8 Stacked Strawberry Shortcake Pancakes! Yes, these are also a vegan thing. Oh She Glows is a treasure trove of delicious recipes, but you already knew that!
#9 Lemon Coconut Muffins (GF)! I'm not great at baking, but that doesn't stop me from drooling over Starr's amazing photos over at The Misfit Baker. You really need to check it out too!
#10 Vegan Icelandic Coffee Wreath! Yes, partially because I just got back from Iceland, but also because it's coffee cake. In a ring. I always enjoy Kelly's recipes, but even more so I love her posts. She's one of those bloggers who truly shares the thoughts and feelings running through her life. I've never met her, but I feel like I know her!
#11 and #12 Savory Sweet Potato Breakfast Biscuit Sandwiches (or just the biscuits because OMG they're good)! You wont be sorry if you bake the biscuits and just eat them by themselves, but I really do have slip in this PSA for the sandwiches… You can make them as simple or complex as you want, and they're better than anything you can get at a fast food joint!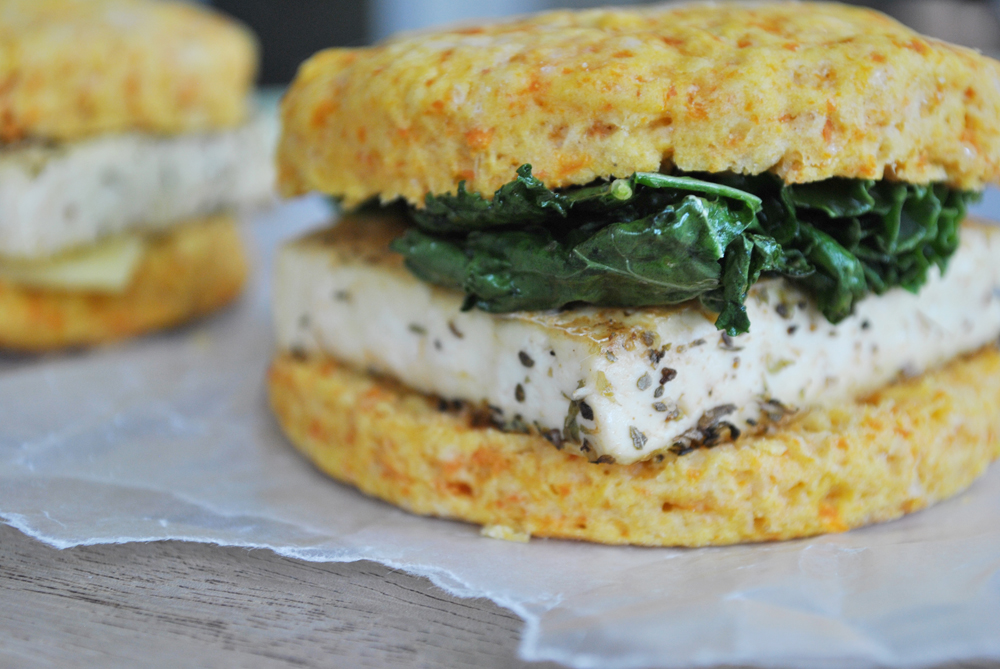 #13 Maple Bacon Morning Millet! Ever since I realized I had a free millet source, I've been including it in so many of my meals, especially breakfast! This one is sweet and savory, with vegan bacon and fresh fruit. Filling and healthy!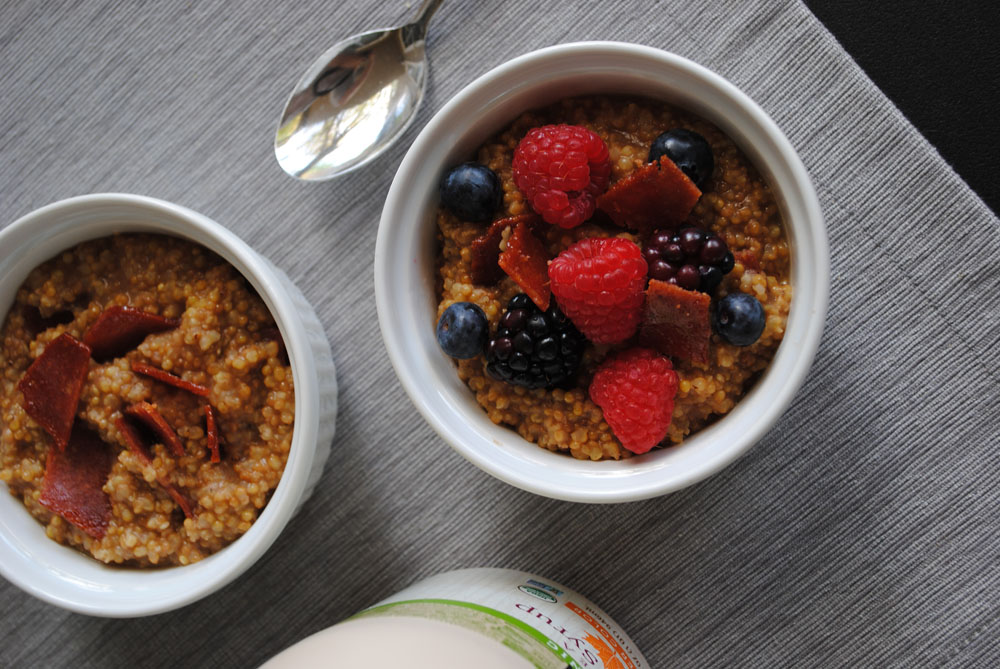 #14 Cranberry Orange Pumpkin Muffins! They're from Forks Over Knives so you just know they're healthy… and with only 20 minutes of prep time to make a dozen, they could be the secret ingredient to perfecting your (rushed) morning routine.
#15 Baked Avocado Donuts! Nikki is not longer blogging at The Tolerant Vegan but all her recipes are still up, including these beauties! Her donuts are amazing, and they're all baked which makes them healthier. I think?
#16 Denver Omelette Quesadilla! Yes, I love it because it's called Denver, but I also love it because it's awesome and delicious and not too difficult to make. The fact that Cadry photographed it using the same plates as my grandma use to have doesn't hurt either, haha!
#17 Bean & Hash Brown Tacos! I love Mexican food, especially for breakfast (and lunch, and dinner), so these tacos from Epicurean Vegan really speak to me. Any excuse for potatoes and avocado at breakfast, amirite?
#18 Breakfast Stuffed Sweet Potatoes! Did someone say "potatoes and avocado at breakfast"? Bake a sweet potato, stuff with tofu scramble and veggies and maybe some vegan sausage, top with cheese and avocado, eat. And repeat.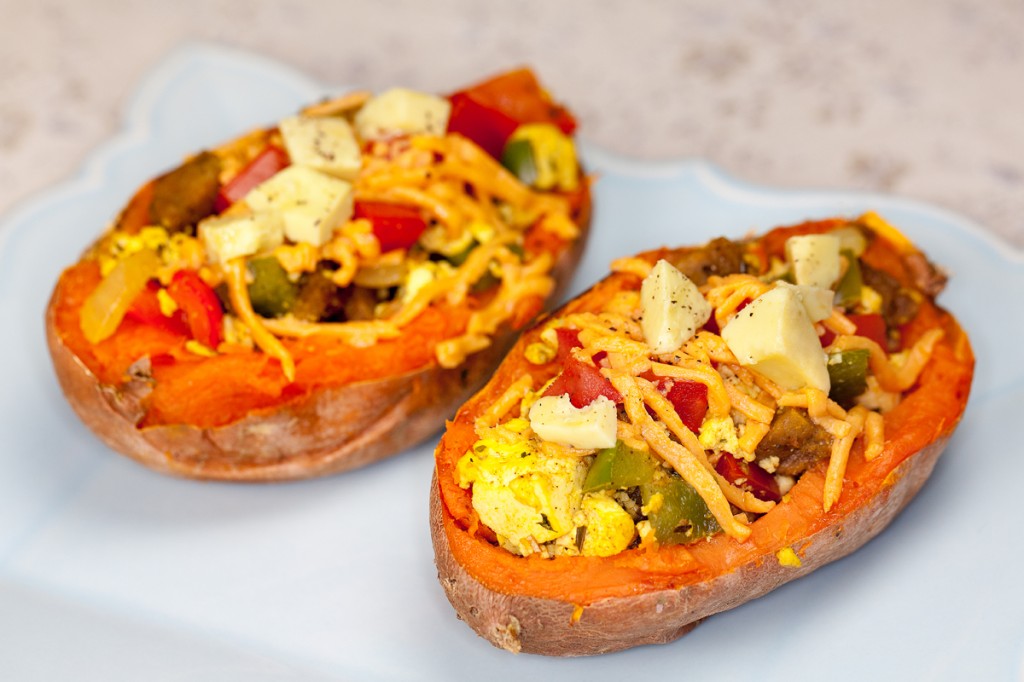 #19 Vegan Eggs Benedict with Hollandaise! I don't think I ever had eggs benedict before going vegan, but I'm dying to try this vegan version from The Edgy Veg! Fried tofu, crispy vegan bacon, the creamy sauce… Sure it's still a lot of work, but I would absolutely get up early to make this for someone special…
#20 Tofu Benedict with "Caullandaise"! That's right, a hollandaise sauce made from cauliflower! The fabulous Cadry over at Cadry's Kitchen created this one, and it looks amazing. Tofu, english muffin, and a thick rich hollandaise that is 100% guilt-free!
#21 Eggy Tofu & Toast: 5 Minute Vegan Breakfast! On the other end of the effort spectrum, here's a quick n' easy breakfast from our pal Cadry. This one uses black salt to give the tofu that egg-like flavor.
#22 Sweet Corn Pancakes! My daddy used to make these when I was a little girl, and they've been a favorite ever since. Basically just pancakes with sweet corn mixed into the batter, but they're SO GOOD!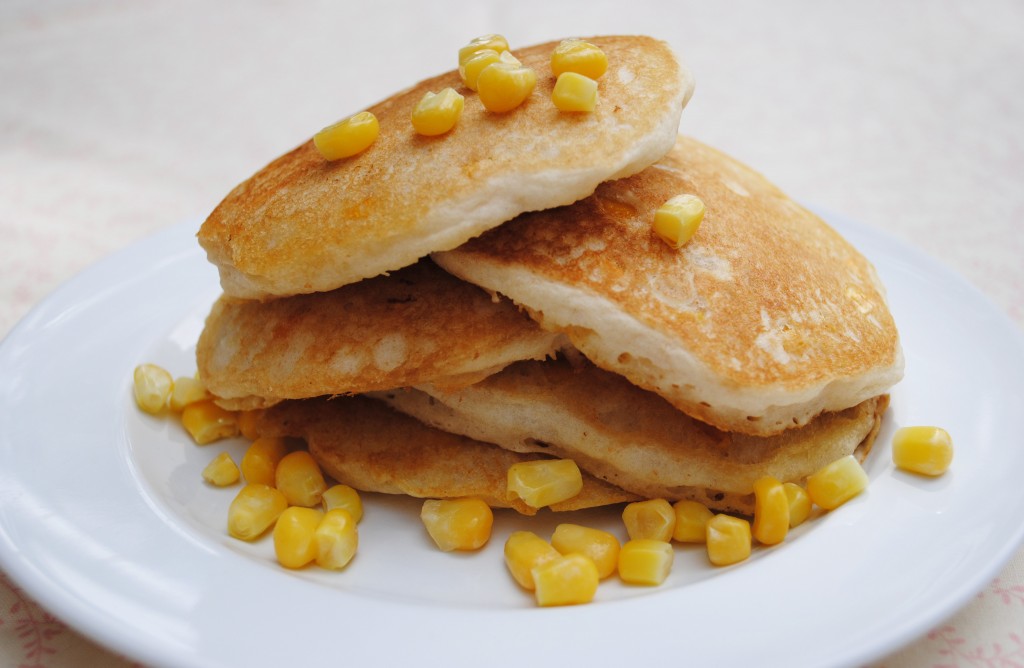 #23 Carrot Cake Donuts with Coconut Cream Cheese Frosting! Another delicious donut creation from The Tolerant Vegan, and who doesn't love a breakfast that sounds like a dessert?
#24 Vegan Sawmill Gravy & Biscuits with TVP-Shitake Hash! Erin and Jeff over at Olives For Dinner have a flair for the tasty, and this one is no exception. She based the gravy on the very-much-not-vegan dishes of her youth, which gives this hearty and savory breakfast its wonderfully authentic flavor!
#25 Buckwheat Crepes & Chocolate Sauce! These crepes filled with fruit and smothered in chocolate sauce would be perfect for that fancy schmancy brunch you've been planning…
#26 Breakfast Pizza! Tofu scramble, vegan bacon, veggies, and gobs of gooey, melted vegan mozzarella. For breakfast!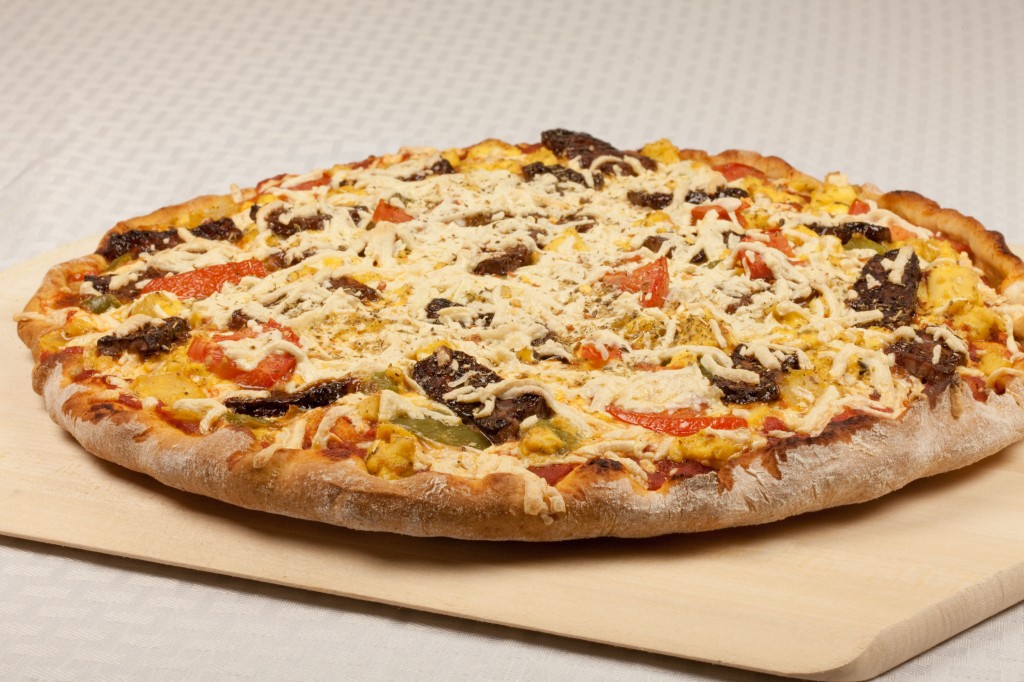 #27 Easy, Vegan Cinnamon Rolls! What breakfast roundup would be complete without cinnamon rolls? None, that's what. These ones, from Epicurean Vegan, are easy and look so good I can't believe I haven't made them yet.
#28 Breakfast Quinoa with Toasted Coconut and Pistachios! Also from Olives for Dinner, this recipe is guaranteed to make you wonder why you've only been eating quinoa for dinner. I am a HUGE fan of all things coconut and all things pistachio, and am actually drooling right now.
#30 Cherry Beet Smoothies! When I make smoothies, I like to whip up at least 2 servings. I store them in airtight containers in the fridge, and then throw them in the freezer for 30-45 minutes before enjoying them for breakfast. These are one of my favorites because I ❤︎ beets, and I ❤︎ the color pink, so there you go!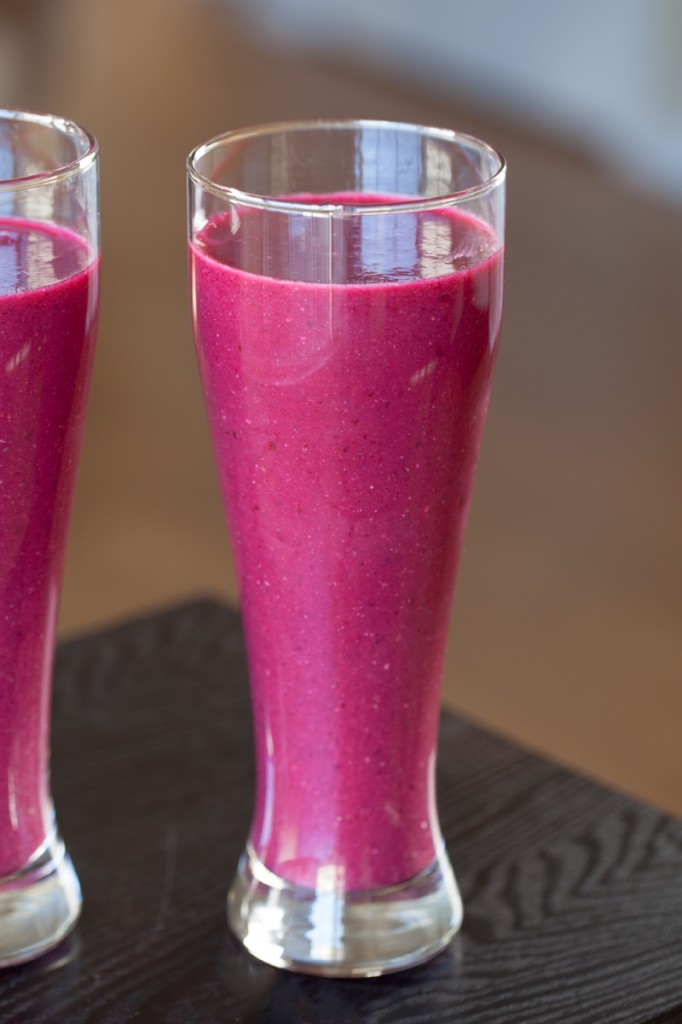 #31 Maple Pear French Toast! Decadent. Rich, sweet, fresh, mapley, and decadent.
#32 Mexican Chocolate Waffles! I've been a fan of Annie's since she first started her blog An Unrefined Vegan. She has TONS of great recipes (all with mouth-watering pictures to go with), and these waffles are no exception. They're also oil and sugar-free, if you can believe that!
#33 Pumpkin Spice Latte Waffles! Sticking with waffles for a minute, let me tell you about the vegan genius that is the Minimalist Baker blog. So good. Few ingredients. Yummy. And while I realize PSL season has passed, some of us enjoy pumpkin year 'round, and there's no shame in that.
#34 Chickpea Omelet! Go ahead and click through right now… the picture of that omelet will have you trying to eat your computer screen in no time flat. Lots of veggies and flavorful spices and avocados (again with the avocados, right?), this dish looks just about perfect to me.
#35 Green Chile Chick'n Mini Quiche! I have a few recipes for mini quiche on the blog, but this one is my absolute fave. If you're a fan of green chile too, you absolutely must try these. They're great to make ahead of time for snacks as well.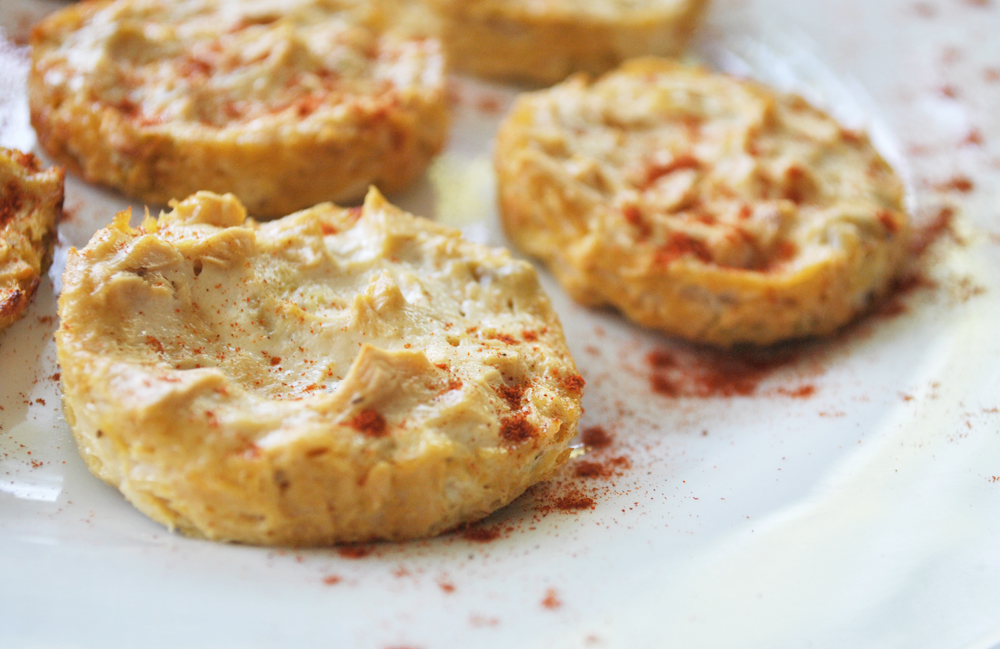 #36 Hawaiian Waffles with Tropical Rum & Maple Syrup! Ummm yah. The name says it all. The Shannons are the best!
#37 Whole Grain Oat Spelt Pancakes with Plum Spiced Compote! Sophie and her Foodie Files are forever surprising me with her yummy creations. Not all of her recipes are vegan, but many are!
#38 Sparkling Blackberry Smoothies! These purple beauties are just one of the many delicious recipes from Sunny Vegan, and they look perfect for the spring weather that (I assume?) is coming soon…
#39 Easy Vegan Breakfast Sandwiches! True, you do have to bake the biscuits… but the rest is easy, I promise!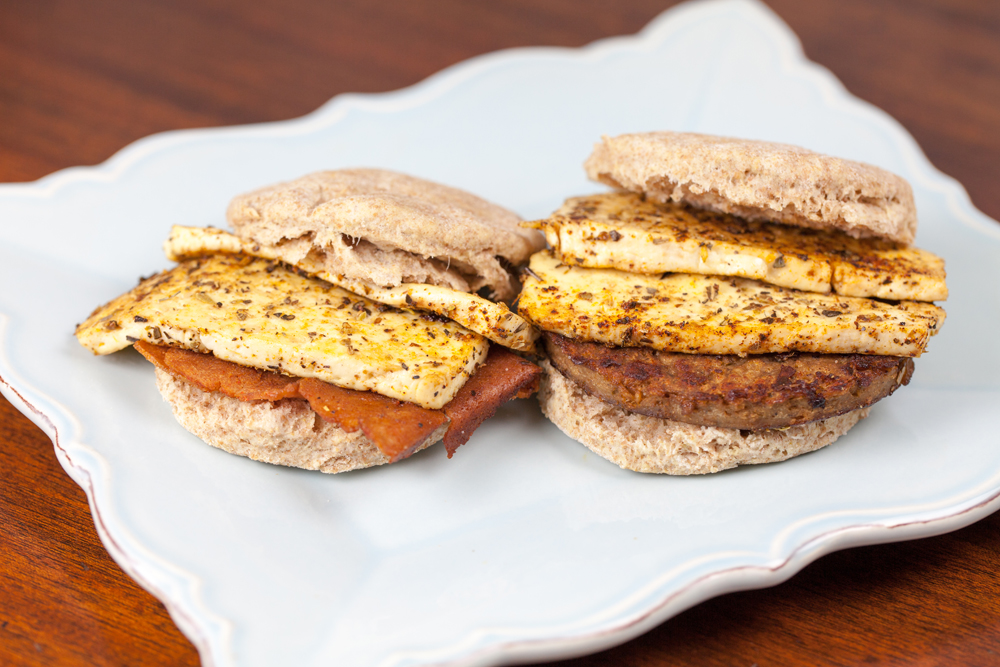 #40 Steel Cut Oats with Cinnamon and Vanilla! We all know steel cut oats are better and more nutritious for us than the rolled or instant variety, and Angela from The Veracious Vegan takes it one step further… by making them sound like you absolutely must have them for breakfast tomorrow!
#41 Savory Oats Hash – Indian Oats Poha Upma! I've been reading Vegan Richa since before she changed the name, and I am impressed with each and every recipe she posts- from the fresh ingredients to the awesome photography, each one is a winner!
#42 Apple Millet & Oat Porridge! We've already established that I'm a big fan of millet, and I'm also a big fan of the pressure cooker and all the amazing recipes JL makes using one. Easy AND quick!
#43 Vegan Aebleskivers! Somer over at Vedged Out veganized these puffy little Danish pancakes, and they look wonderful, especially covered in jam and powdered sugar!
#44 Blueberry Pancakes! The quintessential breakfast, perfect to wrap up this list! They're timeless and perfect for any breakfast or brunch!